Have you ever wished you could make your favorite plants live even longer, or hit "restart" on a plant that appears to be struggling? You can! Some plants, including Money Trees (Pachira Aquatica), can be regrown into full-size plants by using healthy pieces of their own stems, referred to as cuttings.
The most common method for propagating Money Trees is via cutting. Money Tree cuttings can be rooted in water and transferred to soil or directly into soil. While soil propagation is generally more successful, water propagation is a fun way to watch your tree's roots grow.
Many Money Tree lovers aspire to have several in their homes. But purchasing multiple full-grown Money Trees isn't always economical. No worries! Growing your own Money Trees can be a fun, affordable way to start a Pachira Aquatica collection – and you don't have to be a master gardener to succeed. Using the information and tips below, you'll start turning your solitary Money Tree into a family – or salvage a struggling Money Tree by creating a new, healthy plant.
---
How Do Money Trees Reproduce in the Wild
Money Trees grow in the swamps of Central and South America. Their average height is roughly thirty feet, but can reach sixty feet tall in the wild – much taller than the braided variety available in stores!
In fact, the famous braided stems of a Money Tree are not a natural feature of the plant. Instead, they are a cosmetic effect that some suggest "lock" in the good fortune provided by the Money Tree.
It is rare to see a braided, indoor Money Tree flower. But in nature, Pachira Aquatica has some of the largest flowers to be found on a tree. Money Tree flowers are typically off-white, or a pale yellow, with long petals that curl back to expose numerous red stamens, which can be 3-4 inches in length.
When grown in their natural habitat, these flowers are often pollinated by bats and are eventually replaced by large, oblong seed pods that can be up to 12 inches long. These seedpods are filled with edible seeds that are said to taste like peanuts.
In the wilderness, these pods drop to the ground, drying out naturally and scattering the seeds, which can propagate naturally in their tropical habitat.
---
Money Tree Houseplant Propagation
Since it is rare for a Money Tree to flower indoors, most Pachira Aquatica owners do not have the option of propagating their beloved plants from seeds. But don't let that dissuade you. There are two very simple ways you can replicate your Money Tree, and all the beauty and good fortune it has to offer, without using seeds.
A Money Tree can be propagated both in water and in soil. Both techniques require the proper use of cuttings. Knowing how to correctly select and handle your Money Plant cutting, will set you up for your propagation.
Following the steps below will allow you to reproduce a beautiful, healthy Money Tree for your home or apartment.
---
How to Take a Money Tree Cutting
Before you cut your plant, carefully examine your Money Tree for healthy, vibrant sections. You can use propagation to save a dying Money Tree by salvaging healthy sections, but you must not include any dry or mushy stems in your cutting.
Your goal is to find a firm, green section of stem that is roughly six inches in length, and that has 2-3 leaf nodes available toward the bottom of your cutting.
Leaf nodes are the spots where leaves are growing and often look like bumps, or knots, along the stem. Once the leaves are removed, and propagation begins, those nodes will serve as the starting point for a new set of roots.
Once you've picked your healthy plant section, you are ready to cut.
I like to think of cutting a plant like a surgery. For this reason, you'll need to make sure your knife or scissors are very sharp and sterilized. Scissors or knives with food or gardening particulate could cause contamination in your cut.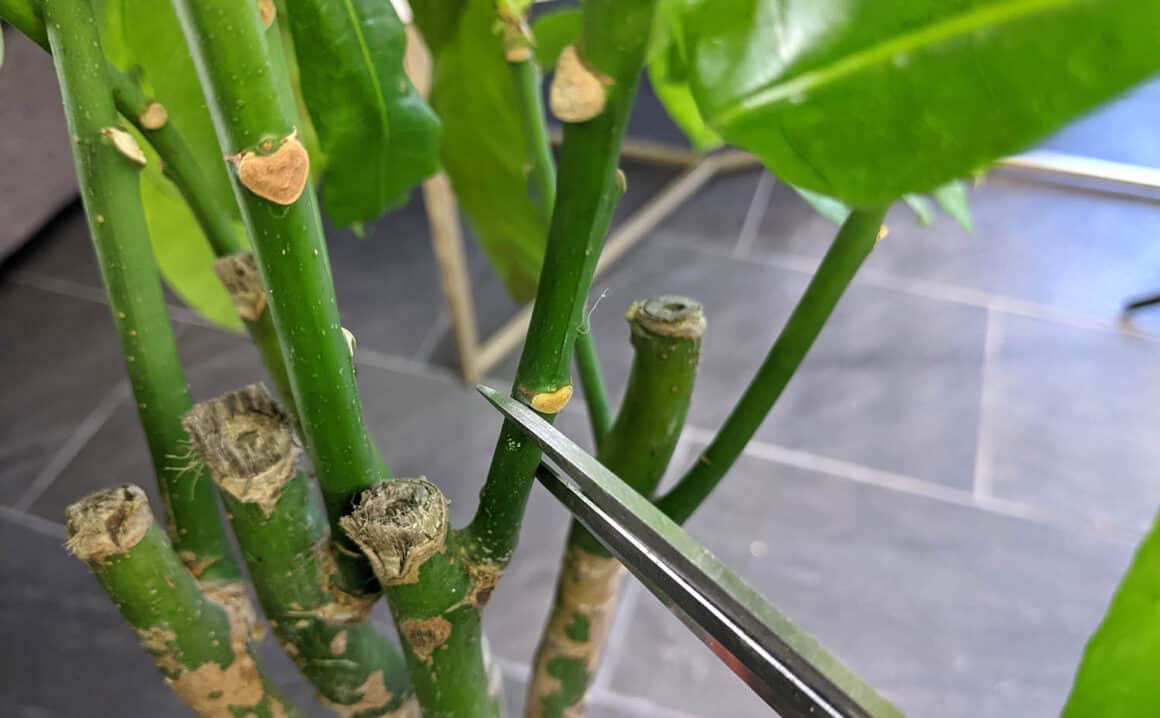 Look for those nodes at the bottom of your six-inch section of stem, and cut roughly a centimeter below them. Try to cut at an angle of about 45 degrees. If your Money Tree has additional healthy branches to spare, you may consider taking a second cutting to improve the chances of successful propagation.
Once you have your healthy cuttings, wrap the cuttings' bases in a damp paper towel, and place the paper towel end in a plastic bag. This will preserve your cutting by keeping it hydrated while you get ready for the next steps.
---
Rooting Money Tree Cuttings
There are two main techniques for growing your new Pachira Aquatica: rooting in water and rooting in soil. The goal of this early stage of the growth is to create an environment in which the Money Tree cutting develops healthy roots of its own.
The most common strategy for rooting a Money Tree is to plant the cutting in soil. However, there is much more to rooting your Money Tree in soil than merely putting it in the dirt!
The steps below should help you make sure that your sapling Money Tree successfully roots in its new environment.
---
Rooting Your Money Tree in Soil
Money Trees benefit from being planted in a potting mix with adequate drainage, such as a sandy, peat-moss-based soil. I suggest planting these trees in Cactus blend soils, (I like to use Hoffman's Organic Cactus & Succulent Blend) for its excellent drainage.
Ideally, you will also want to purchase some rooting hormone to support the transition of your cutting. While rooting hormone might sound intimidating or scientific, it just a product designed to help your cuttings develop roots as quickly as possible.
Many brands on the market use high-quality ingredients and provide clear directions, to help you give your new Money Tree the best start possible. (I personally use this one – but any rooting hormone will do.)
Once you have your potting mix and your root hormone, you are ready to get started. You will want to plant your fledgling Money Tree in a small plant container with drainage holes on the bottom. Fill it with your potting mix and dampen the mix with water.
Now take your cutting and gently remove any leaves from the lower leaf nodes. You can carefully pinch or cut those leaves where they connect with the stem, but be careful not to damage the stem. Also, do not remove all the leaves – only those on the 2-3 leaf nodes on the bottom.
Dip the bottom of your cutting in root hormone and tap off any excess. Don't place the hormone mixture above the section you intend to plant.
Finally, create a hole in the center of the soil that is wide enough to insert the stem without rubbing away the hormone mix. Then, plant your cutting, patting down the potting mix around the base of the stem to keep it firmly in place.
Lightly water the cutting and, voila! Your new Money Tree should begin taking root!
---
Propagating Money Trees in Water
In addition to rooting your Money Tree in soil, there is another fun way to multiply your plant – rooting it in water. For this type of propagation, your steps for obtaining and protecting your cutting will be the same. You will also powder the bottom of your Money Tree cutting with root hormone.
However, instead of placing your Money Tree in potting mix, you can use a glass or plastic bottle with fresh water and watch your roots as they grow and spread out.
To root in water, insert the bottom portion of your cutting into water, but keep the upper two-thirds of your cutting above the water-line. Any leaves on the bottom third should be removed, so only stem and nodes are beneath the water level.
While some Money Tree lovers may wish to plant their cutting in a mason jar, many gardeners indicate that a bottle is better than a jar. This is because a bottle allows the upper leaves of the plant to rest on the rim, and keeps the plant from slipping too far into the water.
Once your cutting is in the water, place the bottle in a warm, bright location, and wait. Change the water in your cuttings occasionally to prevent mold and algae. When you change the water, consider gently rinsing the roots and removing any slimy residue.
When substantial roots begin to form and leaves begin to grow above the cut, the Money Tree will be ready for transplanting into potting mix. Use the directions outlined in the previous section.
Don't get discouraged if this takes a seriously long time. Money Trees do not root fast and it could be months before you ever see any roots on your cutting.
---
The Downside of Rooting Money Trees In Water
While it is fun to see your plant growing in water, Money Trees whose roots are propagated in water are often less resilient than those grown in soil.
In water, the roots you see will have developed without the nutrient base of a soil-propagated plant. Furthermore, they will not have developed the hardiness of roots that have worked to anchor themselves into the earth. Not to mention that water roots and soil roots are different, and even plants with long water roots will still have to grow new soil roots when planted in substrate.
With all of that in mind, you should know that the roots of these water grown plants will be more fragile and subject to damage in transplantation than roots that are grown in soil. If you love the thought of watching the propagation process in water, go ahead. Just note that soil propagation is a more sure means of reproduction.
---
Best Conditions for New Money Trees
The conditions for a baby Money Tree aren't much different than those for a mature plant. However, there are a few considerations to keep in mind.
TEMPERATURE
Money Trees are tropical plants, so they like to be kept warm. Typically temperatures between 65 and 80 degrees Fahrenheit are best. However, young Money Trees thrive when kept at the warmer end of that spectrum.
Propagating your Money Tree in the summer months will add a bit of natural warmth to your environment, which will help make it easier to keep your baby plant warm.
Do not place your Money Tree next to a heater or in direct sunlight – both will likely damage your plant. But instead, choose a bright, cozy spot in the home, away from drafts, to encourage growth.
WATER & HUMIDITY
Money Trees prefer slightly humid environments, and this is especially true for a fragile sapling. Misting your Money Tree, as well as placing your small tree in a room with a humidifier, can encourage the plant's health and hydration.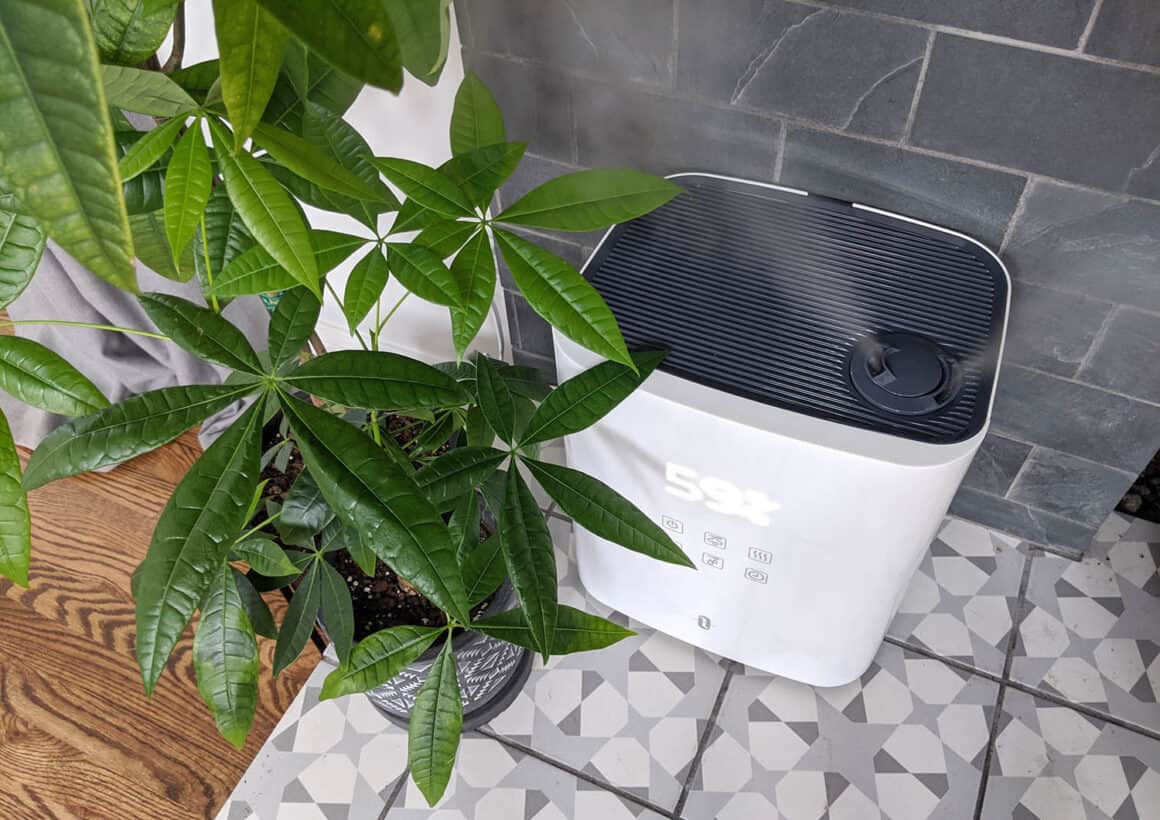 But remember your Money Tree is still a small sapling with developing roots – it does not require the same water and nutrients as a larger Money Tree. Too much of a good thing can harm your young plant. Instead, start by using small amounts of water and careful misting and monitoring your plant for health.
If you see yellowing leaves, decrease the amount of water. On the other side, if you see leaves that look wrinkled, increase your misting, and look for improvement.
LIGHT
Money Trees grow best in bright light. However, they don't require continual sunlight for their health. Simply being placed in a room with windows or skylights can be enough, as can bright artificial light, such as in a well-lit office.
Too much direct sunlight can cause Money Tree leaves to dehydrate, turning brown and crunchy, before falling off. Young Money Trees can be especially susceptible to too much light and will fail to grow if overexposed to the sun.
Consider placing your Money Tree in windows facing north or south, reducing the amount of direct sun exposure for the plant. You may also wish to place your plant in a room with curtains or blinds, which filter the harsh effect of direct sun on the sapling's fragile leaves.
---
The Best Container for Money Trees
The pot or planter in which your Money Tree resides is like a home. Ensuring that the planter has everything required to provide an ideal life for your plant will help your Money Tree grow and thrive for years.
SIZE
One of the many characteristics that make Money Trees special is that their overall size is influenced by the size of the pot in which they are planted.
If you are hoping to keep your Money Tree as a small, desk plant, make sure not to choose a container that is too large, encouraging more growth than you desire.
However, if you hope to grow your Money Tree into a large floor plant, repotting annually to a slightly larger planter (usually two inches larger in diameter) will encourage your tree to keep growing.
But there is another critical reason to consider the size of your Money Tree planter. Larger planters retain larger amounts of water. Since too much water can cause root rot, it is important to plant your Money Tree in a container that is appropriate for the size of its roots.
DRAINAGE
Your Money Tree planter must have at least one drainage hole on the bottom to prevent moisture accumulation. While Money Plants appreciate moist soil and humid conditions, muddy soil, or standing water can be very harmful.
Have you found a planter you love, but it doesn't have drainage holes? Consider planting your Money Tree in a nursery pot with adequate drainage, and inserting it in inside your preferred planter.
That said, make sure that this double-potting technique does not cause your Money Tree to stand in water, should liquid drain from the holes in the bottom of the inner pot, it will need to be emptied.
It is also possible to drill holes in pots made of ceramic, clay, glass, and other materials – but proceed with caution and do your research before adding drainage holes to a planter.
LOCATION
Money Trees do not like to be moved and may shed leaves if they are frequently tousled or relocated. With that in mind, it is usually wise to place your Money Tree away from high-traffic doorways or breezy corridors.
---
Final Thoughts
Overall, Money Trees are vibrant and resilient plants and can be propagated to ensure years of enjoyment. By following a few simple tips, you can reproduce your Money Tree in soil or water, and create all of the conditions needed to grow and thrive.
Just remember to protect your Money Tree from extremes in temperature, light or moisture, and to show patience and care as it begins to take root. In no time, you will have a beautiful new plant to bring relaxation, and perhaps a bit of prosperity, to your office or home.