If you've noticed your usually healthy Money Tree has a sticky sap-like substance oozing from it, you probably have a ton of questions. Do Money Trees even have sap? What did you do differently to cause your Money Tree to do this? Is it still healthy? Why is your Money Tree sticky?
Usually, Money Trees are sticky for one of two reasons: guttation or pests. Guttation is typical for plants and occurs when sap is released from the bottom of the leaves. If stickiness is also on the tops of the leaves and is accompanied by black dots or white clumps, you may have a pest issue.
At first glance, it may seem difficult to tell these two apart. But with a few pointers, you can quickly diagnose your Money Tree. This article will help you to identify where the sap is coming from and what to do about it.
---
First Things First: Do Money Trees Have Sap?
All trees, including the Money Tree, have sap. In fact, they have two types of sap. The first is called xylem sap. This sap transports nutrients, hormones, and mineral elements throughout the plant. Xylem moves up from the roots to the leaves of your Money Tree, sending the nutrients your plant needs to grow. Xylem sap is what we collect from maple trees to refine into maple syrup. Sometimes plants release xylem sap through a process called guttation.
The second type of sap is phloem sap. It's a little different because it consists of sugars, mineral elements, and hormones. Phloem travels from the leaves to parts of the plant which need more nutrients. These areas are the roots and stems. The sugar in this type of sap is what attracts most sap-feeding insects. Insects love the nutrients of this sap, which is also free of most toxins.
---
Why Is Your Money Tree Sticky
While trimming your Money Tree, you notice your fingers are covered with something sticky. You haven't seen this before. What could it be? There are a couple of possibilities. Your tree could be fine, and you are merely observing guttation. The other option is that your beloved tree is infected by pests. Your hands have just rubbed up against their "honeydew" or poop.
While both of these substances may feel tacky to the touch, it is important to diagnose what the sticky substance is and where it is coming from. There are a few telltale signs of each that once you know what to look for, are easy to distinguish.
---
How to Identify Guttation
Guttation is when xylem sap is expelled through the leaves of a plant. This is generally seen on the edges or tips of the leaves. You will notice most of these droplets on the underside of your Money Tree's leaves.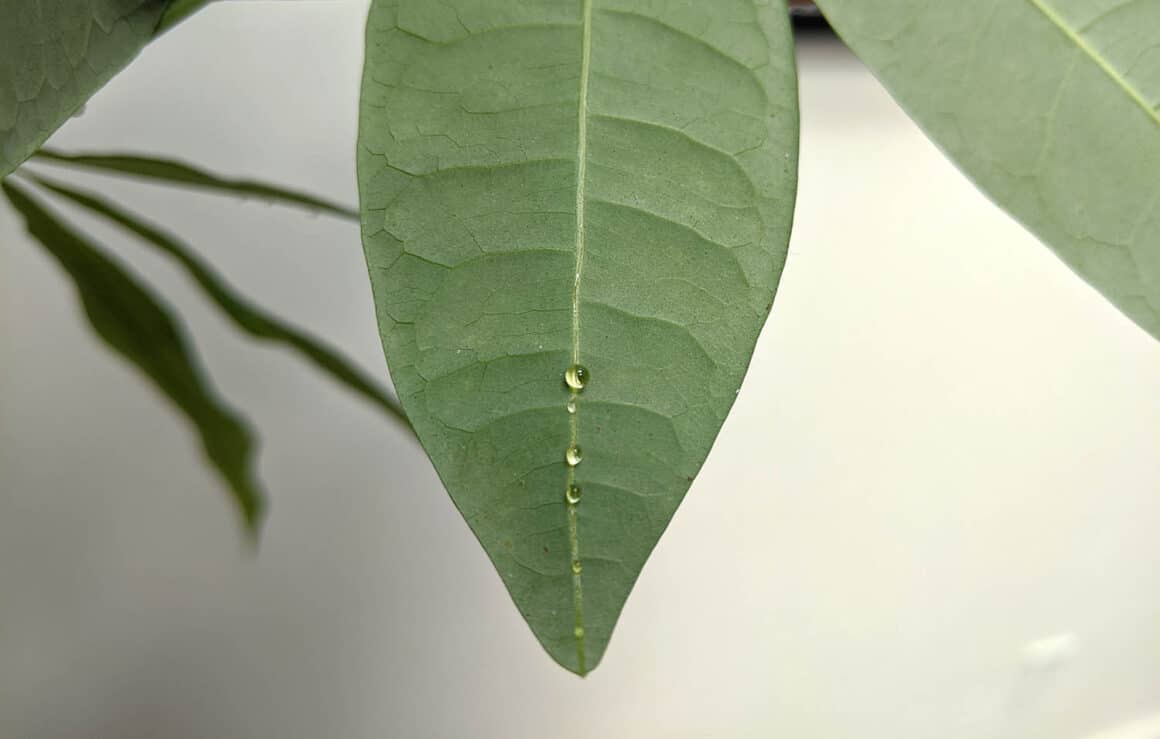 Guttation usually happens at night when the plant cannot transpirate due to closed stomata. If your plant's soil is very moist, its roots may soak up extra water. This excess water travels upward and is released through water glands in the leaves. This tends to happen on humid nights.
Before you clear your plant, you should do a quick inspection of its leaves and stems. Pest infestations also produce sticky substances, but they are usually accompanied by the actual pests.
Check for anything unusual attached to your Money Tree. Also, inspect the leaves and make sure they haven't turned any colors or are wilting. If you notice wilting with yellow leaves, you may be overwatering your Money Tree.
---
How to Identify a Pest Infestation
The other reason your Money Tree may be sticky is because of pests. The Money Tree is actually pretty resistant to most pests. It does, however, fall susceptible to scale insects and mealybugs. This may be the last thing you want to hear, but once you can identify it, you can fix it.
Pests such as scale insects and mealybugs can infect your plant. They attach themselves to all parts of the plant. These pesky pests suck the nutrient-dense phloem sap from your Money Tree and excrete sugary poop known as honeydew.
How can you identify an infestation of these pests? The first clue is to look at where the sticky droplets are forming. If you notice them on the tops of leaves, and all over the plant, this is honeydew and not sap.
Honeydew is also excreted in larger amounts than xylem sap from guttation. You will often find what looks like leaking sap on the floor beneath your Money Tree. This is an obvious giveaway that you are dealing with pests. Do not overlook this.
A scale insect problem can be identified by finding small round bumps all over your Money Tree. These hard bumps are 1/16 to 1/8 of an inch in diameter and yellow to brown in color. These bumps are covered by honeydew.
Mealybugs can be identified by cotton-like spots on your Money Tree. These pests are softer and have long legs and antennae. They leave behind yellow sticky leaves.
For more information on identifying pest issues on your Money Tree and steps to take, read this article.
---
Guttation: What To Do About It?
Guttation is a healthy, natural process plants use to relieve themselves of excess water. The conditions that usually create guttation are moist soil, humid air, and low light. The moisture you see on your Money Tree from guttation is different from the moisture you would observe from dew outside. Dew on plants is simply condensed water from the air, not sap from the plant.
You shouldn't worry too much about guttation as long as your Money Tree looks healthy. Some people think that guttation is a sign of overwatering. This isn't usually true. So long as guttation isn't accompanied by yellow leaves at the bottom of your tree, wilted leaves, or rotting roots, guttation is completely healthy.
The only caveat is that excess fertilizer can accumulate on the outside of leaves through guttation. This can burn them. Look out for small white accumulations on the edges of leaves. If you start to notice this, reduce the fertilizer. You can then flush the soil by adding extra water while ensuring that it drains well. This will help to remove the excess fertilizer that might destroy your Money Tree's leaves through guttation.
Take note if there is a correlation during certain times of the year or weather when guttation happens to your Money Tree. By noticing this, you can plan when you need to use less fertilizer. You might not be able to control when guttation happens, but you can take this proactive step so that your Money Tree won't suffer during this natural process.
---
Pests: What To Do About Them?
Guttation may be a normal healthy process, but pests are not. If your Money Tree has scale insects or mealybugs, you should remove them immediately. These pests will leave your Money Tree susceptible to fungus. Fungus feeds off of the pest's honeydew. Remove these pests to get rid of the honeydew.
To get rid of scale insects, you can dissolve their hard shells. First, try mixing 1 teaspoon of mild dish detergent, such as Dawn, with 1 quart of water. Use a cotton swab to rub-down the plant. Follow this with clean water. You can also use rubbing alcohol on a cotton swab. These are great for small infestations. If you have a larger one, spray your Money Tree with the detergent and water solution.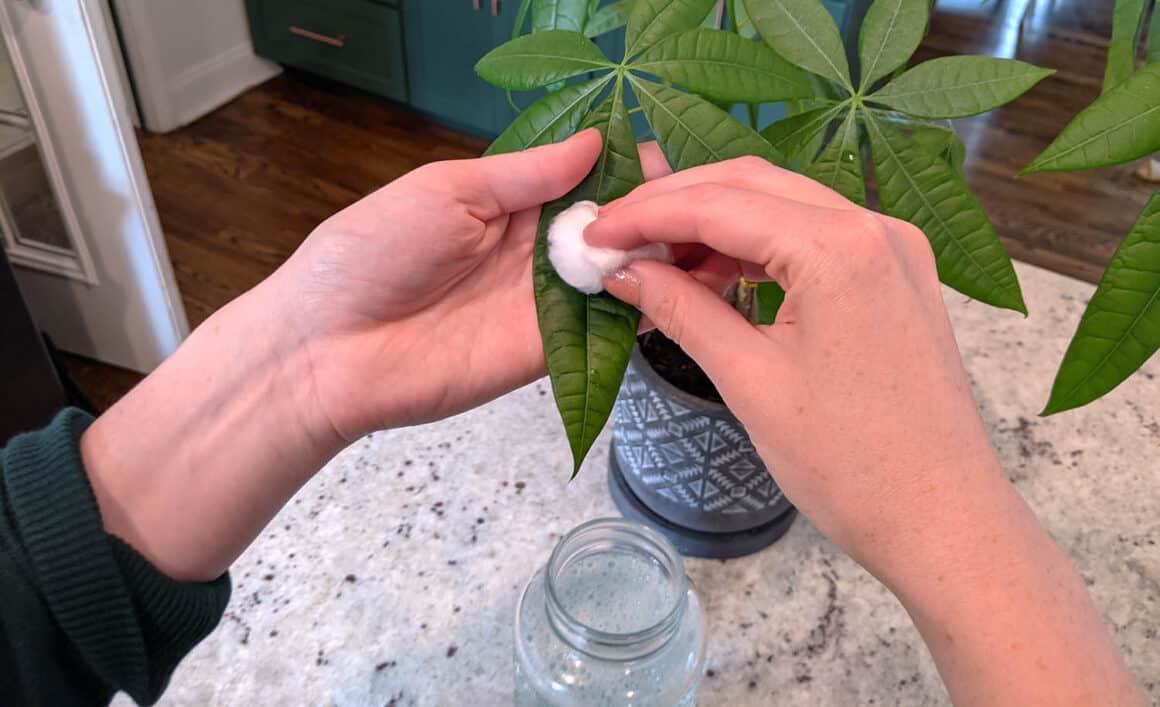 You can also use oils like neem to coat the shells of scales. This will suffocate them. Neem oil is a natural, chemical-free option. (I buy this one from Amazon).
Mealybugs can be controlled by washing the plant to remove them and then covering the plant with neem oil.
To keep these infestations away, you can regularly wash your plants. Also, be sure to separate any infected plants. This will contain the infection.
To find specific information about the most common pests and remedies for the bugs that are ailing your tree, read this article.
---
Closing Thoughts
Money Trees excrete sticky substances for different reasons. Sticky sap on the underside of leaves is due to the normal process of guttation. If your Money Tree looks healthy, you have nothing to worry about. However, if you notice little dark bumps or small cottony clumps, you have a pest infestation. These can be easy to fix with the above tips.