The Money Tree, or Pachira Aquatica, is a popular houseplant native to the swamps of Central and South America. Money Trees prefer slightly humid environments and can struggle without the right amount of water. Incorrect watering can cause leaves to turn brown, dehydrate, and drop.
Wondering why your Money Tree is turning brown? Dry, unhealthy leaves are usually a sign that the plant has not been watered correctly. Underwatering and overwatering are the two most common issues. Thankfully, there are steps you can take to save your plant and keep it beautiful!
Even though Money Trees need special attention regarding their moisture balance, they are resilient plants. With a little TLC, and by following the steps below, you can restore your Money Tree to health and avoid overwatering or underwatering, in the future.
---
The Reason Money Trees Dry Up
One of the many reasons Money Trees are so popular is their beautiful, glossy foliage. This plant often has several clusters of five or more leaves, which are usually long in shape, with a pretty, dark green color. It's no wonder that, when these leaves start to turn brown and dry, Money Tree owners begin to panic.
While there are a few reasons the Money Tree leaves may begin to discolor and dry out, poor watering habits are the most common. This is because, while Money Trees require consistent water and humidity, too much or too little is detrimental to its health.
So how can you tell if overwatering, or underwatering, is the culprit? Let's take a closer look at these two watering issues, and what you can do to keep your Money Tree healthy.
---
Underwatering Money Trees: The Problem
When a Money Tree's leaves begin to turn brown and dry, underwatering is an obvious explanation. Some plants can forgo water for weeks, but Money Trees cannot. That can pose challenges for busy people who tend to forget their plants.
If you see yellowing or browning leaves, you may have skipped a watering session by accident. But if you haven't forgotten to water your plant, you may need to increase the water or humidity for your plant.
How do you know what to do? Wouldn't it be simpler if plants could talk? They can – sort of! Even if your plant can't tell you it needs more water, there are symptoms to help you understand the needs of your Money Tree.
Symptom 1: Dry Soil
This is the first stage of underwatering, and catching the issue here can help prevent future dehydration. While it is important to let the first 1-2 inches of soil dry before the next watering, your soil shouldn't feel dry beyond that point.
Another sign of dry soil is dirt that is pulling free from the sides of the pot. If the soil has gotten too dry, the water may run out of the bottom of the plant's drainage holes. If this happens, water the plant and then wait about thirty minutes and water again. The second time, the soil will retain much more of the water you give it.
Instead of simply pouring water into the planter at the same time every week, check the soil to see if it is dry. I normally use my finger and insert it into the soil to check for moisture, but I also have a moisture meter I like to use when I'm uncertain.  
Symptom 2: Curled or Wrinkling Leaves
Another symptom of an underwatered Money Tree is curled or wrinkled leaves. This symptom usually appears before the leave would begin to discolor, and with improved watering, the leaf can still be saved.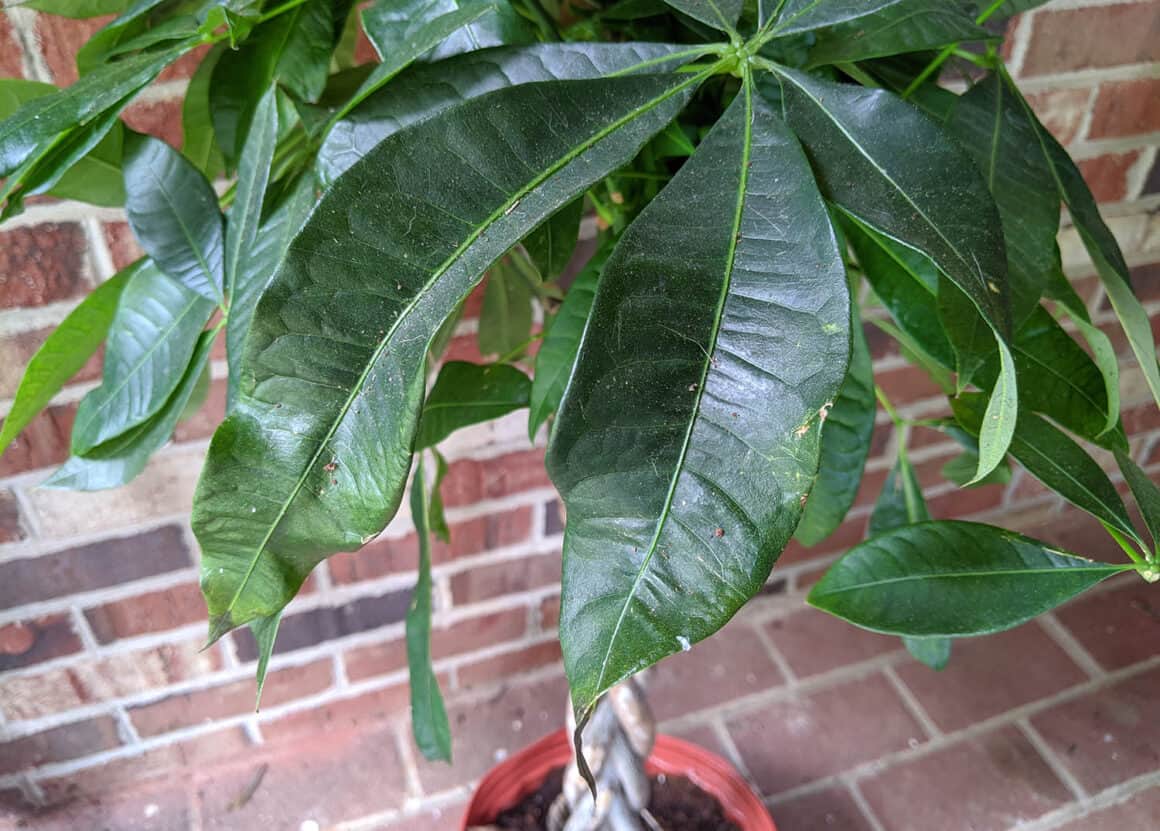 If the leaves start to look wrinkled or begin to curl in on themselves, check the soil. If it feels dry, water it thoroughly. But never let the plant sit in water. Remove any water that accumulates below the planter and never let the soil become muddy.
Symptom 3: Yellowing Leaves
Just like yellow on a traffic light means "caution," so do yellow leaves on your Money Tree. If you only see a yellow leaf occasionally, it may not be an issue. But several yellow leaves? Your plant is trying to send you a message.
The yellow leaf may not feel dry to the touch, but this can still mean dehydration. Check your plant's soil. If it feels dry, then the yellowing is likely a sign of underwatering. In this case, water the plant thoroughly as instructed above.
But what if the soil feels damp? This may be a sign of overwatering, which we will discuss later in the article.
Symptom 4: Brown Leaves
Dry, crunchy leaves are lovely during the fall – but not on your Monday Tree! And unlike outdoor trees which do shed leaves in the winter, it is not normal or "seasonal" for your Money Tree leaves to dry out and fall off.
If you see brown leaves or leaves that are starting to look dry at the tips, immediately check the soil with your finger or your moisture meter. If it is dry, the plant will need to be watered.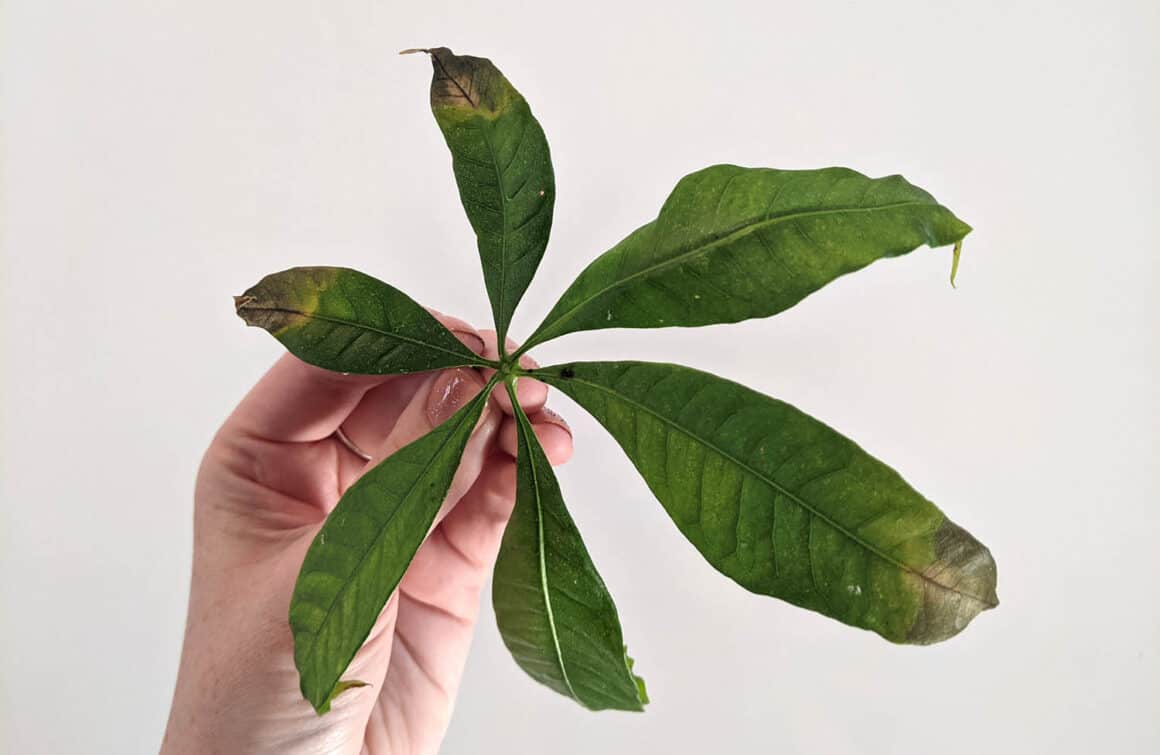 You may also want to consider setting a reminder to check your soil more regularly, since the brown leaves mean that the plant has been underwatered for a while.
But what is the soil feels hydrated? Dry leaves combined with damp soil suggests that your Money Tree is overwatered. And, unfortunately, overwatering is actually worse for your plant than underwatering. While it may not be too late to save your plant, it may also require a bit of time and work to nurse your Money Tree back to health.
---
Underwatering Money Trees: The Solution
This is important – any leaves that are already yellow or brown will eventually drop. They will not become green and healthy again. That's okay, and it doesn't mean your plant will die. However, it's important that you don't judge your efforts based on the fact that a yellow leaf does not turn green.
Instead, focus on new growth and the health of the plant overall. As we've already said, Money Trees like consistent water and moisture, so make a note to regularly check the soil, and never skip waterings unless the top 1-2″ is damp. As a general rule, your Money Tree will need watering once a week or possibly once every ten days, depending on the planter, soil type, and climate.
If you think you see signs of dryness, but you are worried about overwatering, consider moving your plant to a more humid room of the house, such as a bathroom – provided that there is enough light.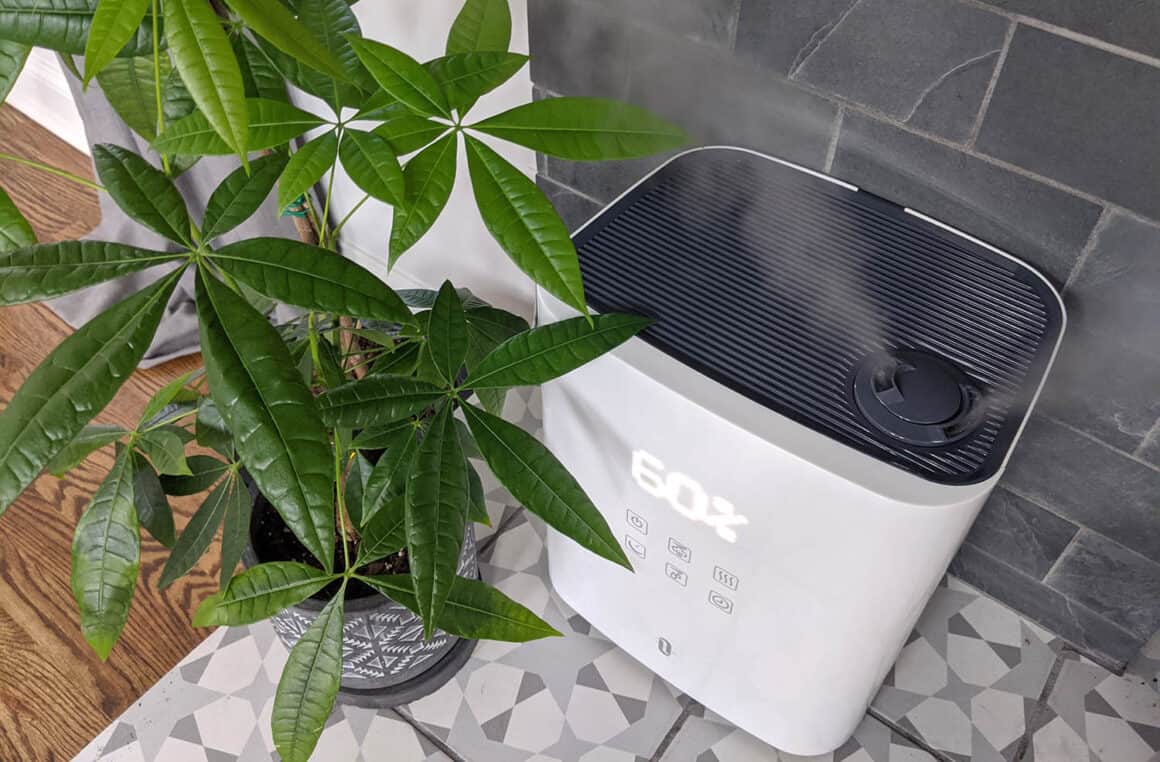 Also, adding a humidifier to the space can do wonders for dry, wrinkled, or browning Money Trees. After adding my new humidifier to my home, my Money Tree was the plant that was the most immediately affected. In a matter of days, my tree's leaves felt fuller and thicker than they ever had. For the humidifier I use and love, as well as my reasoning for choosing it, read this article where I explain the benefits of humidifiers in full.
These strategies will help increase the moisture in the air around your plant, which can do wonders for its health, without danger of overwatering.
---
Overwatering Money Trees: The Problem
Humans and animals can regulate their water intake and can get rid of excess water easily. With that in mind, we tend to think that more water is better when it comes to health. But for plants, the opposite is often true.
Plants can't process water quickly, and an overwatered plant has no place to go. Without a way to get rid of excess water, the plant is forced to sit in the muddy soil until it becomes sick, and its roots begin to rot.
Root rot is disastrous for a plant, since the roots are how the plant absorbs water, nutrients, and even oxygen. In other words, when the system that keeps the plant healthy starts to deteriorate and the plant will start to deteriorate too. Unless you do something to help.
But how can you tell if your plant is overwatered?
Symptom 1: Standing Water in the Saucer
Even before you start to see an issue with your Money Trees stem or leaves, you may notice that there is water in the dish beneath the plant. If you just watered the plant, you should pour this water away immediately.
However, if the water has been in the dish for a while, and you've let that happen before, this may be causing a serious issue in the form of root rot. You'll need to take a look at the roots to be certain.
For small or medium-sized plants, you may be able to elevate them from the saucer by adding rocks or pebbles to the dish. This strategy lets water flow freely from the bottom of the pot, while still allowing air to circulate through the drainage holes.
Symptom 2: Muddy Soil
While the soil of your Money Tree will definitely be damp immediately after watering, it should not be continually moist. But if the soil still seems wet the next day, the plant is potentially overwatered. If you're thinking, "But I didn't add that much water," there might be a few issues working against the health of your Money Tree.
First, you might be watering too often. Resist the temptation to water more than once a week. It's better to water thoroughly every 7 – 10 days than to water a tiny bit each day.
Second, you may have used the wrong soil. Money Trees benefit from a well-draining soil, that doesn't become soggy. However, some soils are designed to hold water, and may even contain water storing crystals. These blends can be great for some plants but are not right for a Money Tree.
Third, your planter may not have enough drainage holes. If possible, lift the planter and make sure that the pot has multiple drainage holes and that they are not plugged. If your planter only has one small hole, you may need a pot that provides more air circulation.
Symptom 3: Yellow Leaves
As we discussed earlier, yellow leaves can indicate a number of health issues – including overwatering. Since yellow leaves are a general sign of plant sickness, it's important to check your plant for other symptoms. Yellowing leaves, along with damp soil, probably means that your plant is overwatered.
Symptom 4: Brown Leaves
Remember how we mentioned that root rot can damage the plant's ability to gather nutrients, water, and oxygen? That is the reason that overwatering can cause the Money Tree's leaves to turn dry and crunchy.
While it might have seemed confusing that brittle leaves could come from too much water, it makes sense when you think about what the roots do, and how excess water can cause them to rot. If the Money Tree isn't able to gather resources, due to damaged roots, it will wither, just like it would if it was dying of thirst.
---
Overwatering Money Trees: The Solution
Don't forget that yellow and brown leaves will not recover. Prune them away or put them out of your mind, but focus on the plant's overall health. For a milder case of overwatering, keep in mind that your plant doesn't need a lot of water, but it does need consistent water and a humid environment.
The good news is that there are several strategies you can use to increase the humidity and moisture around your Money Tree, while scaling back the amount of water that you add to the soil. If you are watering more than once a week, immediately reduce your watering. Remember only water your Money Tree when the top two inches of soil are dry to the touch.
Consider misting the plant's leaves with water once or twice a week. The goal is not to spray the plant until it drips. Instead, just spray a bit of water in the air above and around the leaves, and then put away the bottle. This will introduce more moisture into the air around the plant, which is good for the health of the Money Tree.
Place your plant in a more humid room in the home or in a room with a humidifier to keep the plant comfortable while you reduce water usage. Soon you should start to notice that the soil is beginning to dry out, allowing you to begin a cycle of only watering once the top inch is dry.
But what if the soil is still soggy and more yellow and brown leaves appear? It might be time to play doctor. You will need to look at the roots of your Money Tree, by gently removing it from the pot. If possible, turn the pot upside down (or on its side) and gently tap the plant out to reduce damage. Gently rinse the roots to see them more clearly.
Healthy Money Tree roots should be light-colored and firm. Are the roots dark and mushy? Is there a rotting, musty, or composting smell coming from the roots or bottom of the pot? You have root rot.
Now your mission is to save the roots you can by helping them dry. If you don't see a pervasive rot problem, you may want to take the plant and the dirt around the roots and place it outside the pot to dry. You can use a baker's rack, or plant stand with holes in the base, to dry the plant for a couple of days.
If there are a lot of mushy roots, you will need to cut them away. Using very sharp, sanitized pruning scissors, cut away any rotting roots, leaving only the firm, healthy root behind. If the root rot is severe, you should also consider pruning the top of the plant, removing about 2/3 of the leaves and branches. As awful as that sounds, reducing the size of the plant will allow the roots to conserve energy, giving them their best chance to recover.
Do not discard these cuttings. Instead, check out our article here for how to propagate these leaves and stems into new Money Tree plants.
Replant your Money Tree in a planter with adequate drainage holes, using a well-draining potting mix, like one with perlite and peat moss. If you choose to re-use your previous planter, scrub it thoroughly and allow it to dry. Make sure it has more than one unplugged drainage hole in the bottom to help your plant to breathe.
Avoid fertilizer and locate your plant in a humid space, away from any direct light. Once you begin to see new growth, you know your plant is on the road to recovery. For more information on saving an overwatered Money Tree, read this article.
---
How to Keep From Under or Overwatering Your Money Tree in The Future
A simple trick for helping to prevent overwatering or underwatering is using a moisture meter. These meters have long probes that can be placed into the soil at the desired depth. They can tell you if the soil is moist or dry, and some can assess the pH value of the soil or provide other valuable information. 
Also, set a reminder for when to water your plant. And remember to always check the soil first. Don't be afraid to adjust the watering schedule if the moisture content of the soil requires it.
Lastly, remember to "listen" to your plant. Noticing issues like wrinkled leaves or yellowing, as well as the condition of the soil, can help you diagnose a potential problem long before it could seriously harm your plant. By treating your Money Trees with patience and care, your plants can thrive for years to come.