When we think of Monsteras, most of us envision their broad, beautiful leaves. But what we don't often picture are the strange, aerial roots that protrude from the stem of this plant. Though they are completely normal and don't harm your plant, you may still have many questions surrounding these odd roots on your Monstera deliciosa. What are aerial roots? Is there anything you need to do with them? Can they be trimmed back?
Aerial roots are roots that develop above ground. They tend to provide support for vining plants (like Monsteras) and tropical trees, attaching to nearby supports. There is no reason to do anything with the aerial roots on a Monstera deliciosa. But, if you don't like the look, they can be pruned back.
If you have lots of other houseplants, you may think that these unusual roots are unique to Monsteras. But there are lots of examples in nature of plants that grow the same way. What purpose do they serve? What is the difference between aerial and underground roots? And what should you do about them? Read on for answers to all this and more.
---
Monsteras in the Wild
Natives of Mexico and the northern regions of South America, the Monstera deliciosa makes its habitat in moist tropical rainforests. In its natural habitat, these woody epiphytic vines can reach up to 60 feet tall and produce a delicious edible fruit that takes over a year to ripen.
Also known as a Swiss Cheese Plant, the wild Monstera Deliciosa grows by attaching its aerial roots to nearby trees, which act as a sort of trellis that allows the plant to grow into the upper reaches of the rainforest canopy. Unlike other plants that do this, the Monstera doesn't damage or kill the host tree; it strictly uses it as a way to reach sunlight.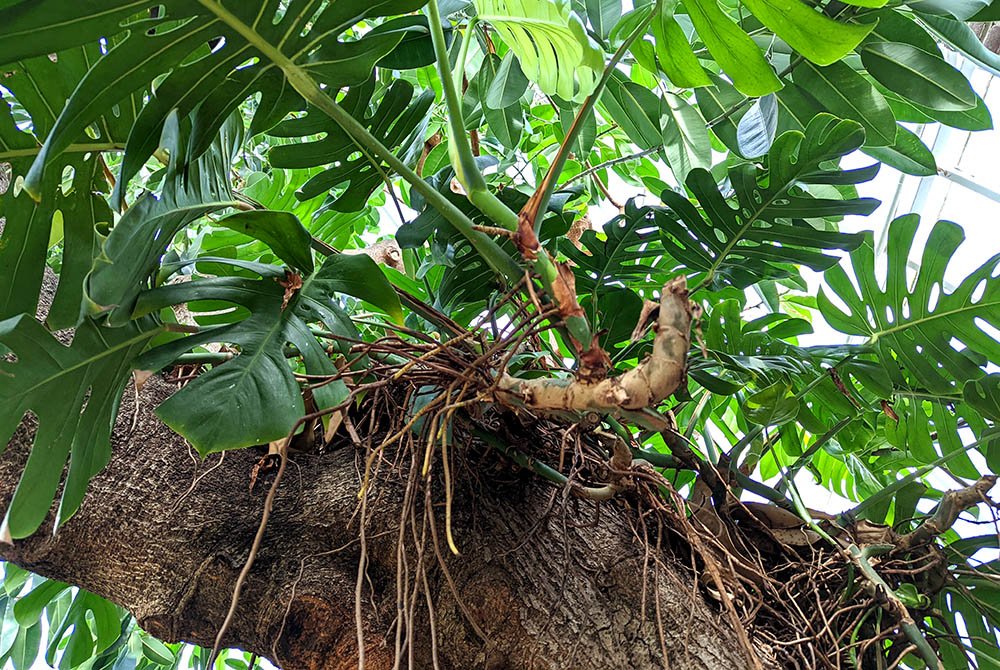 Sunlight on the lower levels of the rainforest is rare due to the volume of tall trees in the upper levels of the canopy. Because of this, many tropical plants, including the Monstera deliciosa, have developed unique methods of gathering enough sunlight. This is best seen in the growth of the plant's aerial roots and in the behavior of the Monstera seedlings.
The seedlings of the Monstera Deliciosa exhibit a unique trait called negative phototropism, or skototropism. This is when the plant prefers to grow towards the darkest area rather than towards the light. This allows the young seedling to seek out the trunk of a tree that it can then attach to and grow up in the wild. This is why Monstera seedlings grown at home need very little light: they wouldn't have any in their natural habitats!
Though seedlings don't need much light, as Monsteras grow older, they climb to the top of the canopy in search of bright, indirect sunlight. Their aerial roots help to support and facilitate this growth.
Much like their houseplant counterparts, established wild Monsteras develop fenestrations. However, in the rainforest, the holes in the Monstera leaves are believed to serve a survival purpose rather than just being aesthetically pleasing. These holes are thought to allow light to pass through to the leaves below, providing light to the lower portions of the plant.
---
Monstera Roots: The Different Types
The Monstera Deliciosa has three types of roots: aerial roots, aerial-subterranean roots, and lateral-subterranean roots. While these names sound super scientific, they're actually pretty straightforward.
The lateral-subterranean root is the root that most people are familiar with. These are the roots underneath the ground, hence the name "subterranean." The purpose of these roots is to anchor the plant into the ground, uptake nutrients from the soil, and absorb available water. Almost all plants, except for air plants, have these. The term "lateral" comes from the fact that they grow laterally off the primary root that extends from the stem.
The next type of root is the aerial root. These are roots that grow above the ground. They're common in many different plants and trees, including some varieties of mangroves, ficus trees, and several varieties of ivy.
Aerial roots can serve several different purposes. Some aerial roots in parasitic plants actually destroy and break down the host plant. Dwarf Mistletoe is a great example of this. These parasitic plants grow in trees but cannot perform photosynthesis on their own, so they use a growth similar to a root to bore into the host tree and suck the nutrients out of it.
Others, such as spider plants, develop aerial roots that serve as a means of propagation. In these types of plants, the aerial roots develop buds that grow into miniature clones of the parent plant and then fall off and root on their own.
In Monsteras, however, there are two main functions of aerial roots: to help anchor the plant to a support, such as a tree or moss pole, and to take up moisture from the air, increasing the plant's access to water. Support is the primary purpose of a Monstera deliciosa's aerial roots.
Aerial roots tend to grow out of the plant's nodes. They begin as small knobs that grow off of the Monstera's stem and, over time, can reach several feet in length. They don't harm the plant and generally don't cause structural damage if allowed to grow up a building, but will damage paint if allowed to grow into walls.
The last type of Monstera root, called aerial-subterranean roots, is a combination of the previous two. These roots begin as aerial roots, meaning that they started above the soil and have grown into the ground. The purpose that these roots serve varies, but they seem to contribute to supporting the Monstera as it continues to grow into the canopy.
Some plant owners say that they have had success training their aerial roots to develop into aerial-subterranean roots. There's no real reason to do this, though, and the science on it is spotty as it seems that these two types of roots are distinctly different from one another on a cellular level.
---
Why Do Monsteras Have Aerial Roots?
Most climbing plants, Monsteras included, have aerial roots to help them grow up trees or other surfaces. Monsteras, along with some orchids, use their aerial roots to attach to other structures that they then use to grow up. This is important in their natural habitats, where Monsteras have to compete with much taller tropical trees and plants for enough sunlight.
In the wild, the purpose of the aerial roots is to allow the Monstera to grow up taller trees so that its leaves can reach the sunlight in the upper canopy, which rarely reaches the ground. This is part of why Monsteras can grow so large. Without the ability to use aerial roots to grow up trees, Monsteras would not be able to gather sufficient sunlight in the rainforest.
Aerial roots also take moisture out of the air, providing the plant with more water. Aerial roots are different from underground, or lateral-subterranean, roots because their purpose is almost exclusively to provide support to the Monstera as it gets taller. Underground roots help keep the plant from falling over or becoming uprooted and absorb water and nutrients from the soil.
It's important to keep in mind that absorbing moisture is not the primary purpose of an aerial root. Don't neglect your plant on the basis that it should be able to take in enough water just through the aerial roots.
---
Indoor Monsteras & Aerial Roots
Kept indoors, Monsteras don't have to compete for the same resources that they would in the rainforest. Still, a well-developed and established plant will grow aerial roots from its stem and nodes.
These aerial roots can be a variety of colors, including green, white, and brown. As the aerial root gets older, it will become progressively more and more darkly colored and may even develop offshoots of other aerial roots.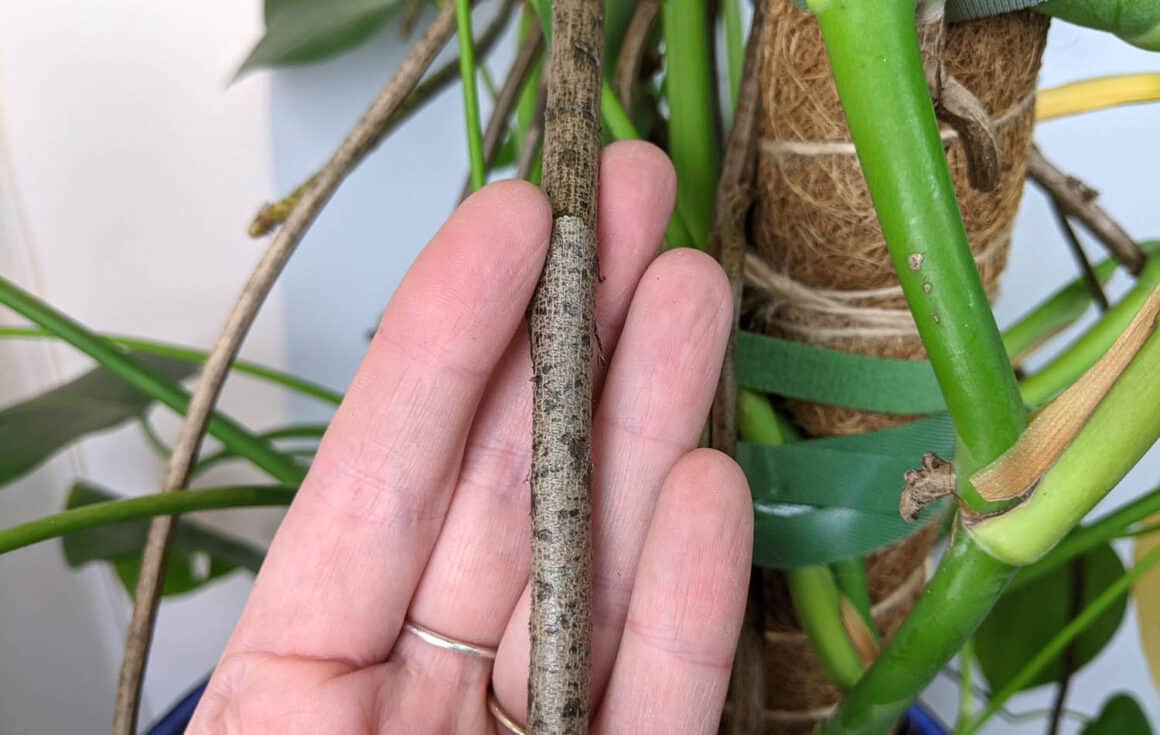 When they first begin to form, the young aerial roots may look like small knobs or growths on the sides of your Monsteras stems. Given time, they will get much longer. Some Monstera lovers have reported growing indoor aerial roots that were over three feet long.
When propagating, aerial roots are usually a good indication that a node would make a strong choice for a cutting. It is often recommended to cut beneath nodes with multiple aerial roots, though it's important to note that these aerial roots will not grow into regular, underground roots. Remember, these types of roots are fundamentally different.
It is unlikely that you'll notice aerial roots on a young Monstera. These generally develop with age, as the Monstera grows larger and requires more support to keep growing.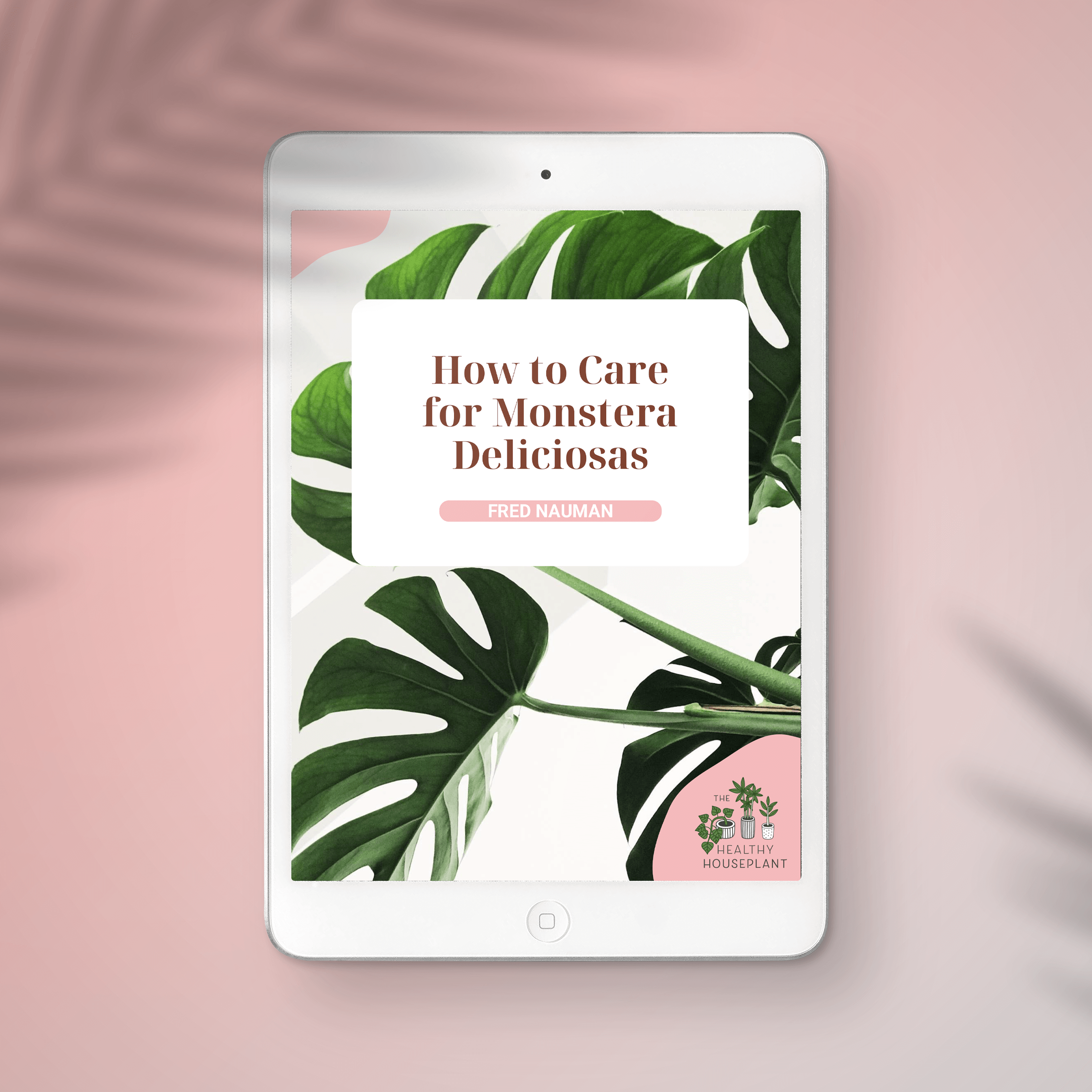 ---
What To Do with Aerial Roots
There are a few things that you can do with your Monstera's aerial roots as they develop. While they won't harm your plant and are actually an indication that your Monstera is doing really well, you may not like how they look because they can get messy, long, and stringy.
If your Monstera is developing wild-looking aerial roots growing out of the pot and onto the ground, you can consider trimming them back. Cutting the aerial roots near where they attach to the stem won't harm the plant. Expect them to grow back, though.
Monsteras are climbers and will continuously try to find ways to support themselves. If you're bothered by the aerial roots, you may want to consider looking into other plants that are fine without supports, such as Pothos, which can grow up a support or be left to trail.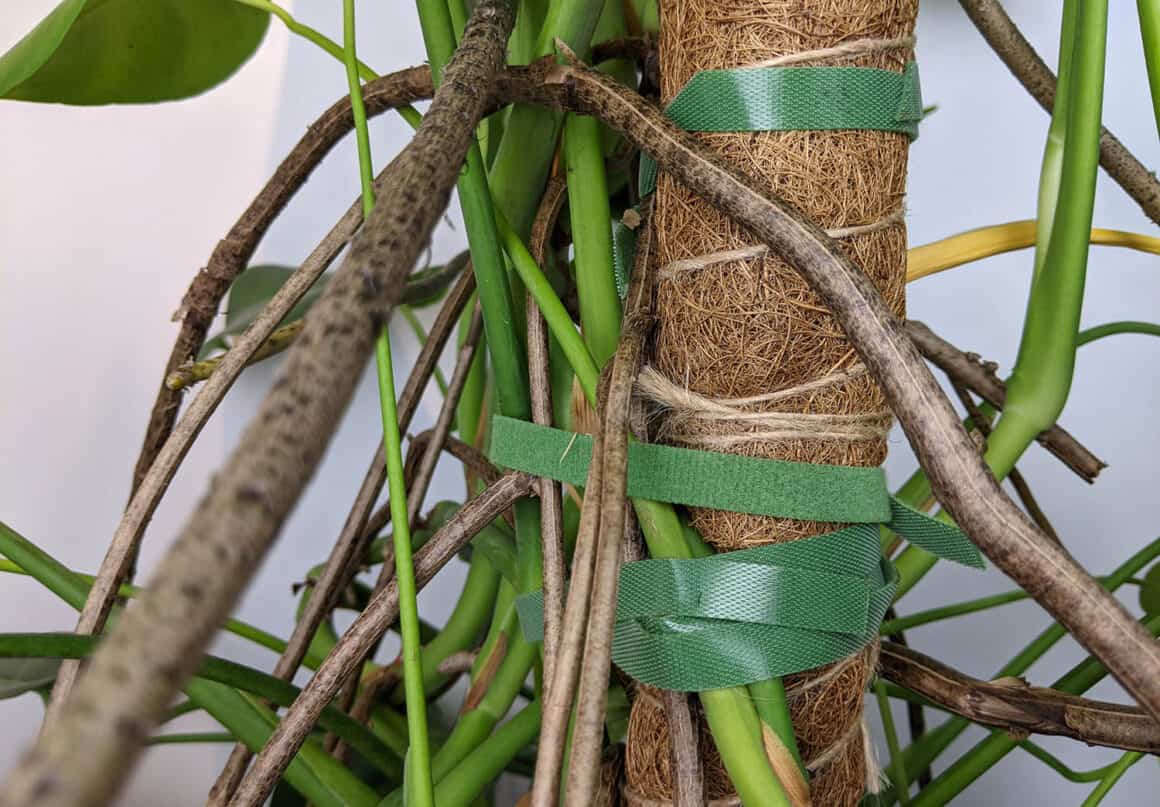 If the aerial roots aren't bothering you but you want to help your Monstera along, giving it something to grab onto is a great option. The most recommended choice is a moss totem or pole, a support covered in sphagnum moss or coco coir that the Monstera can attach to and grow up over time. These can be purchased or made.
Once put into place, it's as simple as finding the thickest and most mature stems and tying them gently to the pole to encourage the plant's aerial roots to attach. You'll need to periodically mist the pole to keep it moist. This will simulate what the Monstera would be looking for when growing up a tree in the wild.
Some Monstera owners also thread the most-established aerial roots through the newly installed moss pole. You can do this, but it isn't required and probably won't make much of a difference in how quickly your Monstera takes to its new support system.
Providing your Monstera with a moss pole will encourage its aerial roots to grow towards the pole rather than all over the place, so this will give your plant a much cleaner appearance and will encourage it to grow taller, producing larger leaves with more fenestrations if it is old enough. If you want to read more information about Monsteras and moss poles, click here.
You can also just leave the aerial roots alone. They are an indication that your Monstera is probably ready to start climbing, and your plant won't suffer if you leave it to its own devices. Many Monstera owners simply tuck unruly aerial roots around the plant, keeping the plant from looking too wild. Ultimately, this is a matter of personal taste and what your overall goals are for your Monstera.
It is important to note that not providing your Monstera with support can possibly hinder its overall growth and result in heavier stems snapping over time. To read more about keeping large Monsteras growing upright, click here.
---
How To Trim Back Aerial Roots
Trimming back aerial roots is no different than any other type of pruning, so if you're experienced in plant care, this should be pretty easy.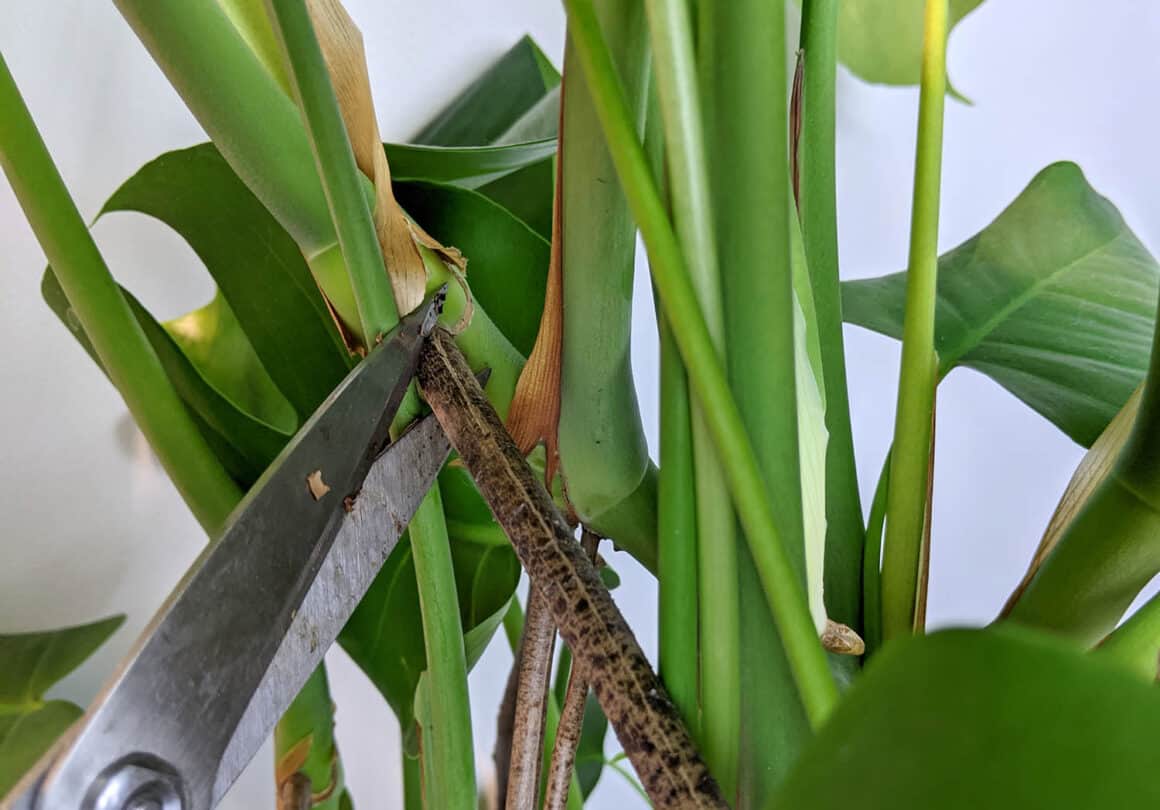 You'll need a set of clean, sharp, and sterilized shears. As with any type of pruning, the shears must be sterile. Failing to properly sanitize them can introduce bacteria and fungi that can harm or kill your plant. While that's a worst-case scenario and Monsteras are known to be pretty hardy, you don't want to take any chances.
Prune your Monstera's aerial roots back to the stem, cutting just before where the root meets the node or stem. Try not to cut too close, though, as damaging the stem can weaken it and allow bacteria, fungi, and pests an easy inlet to attack your plant. It's also important that you remove the entire root and not just part of it.
Trimming back a Monstera Deliciosa's aerial roots should be done after the growing season, which is generally in early spring and summer. You should note that pruning can encourage aerial root growth, resulting in multiple roots popping up where only one was before.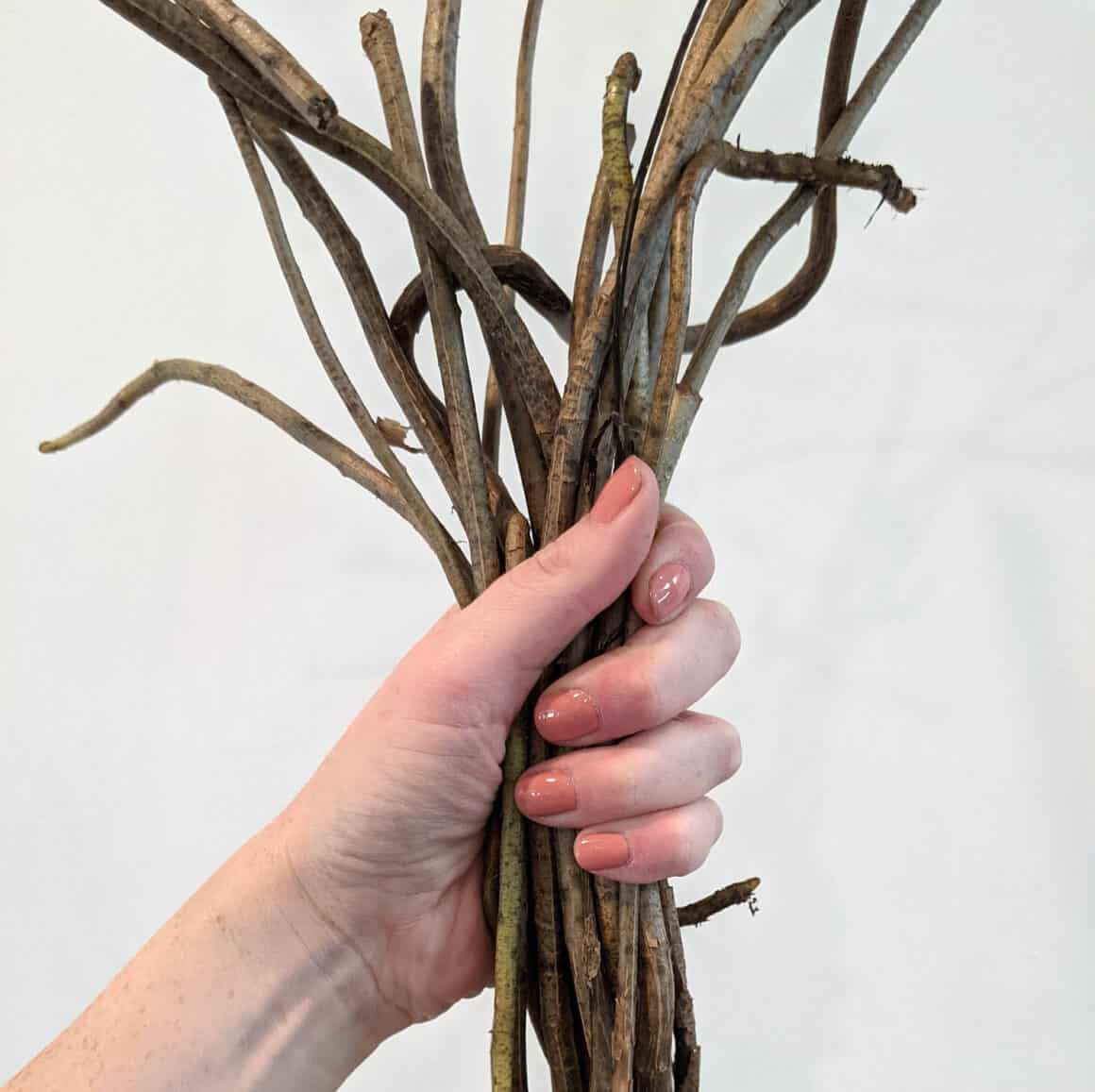 If you decide to prune a Monstera's aerial roots, remember that these appendages have a purpose in your plant's growth. While you may not want to encourage the Monstera to grow upwards, that is what the plant is designed to do. Removing aerial roots not only goes against its nature but will cause the plant to miss out on some of the moisture that it would have accumulated through the aerial roots.
---
Final Thoughts on Aerial Roots
If you were concerned before, hopefully, this article has put to rest any fear that your Monstera was doing something unusual. Aerial roots are completely normal, and it is even a sign of healthy plants.
While you can trim aerial roots, it isn't necessary. If you decide to trim your Monstera's aerial roots, be sure to pay extra attention to it. It's unlikely your plant will suffer from having them removed but better safe than sorry. Keep an eye on your Monstera for a week or two to check for signs of distress.
---
Read More About Monsteras
Have more questions about your Monstera Deliciosa? Want to know what you can do to keep it happy and healthy? Grab our latest book, How to Care for Monstera Deliciosa, and get all that and more.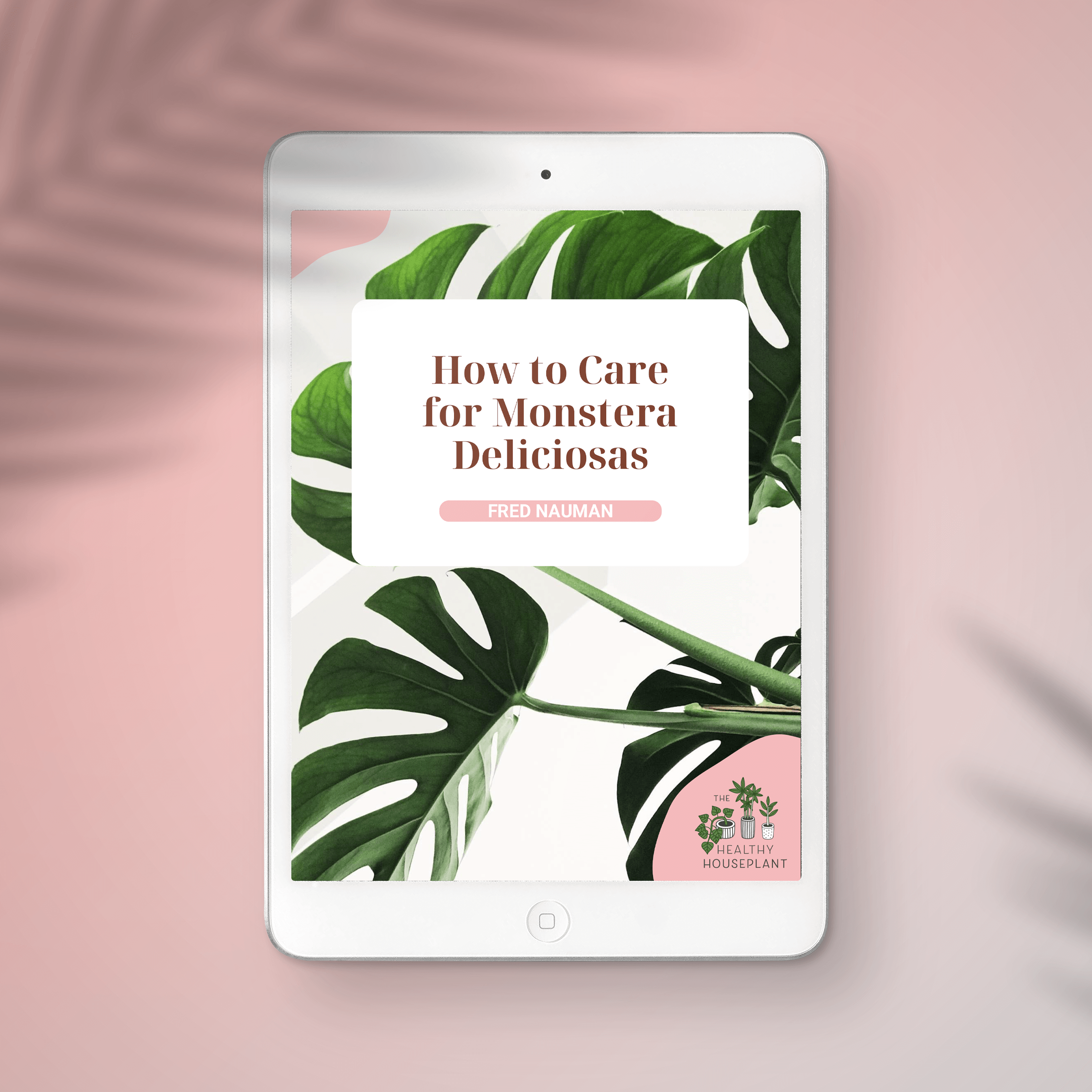 Our eBook covers:
Signs Your Monstera Isn't Getting Enough Light or Water
How to Grow Your Monstera to Epic Sizes
What are Fenestrations and How Can You Encourage Them
Tips for Fertilizing Monsteras
The Best Way to Prune this Plant
Propagation Tips and Tricks
The Best Type of Soil for Monsteras
Help Diagnosing Unhealthy Plants and How to Treat Them
And More!!
If you've got more to learn, grab a copy of our book today and get your Monstera Deliciosa back on track. Get your copy now!