Even the most careful and diligent houseplant owner will eventually run into that dreaded problem: pests. Monstera deliciosa, luckily, isn't among the houseplants most susceptible to insects, but it can still become infested by several different types of pests.
Which pests are attracted to Monstera deliciosa? Although relatively resistant to the pests that plague other indoor plants, Monsteras can suffer damage from insects, including thrips, spider mites, and scale. A Monstera can usually be saved with neem oil, horticultural soap, or changing the plant's environment.
If you haven't experienced insects on your houseplant before, it can be upsetting when you realize that your plant is harboring unwanted guests. But you can rest assured knowing that other plant owners have battled against worse and won. There are methods to treat your plants to get rid of existing pests and prevent them from returning. Toward the end of this article, I'll also provide some tips on avoiding bringing them into your home in the first place.
---
The Most Common Monstera Pests
Monsteras can fall prey to some common pests that attack all types of tropical houseplants, including thrips, scale, spider mites, and fungus gnats. Most types of insects you'll find on your plants cause damage to your plant because they are phytophagous, meaning they feed on the tissues of plants themselves.
---
Signs of Pest Damage on a Monstera
Depending on what type of insect is attacking your Monstera, you may see different symptoms. I will review the signs of several types of pests in more detail below, but these are the general signals that indicate you should inspect your Monstera closely for bugs:
Yellowing leaves
Brown, white, or yellowish spots on the leaves or stems
Sticky residue on leaves
Holes in leaves
Webbing
White or black powdery substance
If you see any of these symptoms or your Monstera deliciosa, it's a good idea to take a close look at the leaves and stems and see if you can identify any intruders. I like to keep a small magnifying glass with my plant supplies to quickly determine if I'm seeing dust or something more problematic.
---
Scale Insects & Monsteras
Scale insects are unmistakable once you know what to look for, but they can be challenging to identify the first time. That's because they don't look like insects, and the adults never move once they have attached themselves to the plant.
However, these immobile adults can lay hundreds of eggs, which hatch into larvae called "crawlers." These travel to new feeding sites before latching themselves on. That's why, unfortunately, you'll rarely find just one scale insect on a plant. If you have seen one, it's best to treat the whole plant since there is very likely scale you can't see.
---
Identifying scale
There are actually two types of scale – one has a hard, "armored" exterior covering, and the other is "unarmored" or soft scale. These insects are flat and round, with a dome shape similar to a turtle shell. They are usually brown or tan but can vary anywhere from black to white as well.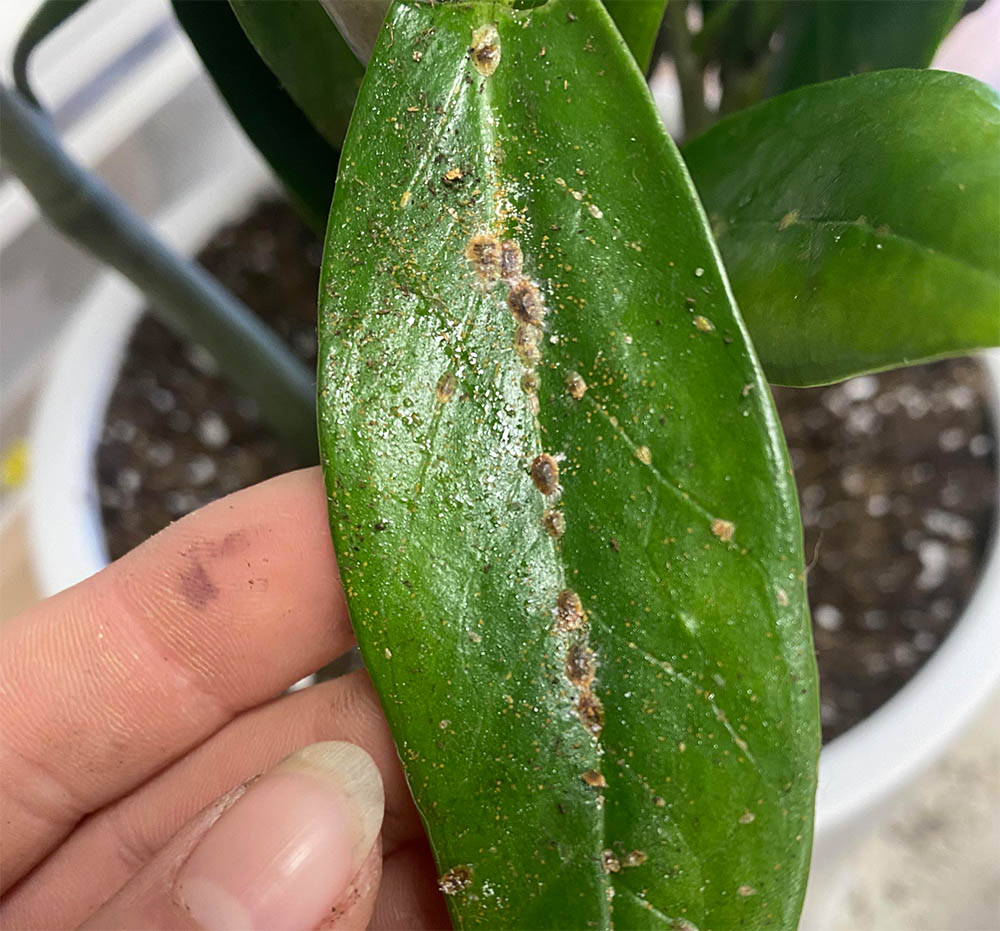 Scale insects seem to prefer stems and leaf joints over the thinner parts of the leaf, so you should inspect those parts if you suspect a scale infestation. These thicker areas of the plant are more nutrient-rich, which is why the insects are attracted to those areas. Scale causes white or yellow spots and can cause leaves to turn yellow and/or drop off, but most people don't realize their plants have scale until they see the insects themselves.
---
Treating Scale
First off, if you notice scale on one of your plants, be sure to isolate it to keep nearby plants from being infected as well. If there is a lot of scale on one part of the plant, you may choose to prune off the affected area instead of treating it.
Scale is resistant to many of the spraying techniques that work on many other houseplant pests, possibly because of their hard shells and tenacity in attaching to the plant. Scraping them off the plant manually seems to be the easiest method, although it can be tedious if there is a lot of scale on your Monstera.
A cotton swab dipped in rubbing alcohol and applied to the scale is a tried-and-true method for killing these pests. The alcohol dissolves their shell, killing the insects quickly. You will need to be vigilant with this method, making sure to treat all visible scale insects and checking every few days for new ones. Any insects left behind will quickly reproduce, so it's essential to eradicate all of them.
For less serious scale problems, manual removal usually works. However, if you have a more extensive scale attack or you prefer to take systemic measures from the start, there are a couple of good options for this as well.
You can buy horticultural soap – also called insecticidal soap – or make your own from a few simple ingredients. I consider horticultural soap a must once your houseplant collection reaches a specific size. It is preferable to actual pesticides since it is non-toxic to pets, birds, and beneficial insects, plus it doesn't leave behind the unpleasant residue that some insecticides have.
I have included a few recipes for horticultural soap below, in case you decide to go the DIY route, plus instructions on how to use it.
---
Spider Mites & Monsteras
Spider mites are members of the arachnid family that consume the tissues and sap of plants. Like their better-known relatives, they can spin fine webs, usually in the joints where a petiole or stem branches off.
Unfortunately, if you see this pest on one of your plants, they have likely already spread to others. They are very mobile and actually use breezes to move from place to place. They can also travel on people or pets that happen to brush up against them, so be sure to check all plants and provide preventative measures to your collection.
---
Identifying Spider Mites
Spider mites are difficult to see without a magnifying device. The signs of spider mites on a Monstera include yellowing around the leaves' edges and small yellow or brown spots on the leaves where the mites have sucked out the sap.
Since these mites are so tiny, the presence of webs is usually the best way to discover if you have spider mites instead of another type of pest. You may also find the leaves have a sticky or sandy feeling, particularly on the bottom of the leaf as they prefer to congregate there.
If you suspect you may have spider mites, another investigation method is to shake the leaves gently over a piece of white paper. When the mites fall onto the paper, you should see them more clearly, and they will soon start to move around. There are several species of spider mite, so you may see different colors depending on which type you have. Red and black are the most common types in the US.
---
Treating Spider Mites
When treating spider mites, it's important to know what conditions these pesky pests like. They tend to show up more often in winter since they like warm, dry environments – like your furnace-heated home. To prevent them, you can change the environment by increasing humidity and decreasing temperature in winter. However, they can hibernate, so this will only slow down their activity. To get rid of an existing infestation, you will need to treat the plant.
Luckily, spider mites can be knocked off a Monstera fairly easily. Putting the plant into a shower or hosing it down outside can quickly reduce the population. You can also wipe the leaves with 70% rubbing alcohol or a horticultural soap to kill any remaining mites.
Neem oil (see more detailed information below) is effective against spider mites, but it's not recommended to use a traditional chemical insecticide, as that can kill off the spider mites' natural predators and actually make the problem worse. Instead, stick to more natural treatments and be persistent.
Finally, you can purchase predatory mites or ladybugs that feed on spider mites and release them in your home. This kind of biological control works well but may not be appropriate for the squeamish. Note that it generally takes a couple of weeks for the predatory mites to do their thing, but they should die off naturally once they have exhausted their food source.
---
Thrips & Monsteras
Thrips are so small that it is difficult to notice them unless you inspect your Monstera's leaves closely. These tiny insects suck the moisture from plants, which can leave them looking dry and brown. In addition, they can transport viruses to your plants that can damage or kill them.
---
Identifying Thrips
It is usually easier to locate the larvae instead of the adults, as they cluster together to feed. They look like tiny white footballs and are usually on the underside of leaves. Adults are dark brown or black and can fly.
---
Treating Thrips
As with many of the pests on this list, treating thrips early will go a long way toward minimizing the damage to your plants. Inspect new plants and quarantine them for at least two weeks before allowing them in the same space with your other houseplants.
Since thrips tend to congregate together, you may be able to remove heavily infected leaves from your plant and simplify the treatment of the rest of it. Monsteras can withstand a fairly severe pruning, which may be the best option for severe thrips problems.
Thrips are also susceptible to being knocked off the plant by an intense burst of water, such as from a garden hose. You'll want to do this outside, away from other plants, and support the leaf with your hand to avoid bending or breaking the stem with the force of the water. Make sure to get the backside of the leaf, as thrips prefer to hide there. This is a good first step before you apply an insecticide or neem oil.
As with scale insects, it should be relatively easy to treat your plant with horticultural soap and/or a neem oil solution to get rid of thrips.
---
Fungus Gnats & Monsteras
Fungus gnats are the anomaly on this list because they do not attack or live on the plant itself. Instead, as the name indicates, they are attracted to the fungus that can grow in the damp soil inside your potted plants.
Although the adult fungus gnats don't cause any damage to plants, their larvae feed on the fine roots of the plant and can cause it to wilt over time. Fungus gnats also can carry harmful fungi.
---
Identifying Fungus Gnats
Many people mistake fungus gnats for fruit flies, as they look similar to the naked eye and exhibit some of the same irritating behaviors (like drowning themselves in your wine and flying around your face). However, you can distinguish them from one another once you know what you're looking for.
Fungus gnats are slimmer and more delicate than fruit flies, and their bodies are black. If anything, they look like tiny mosquitos. Fruit flies can be a brown or red color, and their bodies are more round.
Location is also an indicator. You will probably see fungus gnats crawling on the surface of your plants' soil or flying away from the pot when you water. You may also find fungus gnats congregating in windows. Fruit flies will be around your fruit (obviously) and garbage as they seek out rotting organic material.
---
Treating Fungus Gnats
You have a few different options for treating a plant that has fungus gnats. The first suggestion is to make the environment inhospitable for them. Since they like moist soil, you can try to let your Monstera's soil get reasonably dry between watering. Personally, I haven't had too much success with this method because many of my plants had gnats, and some of them couldn't tolerate the drier conditions. If the fungus gnats are only in your Monstera's soil, this might work since Monsteras can go without water for quite a while.
Watering from the bottom instead of the top can help as well. This method works because fungus gnat larvae live in the top layer of the soil. You can also try top dressing the soil (using a layer of decorative rocks or sand around the base of the plant) since this makes it difficult for the adult fungus gnats to reach the soil and lay their eggs.
I also like to use Mosquito Bits, which are a type of biological control that kills fungus gnat larvae. You can dissolve the bits in your watering can (be aware, this takes a while) or add a top dressing layer, which will slowly dissolve into the soil each time you water.
The methods above depend on disrupting the fungus gnat's life cycle, which can take several weeks, so there are some ways you can capture those pesky adult gnats in the meantime. Yellow sticky traps are effective, non-toxic, and inexpensive, plus it's very satisfying to see how many of these annoying gnats get taken out of commission.
For a DIY method using products you already have, you could make a trap using apple cider vinegar or wine. Mix a few tablespoons of the liquid with several drops of liquid dish soap, and leave the trap near where you see the most gnats. They are attracted by the smell but get trapped by the dish soap and drown.
Note that fungus gnat adults can be killed by using insecticides, but their larvae are not affected. To get rid of them permanently, you need a solution that kills them at all stages of maturity.
---
How to Make and Use Horticultural Soap
Horticultural soaps work against insects by coating their exoskeletons and suffocating them. This method requires that the spray actually come into contact with the insect, and will work best with repeated, thorough applications to ensure that all of the pests are eliminated.
Although I prefer to buy horticultural soap, it is easy to make with a few items from your home. By doing this, you can control precisely the ingredients you want to use (for example, avoiding unnecessary perfumes or additives). Start with a cup of oil (any type is fine, but you'll probably want to use your least expensive option), and mix in one tablespoon of regular (not dishwasher) dishwashing liquid or pure castile soap.
*Note: make sure you do not use any soap that contains bleaching agents or degreasers. You want a soap that's as pure as possible.
Your oil/soap mixture should be mixed with warm water to create the soap spray for treating your plants at 2 tsp per cup of water. Only make as much as you're planning to use for that treatment. Some people also add cayenne pepper or garlic powder as an additional deterrent to keep insects from feeding on their plants – if you choose to go this route, a teaspoon should be plenty.
Be aware that it's not recommended to use insecticidal soap in hot weather (over 85 degrees Fahrenheit) or in direct sun since plants can be burned.
Watering the plant before you apply the horticultural soap can help prevent damage to the roots. If you are using a commercial horticultural soap, follow the instructions for dilution based on the instructions provided. Put the diluted mixture into a spray bottle and use it to thoroughly spray the tops and bottoms of all leaves, plus stems and branches of the Monstera. Basically, you want to coat as much of the surface of the plant as you can.
Apply every two to three weeks until you see no more signs of the pests. Depending on how severe the problem was, three treatments should be plenty. But be sure to monitor your plants closely to see if any insects escaped your attention the first time.
---
Neem Oil: What Is It and How Do You Use It?
If I had to recommend one single product in the fight against pests on your Monstera deliciosa and other indoor plants, it would be neem oil. I think you'll be convinced once you give it a try, but here are a few of the (many) benefits of using neem oil:
Environmentally friendly
Safe for pets and humans
Safe for pollinators like bees and butterflies
Effective as a pesticide for over 200 species of insects that eat plants
Doesn't accumulate in the soil
Easy to apply
Neem has been used in India for years in a variety of applications. The oil is pressed from the seeds and leaves of the neem tree. It is an entirely natural product that does not contain any man-made chemicals.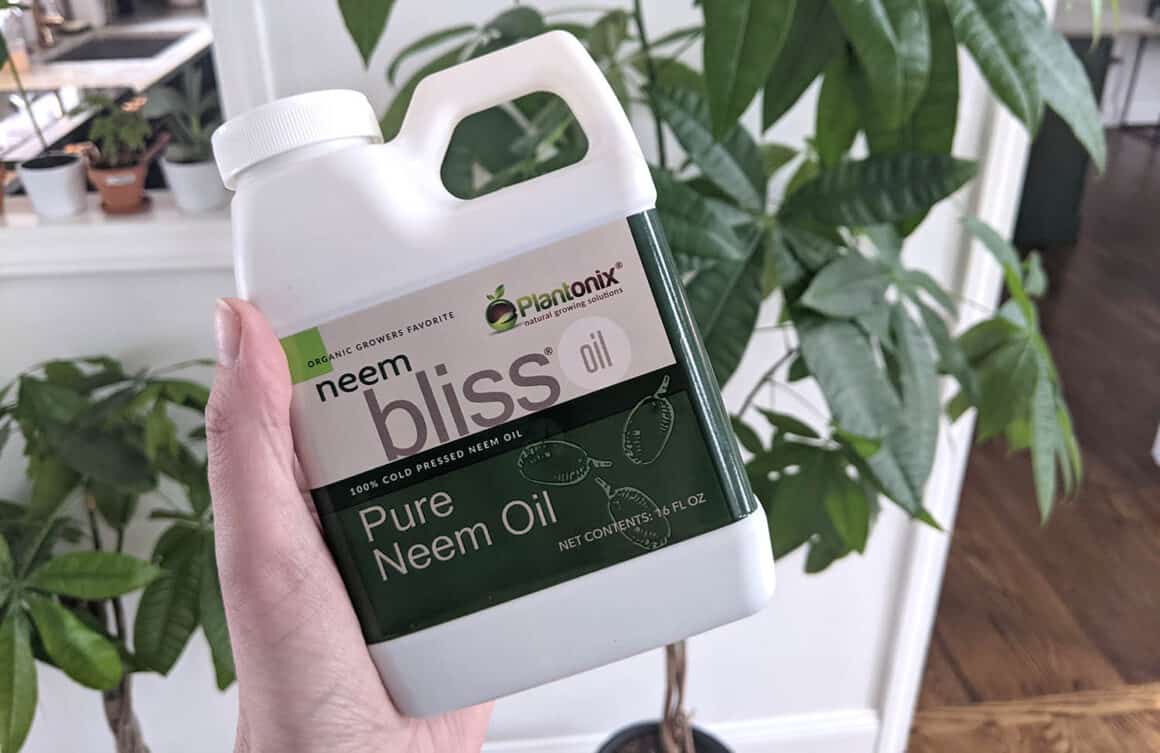 Neem oil is effective against all the insects in this article and some that we didn't mention (aphids, caterpillars, whitefly, etc.). It also prevents or kills common fungal diseases like powdery mildew and leaf spot on indoor plants.
When you use neem oil on your plants, it is absorbed into the plants themselves and provides lasting protection against pests that attempt to eat them. Neem also disrupts insects' hormonal cycles, preventing them from maturing.
---
Using Neem Oil
You can use neem oil in a couple of ways, depending on your goals. To treat pests that are on the surface of the plant, foliar application (spraying the solution on the leaves) is the best. For on-going maintenance, I recommend adding neem oil into the water when you water your plants to give them protection against any new pests that might get into your home.
Read the instructions on your neem oil for dilution instructions, as well as information about when and how to spray the plants. Remember that neem oil is concentrated and can damage your plants if misused.
Are there any downsides to neem oil for Monsteras? I know that neem oil sounds like a miracle product, and it really does have some amazing benefits. But there are a couple of things you should know about it before deciding if this is the solution to your pest problems, though.
Neem oil has a strong smell. Many people describe the scent of neem oil as like garlic or sulfur, and many find it objectionable. It should go away within 1-2 days of application. Cleaning up the application area with a citrus-based cleaner can help counteract the smell somewhat.
Neem oil is banned in the UK, Canada, and several other countries due to health concerns for pregnant women and very young children. However, these concerns are related to consuming a large quantity of the substance. The concentration and potential for ingestion when using neem oil for houseplants means the risk is low.
---
How To Avoid Bugs On Your Monstera in The Future
Most houseplant owners end up having some kind of insects on their plants at one time or another, but you can minimize the chances of that happening by taking some simple precautions. The precautions fall into two categories: preventing pests from getting into your home and providing hostile circumstances for them.
First, the best way to avoid pests on your Monstera is to keep them away from your houseplants in the first place! Most insects get inside your home by hitchhiking in on a new plant or from a plant brought in from outside for the winter. When buying new plants, be sure you go to a reputable nursery and inspect your purchases very carefully before you even leave the store.
Quarantining new plants for a few weeks can give you time to spot any problems before moving them to where the others are. This can be hard if you have plants all over the house (like I do), but it is certainly worth the effort since fighting off plant pests can take hours of time and plenty of attention.
If you do put plants outside during the summer, follow proper processes to get rid of pests before bringing them inside for winter. I would recommend a thorough soak in soapy water to get any bugs out of the soil, plus a treatment of horticultural soap on the leaves.
Secondly, keeping your plants in good condition will go a long way to helping them resist infestation. Spider mites, for example, thrive in hot, dry conditions, so they are unlikely to wind up on a Monstera kept regularly watered with adequate humidity. Fungus gnats, on the other hand, are much more likely to show up in a plant that is overwatered.
If the conditions are not right for the pests to attack your plant, they will find somewhere else to go. Unfortunately, even perfect conditions are not enough to prevent some insects from finding their way onto your Monstera. That's why I prefer to check my plants for pests every time I water and give occasional preventative treatments with neem oil.
Although it can be discouraging to encounter a pest problem on your Monstera, rest assured that even the most experienced houseplant owner runs into issues with insects from time to time. If you follow the tips from this article, you should be able to get rid of all those pesky insects and prevent them from getting into your plants in the future!
---
Need More Help With Your Plant?
Have more questions about your Monstera Deliciosa? Want to know what you can do to keep it happy and healthy? Grab our latest book, How to Care for Monstera Deliciosa, and get all that and more.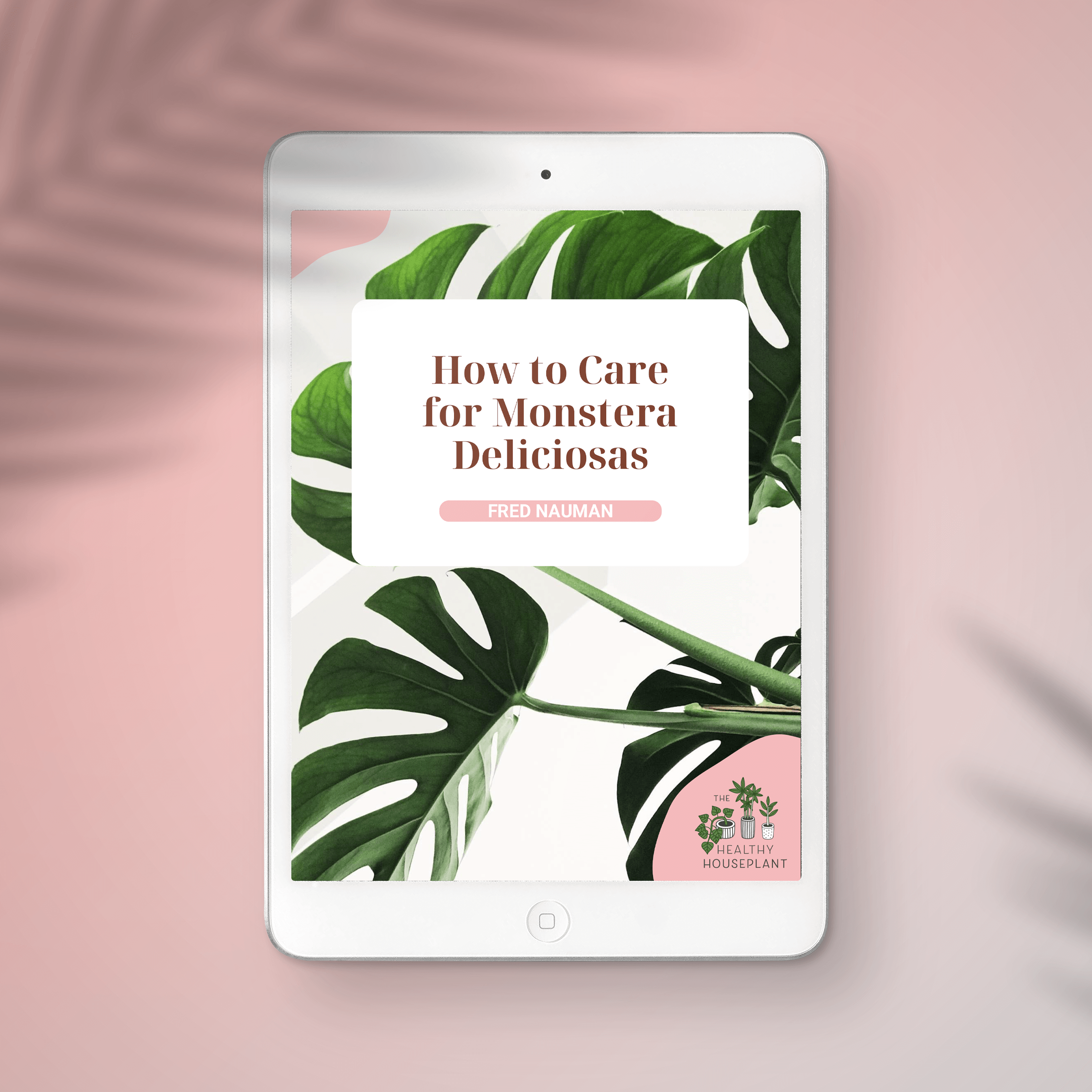 Our eBook covers:
Signs Your Monstera Isn't Getting Enough Light or Water
How to Grow Your Monstera to Epic Sizes
What are Fenestrations and How Can You Encourage Them
Tips for Fertilizing Monsteras
The Best Way to Prune this Plant
Propagation Tips and Tricks
The Best Type of Soil for Monsteras
Help Diagnosing Unhealthy Plants and How to Treat Them
And More!!
If you've got more to learn, grab a copy of our book today and get your Monstera Deliciosa back on track. Get your copy now!