My Fiddle Leaf Fig was growing happily in a sunny window for several years with zero problems. I didn't know why people always said these plants were so fussy! But one day, I noticed it wasn't looking so great. Upon closer inspection, I found spider mites. First, I panicked, but then I did my research. After looking over many options, the treatment I decided to use on my Fiddle Leaf Fig was neem oil.
Neem oil is an excellent option for treating and preventing pests on Fiddle Leaf Figs. It's safe to use at home and effective against a wide range of insects. Be sure to keep your Fig out of direct sun after treating it with neem oil, as plants are sensitive to sunlight after a neem oil application.
There are a few things to be aware of to make sure you don't inadvertently harm your plant when using neem oil, but overall it's one of my favorite options for treating a range of issues that can affect Fiddle Leaf Figs. Read on to see if neem oil is a good choice for you and instructions on how to use it.
---
What is Neem Oil?
Neem oil comes from the seeds of the neem tree. It has been used as a natural pesticide for years, due mainly to the presence of the chemical compound azadirachtin. This component of neem oil effectively kills a large number of common houseplant pests by disrupting their hormonal cycles.
You can use neem oil to kill thrips, aphids, mealybugs, scale, spider mites, and other related insects that feed on houseplants. (Read more about the pests that infest Fiddle Leaf Figs here.) But you will probably need multiple treatments to be sure the insect population is completely eradicated. Neem oil also works as a fungicide and can prevent or treat all types of fungal infections on a Fiddle Leaf Fig.
The best neem oil is pure and cold-pressed. Be sure to check the label, as some products labeled as neem oil contain additional ingredients that could reduce effectiveness, be dangerous for indoor use, or damage plant leaves.
Are there any downsides to neem oil? For most people, the main negative thing about it is the smell. Depending on who you ask, the smell may be garlicky, nutty, or just plain bad. And if you're using it on a lot of plants in your home, it could definitely become overpowering.
Also, it is an oil. If you're spraying it on your plants, there is a strong possibility that oil will get on your floors or furniture if you don't take precautions to prevent that. Either treat your plants outside or protect the area around your plants to avoid the oil ending up where you don't want it.
---
Is Neem Oil Safe For Fiddle Leaf Figs?
As long as you use it correctly, neem oil is perfectly safe to use on a Fiddle Leaf Fig. These plants have tough, thick leaves that aren't easily damaged, so you don't need to worry about a coating of oil on them. Just make sure you follow the instructions on the bottle — you can always overdo it, even with something as mild as neem oil.
Also, neem oil does make your Fiddle Leaf Fig (and any other plant) more sensitive to direct sunlight when oil is sprayed on the leaves. Apply it in the evening or move your plant to a shady location after treatment. At a minimum, the plant should stay out of the direct sun until the oil is dry, but I usually give it a couple of days just to be cautious.
---
Is Neem Oil Safe in Your Home?
Since neem oil isn't a normal pesticide, it is generally safe to use inside your home. It shouldn't be dangerous to pets or people when used as directed and doesn't damage any beneficial insects such as bees or ladybugs that could encounter it. It only acts on those insects that are eating your plants.
That said, if ingested, neem oil could be dangerous. Be sure you store it in a closed container out of reach of children and pets. Also, keep them out of the area if you are spraying plants with neem oil, and try to avoid breathing in the oil droplets.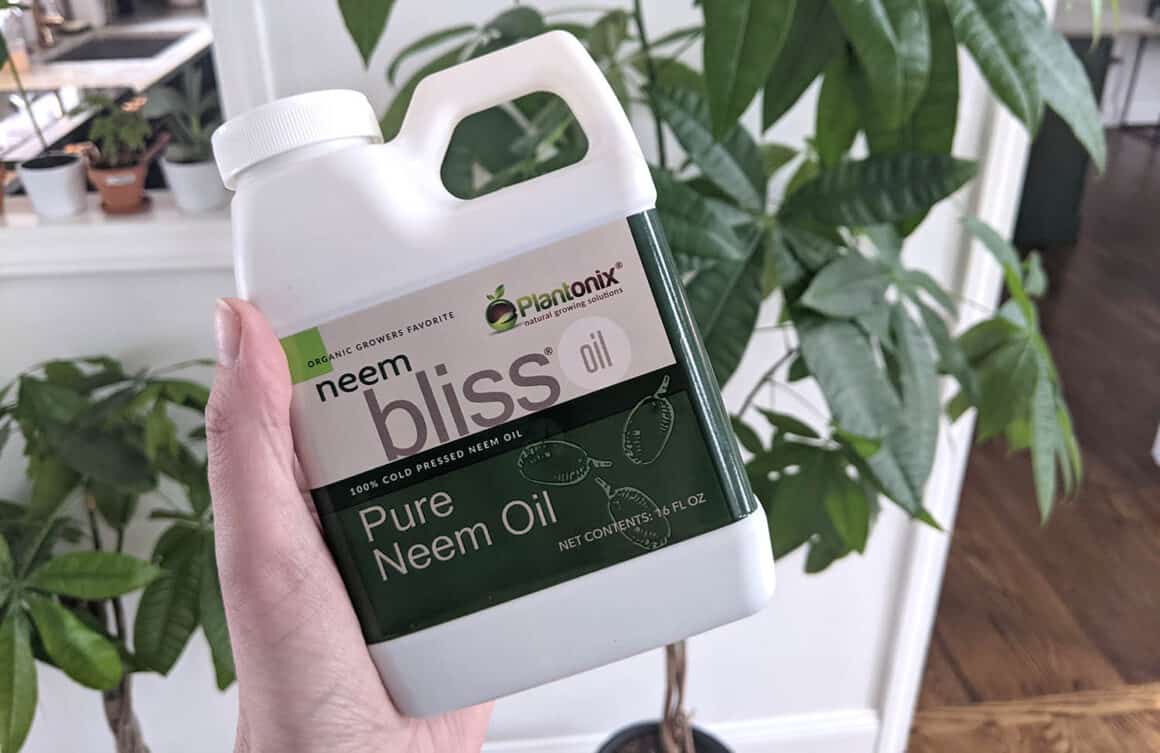 ---
How to Use Neem Oil on Your Fiddle Leaf Fig
There are two ways you can use neem oil to treat pests or fungus on your Fiddle Leaf Fig: as a foliar spray or a soil drench. You can also use the two methods simultaneously or alternate them. Spraying is recommended for active infestations of any type of insect and also for any fungal infection. The soil drench method works on fungus gnats and for preventative maintenance.
---
Spraying Neem Oil on a Fiddle Leaf Fig's Leaves
First off, you want to apply the neem oil treatment on clean leaves. It will not be as effective if you're spraying the oil onto a layer of dust. Wipe your Fiddle Leaf Fig's leaves with a damp cloth or spritz it with plain water and then wipe the leaves clean.
After that, you'll need to dilute the neem oil before spraying it on your plant. This is definitely the case if you're using pure neem oil, but some products are sold as ready-to-use solutions. Check the label to be sure which type you have. In most cases, you will want to use about 2 tablespoons of neem oil per gallon of water (or half a tablespoon per quart).
There's also the option of adding a pure liquid soap (1 teaspoon per gallon) to your neem oil mixture to help it emulsify. The soap helps the mixture to emulsify, making the distribution of oil more even. The soap also kills some soft-bodied insects if it's sprayed directly on them. I like to use Dr. Bronner's Peppermint Liquid Castile soap since the peppermint scent repels some insects.
If your neem oil mixture isn't properly emulsified, your spray can be uneven and less effective. It's important to get an even distribution of the neem on your Fiddle Leaf Fig's leaves, so remember to keep shaking your spray bottle! The oil and water will start to separate quickly after you create your mixture.
Once you have created the mixture, you will spray the whole Fiddle Leaf Fig plant, stems, and leaves. Be sure to get the underside of the leaves and inside all the crevices where insects can hide. Keep the plant out of direct sunlight while it dries, and preferably for at least 24 hours.
---
Giving Your Fiddle Leaf Fig a Neem Oil Soil Drench
As you could probably guess, "soil drench" means using neem oil as an additive when you water your Fig. As the roots absorb the neem oil mixture, azadirachtin is dispersed through the plant's cells and then consumed by pests.
If you have an active infestation, the foliar spray is the way to go. On the other hand, soil drench is suitable for preventing infestations from happening in the first place and for treating fungus gnats that live in the soil. Or, as mentioned above, it can be used in conjunction with foliar spraying to treat a severely affected plant.
To do the soil drench, simply mix up your neem oil mixture (you can use the liquid soap for the soil drench as well), shake well to emulsify, and then water your plants as usual.
---
How Often Should You Use Neem Oil?
Several factors go into determining how often to treat your plants with neem oil. It is very likely that you will need to do multiple treatments for an active infestation or as a preventative measure.
In general, you should treat plants with neem every one to two weeks until you don't see any signs of insects. You shouldn't treat plants more than once a week with neem oil. For preventative purposes, use neem oil as a foliar spray or soil drench about once every three weeks.
---
Final Thoughts
Neem oil has been used for years as a safe pesticide and is one of the most indispensable tools to keep around for treating and preventing pests on your Fiddle Leaf Fig. You can use neem oil on the leaves on a Fiddle Leaf Figs or as a soil drench depending on how severe the infestation is. You can also use neem oil as a simple preventative measure once or twice a month. As long as you follow these instructions and the instructions on the bottle, neem oil is safe and effective against many problems. Just be careful about lighting after using neem oil, as it does make leaves a little more sensitive.