Bird of Paradise is known not only for its beauty but for being a healthy and robust plant. Able to grow up to six feet tall indoors, with leaves reaching 18 inches, Bird of Paradise is naturally hardy and rarely impacted by diseases and blights. However, since many Bird of Paradise owners move their plants outside during the summer months, it is possible for insects to make a home in your plant's leaves and blooms.
Have you noticed signs of a pest infestation on your Bird of Paradise, such as bitten leaves and sticky residue? While these bugs may not always be easy to spot, their presence can take a toll on your plant. The good news is that all of these pests can be safely removed from your Bird of Paradise, and usually without the use of harsh chemicals.
Ready to free your Bird of Paradise from insects and pests that can cause it harm? Check out the guide below to understand the most common pests for your Bird of Paradise and what you can do to keep your plant healthy and safe!
---
A Quick Word About Plant Pests
Your first thought when thinking about plant pests might be, "Is it safe to have insects in my home?" But before you abandon your plant, rest assured that plant pests are a common issue and do not typically result in household infestations.
Most insects attracted to plants are looking for something specific – either to eat the plant itself or to feed off smaller insects that make their home in and around your Bird of Paradise. While the insects could spread to other plants, especially if you have many plants gathered together, it is unlikely that they would spread throughout your living space.
With this in mind, identifying insects on your plant does not require you to call an exterminator or take any action beyond caring for your plant. Additionally, while nobody wants to have creepy, crawly bugs in their home, it is unlikely that any insect that would be attracted to your Bird of Paradise plant would be dangerous to humans.
While sick, decaying, or fungus-ridden plants can sometimes pose a larger health issue, small bugs in and around your plant will not harm you. But, for the safety of your plant, it is vital to take action quickly so that your Bird of Paradise does not sustain long-term damage.
So, how can you start to recognize a possible insect issue on your Bird of Paradise? Let's look at the main signs of a pest infestation, as well as some of the likely culprits.
---
Why Is My Bird of Paradise Sticky?
Have you noticed a sticky residue on the leaves of your plant? Likely, the substance is clear and may appear in droplets or may cover the entire leaf.
If you have seen this substance on your plants, you have likely seen what is referred to as "honeydew." And while this may sound harmless, it is actually a sign that insects have been eating your plant.
Honeydew is actually a waste product produced by various insects, including aphids, mealybugs, whiteflies, and scales. These insects drink the sap of a plant and then leave behind excess sugars. Since insects often consume the leaf sap from the underside, you may never see the insects, only the honeydew they leave behind.
Since Bird of Paradise leaves can be quite large, you might be wondering why these little bugs and their honeydew are an issue. While small insects may have a hard time entirely devouring your plant, the honeydew they leave behind attracts other types of insects, such as ants. Additionally, honeydew can result in mold, which can be toxic to the plant and to humans.
The steps outlined in this article will help you diagnose and treat the insect infestation that is causing the honeydew, but it is also essential to remove the honeydew as soon as it is detected. Using a garden hose or other running water should allow you to remove the sticky substance and reduce the likelihood of attracting more bugs to your Bird of Paradise.
---
Other Signs of Pest Problems
Take a close look at your Bird of Paradise. Often insect problems can be detected by a careful examination of the leaves. Grasshoppers, caterpillars, and other insects are capable of leaving behind noticeable bite marks. Although these bites may not be enough to destroy the leaf, they will not fill back in and can affect the plant's appearance.
Hard brown spots or small, fuzzy patches on leaves are also indications of insect issues. Also, leaves that do not unfurl can point to a pest problem. This can be the result of insects that have made their home inside the closed leaf. As those insects leave behind secretions, such as honeydew, the leaves can become sealed shut. While the honeydew can be washed away, helping the leaf open, the underlying insect issue should be addressed, or the situation will continue.
Now that you know some of the signs of a Bird of Paradise insect issue, what are some of the most common pests that might attack your plant?
---
Red Spider Mites and How To Get Rid of Them
Avid outdoor gardeners are almost certainly familiar with red spider mites. However, for those who are new to gardening, the name of this pest sounds much scarier than the reality.
Red spider mites are almost imperceptibly tiny. If you do catch a glimpse under a magnifying glass, you can expect them to look much like their name would suggest – small, spider-like creatures ranging in color from bright red to a darker, brick-red hue. Often, they are easier to see in groups since the color will usually contrast against the green leaves of your plant.
These pests are closely related to spiders and ticks, but their diet consists entirely of plants. This means that they have no interest in biting humans or animals. Additionally, while they do live in colonies and can be present in large numbers in greenhouses, they cannot survive far from their food source. With this in mind, they will not "infest" your home.
However, spider mites can cause serious damage. Typically, they feed on the underside of leaves and lay eggs under the leaves. Even a large plant, such as Bird of Paradise, can become sick with a large infestation of these mites since colonies can rapidly grow.
Since you may not always see these spider mites in action, look for small, silky webs with small white dots – those will be the egg sacs. You may also look for small brown or bronze-colored patches, which indicate damage inflicted on the leaf.
The first line of defense against any pest is to remove it from the plant. Spider mites can be removed by a thorough spray of water from a sink or hose, which will rinse away the colony and eggs.
Also, these insects prefer drier climates and will be repelled naturally by introducing a humidifier or misting to the Bird of Paradise environment.
Studies have also shown that filling a spray bottle with water and a few drops of chamomile or spearmint oil can destroy the colonies, as can using a similar approach with dish soap and water. These strategies have the benefit of being non-toxic, as well.
Over-the-counter insecticides designed for mites are also available and can solve the mite infestation, though they may be harmful to pets or to your skin, so use caution.
---
Scale and How to Get Rid of Them
You have probably seen scale on plants in the past and may never have realized it. This is because scale often resembles small, bumpy patches of brown or white that many people mistake for a mineral buildup. They can even blend in with the stems of houseplants, making them even harder to detect. Furthermore, since these insects typically remain in place for extended periods, you are unlikely to see them move.
Like spider mites, scale insects drink the sap of plants and form large colonies, which can quickly cause damage. Additionally, their honeydew secretions can lead to mold development on leaves. In fact, these patches of black mold can be one of the visible indicators of a scale issue, as well as the yellowing leaves that soon follow.
However, since scale insects attach themselves to plants, and some have protective coatings on their bodies, they can be a bit harder to remove. As a result, a thorough rinse may not do the trick.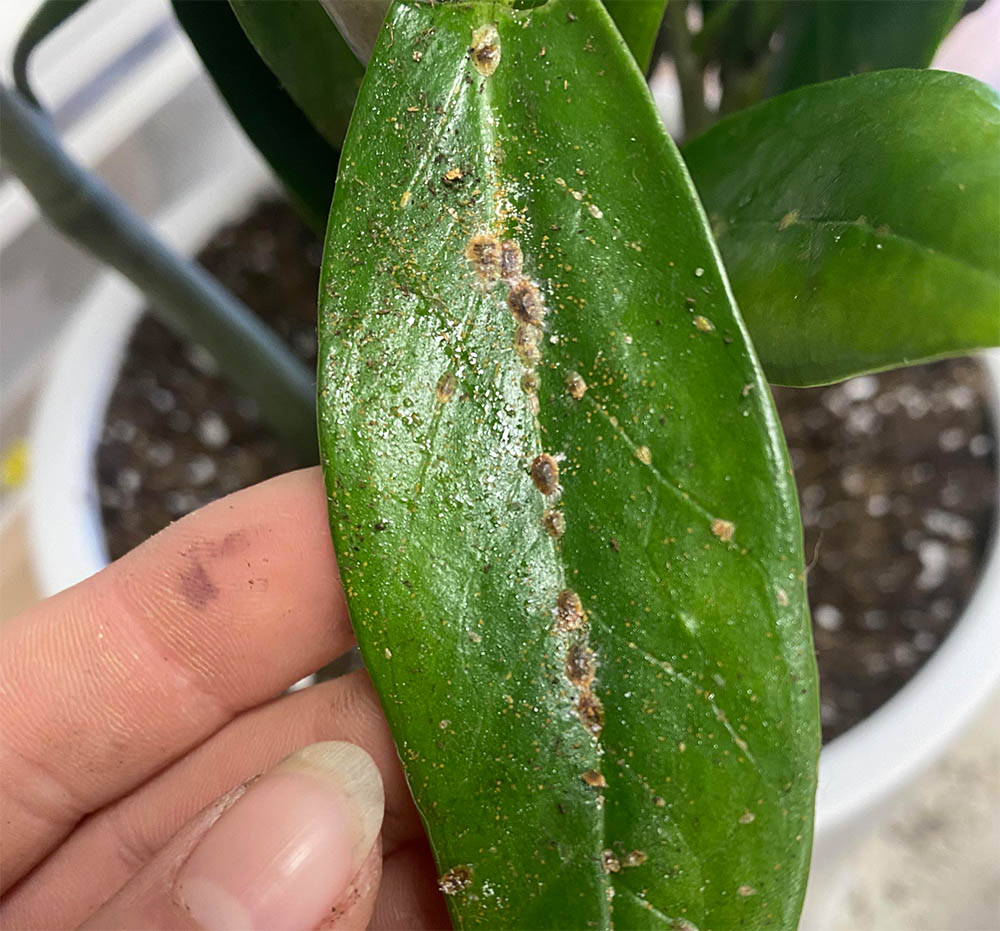 Since scale insects may not have attached to the whole plant, pruning an infected area can be a strategy for removing the insects. Alcohol pads can also be used to wipe infected leaves, which will destroy the colony without killing your plant.
You may also want to consider using insecticidal soaps or Neem oil as a solution. Neem, which can be used in a spray bottle, or purchased in a prepared solution, can destroy colonies and has the added benefit of serving as a repellent. Neem oil is a natural substance – sometimes used in cooking – so it is safe to use indoors.
---
Whiteflies and How to Get Rid of Them
Unlike spider mites and scales, whiteflies are easy to detect with the human eye. That said, they look much more like tiny white moths than houseflies. And while these flying bugs are not harmful to humans, they can quickly congregate, consuming large amounts of sap and eventually killing a plant.
Since these little, mothlike bugs are less creepy than spider mites and scale, you may feel bad killing them. The good news is that whiteflies can be easily repelled without insecticides.
While the jury is still out on whether garlic repels vampires, it certainly repels whiteflies, as well as many other garden pests. One way to use garlic as a safe, nonlethal way to free your plant from whiteflies is to crush garlic cloves and place them in water. Allow this solution to sit for a few hours so that the garlic can begin to dissolve into the liquid. Then, thoroughly spray your plant with the solution, repeating once a week, if needed.
If you feel more extreme measures are needed, insecticidal soaps, as well as sprays designed for gnats and fruit flies, will put an end to a whitefly infestation.
---
Mealybugs and How to Get Rid of Them
Mealybugs often look like white cotton or fluffy patches on your plant. Since a mealybug infestation may not look like an insect issue, it is often overlooked as mineral residue or environmental debris, such as pollen.
However, these small bugs consume plant sap, resulting in yellowing leaves, leaf drop, and eventually a plant that is too sick to recover.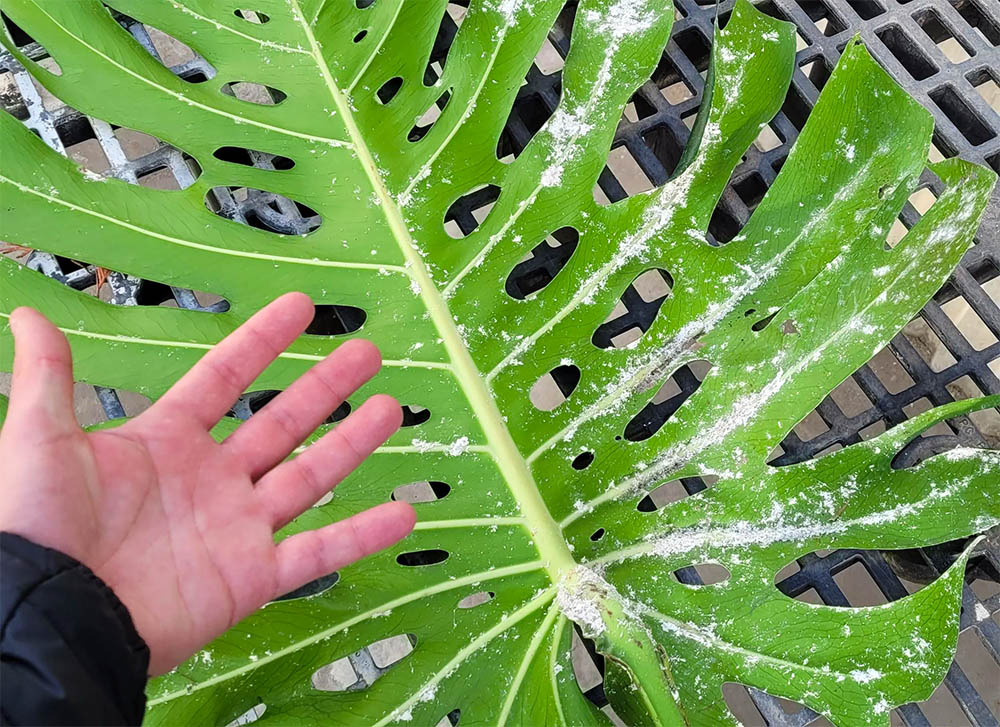 Thankfully, however, it can take months for these infestations to kill a plant, so you have plenty of time to take action once you detect the presence of mealybugs.
For a more natural solution to your mealybug issue, consider Neem oil or a solution of soapy water. Alcohol swabs can also be used to address more extreme cases. Additionally, the previously discussed use of garlic can also expel and repel mealybugs from your plant.
That said, there are also insecticidal options on the market, and many general garden insecticides will address mealybug infestations, scale, and other common, sap-devouring insects.
---
Aphids and How to Get Rid of Them
Aphids are sometimes referred to as "plant lice," and, as the name suggests, they are known for rapidly infesting plants. Small and hard to see with the human eye, these insects can weaken or kill plants by draining them of sap. Anemic-looking plants with curled, yellowing leaves are indicative of an aphid infestation.
Additionally, like some of the other garden pests we have discussed, aphids leave behind honeydew, which is attractive to ants and other insect species. Furthermore, wasps, beetles, and other bugs like to eat aphids, so they can attract even more pests to your plant. Yuck!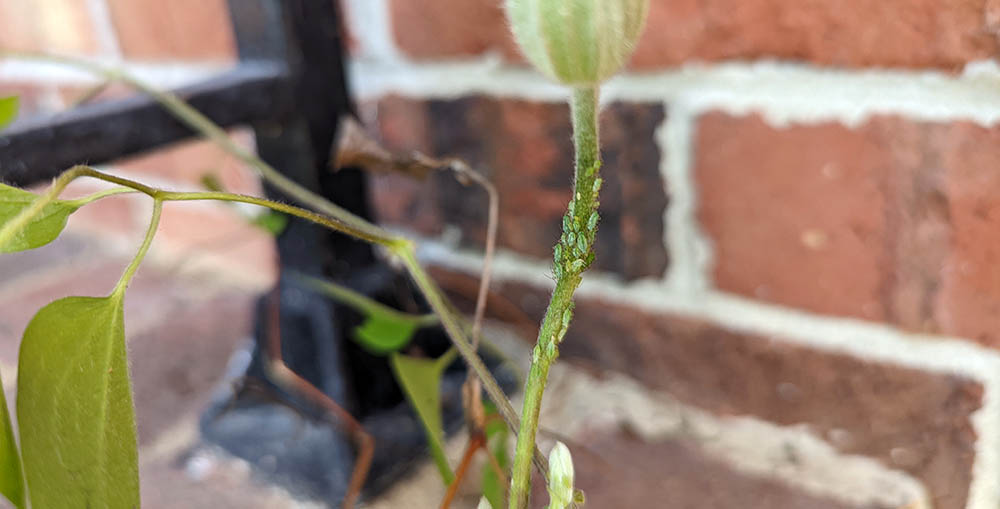 Thankfully, aphid infestations are an easy problem to address. Often a hose and water can remove aphids from your plant without requiring any pesticides or insecticidal ingredients. You can also consider using garlic sprays, Neem, and soap and water mixtures to remove and deter aphids.
Should you opt for a chemical solution, most garden stores will sell insecticidal sprays intended for garden plants. These will combat the presence of aphids, as well as other pests that we have discussed in this article.
---
Preventing Infestations
There is an expression, "An ounce of prevention is worth a pound of cure." This is definitely true regarding plants and the presence of insects.
While some pests, like spider mites, are attracted to dry environments, many pests actively seek damp areas in which to make their homes. For this reason, it is essential not to place your Bird of Paradise next to standing water or in low-lying parts of your yard in which water can accumulate. Additionally, do not allow water to build up in a dish beneath your Bird of Paradise. This water can become a breeding ground for bacteria, which is attractive to flies and other insects.
Additionally, it is crucial to keep your plant containers free of organic matter and debris. This is because decaying leaves and branches can provide homes for all manner of unwanted insects, but they can also introduce mold and bacteria into your plant's environment. Mold can be every bit as dangerous for your plant as insect infestations and can be harmful to humans, as well.
Another protective strategy is to keep a bit of distance between plants in your collection. While this may not stop one Bird of Paradise from developing an infestation, it can dramatically reduce the likelihood of the insect issue transferring to other plants in your care.
If your plant is strong enough to withstand a thorough shower, it is wise to hose down your plant once every few weeks. When doing so, make a special effort to rinse beneath the leaves and look for any evidence of infestation. This will allow you to spot any signs of potential insect issues while detaching insects, like spider mites, from their homes.
Lastly, remember that repellent measures, like spraying your plant with a garlic infusion or Neem oil, can be undertaken with no signs of insects. Using natural repellents as part of your regular plant care routine can be an excellent investment in the long-term health of your plant.
---
Putting It All Together
In gardening, there is no substitute for attentiveness. Keeping a close eye on your plant's health will be one of the most important steps in protecting it from insect issues.
In other words, while setting a Bird of Paradise outside can be an excellent strategy for exposing it to the summer sun, it can lead to problems if you allow your plant to go unattended.
Use your watering routine as an opportunity to closely examine your plant, checking under the leaves and examining stems. Take action at the first sign of insect damage, mold, or other plant care issues, and you will be on your way to minimizing any danger to the health of your Bird of Paradise.
Bird of Paradise is resilient and, with careful attention, you can confidently identify and address insect issues that can cause damage. This will ensure your plant stays healthy and beautiful and free your home from unwanted guests throughout the growing season.