Houseplant owners gravitate toward Prayer Plants because of their beautiful and unique appearance, despite their reputation as high-maintenance and being picky about their care. Along with their well-known sensitivity to low humidity, temperature changes, and inconsistent watering, do Prayer Plants also attract pests?
Prayer Plants (Maranta leuconeura) are vulnerable to certain insects that feed on the nutrients in their leaves, such as spider mites, thrips, and mealybugs. Prayer Plants are attractive to these insects because their thin leaves are easy for the insects to pierce. Signs of insect damage include sticky or gritty leaves, holes or spots, and leaf discoloration or wilting.
When you first identify an insect problem on any of your plants, it can certainly be alarming, let alone a drama queen like a Prayer Plant. But you should be able to reverse even a severe attack with the right products and plenty of persistence. Read on to learn what you should do for each type of Prayer Plant pest.
---
The Most Common Prayer Plant Pests and What To Do About Them
Unfortunately for the Maranta owner, Prayer Plants are highly susceptible to bugs and infestations. Fortunately, though, there are remedies to most every type of insect or pest that might infect your plant. If you can detect the damage early and identify the pest, you can rid your plant of the problem with just a little bit of work.
---
Spider Mites
Spider mites are the most common pest found on Marantas. They will choose Prayer Plants over other nearby plants, so it's important to keep a close eye on them and catch spider mites before they multiply too much. Since they're so small, they are easy to miss.
Mites can be introduced when you bring home a new plant carrying a stowaway, or they can make their way in through an open window. As their name implies, spider mites are arachnids with the ability to spin webs, and they can even use those webs to float around on breezes inside your house.
Identifying Spider Mites:
Tiny white or yellow spots visible on the tops of leaves
Leaf surface appears dusty
Webbing on the back sides of leaves or spanning joints
Moving specks about 1/50" long (can be various colors depending on species), more easily seen with a magnifying glass or by knocking them onto a sheet of white paper
You are more likely to see the damage caused by spider mites before you see the mites themselves.
Treating Spider Mites:
First off, try to quarantine any Prayer Plants with spider mites to keep them from spreading to the rest of your collection. These pests can crawl from plant to plant or even drift around using their webs to catch the breeze.
Clean the leaves with a damp cloth or by spraying the Prayer Plant with a gentle stream of water. This helps to remove mites and their webs. Try to increase the room humidity around your affected plants. Luckily, Marantas love humid conditions, so this will benefit them while also deterring spider mites. You can use a humidifier, a pebble tray, or try misting them regularly.
Once you've removed as many mites as possible from your Prayer Plant with water, your next step is to treat it with a safe insecticide. I recommend keeping neem oil on hand since it's effective against so many different types of pests, including spider mites. Treatment for spider mites means spraying the tops and bottoms of your Prayer Plant's leaves. The neem oil disrupts the mites' life-cycle.
Neem oil is a safe alternative to chemical pesticides since it is non-toxic to humans and pets and doesn't harm beneficial insects like bees. However, you should expect to treat with neem oil at least a few times to be sure you have entirely eradicated the pests from your Marantas and other houseplants.
---
Mealybugs
These small, soft-bodied insects feed on Prayer Plants by attaching themselves and slowly sucking the juice from the plant's tissues. They prefer the softer areas of the plant, so they are usually found clustered on new growth and stem joints. Mealybugs are mobile and highly damaging, so they can cause a full-blown outbreak before you're even aware that you have them.
Identifying Mealybugs
White, cottony spots visible on leaves (may look like dust or lint)
Sticky "honeydew" left behind
Yellowing and dropping leaves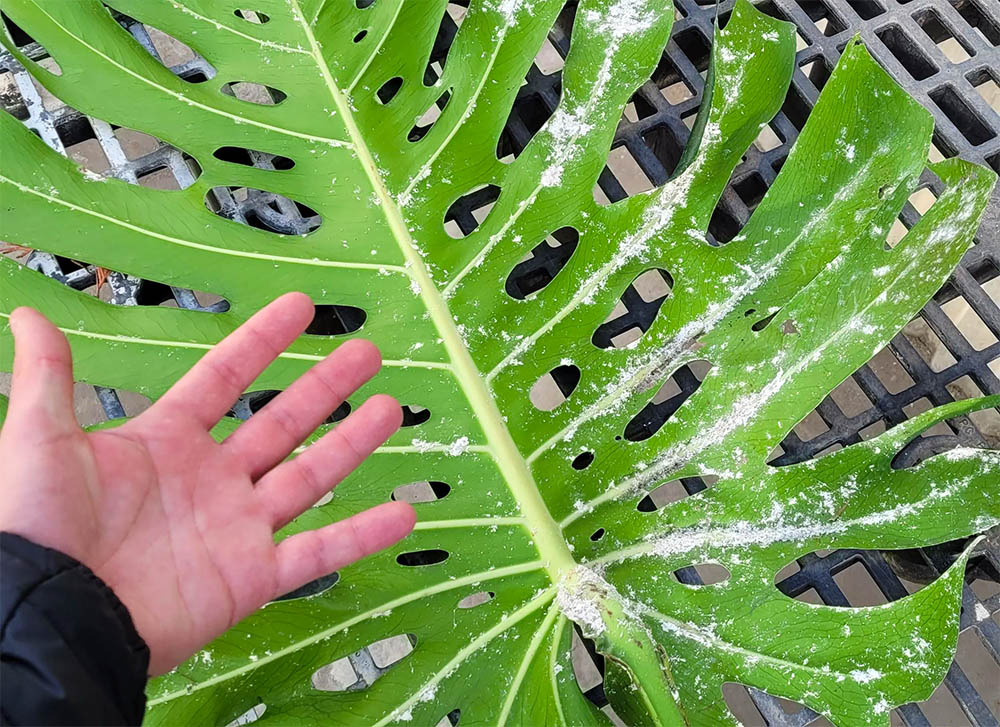 Treating Mealybugs
Start with a good shower to get rid of as many adults as possible or wipe the leaves with a damp cloth. If any stems have a concentration of mealybugs, you may want to prune those and throw them out. When cleaning leaves, pay particular attention to hard-to-reach areas, including inside the tightly-rolled new leaves on your Prayer Plant. A cotton swab can help clean those tight spaces.
Since Marantas have thin, delicate leaves, be sure you use gentle water pressure when cleaning them. I prefer to use the sprayer on the kitchen faucet, as it's easier to support the leaves and control the spray. You can use a regular spray bottle if you don't have access to a faucet with a sprayer.
Treat the entire Prayer Plant with neem oil next. It works as a systemic treatment, so it may not take care of the mealybug infestation immediately. Do a neem oil treatment weekly for the best results. The oil disrupts the mealybugs' life-cycle but needs several applications to ensure that they are eliminated.
Between treatments, use a cotton swab soaked in regular rubbing alcohol to remove any mealybugs you see on your Maranta. Again, make sure you're checking any crevices and hiding places as the mealybugs will try to retreat there.
When it comes to preventing mealybugs from returning, some people have reported that they dislike cayenne pepper, garlic, and cinnamon, so sprinkling these on the top layer of soil can keep them at bay. Otherwise, regular neem treatments and consistent vigilance are the best options.
---
Thrips
There are at least 6000 known species of thrips (Thysanoptera), many of which feed on other insects. Unfortunately, the types of thrips that prefer plants are attracted to Prayer Plants and can cause serious problems. Thrips are hard to see on a Prayer Plant because of their tiny size and ability to blend in with the deeply colored and patterned leaves. They puncture plant leaves and suck out the contents, causing silvery or splotchy damage.
Identifying Thrips
Slender bodies with pointy tails, usually on the underside of the leaf
Stippled leaves
Black specks of waste left behind
Fast-moving thrips fly and jump when you approach
Colors vary from yellow, white, black, and green depending on species and age
Thrips not only damage plants by feeding on them but they are known to carry fungal or bacterial infections between plants. Because they are highly mobile, they spread to other plants in the home. They can also be brought into the home on clothes, and even on fruits and vegetables.
Treating Thrips
Treat thrips using an insecticidal soap as soon as you identify this is causing problems for your Prayer Plant. You can buy it or make your own by using the simple recipe below. Note that you need to use pure soap, not detergent, and be sure it doesn't have dyes, fragrances, or other additives which can damage your plant.
I'd also recommend testing this mixture on a single leaf of your Maranta before treating the whole plant. Although I have found it safe, each plant is different, and it is better to be safe than sorry.
2 tsp pure soap
½ tsp vegetable oil
1 quart water
Add the ingredients to a container and mix well. Fill your spray bottle and shake well before using. Spray your plant thoroughly, concentrating on the areas where you see thrips. You will need to spray about once a week to eliminate all the thrips. Depending on how serious the infestation is, it may take a month or more.
Note that insecticidal soaps work by killing the insects on contact, so they need to be used consistently to get insect populations under control. They will not work on thrips that are not sprayed directly with the soap. You may not be surprised to know that neem oil is also effective against thrips. You can treat your Prayer Plant for thrips using the same application method described in the spider mite section.
To prevent thrips from coming back, be sure to keep moisture and humidity levels high. Carefully inspect any new plants for telltale thrip damage to avoid introducing them into your home. A regular neem oil treatment is a good idea for preventative maintenance against all sorts of pests and infections that can attack houseplants.
---
Fungus Gnats
Although they're often mistaken for fruit flies, fungus gnats are a completely different species. It can be hard to avoid fungus gnats since their eggs often come into your home in bags of potting mix or in the pot when you purchase a new plant. Unlike some of the other insects on this list, you probably won't see fungus gnats when you inspect a plant before buying it.
Fungus gnats love moist soil, and so do Prayer Plants. That makes it likely that you'll encounter fungus gnats at some point if you grow Marantas and other moisture-loving plants in your home. They feed on the decaying matter beneath the soil's surface and will feed on your Prayer Plant's roots as well.
Identifying fungus gnats
Black (not brown or red) flies that have long legs
Adult gnats crawl or fly out of the soil when you water plants
Attracted to moisture – they may fly into your drink or around your nose and mouth
Fungus gnats are mainly annoying, but they can also harm your Prayer Plant over the long term. Their larvae feed on the roots of plants and drain them of nutrients, causing the plant to go into a slow decline and (if not treated) death. A single adult fungus gnat can lay hundreds of eggs, so their population can grow quickly.
Not only that, but the adult gnats can carry bacterial or fungal diseases between your plants. You will want to start an aggressive treatment plan as soon as you notice even a few of these gnats around your plants.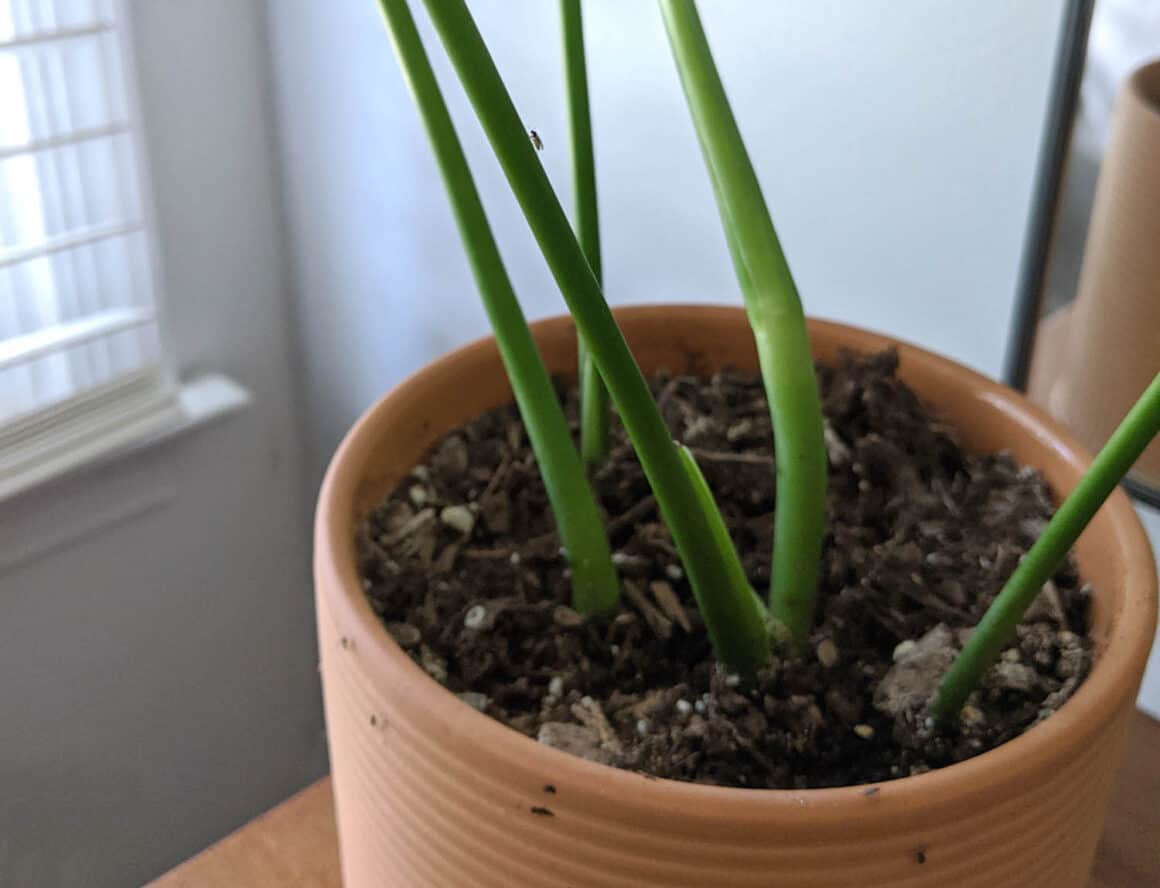 Treating fungus gnats
Conventional wisdom says that you should allow your plants' soil to dry out between watering since fungus gnat larvae will die off without enough moisture. They only lay eggs in the first few inches of potting soil, so it is possible to use this method for many plants. Unfortunately, Prayer Plants are sensitive to getting too dry, so you'll want to use a different option for getting rid of fungus gnats.
There are several effective methods of getting rid of fungus gnats. I like to use a combination of all of the methods to treat all of my plants periodically. To start with, yellow sticky traps attract the flying adult gnats, and they get stuck on the card and die.
Yellow sticky traps disrupt the gnats' life cycle, so those adults can't lay more eggs, but it does nothing about the eggs and larvae that are still in the soil. For that, you can use a biological pesticide to treat the soil. Mosquito Bits are designed to kill mosquito larvae in standing water such as ponds or rain barrels but also work beautifully to get rid of fungus gnats in potted plants.
Mosquito Bits can be spread on a layer on the top of your potting soil so that the pesticide slowly dissolves into the pot each time you water. Alternately, you can leave them to dissolve in your watering pot so that it's distributed when you water. Both methods seem to work equally well. Note that this product is safe for humans and pets, so you can use it without worrying.
Bottom-watering also helps to control fungus gnat populations. Bottom-watering means allowing the potting mix to absorb water from below instead of pouring it in the top. Although bottom watering takes longer, it can help control fungus gnats since it allows the top layers of the potting mix to stay drier. The gnats can't burrow too deep, so they will not reach the layer where they'd be able to lay eggs. Many plants also thrive with a routine of bottom-watering.
Similarly, you can try top-dressing your houseplants. Top-dressing means adding a layer of soil cover on top of the soil. Pebbles and sand are most commonly used, but you can find more unique options like crushed glass or lava rock. These materials serve as a physical barrier keeping any emerging fungus gnats from escaping the pot and preventing adults from going into the soil to lay eggs.
---
Tips On How To Avoid Bugs On Your Prayer Plant in The Future
Anyone who raises houseplants is bound to run into a pest problem or disease at some point. When we bring plants into our homes, they are in an unnatural environment that can make them vulnerable to certain insects. Our homes don't have the predators that would normally feed on these critters, so a pest can be more problematic indoors than outdoors.
So how can you avoid pests on your Prayer Plant? It may not be possible to 100% avoid them, but you can minimize the damage and get rid of them quickly if they do find their way into your home.
First, try to keep your Prayer Plant as healthy as possible. Stressed plants are more vulnerable to insect damage. You may see spots or holes in the leaves, discoloration, wilting, or other signs of injury. Correct care and conditions help your plant to be resistant to insect damage and recover more quickly.
Caring for a Prayer Plant includes keeping the leaves clean. Some insects are attracted to dusty leaves, and Maranta leuconeura can get dusty quickly since it has such broad, flat leaves. Periodically wiping down the leaves with a soft, damp cloth keeps them looking great and deters pests.
Neem oil is my number one recommendation not only for treating bugs on your plants but also for preventing them. Neem works from within the plant, not just on the surface, so it provides lasting protection whenever an insect may try to feed on your Maranta. It is non-toxic to mammals, birds, and most beneficial insects, plus it also protects against mildew and fungal infections.
Is there any downside to neem oil? Some people can be sensitive to the smell, which is spicy or garlicky. Also, as an oil, it's not suitable for spraying indoors as it will leave a layer of oil on your floors, furniture, or wherever the mist lands. I prefer to use it outside, out of the wind, and then let the plant air dry before bringing it back inside.
A plant treated with neem oil should not be put in sunlight until the oil dries (or even longer) since it can get sunburned. Applying the neem oil in the evening seems to give it plenty of time to absorb before the high temperatures and sunny conditions of the next day.
Finally, some people introduce beneficial predators into their homes to help prevent or control pests. Lacewings, mite destroyers (predatory mites), and nematodes all have their specific prey. They are generally sold as eggs or larvae to be added into the soil of affected plants. They are harmless and will die off naturally if their food source is depleted.
Many people dislike the idea of introducing even more insects into their homes, so this is probably a solution more suitable for a greenhouse or when all other methods have failed to get a pest problem under control.
There will always be insects who would love to make your Prayer Plant into a meal, and the best way to minimize damage is to catch them early. Regardless of which methods you use to treat or prevent pests on your Prayer Plant, the most important thing is to remain vigilant and consistent.