Zamioculcas Zamiifolia, affectionately known as ZZ Plants, are popular with plant lovers because they are beautiful, and easy to care for all year long. Covered with dark, glossy leaves, and capable of growing 2-3' tall, it's understandable that ZZ owners want to fill their homes with these pretty, long-living plants. Since many houseplants can be propagated through leaves, it's common for Zamioculcas Zamiifolia enthusiasts to wonder if they can propagate ZZ Plants from leaf cuttings too.
Can you propagate ZZs from leaves? Propagating a ZZ plant from a leaf cutting takes longer than propagating with rhizomes, but it can still easily be done. Using bright light, well-draining soil, a ZZ owner can expect to see ZZ leaf cuttings root in a couple of months, though it can take up to nine months or more in some cases.
So, are you ready to start propagating your Zamioculcas Zamiifolia? Below is a step-by-step guide to ensure your new ZZ Plant is a happy, healthy addition to your collection!
---
Handle with Care
Now you might be wondering, "Is it safe to propagate a ZZ plant myself? I heard they're poisonous." Rest assured, it is absolutely safe to propagate your ZZ Plant. While it is true that ZZ Plants are categorized as toxic, that doesn't mean that they are dangerous. Sound confusing? Let's explain.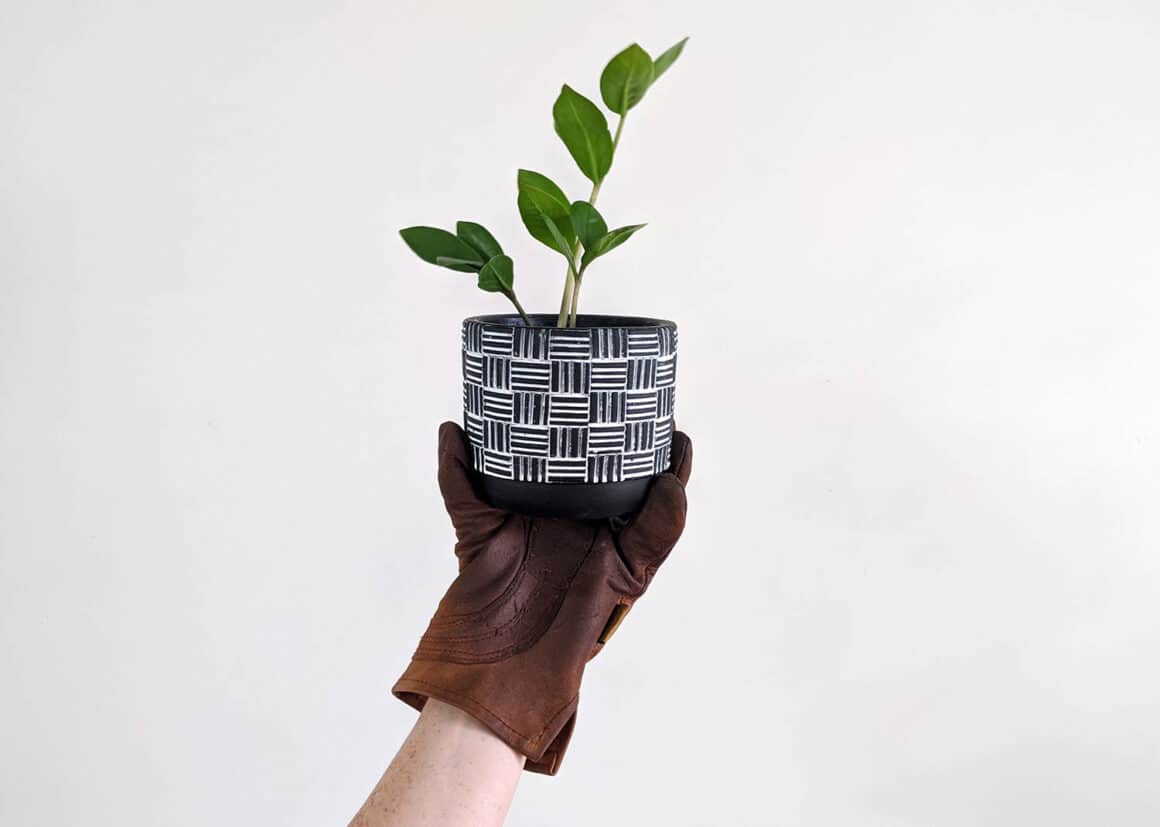 ZZ Plants produce a compound called calcium oxalate. While this substance isn't actually poisonous, it is made of microscopic crystals. Since these crystals can be jagged and sharp, like tiny pieces of sand, they can irritate the skin. At worst, these skin irritations can cause itchy or painful rashes.
While it's never a good idea to eat a houseplant, those sharp calcium oxalate crystals can irritate the mouth and throat, as well as cause upset stomachs or nausea.
Scared to touch your plant? Don't be! ZZ Plants are actually covered in a natural, waxy "cuticle" to protect it from the elements. The good news is that this can protect you from the scratch sap as well. So, for most ZZ Plant owners, day-to-day contact doesn't cause irritation, at all.
But since the crystalized substance is found throughout the plant, you may encounter it anytime leaves, and stems are cut or broken.
So what should you do? Consider wearing gloves when handling your plant. If you prefer to touch your plant without gloves, carefully wash your hands to avoid rashes and the possibility of transferring the sap to your eyes. Calcium oxalate can cause itching and burning of the eyes, and should be immediately rinsed out with water.
Also, keep the plant out of the reach of children and pets by placing it on a shelf out of their reach. Rest assured, millions of people own, and love, ZZ Plants. Just follow a few common-sense precautions and relax! For more information on ZZ toxicity, click here.
---
Propagating ZZ Plants from Leaves
Since propagating a ZZ Plant from leaves can take longer than other methods, why is this a good strategy? The fastest way to propagate ZZ Plants is to use a section with roots, but this can only be done occasionally without hurting the plant.
The reason that ZZ Plants do not need to be watered as frequently as many other house plants is due to their unique root type. While most plants have roots that look like a ball of threads, ZZ Plants grow from fleshy plant structures that resemble potatoes, with some small roots attached. These structures are called rhizomes and store water to help protect the plant from drought.
When a ZZ Plant is propagated using a portion of the rhizome, it can grow quickly, since it always has some root structure. However, ribosomes grow very slowly, so splitting them apart too frequently will hurt your plant.
But since a thriving ZZ will have plenty of leaves to choose from, leaf propagation is a way to reproduce Zamioculcas Zamiifolias without risking the health of your original, "parent" plant. In fact, using leaf cuttings, you can turn one ZZ plant into a whole collection!
Now grab your gloves, and let's get ready to propagate.
---
Picking the Best Leaves for Propagating
You will want to use disinfected pruning shears or a sharp knife for leaf propagation. If your scissors or knife have been stored away, wash them in soapy water and dry them thoroughly. Any dirt or bacteria on the blade can transfer to the plant, causing sickness or mold.
Before you make any cuts, look over the leaves on your ZZ Plant. Ideally, you want to pick leaves that are full, dark green, and glossy. Leaves that are starting to yellow, curl, or turn brown – or that are attached to an unhealthy stem – are not the best choice for propagation. Propagation is hard work for the plant, so you want the healthiest start possible.
Ideally, pick 4-6 vibrant leaves for propagation. This will increase your chances of success, and give you a fuller-looking pot while the leaves take root.
---
Cutting ZZ Leaves
With your leaves selected, you are ready to cut. Wearing your gloves, gently hold your ZZ leaf in one hand, including a portion of the healthy stem in your cut when you can, and snip away!
Repeat this step until you have a few leaves to work with, and then set your cuttings aside on a clean, dry surface for a couple hours. This will allow the air to callous the ends of the cuttings. You will know this has happened when the cuts you made no longer look visibly damp.
Those calluses are important because the cells that create the plant callous are the same ones that help grow the new rhizomes. Once this dry, callused layer has formed, you will be ready to plant your leaves.
---
Best Containers and Soils for ZZ Plants
Make certain that you have a container that has adequate drainage for your leaf propagation. Your pot should have at least one drainage hole in the bottom, and more if possible. This keeps water from collecting at the bottom of the pot and causing root rot. Then, fill the pot with an appropriate potting mix.
ZZ Plants will not thrive in a potting mixture that is very damp. Too much moisture will damage the stem or any rhizomes that begin to develop.
Choosing a potting mix that has a lot of perlite or vermiculite will give the blend a light, sandy texture. If you're uncertain about what to pick, read this article for more information.
---
Propagating ZZ Leaves in Soil
Once you have selected your container and potting mix, you are ready to insert your leaves into the soil. Make sure to plant your ZZ leaves with the cut ends down, and the pieces of stem planted about 1 centimeter deep. Water the newly planted leaves, while being careful not to uncover the buried stem sections.
Fully grown ZZ Plants do not necessarily need high temperatures or bright light to survive, but newly planted leaves will grow more quickly in warm, well-lit locations.
If possible, place the plant near a bright, but curtained window. Temperatures should reach about 80 degrees Fahrenheit, if possible. Research suggests that a warmer environment can help inspire ZZ Plants to grow extra fast.
Ideally, you could start to see rhizomes developing in a couple months, though it can take up to nine months for rhizomes to develop in typical indoor conditions.
But don't lose patience! As long as your leaves continue to appear healthy, the process is working. If they begin to yellow and shrivel, it's time to try again.
---
Caring For Your ZZ Leaf Cuttings
When your new ZZ Plant begins to develop rhizomes, you still have to carefully take care of your Zamioculcas Zamiifolia to keep it healthy and strong.
LIGHT
While ZZ Plants can survive in lower levels of light, remember it is not a mushroom! If you want it to grow, you will need to give it light. If you can place your plant in a room with bright natural or artificial light, that will be best for its long-term health.
But be careful! It's an easy mistake to assume that plants that like "bright light" need direct light. Placing your ZZ Plant in a window with direct, unfiltered sunlight will burn its leaves and damage your plant. For this reason, it's always best to set it back from the window several feet.
WATER
There can definitely be too much of a good thing – especially when it comes to watering plants. Since ZZ Plants have rhizomes storing water for them, they don't need a lot of water to survive. In fact, too much water can cause your plant's roots and rhizomes to rot.
Instead, consider watering only when the first couple inches of potting mix is dry. Often, this is roughly every two weeks but will depend on the temperature and time of year. Remember – your cuttings are still baby ZZ Plants. They will not need as much water as mature Zamioculcas Zamiifolia.
Uncertain of how much water is too much? Try misting your ZZ Plant, and look for changes in the leaves. Wrinkling leaves likely means your cuttings need more water.
TEMPERATURE
Baby ZZ Plants benefit from higher temperatures as they are establishing new rhizomes. However, once they've started to develop their root system, Zamioculcas Zamiifolia doesn't usually need special temperature conditions. An indoor environment between 59 degrees and 79 degrees should be just fine for maturing ZZ Plants.
It is wise to keep your ZZ Plant away from drafts and heating and air conditioning vents. Look for a space with a stable year-round temperature, like a bedroom or living room, instead of an entryway.
HUMIDITY
ZZ Plants are native to the forests of Eastern and Southern Africa. While they are hardy plants that don't require rainforest conditions to thrive, they still benefit from humidity.
If you begin to notice dry edges on the leaves of your plant, leaf drop, or wrinkling leaves, your plant may need more moisture. Since overwatering can be dangerous for ZZ Plants, increasing the humidity around your plant can be a great place to start.
Misting your plant with clean water from a spray bottle 1-2 times a week can increase the moisture balance. But for a more effective method of raising humidity, consider adding a humidifier to your room.
FERTILIZER
Once your cuttings are starting to mature, you can also consider introducing some fertilizer. Consider fertilizing once every six months with a bit of store-bought fertilizer. For your ZZ cuttings, remember that they still have small rhizomes and do not need a lot of fertilizer to begin.
You should only use a small amount of diluted fertilizer for your first couple of fertilizing sessions, watching the leaves for any negative changes, like yellowing. As your plant begins to grow and mature, you can gradually increase the amount of fertilizer – but don't exceed the recommended amount.
TRANSPLANTING
ZZ Plant rhizomes grow slowly, so your baby ZZ Plant will not need to be repotted for quite a while. If you've planted your cuttings in a long-term pot (instead of a thin plastic one), you may be able to keep your cuttings in that planter for years, until the pot begins to look crowded.
If your plant has grown within ½ inch of the edge of the pot, or you start to see exposed rhizomes due to crowding, you can transfer it to a larger planter or break apart the individual rhizomes and plant them separately.
Since warmer temperatures encourage growth, repotting in the warmer months can help your repotted ZZ Plant expand into its new environment.
---
What to Expect
The hardest part of propagating your ZZ Plant is waiting for the rhizomes to develop! But, for the sake of your beautiful plant, resist the temptation to pull your cutting out of the soil every couple days to check for roots. This can kill your plant before it ever has a chance to grow.
It can take up to nine months for small root formations to begin, though with bright light, warmth, and humidity, you will probably see progress sooner.
If you must check the plant for roots, limit check-ins to once a month. And don't just pull the leaf or stem out of the dirt. That can damage, or detach, the new roots.
Instead, take a kitchen spoon and gently dig out the cutting, carefully looking for small rhizomes. Your goal is to take a quick peek and disrupt the plant as little as possible. Do not rinse the roots or shake the plant.
If you do not see significant roots yet, gently place the plant back into the dirt, carefully patting the potting mix pack into place. Once you do start to see rhizomes form, you can consider repotting the plant or leaving it in its current planter.
Once the plant is repotted, or you've decided to keep it in its planter, don't continue to check the roots. Just trust that the rhizomes are developing and judge the health of your plant by its beautiful, glossy leaves.
By following the tips above, and showing a little patience, you will be well on your way to growing a healthy, mature Zamioculcas Zamiifolia that will thrive for years to come.