As a houseplant collector, I love how much greenery I have going on in my home. However, at times, it can all look a bit, well…green. Enter Zamioculcas Zamiifolias Raven. The same reliable, hardy ZZ Plant, but with purple-green foliage that kicks the sophistication factor up a notch. They're just as easy to care for as your green ZZ Plants.
Raven ZZ Plants are low maintenance houseplants that only require basic care to survive. As long as they have bright, indirect light and well-drained soil, they are perfectly happy almost anywhere in your home. Watering only needs to be done when the top two inches of their topsoil is dry.
I'm a sucker for great foliage plants. As a result, I seem to have collected my fair share of ZZs, but when I got my hands on a Raven, I fell in love all over again. The dark foliage is a beautiful contrast with other houseplants, and because Ravens require the same amount of care as regular ZZ Plants, they are super easy to take care of.
In this article, I want to give you a rundown on what the Raven ZZ Plant is and then outline some basic and advanced care practices to keep your Raven beautiful and happy. The basic care section will be straightforward tips to keep your plant alive, while the advanced section will cover things you can do to set your Raven ZZ up for success in the long term.
---
Raven ZZ Plants: Beautiful & Strong
Just like regular ZZ Plants, Ravens also boast a reputation for being super hardy, able to survive almost any conditions you throw at it. They don't require much interaction from us, aside from the occasional watering and feeding, and seem to be perfectly happy almost anywhere you place them.
They are extremely self-sufficient, able to manage water and nutrient retention with the help of their rhizome, a large storage structure that the plant grows from. This allows them to go weeks without water, which helps those of us who tend to be a bit inconsistent with our watering habits.
Raven ZZ Plants can handle a wide range of growing conditions, will tolerate low light conditions, and are also fairly resistant to most diseases and pests.
---
The Difference Between Raven ZZs and Regular ZZs
Raven ZZ Plants are actually the same species as the common ZZ Plant, but just a different form. The identifying difference is that, while ZZ Plants are known for their striking green foliage, the Raven has "black" foliage, a purple-green hue that deepens as the plant ages.
It seems this was initially caused by a mutation in the plant that was discovered in a South Korean nursery. The owner noticed he had a dark-leafed ZZ Plant, propagated more from the stems of the plant, and eventually patented the plant as a new form.
Interestingly, new growth on a Raven ZZ Plant starts out quite green but begins to darken as the new stem matures. Within a few months, you'll start to see the green color be replaced with a deepening purple shade, leaving the mature parts of the plant quite dark.
The main contributing factor for the "black" hue seems to be time, with the color darkening with age. However, I read some conflicting information about how bright light and dark shade both speed the coloring process (although marginally, at best), so if you're so inclined, feel free to experiment with light exposure on your own Raven.
---
Are ZZ Plants Toxic?
At some point, ZZ Plants (both regular and Raven) seemed to have gotten an unfair reputation for being extremely poisonous. While "extremely poisonous" seems a touch dramatic, it is worth mentioning that ZZ Plants are considered to be "toxic" houseplants.
This is because they produce a naturally occurring compound called calcium oxalate. Present in all parts of the plant, especially in the sap, calcium oxalate is a known irritant of soft tissues. Contact with the skin, eyes, and mouth can cause burning, rash-like symptoms.
The effects are generally mild, but you should avoid touching your face if you've been in contact with the plant. Consider wearing gloves when handling the plant and wash with soap and water afterward.
Curious house pets should be discouraged from nibbling on ZZ Plants. If the temptation is just too great for them, find a new spot for your ZZ Plant that is out of their reach. For more information on ZZ toxicity, click here.
---
Basic Care for Raven ZZs
Raven ZZ Plants have simple needs, so as long as you've got the basics down, you should have no problem keeping your Raven alive. As long as you use proper watering habits, maintain good drainage in the soil, and provide your ZZ with enough light, you shouldn't run into any care issues. Master these fundamentals and watch as your Raven ZZ rewards you with years of growth.
---
Proper Watering for Raven ZZ Plants
When you bring home a sexy, new plant like the Raven ZZ, it's pretty normal to pay it some extra attention, perhaps giving it water every few days to make sure you're keeping it happy. However, when we do that, we actually run the risk of giving it too much love, effectively smothering it to death.
Most often, this is in the form of overwatering. Overwatering is, by far, the number one way to accidentally kill your ZZ Plant. Because these plants come from very dry climates and have developed methods of managing water on their own, they tend to hate being stuck in soggy, waterlogged soil.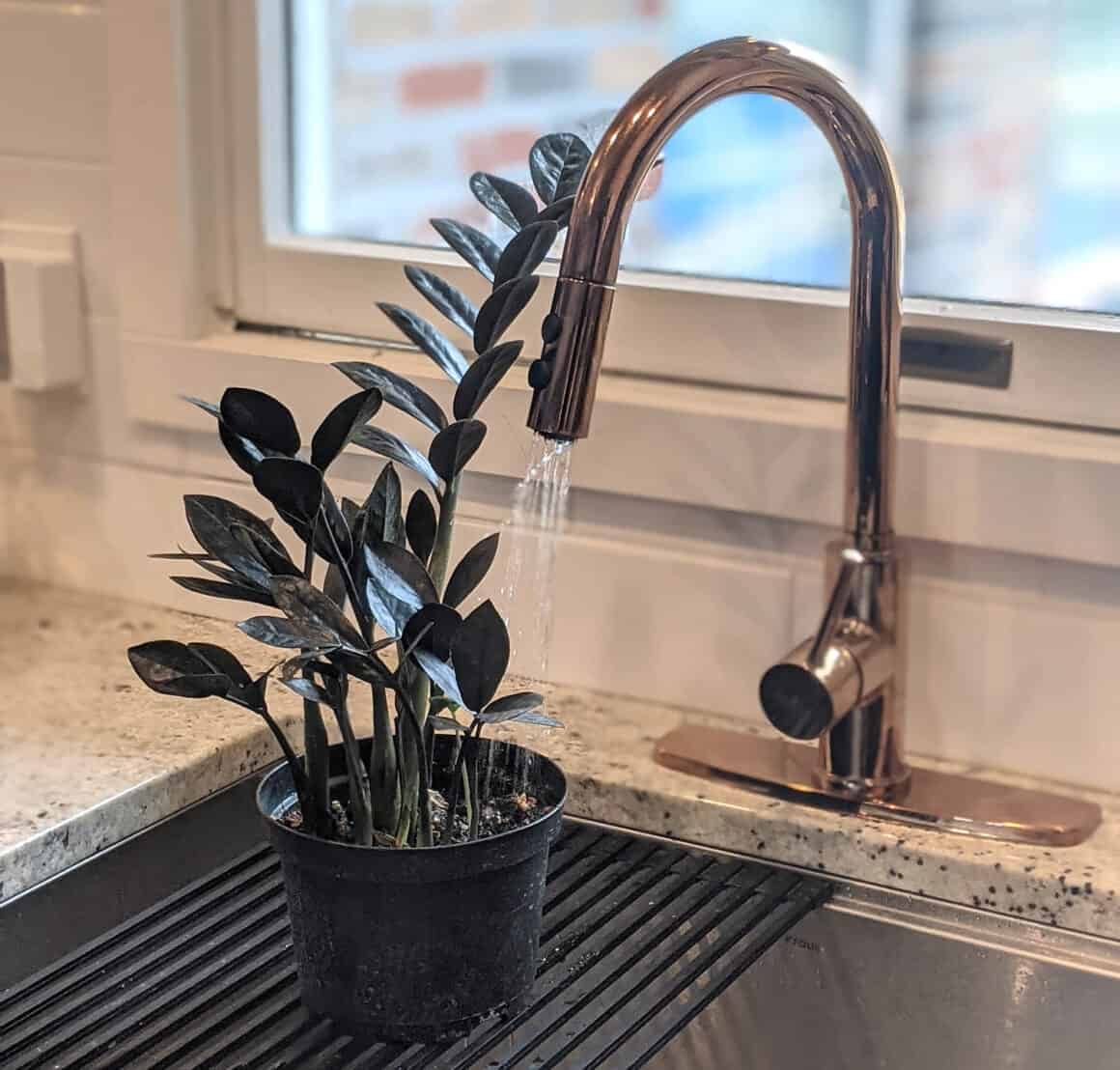 To combat this, you need to have proper watering habits to keep your Raven ZZ healthy. Don't rely on a set schedule to water your plant. Instead, check the soil weekly and only water when the first one to two inches of topsoil is dry.
When it is time to water, thoroughly saturate the soil, but be sure to allow excess water to drain from the pot through the drainage hole in the bottom. The roots and rhizome will store what the plant needs for the next couple of weeks, and the rest will slowly evaporate from the soil.
---
Good Drainage is the Key to Happy ZZs
When I speak of overwatering your ZZ Plant, I'm not only talking about the actual act of giving the plant too much water too frequently. There is another factor that contributes to overwatering a houseplant: poor drainage.
Regardless of how much water you give your Raven, if the soil retains too much of the water over long periods of time, this has the same effects as drowning the plant in one sitting and can damage the root system and encourage disease or rot.
To keep your Raven ZZ truly happy and healthy, you need to make sure its pot has proper drainage. There are a few ways to achieve this.
---
Choose the Correct Soil
While many houseplants do just fine in standard potting soil, for ZZ Plants, you'll want to ensure the soil is very porous and lightweight. That way, water can saturate it, but won't be retained for too long.
To achieve this, cut your potting soil mixture with cactus or succulent mix at a ratio of 3:1. Cactus mix is designed to be quick draining, so it will keep your potting mixture airy. If you have pumice or perlite on hand, you can substitute it for the cactus mix at the same ratio. For more info on the best soils for ZZs click here.
---
Choose the Correct Pot Size
Another important factor of good drainage is to make sure your Raven is in the correct pot size. Typically, when you bring a plant home from the nursery, it's in a proper container, but as the plant grows, you might notice you need to repot it.
Pots that are too small tend to stunt plant growth. As they become root bound, water uptake is more difficult, and water retention in the soil is severely lowered. However, if you repot your ZZ into a container that is too large, the excess soil in the pot tends to retain too much water, which doesn't allow for proper drying out between waterings, and the plant suffers as a result.
Aim for a pot with about one to two inches of space between the rhizome and the side of the container. This will give the plant plenty of room to grow, without keeping its feet wet.
---
A Drainage Hole is a Must
The very best way to ensure your Raven ZZ has the drainage it needs is to make sure the pot it is planted in has a drainage hole in the bottom of it. This allows for any excess water to flow out of the pot when it would otherwise saturate the soil and keep it soggy.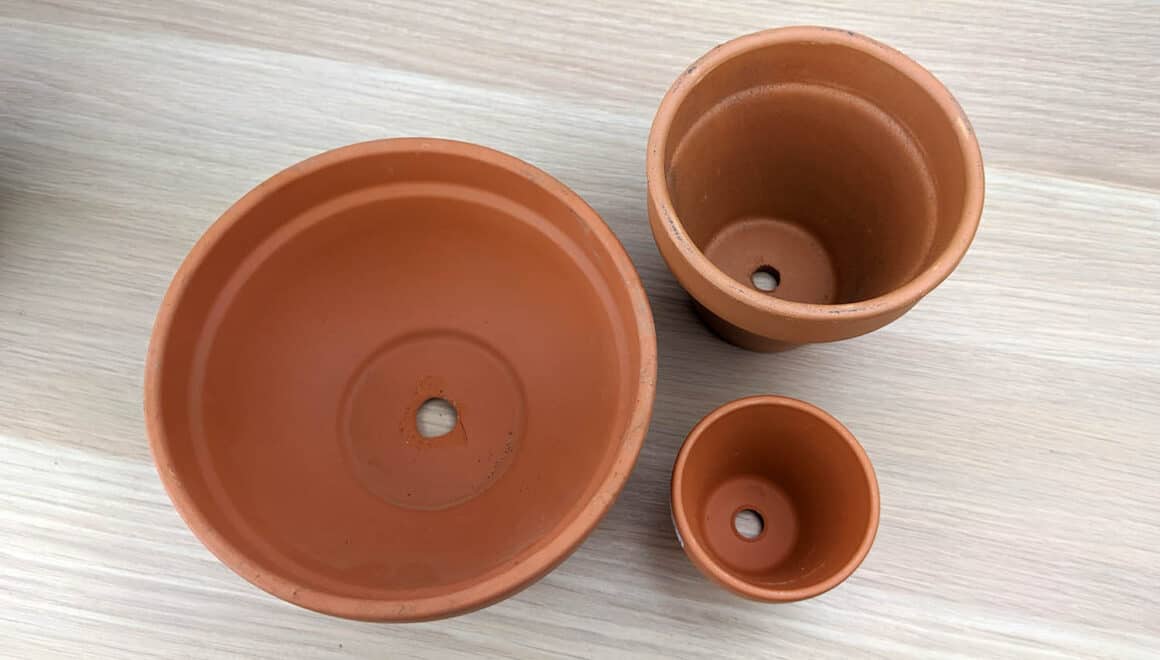 Some people like to plant in containers that don't have a drainage hole, opting instead to add gravel or some other porous material to the bottom of the pot. However, I do not recommend this for your ZZ Plant. A drainage hole ensures proper drainage and also prevents disaster if we get a little heavy-handed with the watering can.
---
Raven ZZ Light Requirements
Just like regular ZZ Plants, Ravens do best when exposed to bright, indirect sunlight. Direct sunlight is often too strong for them and can lead to sunburn, so placing them right up against a window is often a poor choice.
Pull your Raven ZZ deeper into a room that still has a lot of bright, ambient light, but where it is out of the direct path of the sun coming in through the windows.
Ravens can also handle much lower light situations, so they could be a good choice for a back bedroom or dimly lit hallway. Of course, the natural trade-off of placing them in a darker spot is that growth might be slowed or stop.
Keep an eye on your ZZ to make sure it's not getting leggy or sparse. If it is, it's time to move it to a brighter spot.
---
Advanced Care for Raven ZZs
The basic plant care tips above will ensure your Raven stays alive, but if you're ready to take your plant care to the next level, read on for tips on how to set your ZZ Plant up for long-term success so it flourishes in your home.
---
When to Feed Your Raven ZZ Plant
Good news! This first "advanced" tip is actually quite easy for Raven ZZ Plants, as they require very little fertilizer over the course of a growing season. ZZs typically don't suffer from nutrient deficiencies, and when they do, they are often very easy to fix with just one or two applications of a well-balanced liquid fertilizer (like a 20-20-20 mix).
If you've had your Raven for a while, chances are any slow-release fertilizer that was incorporated into the soil it came in is probably gone. About six months after you bring your Raven home, you should start giving it doses of fertilizer about once every two months during its growing season.
This should roughly pencil out to about three or four applications from spring to fall. When the plant goes dormant in the winter months, you shouldn't need to feed it at all. Be aware of signs that you're overfeeding (burnt leaves or leaf tips). If you suspect you've fed too much, flush the soil with lots of water and dilute the fertilizer by half for future feedings.
---
Pruning Your Raven ZZ
Raven ZZ, just like other ZZs, is quite a slow grower, so pruning is a care practice you won't have to utilize often. However, from time to time, there will be situations you might want to tidy your ZZ up a bit.
You'll mainly be pruning to keep the plant visually pleasing. In some cases, one stem may grow faster than the rest, giving your Raven a lopsided appearance. A simple snip to even the plant out is a simple way to redirect energy back into the rest of the plant.
Alternatively, if you've picked a dimmer spot for your Raven and notice it's a bit leggy, you can prune the worst of the sparse growth off to allow room and energy for more robust stems to fill in. Just remember to find a brighter spot for your Raven.
Like with all houseplants, leaves and stems have a lifespan, so you might notice an older stem of your Raven drying up and dying back. Prune these stems out at the base to make room for new growth.
Whatever the reason for pruning, always use a sharp, clean pair of scissors or garden shears to make the cuts. This allows for faster healing with minimal risk of disease or infection.
For more information on pruning your Raven ZZ, read this article.
---
When to Repot a Raven ZZ Plant
If you've had your Raven for some time, and the conditions have been right for growth, you might be wondering if and when you need to repot your ZZ to a bigger size. All ZZs can live in tighter pots but tend to push new growth when they have a little more room in the soil. So, by keeping your ZZ in an appropriately sized pot, you can encourage your Raven to thrive.
Look at the rhizome (you may need to dig with your finger a bit) and see if any part of it is very close to or touching the side of the pot. If so, it's time to repot. This can sometimes take multiple years, depending on how fast your Raven is growing.
To pick your Raven's next container, be sure to follow the advice in the basic care section, making sure you choose a pot that allows for 1-2″ between the rhizome and pot on all sides. You'll also want to ensure proper drainage by making sure it has a drainage hole in the bottom.
When you're ready to repot, tip your Raven ZZ upside down, being careful to support the central stems with one hand. Slide the root ball out of the pot.
Add a mound of porous potting soil into the new container and place your Raven in it so that the rhizome is about an inch below the lip of the pot. Fill around the root ball with soil, gently pressing it in to support the plant.
Add enough soil without burying the central stems or rhizome. In fact, you can leave the top of the rhizome sticking out a bit, as it won't hurt the plant, and will help prevent the stems from rotting at the base.
Water your Raven into the new soil well, allowing it to saturate, with any excess running from the drainage hole. Once it's finished draining, you can return your Raven to its spot in your home.
---
Can You Divide Raven ZZ Plants?
When it's time to repot your Raven ZZ, you may also want to consider if it's large enough to divide into two separate plants. ZZ Plants are actually quite easy to divide and bounce back from the process fairly quickly.
To divide your Raven ZZ Plant, you will want to determine where you will be making your cuts. It's best to remove the plant from the pot and wash away any excess soil, so you have a clear view of everything.
Aim for dividing your Raven into two or three sections, all of which should have rhizome, roots, and stems. I typically look at the stem configuration and see if there are any natural breaks to cut along that leave each piece with three to five stems protruding from them. This will help create visually appealing plants once they are separated.
Using a sharp, clean knife, cut the rhizome along your predetermined lines. Allow your Raven pieces to sit out on the counter for a couple hours so the rhizome calluses over slightly, and then plant each divided piece in an appropriately sized container, following the guidelines above.
---
Raven ZZ Plant Propagation
Like all ZZs, Ravens are quite easy to propagate from cuttings. If you are pruning your ZZ, or accidentally break a piece off while repotting, consider utilizing those pieces and propagating them to create more plants.
For a ton of information on propagating ZZs and step by step instructions, read this article that outlines all of your options.
---
Final Thoughts
I love trendy houseplants that also have the added bonus of being so easy to care for. Raven ZZ Plants truly fit the bill. They are great starter plants for beginners, and also have that unique purple coloring that experienced plant nerds, like myself, get excited about.
If you've recently purchased a Raven ZZ, or are thinking about picking one up, I hope this article answers your questions about the best care practices that will have you enjoying it for years to come. I think if you follow these tips, you'll be happy with how much your Raven ZZ Plant will be thriving!