We're all on the same page about how great the ZZ Plant (Zamioculcas zamiifolia) is, right? This amazing plant has a lot going for it, so it's no surprise that people tend to want more than one in their homes. After all, there is no such thing as too many houseplants. The best, and certainly the cheapest option, to get more ZZ Plants is through propagation, but what is the best way to go about it?
How do you root ZZ Plant cuttings? Rooting ZZ cuttings depends on the type of cutting you've taken. The quickest method is rooting ZZ stems in water, while the most common is rooting ZZ leaves directly into soil. Rooting ZZ stems or leaves both take several months as ZZs are slow growers.
There are many ways to go about propagating ZZ Plants, each with varying levels of success and time frames. Because most of us want to be the most successful in the shortest amount of time, what you'll find below is the most effective way to turn your ZZ Plant into many new plant babies.
---
Splitting Rhizomes vs. Stem and Leaf Cuttings
Before you go down the rabbit hole of propagation, you should first check to see if your ZZ Plant can be divided at the rhizome. The easiest way to create multiple ZZ Plants is through rhizome division. However, because of the slow growth of the plant, this can really only be done every couple of years.
If you've already exhausted the division option, but still want more ZZ in your life, you have options. You can actually propagate new plants by taking cuttings of either the stems of the plant or just by the leaves themselves.
Stem cuttings tend to have a better success rate because they are quicker to develop new budding rhizomes at the base. Roots will grow faster and, therefore, establish the new plant into its pot relatively quickly, allowing the plant to focus on upward growth.
Leaf cuttings are an option when you can't or don't want to sacrifice a stem from your mother plant, allowing you to keep the overall shape of the plant intact. This option tends to take much longer, so patience is required for this route.
---
Rooting in Water vs. Rooting in Soil
In addition to propagating ZZ Plants from stem or leaf cuttings, you can also root them out in two ways: water or soil. Both options work just fine, but you have to understand what watch out for, in order for your cuttings to successfully root out.
WATER
Rooting cuttings out in water is, by far, the most straightforward way to propagate a ZZ. It's relatively low maintenance, you can actually see the progress your little ZZ babies are making, and it's the quicker of the two options.
When rooting stems or leaves in water, you are essentially trying to create a small rhizome at the base of the stem. You'll need to watch for roots to sprout before you transfer the cuttings to soil.
I prefer to root ZZs in water because you can see the development without disturbing the cuttings, which avoids trauma or damage to the fledgling plants.
SOIL
By contrast, you can also stick both stems and leaves directly into well-drained propagation soil and wait for rhizomes and roots to form.
This process is slower than the water method, and you must possess the patience of a saint to not pull the plants out too early and check their progress. Remember, cuttings are fragile, and disrupting them can kill them off.
When rooting in soil, you have to keep the soil adequately watered (damp, but not too wet) and warm (near a sunny window, but not directly in sunlight) to encourage root growth.
The upside of this method is that you can use it to fill in empty soil space in and around your existing ZZ Plant. A leaf or two stuck directly down into the soil will eventually create new stems to fill the space.
---
How Long Does It Take to Root ZZ Plants?
In a world where content is streaming straight to our phones every minute and anything our heart desires can be delivered to our doors within hours or days, propagating ZZ Plants is going to seem very slow.
Depending on the methods you use, you can expect the whole process to take between four months to one year. The time between taking a cutting, rooting it in water, and replanting it to its forever home, can take at least four to six months. If you're planting leaves directly in soil, we're talking closer to nine months or more.
Yes, it takes a while, but overall the process is mostly hands-off. For the most part, you will only need to ensure you have created the proper conditions for propagating and then let it grow. Don't worry, the wait is totally worth it.
---
How to Properly Root Out ZZ Stems in Water
I know, I know…leaves or stems? Water or soil? It seems complicated, but below is my preferred method of rooting out ZZ Plants as quickly and successfully as possible. You can fully root out both leaves and stems in either water or soil, but I have found that a combination of methods is the best way to propagate without much loss.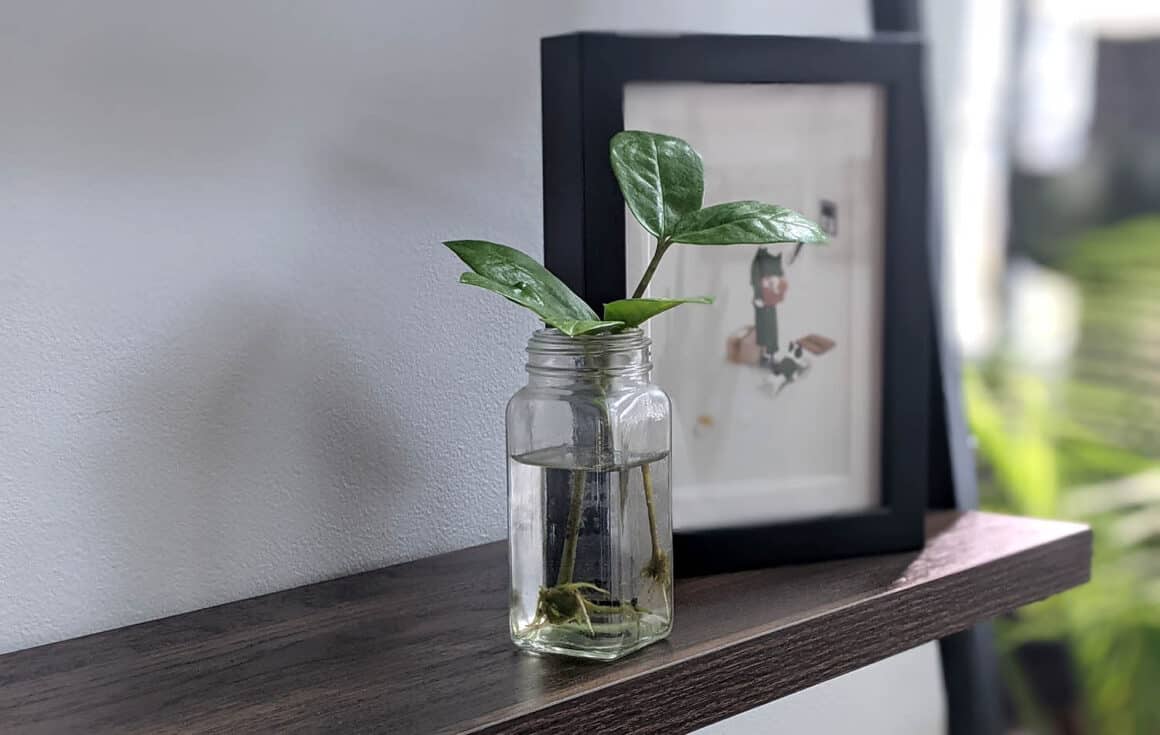 I prefer using stems with a few small leaves on them rather than just the leaves themselves, but it will work either way. They will then be rooted out in water first before being transferred to soil to finish. By doing it this way, I feel like the best of each method is utilized while avoiding situations where rot or disease can take effect.
Start by taking cuttings of the plant (you can read a more in-depth article about it here). In this example, I'll be using stem cuttings.
Place cut stems in a small glass of water (or propagating vials). You should pay attention to making sure no mold grows in the water, changing it out every two weeks. Check the cuts and clean away any dead tissue that might develop and place the cuttings near a window, where your ZZ babies can get a lot of indirect sunlight.
Over the course of 4-8 weeks, you should start to see new rhizome growth, possibly with new roots beginning to sprout.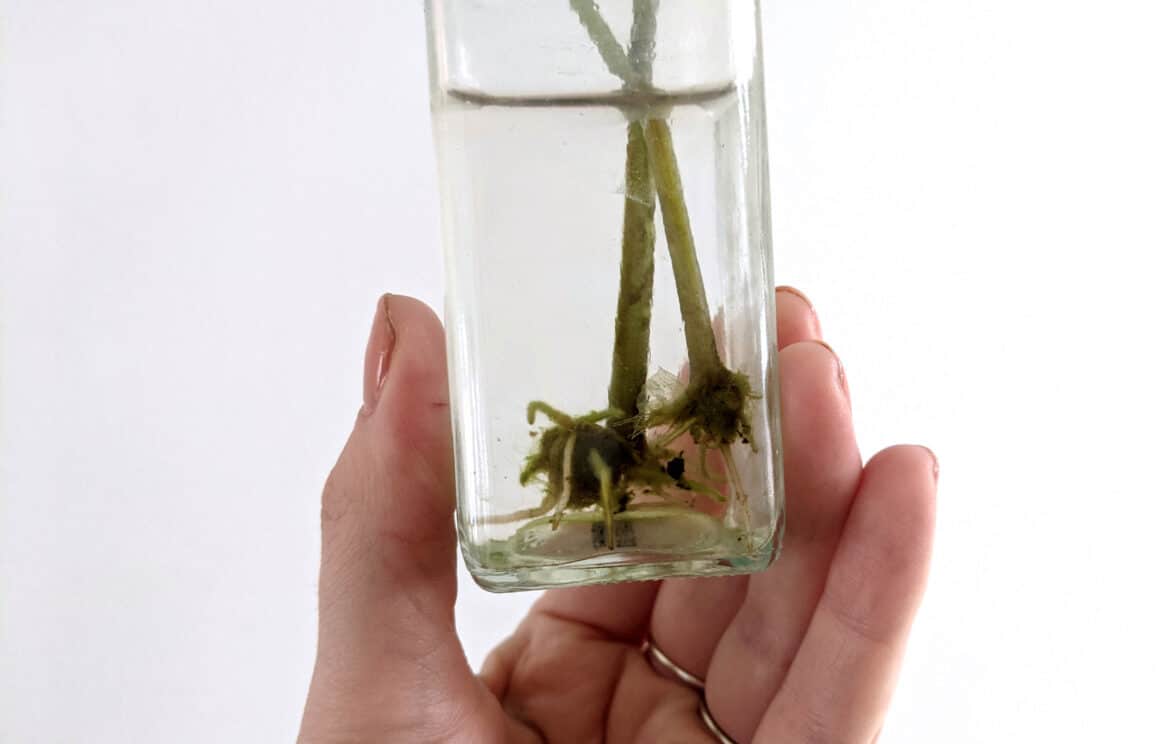 Wait until the new root growth has reached about an inch (can take around 3 months to achieve) before transplanting your cuttings to small propagating pots with well-drained soil. Drainage is key, so make sure your pots have a hole in the bottom and/or pebbles to keep the roots from sitting in water (which will eventually lead to rot).
Transplant each rooted stem into your small pots, planting the rhizome/roots about 1-2 inches deep. If your containers are larger, you can put multiple stems in one.
Fill pots with soil to support the stems up to just below the rim of the pot. Water in thoroughly. At this point, allow another 4-6 weeks for your ZZ cuttings to establish themselves in their pots before replanting in a container one size larger.
---
Best Soil for ZZ Plants
ZZ Plants cuttings are generally pretty easy going. Still, one thing that makes a huge difference between whether they are thriving or just surviving is the soil they are planted in. ZZ cuttings love a well-drained soil that won't hold too much water around their developing rhizomes, which could cause them to rot.
Trust me, you will cry if you go through weeks of rooting out cuttings only to kill them off when you transplant them to the wrong soil.
To avoid a pity party, make sure you use a good quality potting soil with plenty of vermiculite or perlite added to it. Those additives keep the soil light and airy without adding much weight, so water can drain through. Can't find quality potting soil? Use what you've got but mix in some cactus soil to lighten it up (about a 50/50 split). For more info on the best soil to use with ZZs, read this article.
ZZ Plants are not the fastest propagators, but when you really get into it, the method is pretty simple. With the guidance above and a bit of time, you can turn your one ZZ Plant into so many that you'll be giving them to anyone and everyone you know. And that is never a bad thing.