Pilea Peperomioides, also known as Chinese Money Plants, are well known for their dome-like round shape. But what should you do when your plant is less than perfect? What if you want it to be a different shape?
How do you make a Pilea taller? Bushier? Straighter? Rounder? The answer to each of those questions is a bit different, but they all include manipulating the way the plant has access to light, energy, or nutrients. Shaping Pileas is pretty simple and with a little work, you can achieve any shape you desire.
I have a couple of different Pilea Peperomioides plants and I've been experimenting with shaping them in different ways. I have a small plant that I don't rotate, a larger plant that I don't remove pups from, and another that looks like the stereotypical dome-shape they're so well known for. If you have questions about shaping your Pilea, you've come to the right place.
---
Pruning Pileas
Unlike many other plants, Pilea Peperomioides do not need a lot of pruning and can live their entire lives without being cut back at all. Usually, pruning is not even needed for altering the shape of your Pilea. Instead, this is achieved by altering the environment or care of your plant.
Generally, there are three reasons why I would consider pruning my Pilea. If the Pilea has become extremely leggy, if the plant is unhealthy and I need to give it a fresh start, or if I need to remove some dead leaves from the bottom of my plant. Other than that, your Pilea doesn't need to be pruned. To see more information about pruning Pileas, check out this article.
---
How a Healthy Pilea Looks
There is not one single look of a "healthy Pilea." There are, however, some guidelines that indicate if your plant is growing as it should be.
A healthy Pilea grows large, round leaves on long stems coming from a central stalk. As the plant becomes more mature, the central stalk begins to harden like a tree trunk.
Most people want a plant that is round and domelike, growing evenly in all directions. However, a plant that is one-sided, where all the leaves are growing in a single direction with a stalk that is growing at an angle, is still a healthy Pilea.
As your plant continues to grow, the bottom leaves will naturally start to droop down. This is not something that you need to be concerned about as it actually helps to create the bottom half of the round shape that most of us desire. Some people remove the leaves as soon as they begin to droop but I prefer to leave mine as they give the plant a much fuller look.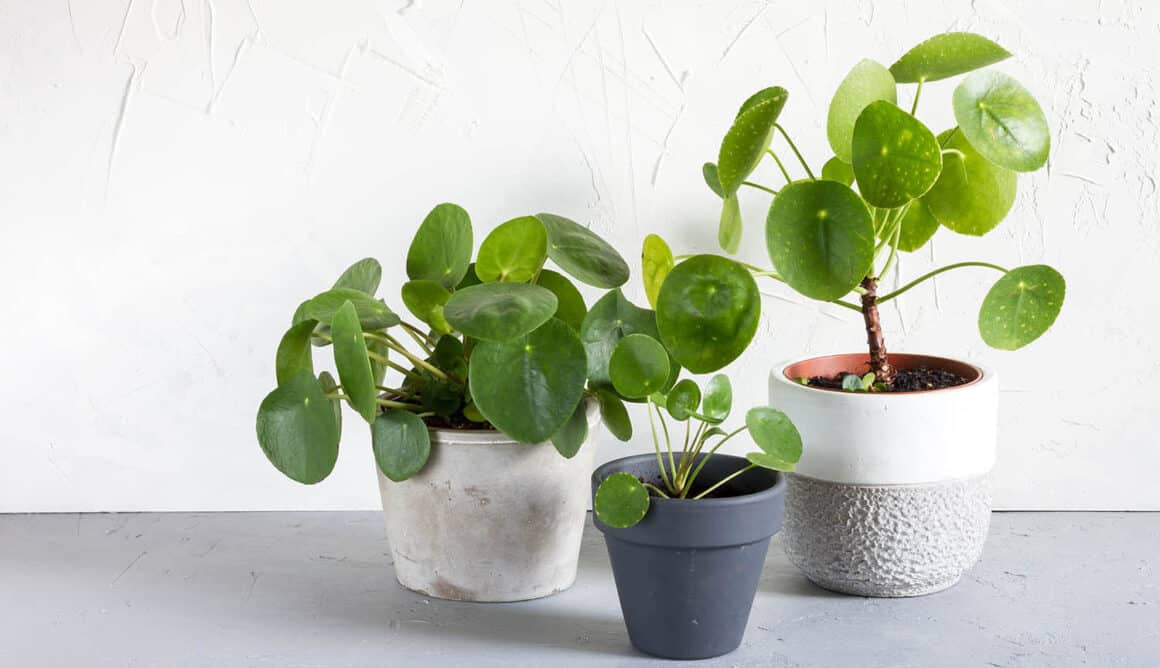 ---
Remember: Growing Seasons Matter
All plants have a growing season. In nature, that is the time of year where the temperature and rainfall are ideal and allow a plant to grow successfully. When we pull plants into our homes, we expose them to consistent temperatures and watering, but we do not negate the growing seasons. Houseplants still have a portion of the year where they do most of their growing.
Growing season takes place during the warmest months of the year. For most people in the US and Europe, the growing season is from spring to early fall. During this time, you will see faster growth from your plant as it turns sunlight into energy more quickly.
The further you are from the equator, the shorter your area's growing season will be. Tropical locations have growing seasons that last for most of the year, while those areas much further north or south of the equator will not have adequate heat or sunshine for a large portion of the year, cutting growing seasons much shorter.
During the part of the year where a plant is not growing it is said to be dormant. When plants are dormant, their growth and expansion slows down dramatically.
It is important to note the time of year you are in right now. If you're in the warmer months, now is the time to try out these tips and tricks to shape your Pilea. If you believe your Pilea may be dormant right now, you should consider waiting to try these things until spring arrives.
---
How To Make a Pilea Grow Bigger
I see a lot of people asking, "How do I make my Pilea bigger?" The answer depends on what you mean by the word "bigger."
If you are just wanting your plant to grow and mature, you will need to water it, put it near a bright sunny window out of direct sunlight, and wait. Pileas are generally fast growers, but your plant can take a year or two before it reaches full maturity and begins producing its own pups.
However, if what you actually want is to encourage your Pilea to grow taller, you'll need to follow different steps than if you want it to be fuller and bushier.
Which kind of bigger do you want? Bigger leaves? Taller? Fuller? Each of those has a different set of steps that are outlined below. If you are wanting to find out how to encourage your Pilea to grow more quickly, there is a section below for that as well.
---
How To Grow a Pilea Taller
The average height for a fully mature Pilea is 12 inches. With their orb-like shape, their width often matches their height so 12" x 12" x 12" is the average size of a Pilea that is two to three years old.
However, a quick google search will return images of beautifully tall Pilea plants, some up to 20+ inches tall. If a tall Pilea is what you want, you'll need to help your plant focus every bit of its energy into upward growth.
Plants send out energy to each part of themselves, from the tip of the stalk to the bottom of the roots and all the leaves in between. If you want to encourage the energy to go up instead of out, I recommend cutting back the new plantlets that emerge as soon as you see them.
Ideally, to propagate a new Pilea from one of these plantlets you'd want to let the pup live attached to the mother until it was about 2-3 inches tall. But if you're less concerned about reproducing your plant and more concerned with helping it to grow tall, get rid of the pups as soon as you see them. This will free up energy for your plant to grow up instead of out.
Once your Pilea starts to reach a greater height, you will probably need to stake it. Tall Pileas become top-heavy, as most new growth will be sprouting from the top of the plant.
To stake a Pilea plant, simply find a tall dowel or rod and secure the stem to the stake. I prefer to use green or brown bread ties to secure but have used metal wiring to do it as well. Companies make specific materials for stakes and secures, but I find I can almost always get by with something I already have at home.
It's also important to note that it takes time for a plant to grow tall. Nothing I can tell you will cause your plant to shoot up an inch overnight. Patience is key with houseplants, and Pileas are no exception.
---
How to Grow a Pilea Fuller or Bushier
If the Pilea you desire is full and bushy, this is usually achieved in one of two ways. The first is by planting multiple Pileas in the same container. The second is by clipping the top off of your plant.
The big, full, beautiful Pileas you've seen on Instagram are rarely a single stalked plant. Usually, that effect is created by housing multiple plants in the same container. If you only have a single Pilea, I would encourage you to not remove the pups from the mother plant when they emerge from the soil. By leaving the pups with the mother, your plant will begin to look much fuller in time.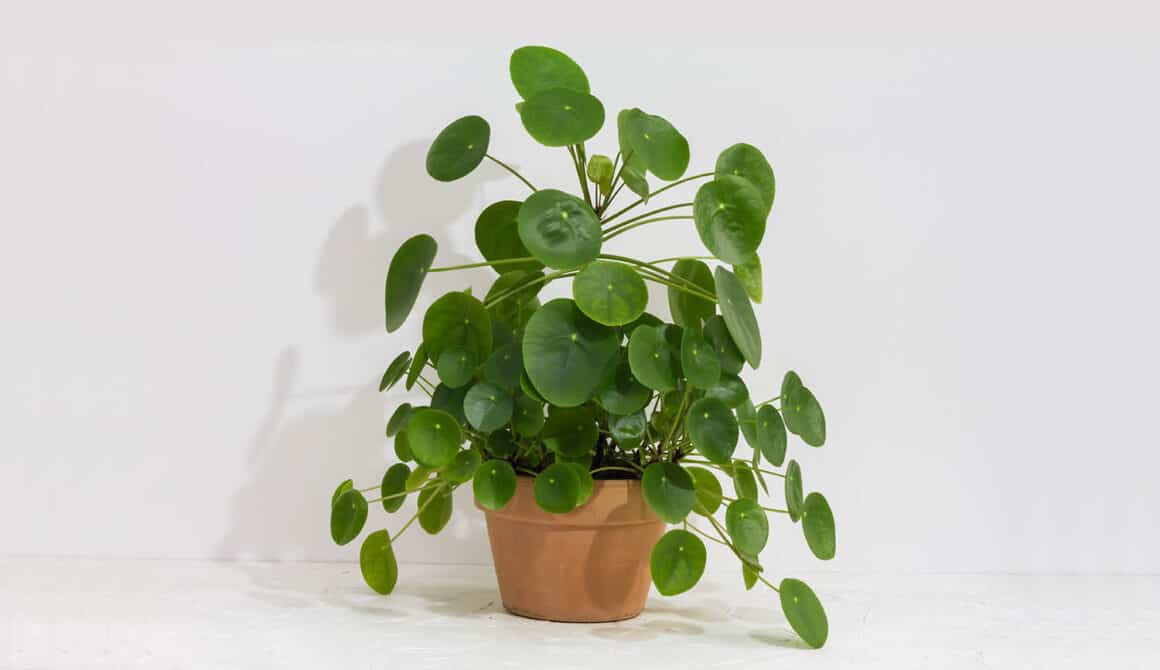 The second option is to trim off the top of the Pilea. Removing the top of the plant will encourage growth along the stem in the lower parts of the plant.
This is because of a hormone that is present in plants called "auxins." Auxins are what encourage a plant to grow from the top. If you want to stunt growth from the top of the plant and encourage your plant to grow out, you'll need to remove the tip of the plant which is where the auxins are found.
If you think your Pilea is beyond repair because it has already become very bare on the bottom, consider topping your plant. There is a section on this at the bottom of this article.
---
How to Grow a Pilea Straighter
The most important thing to consider with the shape of any houseplant is its light source. All plants reach and grow towards the sunlight.
If you have a Pilea plant that you never move or rotate, the leaves of that plant will all grow towards the sun, but the stem will reach in that direction as well. Rotating your Pilea plant to provide even sunlight to each side is how to get the ideal, round shape. Rotating is also important to keep central stems growing tall and straight, instead of at an angle toward the light source.
If your Pilea is becoming very tall, you'll need to stake it to keep it growing straight. If not properly staked, the weight of your Pilea may cause your Pilea stem to bend and grow at an angle. For information on staking your Pilea, read the "How to Grow a Pilea Taller" section.
---
How to Grow a Pilea Rounder
Pilea Peperomioides have a very unique round shape that they are well known for. This shape is achieved in the same way as growing your Pilea straighter, by rotating it every few days to keep it growing towards the sun.
I like to rotate my Pileas every two to three days. If you wait much longer than that you will risk your stem curving towards the nearest window. For the perfectly round, orb-like shape you desire, you'll have to be diligent and consistent with rotating.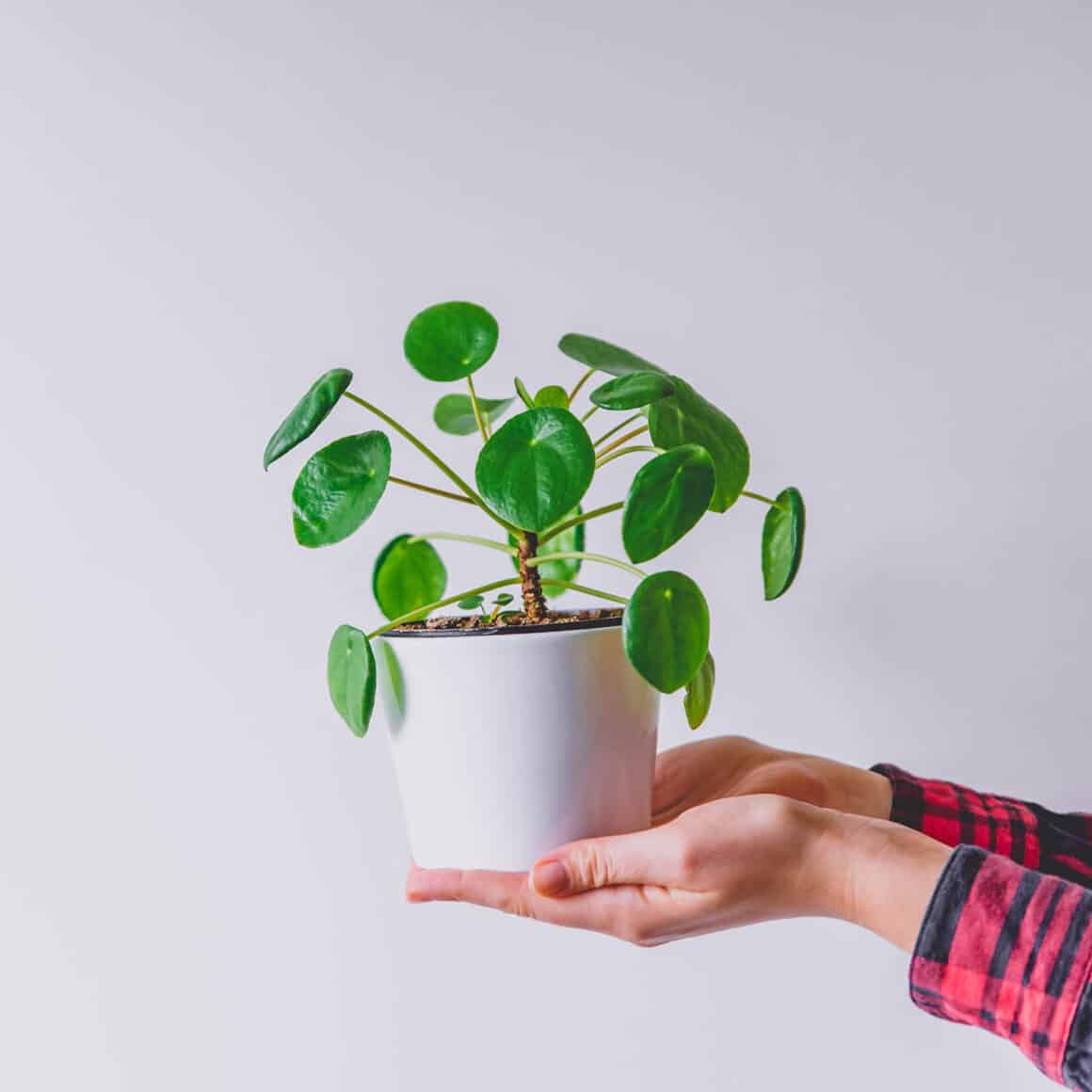 You should note that rotating your Pilea will actually slow the rate at which it grows. When Pileas are constantly being rotated, they are always in a state of searching for light and much of their energy is utilized for that. While it is the only way to achieve a straight, round Pilea, rotating will keep your plant from growing as quickly.
---
How to Make Pilea Leaves Flatter
Another question I see often has to do with curved leaves. It is common for the new leaf growth from the top of your Pilea to be curved as they emerge, but the main leaves on your Pilea should be flat, like a pancake. That's why the Pancake Plant is another common name for Pileas.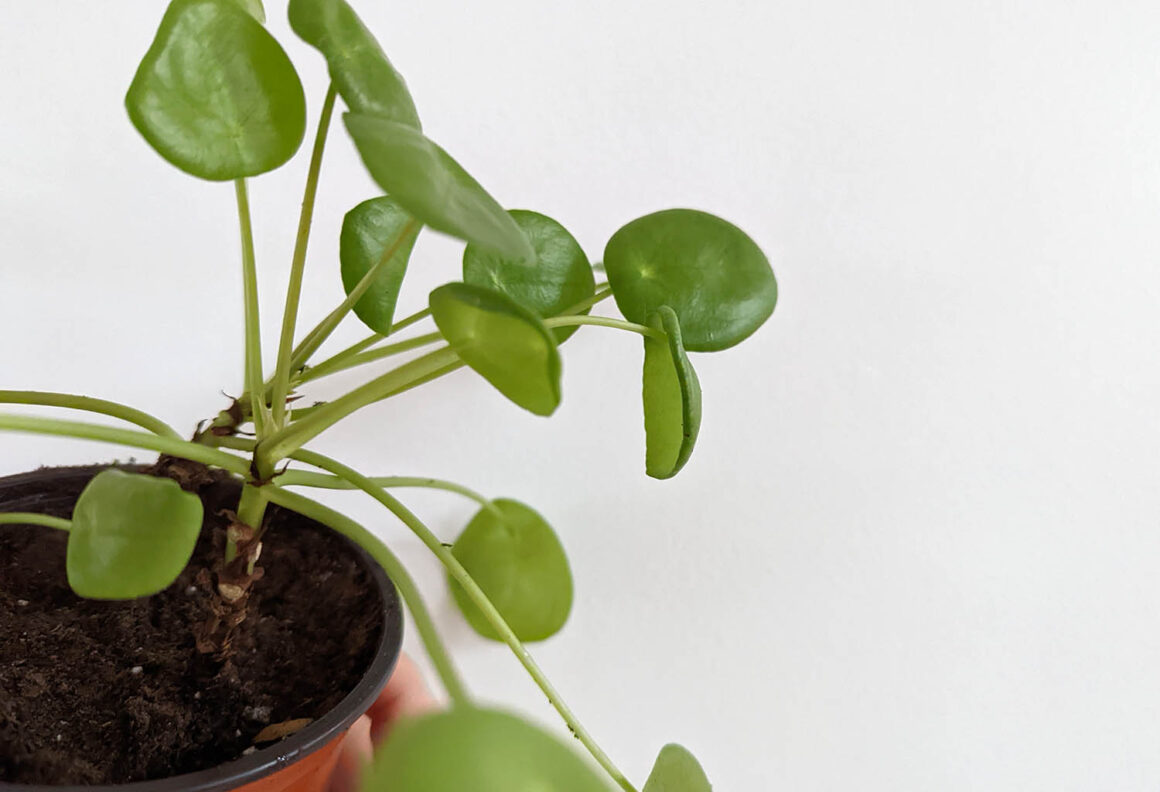 Curled leaves are usually a sign that the plant has been overwatered. You should only water your Pilea when the top layer of soil is completely dried out. If you think you may have been overwatering your Pilea, wait a few more days between waterings.
Sometimes leaves curling is a result of your plant not getting enough bright, indirect light. In this case, the leaves are curling, or cupping, to try and increase the surface area available to absorb light. To remedy this, move your Pilea to an area where it will receive more light. But remember, Pileas do not like direct sun and have a tendency to burn. I put my Pileas on a table about 3 feet from a bright, south-facing window.
More light will also help your Pilea to produce larger leaves. Pileas are prone to becoming leggy when they don't receive enough light and small leaves are often a byproduct of this.
---
How to Encourage a Pilea to Grow Faster
I have three main suggestions for encouraging a Pilea to grow faster. The first involves giving it more nutrients through fertilizer. The second is to stop rotating the plant. And the third is to increase its access to light.
FERTILIZING
To encourage a Pilea to grow more quickly, I like to fertilize them once per month when they are in their growing season. Most potting soil bought in stores is fortified with nutrients to help your plant thrive. This is extremely helpful when plants are first potted, but after several months your plant will probably use up all the available nutrients within the potting soil.
I use liquid 10-10-10 fertilizer for my houseplants. I always dilute it to half or quarter strength for my Pileas as too little fertilizer is much better for your plant than too much. Over-fertilizing your Pilea can scorch the leaves and eventually kill the plant.
Pileas do not need to be fertilized when they are dormant. I fertilize my plants once per month during their growing season, which for me is roughly from April through September.
For more info on fertilizing Pileas, read this article.
NO ROTATION
My next suggestion is to stop rotating your Pilea. If you've had a Pilea for any extent of time, you have probably read about rotating your plant every few days to create the dome-like shape they are loved for. However, did you know that rotating your Pilea is actually slowing down its growth speed?
Each time you rotate your Pilea, the leaves are forced to grow in a new direction to chase the light. This constant change uses a lot of energy from your plant. When your plant is constantly expelling energy to follow the light, it cannot focus that energy on new growth.
If you do not rotate your Pilea, the result will be a lopsided plant. Instead of the usual round, dome-like shape that Pileas are famous for, you'll have all the leaves growing in the same direction and the back will be bare. If you are keeping your plant on a shelf or table against the wall, this might be a good option for you.
If your goal is to have a full, fast-growing Pilea, and you don't care if it is one-sided, stop rotating your Pilea and free it up to spend all of its energy growing out and up instead of moving its leaves towards the sun.
ADD MORE LIGHT
Lastly, to encourage your Pilea to grow quickly, give it some additional bright light, being sure to keep it out of reach of direct sunlight on its leaves. Pileas love bright, bright light, but can't tolerate it directly on their leaves, even for short amounts of time. By moving your Pilea near your sunniest window, you'll start to see new growth.
If you are wondering which window in your home is the sunniest, the answer (if you live in the northern hemisphere) is the south-facing one. If your home has limited windows and you do not have a south-facing window, an east-facing or west-facing window will be okay as it will get sun either in the morning or the afternoon.
If you live in an area that does not get much sunlight during the winter or a home without a sunny window, you may need to find an additional light source to keep your Pilea happy and growing quickly.
Grow lights are designed specifically to help increase the light available to your plants. For more information on grow lights and to see which ones I use in my home, read this article.
---
Why Your Pilea is Sparse or Oddly Shaped and What To Do About It
If you're having issues with the shape of your Pilea, it is important to figure out what has caused it to grow that way. If you do not solve the original problem, no matter what you do, your plant will continue to grow in the same manner.
The two most common problems affecting the look of your Pilea are overwatering and not enough light. Let's look into each of these more closely to figure out what is ailing your plant.
OVERWATERED PILEAS
Pileas are members of the Urticacea family and are technically perennial, evergreen succulents. While they are different from many other species in the succulent family, they do have one thing in common with most – they hate to be overly wet.
The most common cause of an unhealthy or dying Pilea is overwatering. Pileas, like other succulents, should be allowed to dry all the way out between waterings. I always check with my finger that the top inch of soil is completely dry before watering again.
When in doubt, it is always best to wait a little longer to water your Pilea. An underwatered Pilea is much easier to fix than an overwatered one. When your Pilea leaves start to droop slightly, and the top inch of soil is dry, it is time to water again.
The first signs that your Pilea has been overwatered can be found within the leaves. If your leaves are drooping, turning yellow and falling off prematurely, you may have given your plant too much water.
It's important to note that the bottom leaves of Pileas droop and eventually turn yellow and fall off naturally. If this is happening to a lot of your leaves, not just the oldest leaves on the bottom, that is when you will need to adjust your watering habits.
NOT ENOUGH LIGHT
The second sign your Pilea is unhealthy is that it has become leggy. When people say that their houseplant is "leggy," they mean that the plant has become stretched out and bare.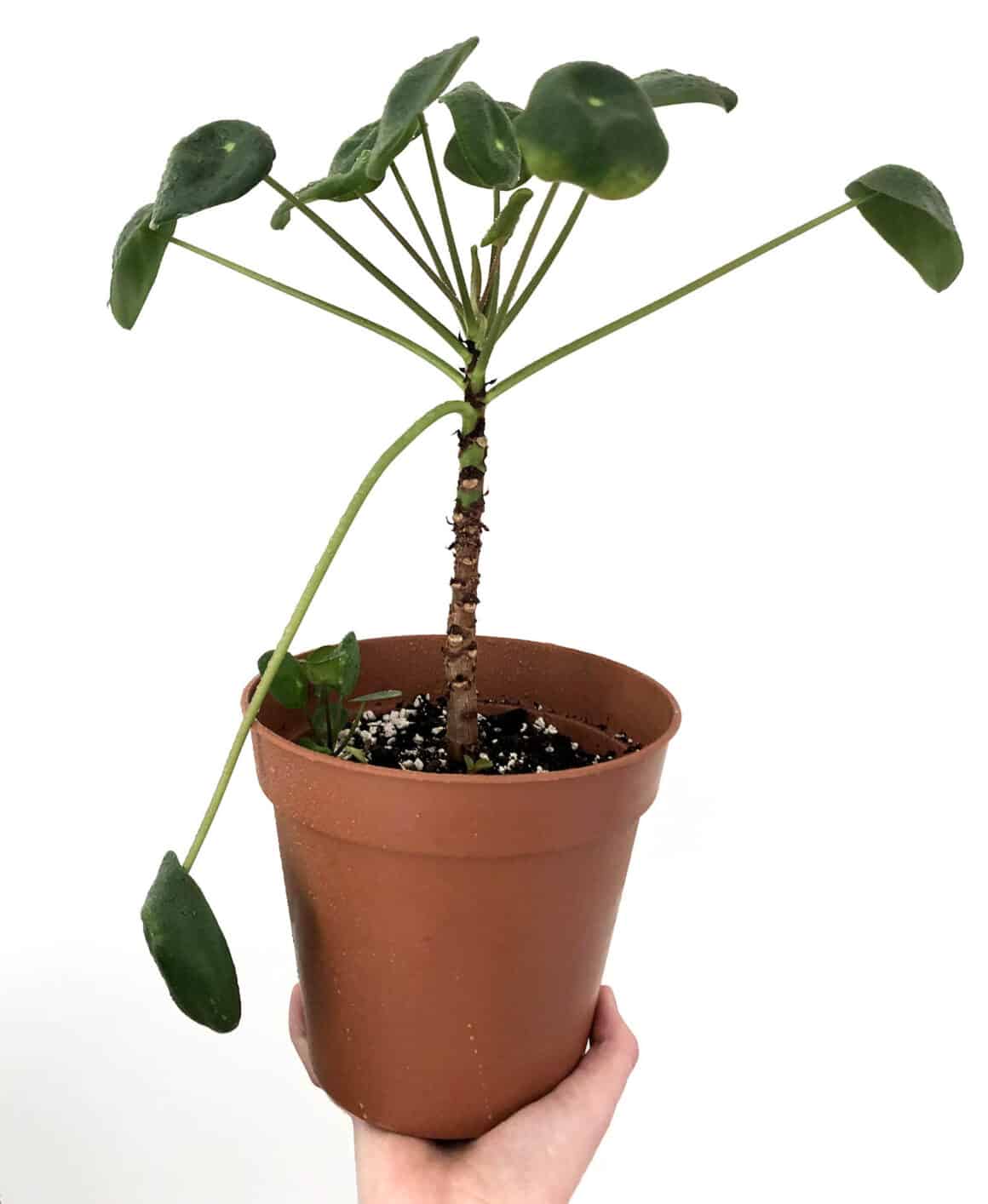 Legginess makes your plant look messy or untidy. The scientific name for this problem is Etiolation. Etiolation is what occurs when a plant is grown in inadequate light and it begins to have long weak stems, smaller leaves, and sometimes a pale yellow color.
For Pileas specifically, a leggy plant can be identified as a sparse plant with elongated stems that look droopy, rather than the full, bushy, round shape we've all come to love and small, curved leaves.
When you first notice your Pilea becoming leggy, it is important to find a spot that meets the light requirements. It is also important to make sure that you move your plant gradually. Most houseplants are sensitive to drastic changes in environment, and Pileas are no exception. If you need to move your Pilea, be sure to ease into the transition by moving it closer to the light every few days.
Sometimes Pileas become so leggy and the leaves so sparse that encouraging new growth to the top will not be enough to return it to its former glory. If your Pilea has become mostly stem and you think it is beyond the help of a simple location change, you should consider topping the plant by cutting it in half.
---
How to Cut the Top Off Your Pilea Peperomioides
While this seems terrifying to most of us, Pileas actually do really well when they have been topped. Topping your plant frees the Pilea to send energy into filling out the plant instead of into making it taller and will encourage your plant to become fuller. In fact, not only will you begin to see new growth on the stem that is left in your planter, but you can actually root the top portion that you removed and replant it so that you will now have two Pilea plants.
To top your Pilea, make sure you have a sharp knife as you will want to cut the tissue cleanly. Be sure to clean your knife before using it. Then, find a spot about halfway up the stem and use your knife to cut the stem in two. The bottom half of your Pilea will usually begin to grow new leaves in a matter of weeks. Make sure to leave some leaves on the bottom of the Pilea as plants need their leaves for the photosynthesis process.
Once you've done this, do not throw the top half of your Pilea away. Instead, put the base of the cutting into a small bottle of water and allow it to root. Once you have roots that are an inch or two long, you can replant the top into its own container and you will have exchanged your one unhealthy plant for two healthy ones!
---
One Final Note on Shaping Your Pilea
Pileas are known for their round, orb-like shape, but no Pilea will grow like that without intervention. All plants grow towards the sun, and without rotation, a Pilea's leaves will all reach toward the same direction in an effort to expose themselves to light. The result is a lopsided Pilea. To remedy this, rotate your Pilea ninety degrees every time you water it.
But, as I said before, rotating your Pilea also has the negative effect of slowing the growth rate of the plant. If you want a taller or quicker growing Pilea, consider experimenting with leaving your plant in the same direction all of the time. This will cause your Pilea leaves to all reach in the same direction, but can greatly increase the speed at which your plant grows.