Can you raise African Violets from seed? This method isn't as popular – or as easy – as propagating your plant from cuttings. But it is a viable way to multiply your Saintpaulias. And in the process, you'll see a new side of your prized plant. Here's our advice on how to grow African Violets from seed.
Sprinkle your African Violet seeds on top of a damp, peat-based potting mix. Keep them warm and humid, and light them with a grow lamp or bright, indirect sunlight. You should see tiny seedlings after 2-3 weeks. After a month or two, they should be tall enough to transplant into individual pots.
Do you need to buy African Violet seeds, or can you produce them from your own plants? What should you do to keep them humid? And how soon will they be mature enough to bloom? This article will answer all these questions and more. Keep reading for our complete instructions on growing African Violets from seed.
---
Is It Easy To Grow African Violets From Seed?
Before you get started, you may be asking yourself, is starting from seed a difficult process? Yes and no. African Violets are fairly easy to sprout, and a single pod can produce hundreds of seeds. But generating those seeds in the first place takes time and care.
And there's no telling whether the seedlings you sprout will look anything like the parent plant. The African Violet varieties that are used as household plants have been hybridized many times over. It's rare for them to grow true from seed. If you're looking to multiply Saintpaulias exactly like the ones you already have, you're better off raising them from cuttings.
So why grow African Violets from seed at all? If you have multiple varieties, you might want to cross-breed them to produce interesting new hybrids. Or you might simply be interested in observing the life cycle of your African Violets in action. For many people, helping plants grow and reproduce is its own reward.
---
How To Get Seeds From Your African Violet
Before you can grow African Violets from seed, you need the raw materials. We'll walk you through the process of pollinating your Saintpaulia and harvesting the seeds.
---
Step 1: Wait for Your African Violet to Bloom
Every Saintpaulia seed begins from a flower. And it's easiest to get the pollen from a bloom that's already been open for a few days. You may not be able to access the pollen until the petals have spread out all the way.
What if your plant won't flower? We provide several tips on persuading African Violets to bloom in this article.
Here's the short version: make sure your Saintpaulia has plenty of bright light, water, and humidity. Lack of solar energy is the most likely reason for an African Violet failing to bloom. Lack of moisture is a close second. If it's been a while since you gave your plant some fertilizer, a small dose of nutrition might also help.
---
Step 2: Remove the Pollen Sacs
African Violets produce their pollen inside small pods that grow on the anthers – the short stalks at the center of each flower. These pollen sacs are small, yellow, and oblong, and they're covered with a hard outer casing. Each bloom should be sporting at least a few pollen sacs.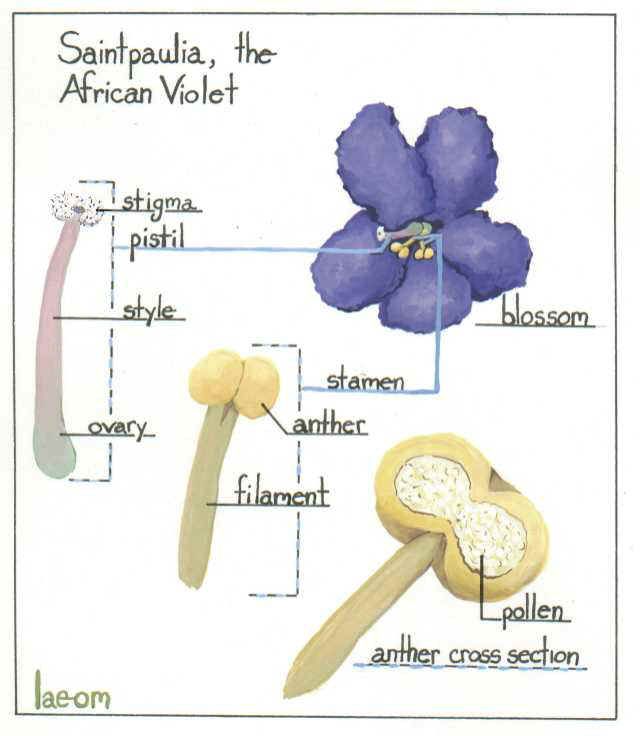 Once the flower has opened far enough, you can reach in and pluck off the pods with your fingertips. Hold the blossom stem with your other hand while harvesting the pollen. You don't want to snap off the flower.
---
Step 3: Break Open the Pollen Sac
You can generally crack open the pollen sac with your fingernail. If you want a little more precision, you could use a sharp craft knife. The pollen inside looks like a fine yellow-white powder.
Many growers just tip the pollen onto the tip of one finger. If you don't want to apply it right away, you could dump it on a folded piece of dark-colored paper.
You might be wondering how African Violets release their pollen from these tough pods in the wild. The answer: like many other plants, they get a little help from bees. The vibration of a bee's wings jiggles the sac like a salt shaker, knocking pollen out from tiny holes in the casing.
---
Step 4: Pollinate the Flowers
Now you need to apply the pollen to a receptive African Violet flower. The female part of the flower, called a pistil, is a small thread-like stalk with a sticky dot at the tip. It grows next to the anthers, but it's about twice as long as they are.
Dab some of the pollen onto the tip of the pistil. You can use your fingertip, a Q-tip, or a small paintbrush. It's up to you whether to pollinate a different African Violet, another flower on the same plant, or the same bloom that produced the pollen. Just remember: pollinating a plant with its own pollen will not ensure that its offspring will look the same.
African Violet flowers rarely self-pollinate in nature. In fact, if you notice your plant forming seeds when you haven't pollinated it, you should check it for pests. Thrips can sometimes carry pollen between flowers on the same plant, causing self-pollination.
---
Step 5: Wait For a Seed Pod to Ripen
African Violet blooms generally start to fade and wither about 2-4 weeks after they open. Around the same time, it will become obvious if you've successfully pollinated your plant.
Each fertilized pistil will start to swell up at the base, turning into a green, teardrop-shaped seed pod. This will stay on the blossom stalk after the rest of the flower falls away. African Violet seed pods are fairly small, about the size of a pea.
Now you just have to be patient. It will take 6-9 months for your seed pod to ripen. When it looks dry and brown, it's ready for harvest.
---
Step 6: Harvest Your African Violet Seeds
Pluck the seed pod off of its dying stem. You may notice that it has a slightly fuzzy surface, like a tiny peach. Place the pod on a piece of paper and split it open with a fingernail or a sharp blade.
You'll see right away why we suggested putting the paper underneath. African Violet seeds are tiny, and they often spill out like fine sand. Fold them up in the paper and seal them in a plastic baggie until you're ready to plant them. They should remain viable for at least the next few weeks.
---
Can You Buy African Violet Seeds Instead?
There are a lot of steps between a blooming African Violet and a fresh batch of seeds. Can you just buy seeds instead of going to all that trouble?
The answer is yes, though it's not quite as simple as you might think. Since African Violets don't grow true from seeds, many sellers stick to cuttings and whole plants. And people selling seeds on the internet aren't always reliable.
Your safest bet is to purchase African Violet seeds from your local garden store. If you do go online, try to find a well-reviewed seller. Nadeau African Violet Seeds has a great reputation in online houseplant communities, but there are other good options out there.
---
How to Grow African Violets From Seed
Now let's walk you through the process of planting, germinating, and growing your new African Violet seeds.
---
Step 1: Prepare The Ground
We generally recommend a fairly loose, porous soil mix for raising adult African Violets. But you'll want something a little denser for starting Sainptaulias from seed. If you use a potting mix that contains large gaps, the tiny seeds might fall too far down. You want them to sit right on the surface.
For this purpose, a seed starting mix with a base of sphagnum peat moss is a good bet. It will hold moisture well and stop your seeds from sinking.
Lightly moisten the germination mix. You don't want it squelchy and soggy, but it should be damp enough that you can pinch it into clumps with your fingers. Place this mix into wide, shallow containers. These seed starting trays should work well. Their fitted plastic lids will help maintain high humidity.
A much cheaper option is to simply lay down some damp paper towels. Your seeds don't need nutrients to sprout, just a moist environment. You can move them into real potting soil once they start to send out leaves and roots.
---
Step 2: Sow Your Seeds
Fold a crease into the paper that holds your African Violet seeds. Then move it slowly over your trays, tilting and tapping gently to dislodge the seeds.
Don't bother trying to plant and space individual seeds. They're just too small. And don't bury them, either. For best results, they should be sitting right on top of the soil.
---
Step 3: Give Them Some TLC
The next phase is all about keeping your seeds comfortable as they sprout. If you're not using a seed tray with a built-in cover, it's best to seal in moisture some other way. You could cover the containers with plastic wrap or place them inside a larger plastic bin. As long as light can get in but water can't get out, you're good.
Speaking of light: don't place your trays right in the sun. Indirect light is good, but direct sun exposure will fry your tender seedlings. If you're sticking with natural light, the early summer is the best time to grow African Violets from seed. Otherwise, you might want to use a grow lamp to ensure they get 12 hours of bright light per day.
Keep the temperature fairly consistent, between 68 and 80 degrees Fahrenheit. And keep the trays moist – but beware of overwatering. The best way to keep them hydrated is to mist the soil with a spray bottle every 2-3 days, or whenever it's looking dry.
Under ideal conditions, your African Violet seeds should begin sprouting in 2-3 weeks. Sometimes it can take as long as a couple of months. At first glance, you might think they're getting moldy – the tiny roots look like fuzzy white specks at first. But they'll soon be followed by itty-bitty green leaflets.
---
Step 4: Space Them Out
Keep up your care regimen until your African Violet seedlings are big enough to transplant. They should be good to go once they're about ½-inch tall. But you can wait a little longer if you want to be safe. It usually takes them around 3 months to reach this point.
Once they're big enough, you can move your African Violets into individual containers. Get some small plastic cups or pots. These can be quite small – 2-3 inches in diameter is fine – but make sure there are drainage holes at the bottom.
Fill your containers with moist potting mix. You can use a standard African Violet potting soil at this stage. We like the following blend:
Dig just below each seedling with a nail file (or something about the same size) and lever it up from the potting mix. Poke a small hole in the soil of the new pot and nestle the roots inside. Fill any remaining gap with a bit more potting mix.
For the next few weeks, you should treat the developing plants just as you did the seedlings. Water only by misting and keep them covered with plastic bags or lids. When they're settled into their new homes, they'll let you know by unfurling new leaves.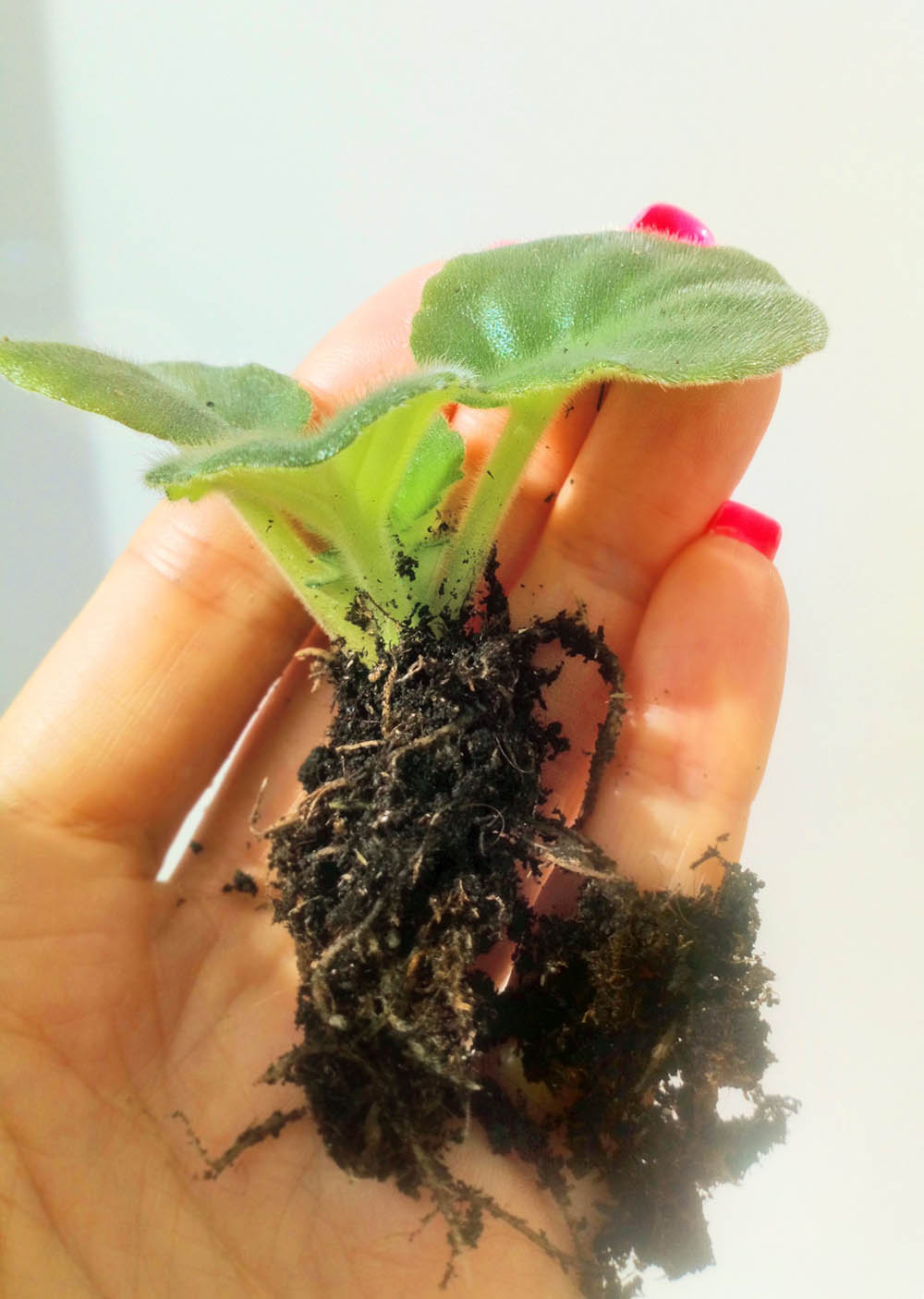 ---
How Long Before Your Seedlings Will Bloom?
Once your plants begin generating new growth, you can treat them as full-fledged African Violets. If you need some care tips, check out our articles on proper lighting and watering for Saintpaulias.
You'll need to keep an eye on your plants and repot them periodically as they grow. Most African Violet experts advise transplanting them into fresh soil every 6-12 months. You can also go by the size of the plant. When the leaves grow to 3 times the width of the container, pot your plant up to a slightly bigger vessel.
Assuming their conditions are good, your African Violets should bloom about 6-9 months after sprouting. When it comes to their looks, expect the unexpected! The appearance of the blooms is unpredictable when you grow African Violets from seed. But the surprise is part of the fun.
---
Final Thoughts
We hope this guide serves you well when as you get ready to grow African Violets from seed. It's a rewarding feeling to watch a Saintpaulia grow from a few grains of pollen to a mature, blooming plant. Best of luck to you and your seedlings!