What can you do when bugs are attacking your African Violet? We're sure you're very protective of your Saintpaulias and eager to banish these pests. But you need to know what you're dealing with before settling on a treatment. This article will describe the most common pests of African Violets and suggest some ways to clear them off your plant.
The most common African Violet pests in the home are sap-sucking creatures like cyclamen mites or mealybugs. These will usually require some kind of pest-killing spray like neem oil. You should always isolate your African Violet if you see signs of infestation. The last thing you want is for the pests to spread.
Whatever treatment you use on your African Violet pests, be prepared to repeat it a few times. Many creatures that infest houseplants can be very stubborn, and it's essential to mop up any stragglers. We'll give you some tips on combining treatments for a better shot at wiping out your Saintpaulia's pests.
---
Quarantine First
When you think your African Violet might have an infestation, the first step is to isolate it. Don't wait until you have a firm diagnosis. Most common African Violet pests can multiply and spread very quickly. So you'll need to act fast to avoid ending up with a house full of infested plants.
Move your African Violet as far as possible from your other houseplants. If you can, find a room with no other greenery. Or enclose it in some kind of transparent container like a plastic bin with a locking lid. (Note that this will raise the humidity and reduce your Saintpaulia's need for watering – be careful not to overwater it!) And until you're sure that you've wiped out the pests, make sure to wash your hands after handling your African Violet.
It's also a good idea to quarantine any new plants for a while after you buy them. Hitching a ride on other houseplants is the easiest way for African Violet pests to get into your home. Keep new purchases away from your existing plants for at least a couple of weeks. During this trial period, watch out for danger signs of infestation.
So what are those danger signs? Here's how to spot and treat the 4 most common African Violet pests.
---
Cyclamen Mites
Cyclamen mites are some of the nastiest and most widespread of an African Violet's enemies. They're a type of tiny arachnid that feeds by draining the juice out of its victims. Their small size is what makes them such a big threat – they're impossible to see without a microscope. You never know they're on your African Violet until you notice the damage.
The problem shows up in new growth first. Cyclamen mites (and broad mites, their close cousins) like to attack young leaves and buds. They drain away important ingredients for growth, leaving your African Violet's foliage stunted and shriveled.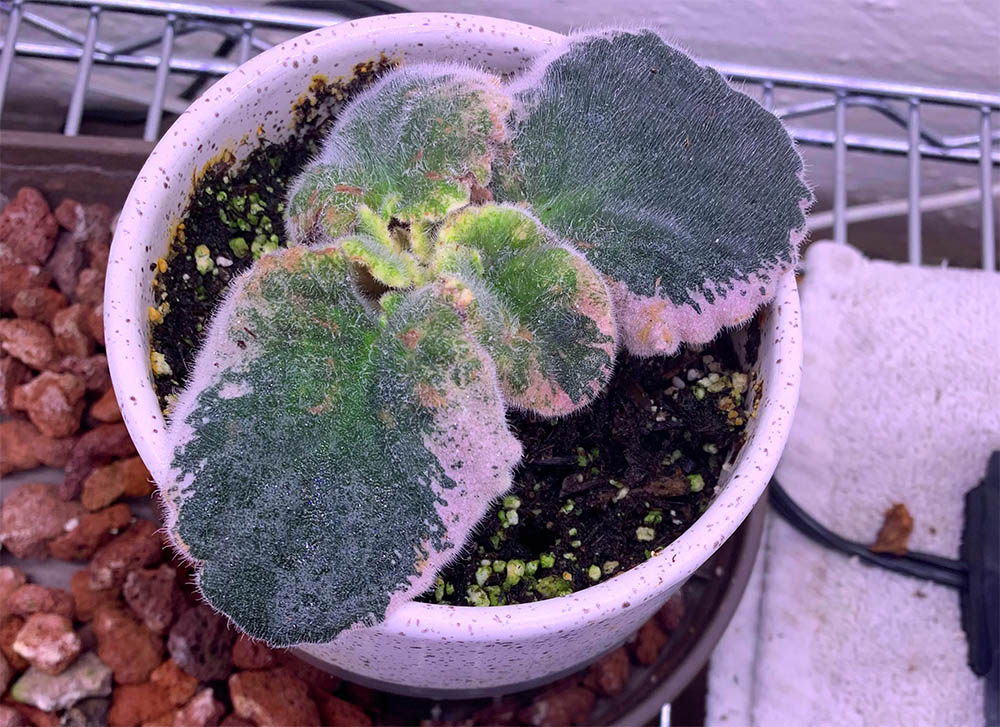 New growth emerges at the center of African Violets. This section, known as the crown, is where you'll see the biggest impact from mites. The young central leaves will be smaller and paler than normal, often turning yellow with dark edges. They may twist into odd shapes, turn brittle, or develop dark speckles on the bottom. One especially weird symptom is that the foliage gets much hairier than usual.
You might also notice damage to your African Violet's flowers. The buds may fail to open. If they do bloom, the flowers will likely be discolored and deformed.
---
How to Treat Cyclamen Mites in African Violets
Many growers will advise you to simply discard your infested plants and hope that the bugs haven't spread. Cyclamen mites are very tenacious and can often despite repeated treatment.
However, if you're determined to try to save your African Violet, you can try spraying it with neem oil. This natural pesticide messes with a bug's ability to feed and reproduce.
First, add ⅓ of a teaspoon of mild liquid dish soap to 1 liter of warm (but not hot) water. Shake this mixture up in a spray bottle. Then stir in 1 teaspoon of pure neem oil. The soap will help the oil dissolve.
Spray your African Violet thoroughly with this mixture. Then move it far away from any windows for a day or two. Neem oil will make your African Violet even more sensitive to sunburn than it normally is. You'll have to dose your Saintpaulia with neem at least a few times to eliminate the mites. Wait a few days between treatments to avoid stressing your plant.
Dunking the foliage in your neem and water blend may be even more effective than spraying – you'll be more likely to reach all of the mites. Always use lukewarm water on African Violet leaves. Overly hot or cold water can damage them.
If neem oil fails to get the job done, a heavy-duty miticide might be your only other option. Spriomesifen, also called Forbid 4F, is a very effective formula. It's very expensive, but you should only need a few drops to make a spray that will rid your African Violet of mites. Abamectin (AKA Avid) is a slightly cheaper option. It's a bit more widely resisted, but it's still often effective.
---
Mealybugs
These odd-looking insects are another type of common African Violet pest. They can affect either the leaves or the roots, though leaf mealybugs are more common. They'll cause leaves to turn wilted and pale or brown. Stunted and misshapen growth is also common.
You might also notice patches of sticky fluid that the mealybugs excrete as they feed. This stuff is called honeydew. It can sometimes incubate a soot-colored mold.
Finally, you can often spot the insects themselves – mealybugs are much bigger than cyclamen mites. They're small, round, and white, and they cover themselves in a waxy coating that looks like cotton fluff. You may see bits and pieces of this stuff clinging to the leaves even if you can't see the bugs.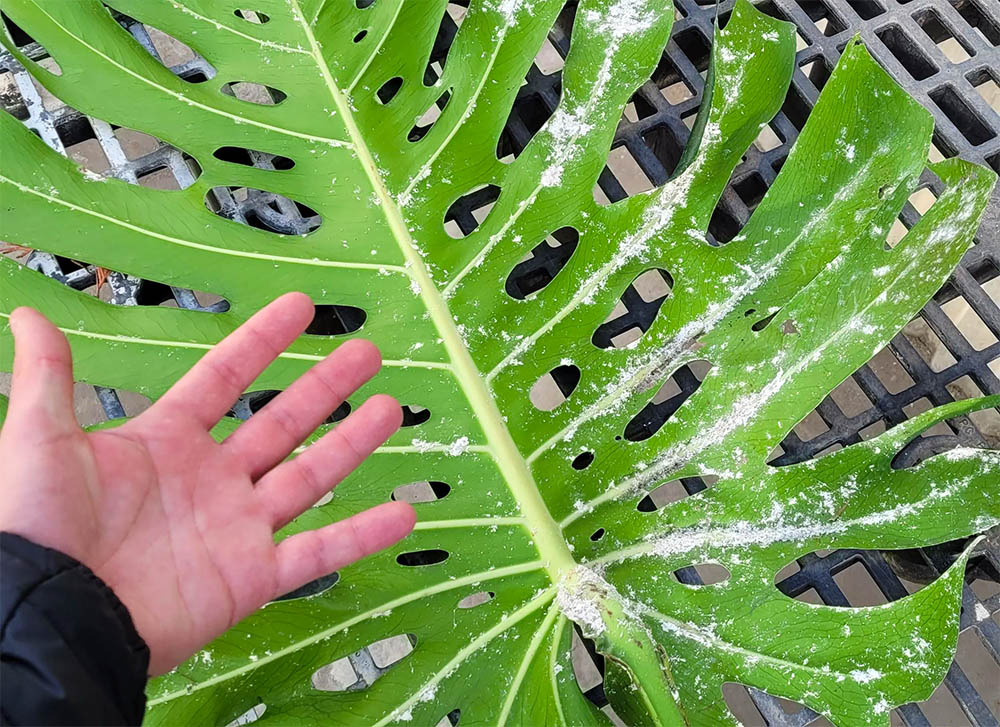 Despite their bright white color, mealybugs can be quite clever at hiding. Leaf mealybugs crouch in the crevices between leaves or flower petals. Root mealybugs nestle in the soil or the stems at the base of your plant.
---
How to Treat Mealybugs in African Violets
There are a few different remedies that can be effective against mealybugs. Many growers have success with neem oil. For mealybugs on the leaves – aka foliar mealybugs – the treatment is just as described above in the mites section.
With root or soil mealybugs, a neem soil drench will work better. Mix up 1.5-2 teaspoons of neem oil per liter of water, with a little extra soap to help it dissolve. Then pour it slowly into the soil and let it soak all the way through. After you've done this two or three times, you may also want to repot your African Violet in fresh potting soil.
Note that if you can't get rid of all the soil mealybugs this way, you could try cutting off and replanting your African Violet's crown. Since the bugs live in the potting mix, you may be able to leave them behind in the old pot.
Another common tactic for leaf mealybugs is to wipe down the leaves with a cotton swab or a paintbrush dipped in rubbing alcohol. Thoroughness is key here, so make sure to get every possible inch of your African Violet's surface. Be prepared to repeat this treatment until you no longer see signs of mealybugs.
If these attempts fail but you're not ready to discard your African Violet, you could try a stronger pesticide. Imidacloprid has a good success rate against mealybugs. You can scatter these granules into the potting mix, and your Saintpaulia will absorb the chemical through its roots. Once the pesticide permeates its system, any bugs that feed on your plant will be in for an unpleasant surprise.
---
Thrips
Thrips are persistent, aggravating pests notorious for preying on African Violets. These tiny winged bugs attack your plant's leaves and flowers, puncturing them and sucking out their fluids. Thrips are quite hard to see, although you may be able to spot them scurrying away when you flick or blow on the flowers of an infested plant. To the naked eye, they look like minuscule white grains until they move.
One telltale sign of these common African Violet pests is a dusting of loose pollen on the flower petals. Thrips often feed on the pollen sacs of Saintpaulia blooms, causing the powder inside to spill out.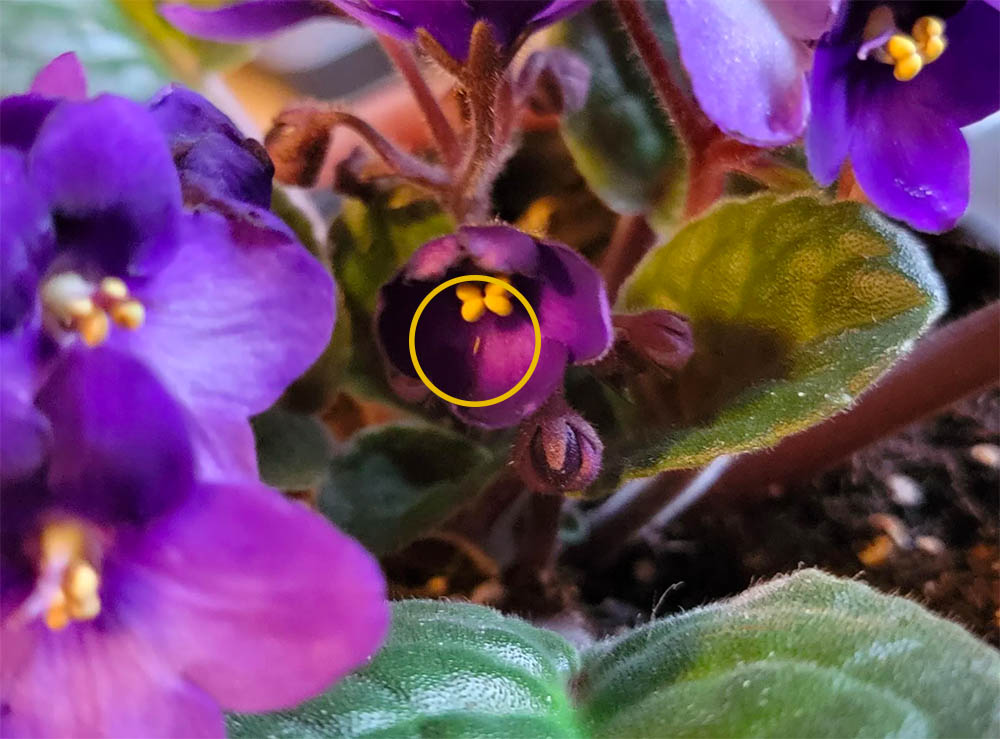 You may also see signs of damage to the flowers and leaves – streaking, spotting, and sometimes even holes. The leaves may turn brown and necrotic at the edges, and your African Violet's overall growth will slow down. A bad thrips problem will make your African Violet stunted and weak.
One other odd symptom of thrips infestation: is self-pollination. Normally, indoor African Violets don't form seeds unless you transfer their pollen by hand. But since thrips carry the pollen around the plant, they can fulfill the same role. Check for thrips if your African Violet starts unexpectedly bearing fruit.
---
How to Treat Thrips in African Violets
Preventing thrips is always your best bet. Everything we said above about isolating new plants applies here, but you should take special care to check for thrips when buying African Violets. These bugs often spread like wildfire through garden centers. Look for damaged flowers and spilled pollen, and tap the blooms to see if thrips go running.
If thrips do make it onto your African Violets, the first thing you should do is remove all the flowers and blossom stalks. Slice them off with a pair of pruning scissors that you've swabbed with rubbing alcohol. For the next 3-5 months, clip off any emerging African Violet flowers you spot.
Why does this help? Thrips commonly live inside flowers for at least part of their life cycles. Getting rid of their favorite dwelling place helps control their spread. It's also helpful to repot your African Violet at least once because thrips often pupate in the soil.
Combine these tactics with some kind of pesticide. Both neem and imidacloprid can work well. Some people also swear by insecticidal soaps containing a bacteria-derived chemical called spinosad. Once again, you're likely in for an extended campaign involving repeated treatments, no matter which option you choose. Thrips always take a while to dislodge.
---
Aphids
Outdoor gardeners often have to battle these greedy insects, but aphids can go after houseplants like African Violets too. They feed much like thrips and mealybugs, though they're often easier to spot. Aphids often litter your African Violet's leaves with the whitish flecks of their exoskeletons. A badly infested plant may look like it's dealing with dandruff.
The living bugs can range in color from orange to black, though bright green seems to be the most common variety. They usually cluster on the youngest leaves. Their bodies are pear-shaped and quite small, though they're much bigger than thrips. You can often spot them with the naked eye.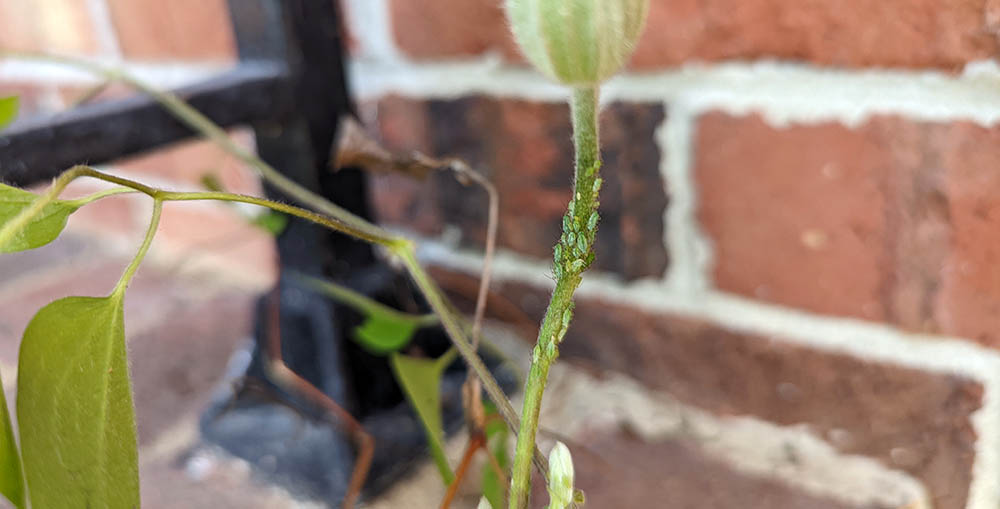 Like mealybugs, aphids can deposit sticky honeydew on your African Violet's leaves. You should also watch out for ants on your Saintpaulia. Some ant species "farm" aphids, nurturing them to feed on their honeydew!
Long-term aphid feeding will make your African Violet's foliage curl up, wilt, and grow pale.
---
How to Treat Aphids in African Violets
Almost all of the pesticides we've recommended above, including neem, rubbing alcohol, spinosad, and imidacloprid, will kill aphids. Multiple applications are almost always necessary, though. It's often helpful to rinse off your plant with a strong stream of lukewarm ordinary water first. This will knock many of the aphids off, leaving a smaller population that's easier to exterminate.
---
A Note on Pesticides
Natural bug killers like neem oil are quite safe to use in the home. And rubbing alcohol evaporates too quickly to pose a threat. But you should always exercise caution when using pesticides – especially harsher ones like Forbid 4F or imidacloprid.
Wear gloves when using these chemicals and avoid getting them in your eyes. Make sure your space is well-ventilated when you apply any sprays. The packaging for your pest control products will probably have other safety instructions. Read them and follow them!
And if you have pets or small children that like to nibble on plants, it's critical to isolate your African Violet while using synthetic pesticides. Throw any treated soil straight into the garbage and bag it up tightly.
Finally, keep the ecological effects in mind if you like to keep your Saintpaulia outdoors during the summer. Pesticides like imidacloprid can have harmful effects on bees and other pollinating insects. You should think about making your African Violet a strictly indoor plant during treatment.
---
Desperate Measures
The most common African Violet pests are so widespread because they're hard to stamp out. Sometimes a bad infestation can stick around despite everything you throw at it.
Are you tired of banging your head against a stubborn pest problem? As a last resort, you could try propagating a few leaves and discarding the rest of the plant. You'll still have to make sure they're free of pests. But that's a lot easier than cleansing a whole plant, with all of its nooks and crannies.
Slice off a couple of your African Violet's healthiest-looking leaves. Use disinfected pruners and cut at a 45-degree angle an inch or two down the petiole. Then wipe them down thoroughly with neem or rubbing alcohol. For good measure, you could submerge them underwater for half an hour or so.
Next, plant your leaves in a moist, well-aerated potting mix. Keep them warm, humid, and away from direct sunlight until they start producing new leaves. Within a few months, they should grow into small but healthy new African Violets. You can read more about propagating African Violet cuttings here.
---
Final Thoughts
Isolating and observing new plants is the best way to avoid the most common African Violet pests. But if you do end up with bugs, the strategies above should help you get rid of them. The process is often stressful, and it takes a lot of hard, thorough work. However, if you're patient, you can often restore your African Violet to health and beauty.