Pileas are beautiful, easy to care for plants that will brighten up any space. With their saucer-like leaves, bright green hues, and tell-tale domed shape, they make a statement in any type of pot. But if you really want to see your Pileas thrive, should you plant them in terra cotta pots?
Why plant Pileas in terra cotta? The main benefit of terra cotta is that it pulls moisture from the soil after watering, allowing your Pilea to dry out quickly. This will keep you from overwatering your plant. In addition, terra cotta is affordable, readily available and comes in many varieties.
While Pileas can survive in plastic or ceramic pots, terra cotta pots offer unique benefits because they are made from clay that is porous and breathable. Whether you are new to caring for Pileas or merely looking to repot your beloved plant, terra cotta pots create an ideal environment for Pileas to grow.
---
Overwatering Pileas: Why Is It a Problem?
The primary reason that I prefer to repot Pileas into terra cotta is that it helps to dry out my plants more quickly between waterings. Before we get into the benefits of terra cotta, we must first discuss this massive concern for Pileas: overwatering.
All plants need three things to survive: water, light, and nutrients. But too much of any of these things can cause problems. Of the three, too much water is definitely the most common cause of issues, especially with Pileas.
Overly wet roots cannot perform the tasks necessary to keep your Pilea thriving. Roots that are always sitting in water become so saturated that they can no longer absorb oxygen. Roots that have been damaged like this cannot absorb the water they need to provide to the rest of the plant and fuel the photosynthesis process.
When you think about overwatering, you probably think about giving your Pilea too much water too often. But overwatering can occur in several other ways, all of which have to do with one major problem: poor drainage.
Poor drainage keeps a Pilea sitting in water and slows down the plant's time to dry out between each watering. This can occur when your pot doesn't have a drainage hole, when the soil you're using is not quick draining, or when the pot your Pilea is planted in is too large.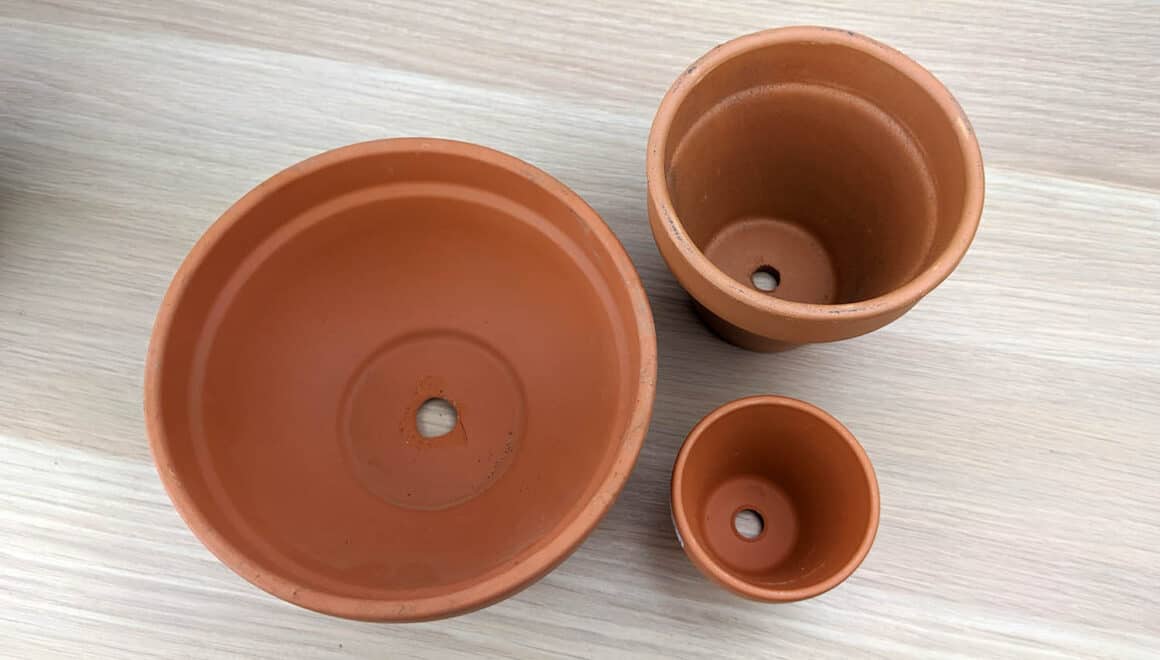 To thrive, Pileas need to be planted with quick-draining potting soil in a container with a drainage hole. That pot should be just slightly bigger than the plant. When a Pilea can adequately drain, its soil can dry out quickly. This will protect the roots of your plant and keep them healthy.
Pileas should only be watered when the top inch of soil is dry. Depending on the temperature and time of year, your Pilea will dry out more or less quickly. I usually check the moisture level by putting my finger down into the soil. Still, for a more accurate measurement, you can always use a moisture meter.
If you're doubting whether it is time to water your Pilea again or not, always err on the side of caution. It is better to wait another day or two between waterings as your Pilea can withstand underwatering much better than it can overwatering.
Root rot is a common problem in Pileas, and if left unchecked, it will kill your plant. Root rot is caused by one of two things: constant overwatering or fungi in the soil of your houseplant.
Fungi can lie dormant in your soil for a long time. Once the plant has been overwatered once or twice, the fungi come to life, taking over your Pilea's root system. This will kill your plant if not addressed.
For more information on watering Pileas, read this article all about the topic.
---
The Biggest Benefit of Terra Cotta Pots
The main reason that I suggest terra cotta pots for your Pileas and other houseplants that like to be on the drier side is because terra cotta helps to correct overwatering.
Literally meaning "baked clay," these pots naturally draw water away from the soil, helping your Pilea to dry out more quickly after a watering. If you've ever been prone to overwatering your houseplants, terra cotta will be much more forgiving than other materials.
When plants are drier, they are much less likely to have fungal issues, root rot, yellow or pale green foliage, and a host of other common problems people have with their Pileas. Terra cotta pulls moisture from the soil of your plant and, in turn, keeps it much healthier.
Another pro for terra cotta is that the pot's color can help you know when it is time to water. When the pot is wet (because it has drawn moisture from the soil of your Pilea), it will be darker than when it is dry. This little visual cue can help people who are still feeling uncertain about their watering schedule.
Ninety-nine percent of the terra cotta pots I've found in shops already have drainage holes in the bottom. As I said before, drainage holes are critical to keeping a Pilea healthy. I always love to purchase a pot that already has one drilled for me.
Now before you go out and buy a terra cotta pot for every plant in your home, remember we're talking about Pileas. Not every plant is well suited for the drying properties of terra cotta. When it comes to ferns and many other houseplants, terra cotta will dry the soil out too quickly and cause brown tips and crunchy leaves.
---
Other Benefits of Terra Cotta Pots
Moving past the healthy benefits to your plant, there are quite a few other pros to using terra cotta pots.
I love terra cotta pots because I can always find what I'm looking for. These planters are available in a wide range of shapes and sizes. They can easily be found anywhere from big box stores and garden centers, to small local plant shops and nurseries. This makes finding the perfect pot extremely simple.
Next, let's talk about cost. Terra cotta pots are cheap, with some small pots being available for less than one dollar. At that price, buying up a ton of small pots for Pilea cuttings will make propagating extremely affordable.
Terra cotta pots can easily be moved from indoors to outdoors, adding to their versatility. If you're like me and you like to set your plants outdoors in the summertime, terra cotta won't miss a beat in this changing environment.
And finally, you can always find a matching saucer for your pot. When I use ceramic or plastic containers, I often get frustrated that there is a drainage hole, but nothing to catch the water that flows from it. For this reason, I am drawn to terra cotta because those matching sauces for fifty cents are oh so hard to resist.
---
The Cons of Terra Cotta Pots
When it comes to terra cotta pots, I must admit that it's not all sunshine and rainbows. There are a few downsides to planting in terra cotta, and I would be remiss if I didn't share those with you as well.
Terra cotta pots are fragile. They can get knocked over and break. If you live in a colder climate, terra cotta pots can crack from more extreme temperature changes. However, if you are keeping them indoors and don't have pets or young children who might be more prone to knocking your pots over, terra cotta pots will still work well.
Terra cotta fades over time. Sometimes they even come faded, which is extremely noticeable when you pull a price sticker from the side and see a large, dark spot on the pot. If you want something that will always look the same, ceramic or plastic may be better.
Lastly, minerals accumulate on the outside of terra cotta, which gives a look that some people don't like. Using hard tap water causes calcium build-up and turn parts of your terra cotta pots white. When people first see this build-up, they panic, thinking the pot is molding. Don't fear – this is entirely natural. One way to reduce this natural patina is to switch to spring water or filtered water instead of tap.
---
A Few Last Things to Consider When Choosing A Pilea Pot
Other factors to consider when choosing a pot for Pileas are drainage and size. The container you pick must have a drainage hole in the bottom, and thankfully for us – most terra cotta pots come that way.
If the pot sits on a saucer or plate, remove any excess water so that the Pilea is not sitting in stagnant water for any period of time as this can cause root rot. If you live in an arid climate, a humidity tray can help to keep you Pilea moist and healthy without damaging the roots. Or consider adding a humidifier to the room. For more info on my favorite humidifiers for tropical plants, click here.
Choosing the correct size of your Pilea pot can make you feel a bit like Goldilocks. You don't want a pot that's too small, nor one that is too large. Your pot should be just right to provide enough room for your Pilea to grow, but not so much that it stays wet for too long after watering. A general rule of thumb is to use a pot that is 1 to 2 inches larger than the pot you are moving it from.
If you need to repot your Pilea, be sure to stick to the 1 to 2 inch rule and refresh the soil. Pileas tend to do well after repotting as long as you continue to monitor for signs of distress. For more information on repotting, click here.