Depending on where you live and the time of year, your home could have relative humidity levels anywhere between 10% and 60%. Aside from the drying effects on our skin and nasal cavities, extremely low humidity levels can make it challenging to keep your tropical houseplants happy and thriving. So what can you do to increase the humidity in your home for houseplants? Add a humidifier to your room!
What humidifiers are best for houseplants? In my opinion, warm mist humidifiers do the best job at recreating the natural environment of tropical houseplants. Cool mist humidifiers can also do a great job of raising the humidity levels in your home to satisfy your humidity-loving plants.
When it comes to raising the humidity in your home for your finicky houseplants, humidifiers are the best option. While pebble trays, grouping plants together, and misting may increase the levels slightly, the most effective method for raising humidity levels will always be adding a humidifier to the room. But which one should you buy? Let's discuss humidity at a more in-depth level, and then I'll give you my recommendations.
---
Best Humidifiers For Houseplants: The Short Answer
In my opinion, the best humidifiers for houseplants are warm mist humidifiers with large capacity water tanks that are easy to clean. While there are pros and cons to each of these options, this will always be my favorite.
I use the 6 Liter Warm & Cool Mist Humidifier and love it. It is more expensive than other options, but I believe you get what you pay for. It has both warm and cool mist options as well as a built-in hygrostat to keep your room humidity at your desired levels.
If you'd prefer a cool-mist humidifier, I also like the 4L Cool Mist Humidifier. You may notice that both of my favorites are Levoit. I love this company and their humidifiers. They have excellent customer service and great products that last for a long time.
For more information on why I love these two machines and a few more of my personal suggestions, read on!
---
Houseplants and Humidifiers
While some plants like succulents and cacti thrive in dry, arid environments, most do not. A large portion of the houseplants we all know and love are native to tropical environments and therefore do best in spaces that mimic their outdoor homes.
While no one wants to really turn their home into a hot and balmy rainforest, you can raise the humidity in your home to recreate this natural environment, without sacrificing your own comfort. The most effective method of raising home humidity is to add a humidifier to your home.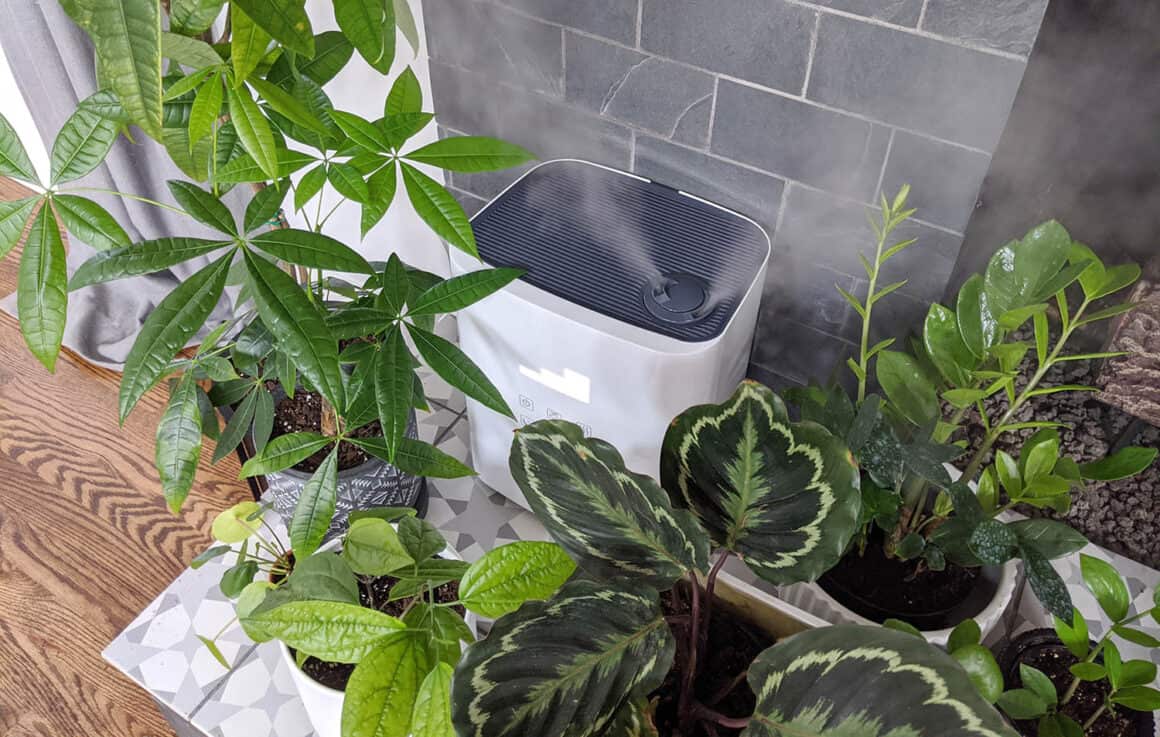 Humidity-loving plants like Ferns, Calatheas, and Fiddle Leaf Figs thrive with humidity levels between 50-70%. While some rooms in your home, think bathrooms and kitchens, may get close to these levels, living spaces and bedroom levels usually fall well below that. Adding humidity in the form of a humidifier can go a long way to helping most houseplants thrive.
Humidity in homes is often affected by the HVAC systems we use to provide air conditioning in the summer and heat in the winter. Running both air and heat will lower your home's humidity and often bring down your indoor humidity levels. This problem is usually worse in the winter as cold air holds less moisture than warm air.
Low humidity can cause houseplant leaves to be brown around the edges, and if the problem is not remedied, leaves will become dry and crispy. When the air is drier, you may need to adjust your watering schedule to ensure your plants are keeping the water levels they need.
Adding humidity to your home is not only good for your houseplants, but it's also good for you! Higher humidity levels help alleviate dry noses and throats as well as dry and cracking skin and lips. When it comes to adding a humidifier, it will keep both you and your tropical plants happier.
---
How to Check Humidity Levels in Your Home
Before you fork over $100 for a high-end humidifier, you may want to check to see if it is even something you need. To do this, you'll need to figure out the humidity levels in your home.
Different rooms in your home will have different humidity levels. Kitchens, bathrooms, and laundry rooms will generally have the highest humidity levels, along with basements which are notorious for high levels of humidity. That means that the places closest to those areas of your home will have higher humidity levels and may be more ideal for houseplants.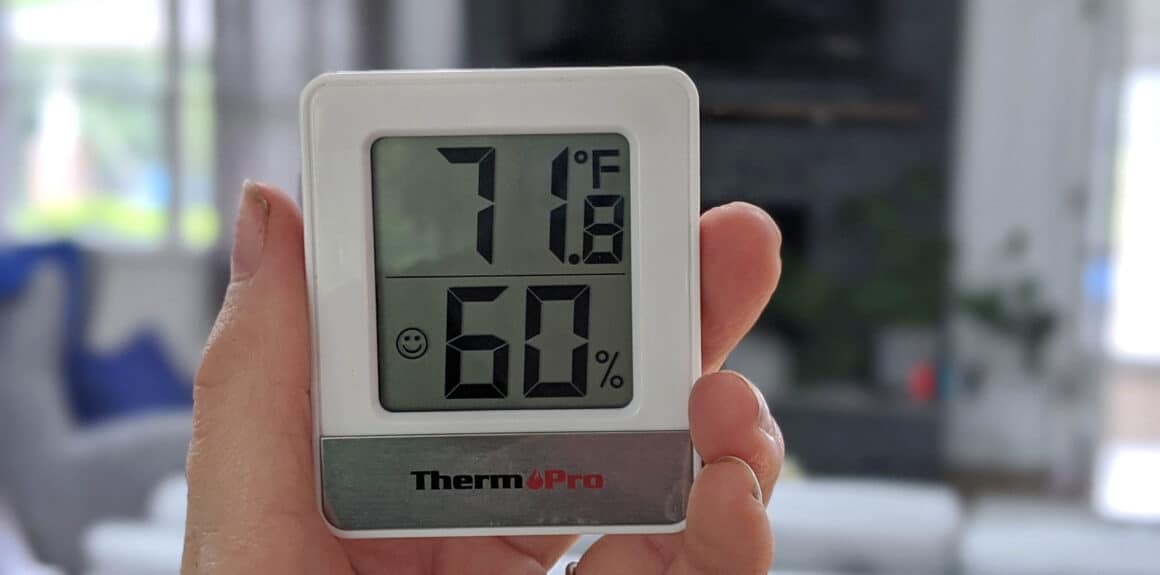 But how do you determine the actual humidity level in your home? The simplest way is to purchase a hygrometer. A hygrometer is a small device that measures temperature and humidity and displays it on a screen similar to a thermostat. Hygrometers can be purchased inexpensively and are easy to use (I have this model). This small device is easily movable from one room to the next, which will allow you to measure and determine the best locations in your home for healthy houseplants.
Without a hygrometer, you can check your home for signs of high and low humidity. Fogging or condensation on the windows is an indicator of high humidity levels. Also, mold and moisture on walls point to high levels. On the flip side, low humidity is characterized by high levels of static electricity and dried or cracking paint or wood.
---
Relative Humidity
When we track the humidity levels in our homes, what we're actually measuring is relative humidity. Relative humidity is the amount of water vapor in the air compared to what it can hold at a specific temperature. That means that when the RH (relative humidity) of your home is 50%, it is holding half of what is possible in the air at the current temperature.
Higher temperatures can hold more water vapor in the air than lower ones. Most of our tropical houseplants are used to both high temperatures and high relative humidity levels.
The happy point for human comfort in their homes is between 50-55%. Again, this can be measured with an inexpensive device called a hygrometer.
---
Humidity Differs Depending On Where You Live
In addition to the time of year, the area of the world you live in will significantly influence the humidity levels in your home. In places like the south of the United States (think Florida), humidity levels are extremely high. Summertime in these areas is a pairing of high temperatures and extremely high humidity levels. Tropical plants thrive in these types of areas.
If you live further west in the US where cacti and succulents are commonplace (think Arizona), humidity levels often stay much lower. That means that summers are high in temperature but low in humidity – a completely different sensation from the opposite.
These outdoor temperatures and humidity levels will affect the humidity levels in your home. While you may have excellent luck growing succulents in your home in dry areas, tropical plants can be tricky. This is why adding humidifiers can make all the difference.
---
Warm Mist Humidifiers vs. Cool Mist Humidifiers
There are two main types of humidifiers available: cool mist humidifiers and warm mist humidifiers. There are pros and cons to each type that I'll go over briefly.
Warm mist humidifiers work by heating up the water to a boiling point and then having it evaporate into the air. The mist that comes out of the humidifier is, as you might guess, warm. This is the best simulation for the type of humid air tropical plants would be exposed to in their natural habitat.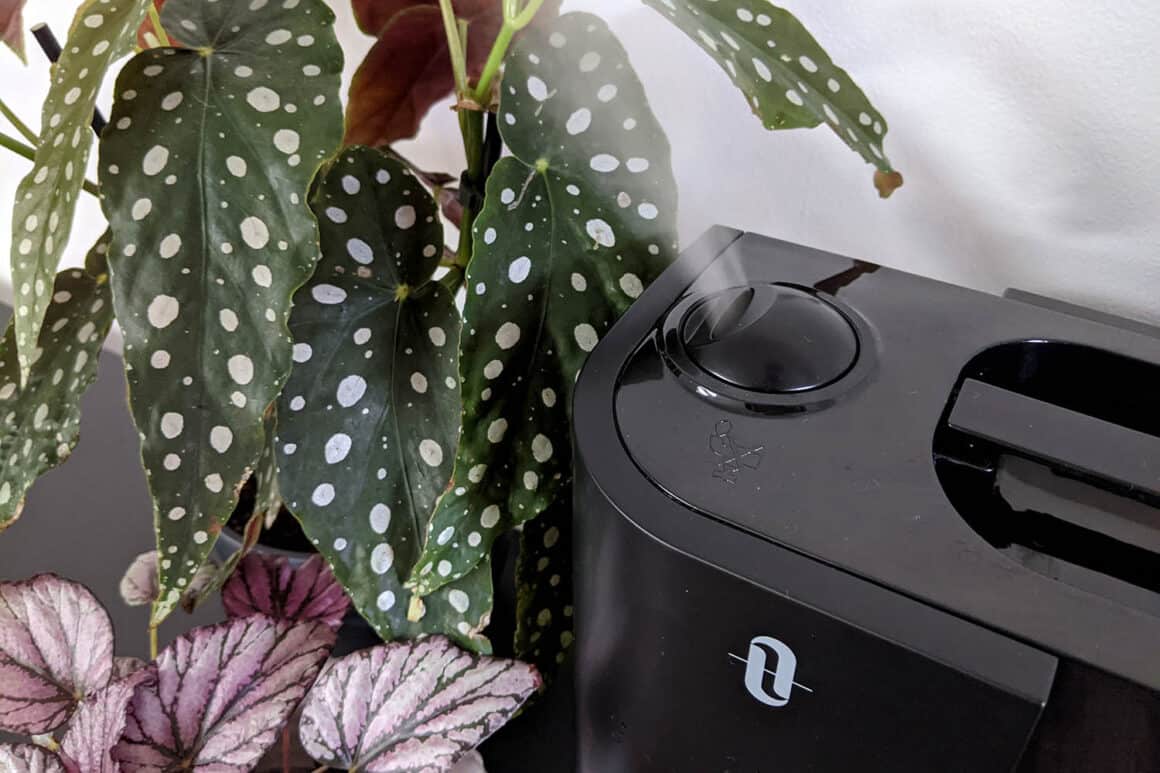 Water that has been heated up to evaporate in these warm mist humidifiers is more purified than that which comes from a cool mist humidifier. Thus, you do not need to use filtered water in your machine as it will be purified naturally when heated up.
On the downside, these machines take more energy to operate than their cool mist counterparts. They can also heat up a room slightly, which can be good or bad depending on the time of year and your preferences.
Cool mist humidifiers work by using vibration to send water vapor out into the air. As you can probably gather, the mist that these machines output is cool to the touch. While this won't harm your houseplants, it is also not as effective at mimicking their natural habitat in the tropics.
These machines are more cost-effective to run than the warm mist version. But, they need to be filled using distilled or filtered water to keep from introducing impurities into the air.
---
My personal favorite humidifier for houseplants is the 6L Warm & Cool Mist Humidifier. As its name suggests, this machine can output warm or cool mist, a feature that the less expensive humidifiers do not have.
As I said previously, I believe that warm mist does a better job of recreating the ideal environment for tropical houseplants. But with that being said, I do not prefer to sleep with warm mist in the air as I like the room to be more cool and crisp overnight—That's why I love that this machine gives me both options.
This machine is more expensive than other humidifiers you might find in your local big-box store. Still, in my opinion, you usually get what you pay for. It has a large 6-liter tank, meaning it needs to be refilled a fraction of the times that the smaller versions do. It has a sleep mode, three settings for mist temperature, a remote control, and a built it hygrostat to turn the machine off and on as needed to keep your room at a designated relative humidity level.
Topping all of these features, in my opinion, is the sleek and modern design. As a person who takes a lot of care on how I arrange and decorate my home, a beautiful product is important to me. If I'm placing a machine in a well-trafficked room of my house, I do not want it to detract from the overall aesthetic.
---
Also from the Levoit line of products, this slightly smaller, less expensive version is a great runner up for people who don't want to invest as much without losing a lot of features. With a slightly smaller tank, this machine can still run up to 36 hours on a single tank.
The 4L Cool Mist Humidifier does not have a warm mist option and only uses ultrasonic technology to disperse cool mist into a room. While not as good as warm mist, cool mist humidifiers will still raise the humidity levels of your space and provide a healthy environment for your tropical humidity-loving plants.
Like the previous option, this humidifier also has a built-in hygrostat, which works much like a thermostat does for temperature. You can set the machine to the humidity levels that you desire, and the hygrostat will turn the device on and off to keep the space at the desired level. Plus, this one even links to an app on your smart phone that will allow you to control it remotely!
---
Smaller Portable Humidifiers
If you don't want to shell out the money for a larger machine, there are a ton of options for smaller, more portable humidifiers. While the vast majority of these options are cool mist only, they will still do well to raise the humidity level around your tropical plants.
Options like the Pure Enrichment MistAire Humidifier have smaller capacity water tanks and significantly fewer features. But they are still extremely useful and come in at about one-third of the price of the more heavy-duty machines.
If you live in an area where your humidity levels rarely get extremely low, or you just want to slightly elevate the relative humidity in the area surrounding your plants, small humidifiers like this will undoubtedly do the trick.
This type of humidifier is also readily available at big box stores everywhere. If you prefer to buy in-store rather than online, stop in your local Walmart, Target or Lowes and find a small machine that will meet your simple requirements.
---
So You Bought a Humidifier For Your Plants: Now What?
If you've purchased a humidifier for your plants, whether one of my above suggestions or not, you most likely have more questions surrounding the machine and the best way to use it.
---
Where To Place Your New Humidifier
When it comes to finding the perfect location for your humidifier, there are a few things you'll want to keep in mind. Your humidifier is continually putting out moisture. That means that the area surrounding the humidifier may be damp often.
For this reason, you'll want to avoid placing your humidifier on top of or near a wooden surface as excess moisture can damage wood. Also, try to keep from placing your humidifier directly against a wall and keep in mind that there is often a vent on the machines that you do not want to block.
Obviously, you'll want to put your humidifier near your houseplants. I usually group together my more humidity-loving plants in one area and place the humidifier nearby. If you have a model that involves a rotating nozzle, you can adjust it so that the mist is landing directly on specific plants that need it most like Calatheas and Fiddle Leaf Figs.
---
The Size of The Room Makes a Difference
While this technically has to do with the best location for your new machine, I thought it deserved its own section as it is sometimes completely overlooked.
If you have a large, open room with tall ceilings, it will be much more challenging to keep at a regulated humidity level than a small bedroom or office. When deciding where to place your machine, keep in mind that larger rooms take more effort to raise humidity levels and perhaps opt for a less open space.
---
Clean Your Humidifier Regularly
The water in your cool or warm mist humidifier makes these machines ideal breeding grounds for molds and other microbes. So you'll need to deep clean your machine regularly to avoid pumping out pathogens along with the mist.
Some humidifiers are simpler to clean than others. Don't throw out the user manual that comes with your new machine as it will have instructions in it for deep cleaning the machine. Follow the user guide for the best results.
I like to use a bit of white vinegar mixed with water to clean my machine every week. This helps remove the build-up of minerals, molds, and anything else that gets stuck inside the machine. Again, simply read the user manual to find specific instructions for your particular machine.
---
How Much Humidity Is Too Much Humidity?
While some plants may prefer relative humidity levels of up to 80%, that is rarely best for you or your home. You wouldn't want to live in a swamp, so you mustn't turn your home into one.
Levels of 50-65% are great for houseplants and still comfortable for humans and houses. Raising the humidity level in a room of your home to this range will be safe for you and your plants.
However, you should keep an eye out for signs that this increased humidity is causing issues in your home. Condensation on the inside of your windows is a sign that your humidity levels are too high. Also, keep a keen watch for molds appearing in your home. If you see any signs of moisture building up in unwanted areas, cut back your humidifier usage.
---
The Best Humidifier To Use For Tropical Indoor Plants
The sole purpose of humidifiers is to raise the humidity levels in an area of your home – which is what you'll want to do to keep your favorite tropical plants at their healthiest. That being said, any humidifier is a good one.
My favorites are the machines with both cool and warm mist settings and those with a big enough water tank to keep me from refilling them multiple times a day. Personally, I have both the 4L Cool Mist Humidifier and the 6L Warm & Cool Mist Humidifier and have been extremely happy with both. 
If you've been thinking of adding a humidifier to your home to help your humidity-loving plants looking their best, I want to encourage you to go for it! I know that my house plants are extremely valuable to me, so spending a little bit of money to keep them at their healthiest is always worth it.