One of the big draws of Philodendrons as houseplants is that, in general, they tend to remain pretty healthy. In a typical household, they are often protected from many of the insects and diseases that like to take up residence in their leaves or soil. However, you should still know what to look for so you can identify an infestation or infection quickly and treat your plant accordingly.
Although Philodendrons tend to stay pest and disease free, they can be susceptible to common plant-feeding insects and both viral and bacterial diseases. Aphids, fungus gnats, spider mites, scale, and mealy bugs can infest a Philodendron and would need to be treated quickly. Root rot, leaf spot, and blight are common diseases that can crop up if proper plant care is lacking.
The good news is that, in general, most of these pests and diseases are pretty straightforward to identify and treat. In rare instances, a plant that has been left untreated too long may need to be thrown out, but there are a lot of things you can do before it comes to that.
In this article, we'll cover the most common plant pests, how to identify them, and what you can do to prevent or treat them. Additionally, we'll cover some basic diseases that can impact your Philodendron and talk about ways to treat and prevent them from causing any real damage.
---
A Note on Insecticide Sprays
Pretty much every pest listed in this article can be eradicated with commercial insecticide sprays. While some formulations require licensing to handle them, most insecticide sprays have formulations available for public purchase at your local nursery or hardware store.
That being said, only certain sprays are formulated for use on houseplants, and even then, you should check the label carefully to ensure they are indicated for Philodendrons specifically. Depending on your location, these formulations will also be subject to state, regional, and county laws that dictate their availability.
Please consider your own comfort level when deciding to apply any pesticides on your houseplants, and be aware of who or what might come into contact with your treated plants. There are always alternative treatments that you can implement, like less-concentrated insecticidal soaps or horticultural oils (like Neem oil) that are generally safer for people and pets.
---
Isolate Infected Plants
No matter what pest or disease your Philodendron has contracted, you want to take steps to ensure that they don't spread to other plants in your collection. If you notice a plant has any of the issues outlined below, immediately quarantine the plant. This will allow you to treat the plant and keep an eye on it, but should keep the problem from spreading.
---
Common Philodendron Pests
As I said, Philodendrons do a pretty good job staying pest free, but occasionally, they become the target of some pesky insects. If you find that your plant has some critters that have decided to make a buffet of its leaves, being able to identify them quickly will allow you to take action before you have a full-blown infestation on your hands.
---
Aphids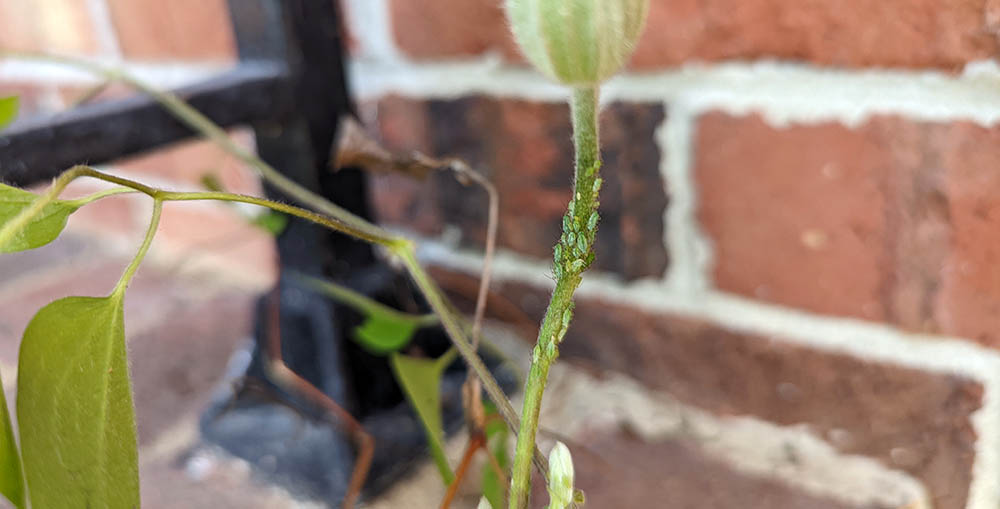 Let's start with a pest that most everyone has seen, aphids. Aphids are small, sap-sucking insects that like to congregate along stems, under leaves, and around flowering or new growth structures. They are usually green, but can be brown, yellow, or red.
Because they like to feed on sap, they gnaw into the plant, leaving behind damaged tissue on stems and leaves, causing discoloration, wilting, or stunted growth. Sometimes hard to see at first due to their coloring, you may first notice their green, brown, or black excrement building up on leaf structures.
Treatment for aphids is pretty straightforward and usually pretty low impact on the plant. For mild infestations, a mixture of water and dish soap applied with a spray bottle will do wonders. The soap will begin to degrade their exoskeletons, causing them to dry out and die. Plan on reapplying the soap every few days until you no longer are finding new aphids.
If your plant has a full-on infestation, spray your plant with neem oil or other horticultural oils. These oils do a great job of coating adult aphids and suffocating them, while also degrading larvae and eggs.
---
Fungus Gnats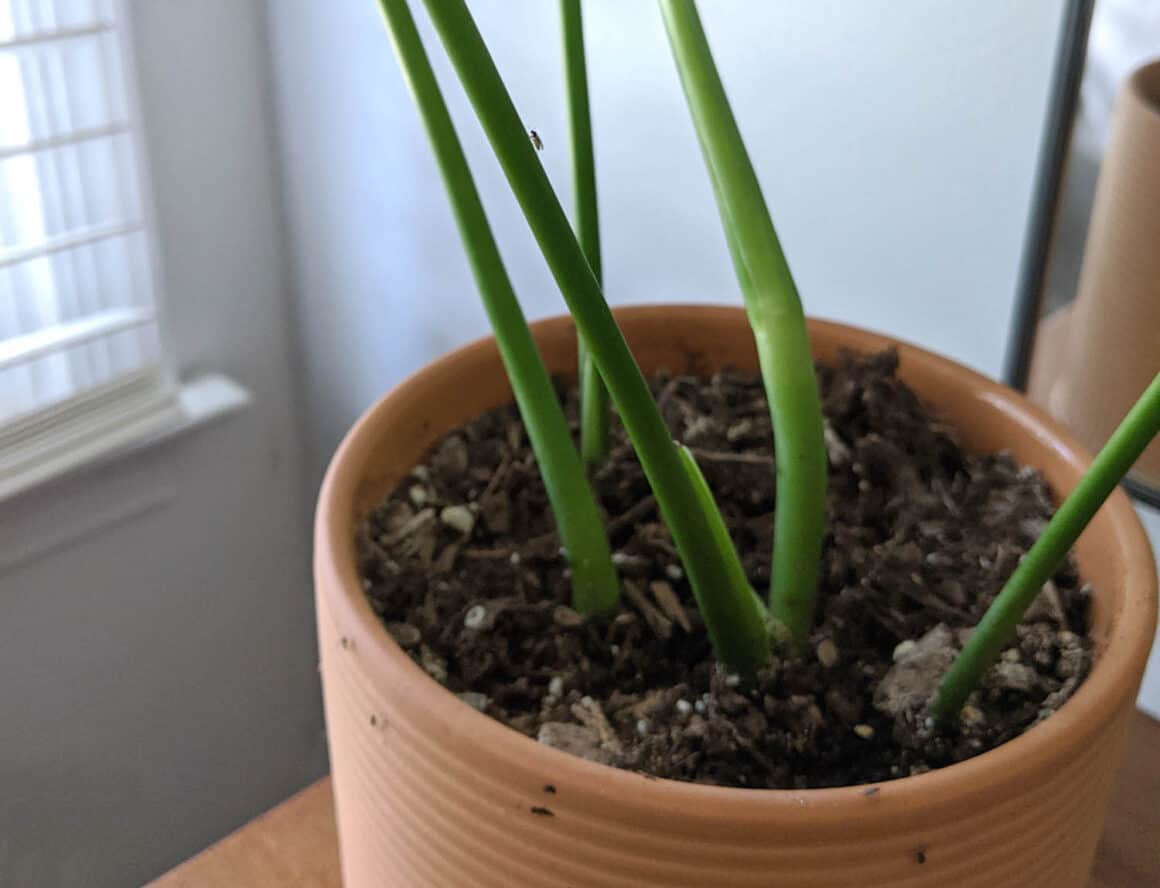 Another very common pest that tends to find a home in the potting soil of many houseplants is fungus gnats. Adult gnats are slightly larger than fruit flies and tend to take up residence in overly damp soil and lay eggs. Their larvae then feed on the tender roots of the plant before becoming new flies.
Over time, fungus gnat larvae can wreak havoc on a houseplant's root system, causing root rot and opening up the plant to disease.
A low-impact, low-risk treatment for fungus gnats is two-fold. To handle the adults, you can set up a yellow sticky card, commonly sold at nurseries, to trap any flying gnats. You can also set out a small bowl of apple cider vinegar with a few drops of dish soap mixed in it. The gnats are attracted by the vinegar, but because the soap disrupts the surface tension of the liquid, when they land to investigate, they fall in and drown.
To treat the larvae and eggs, deploy an application of a hydrogen peroxide mixture on the soil. The peroxide reacts with the first couple of inches of soil, destroying immature gnats, and leaving water as the only byproduct by the time it reaches the root system.
To use, mix one part 3% hydrogen peroxide with four parts water and apply over the surface of your Philodendron's soil. Usually, one treatment does a pretty good job, but you may want to apply a few rounds several days apart to ensure good coverage.
If you have a severe infestation of fungus gnats and peroxide treatments aren't helping, try using Mosquito Bits instead.
---
Spider Mites
A trickier pest to identify is the spider mite. These tiny little bugs live in colonies, often on the underside of leaves. They are so small that they often go unnoticed by the naked eye until your plant starts exhibiting substantial damage due to their feeding.
These pests bite into leaf tissue in search of sap, causing tiny pinholes in the leaves that slowly turn yellow and brown. Substantial damage causes the leaf to look stippled and unhealthy, and it will eventually drop from the plant. Severe mite infestations will also be accompanied by curling leaves that are covered in fine webbing.
Spider mites can be somewhat difficult to treat, especially if they've already gotten a good foothold on the plant. If you want to try the natural route, you can treat mites similar to aphids, by applying a soapy water spray to the underside of all the leaves of your plant. You will need subsequent applications every few days before an infestation will get better.
Neem oil does a pretty good job of coating and suffocating mites, as well. Again, several applications over a few weeks will be necessary to knock back their numbers. Wiping diluted rubbing alcohol on the underside of the leaves has also been known to work in controlling mites.
Severely damaged leaves likely won't fully recover, but you'll know you are making progress if stippling and discoloration doesn't get worse and new growth appears to be free of tissue damage.
---
Scale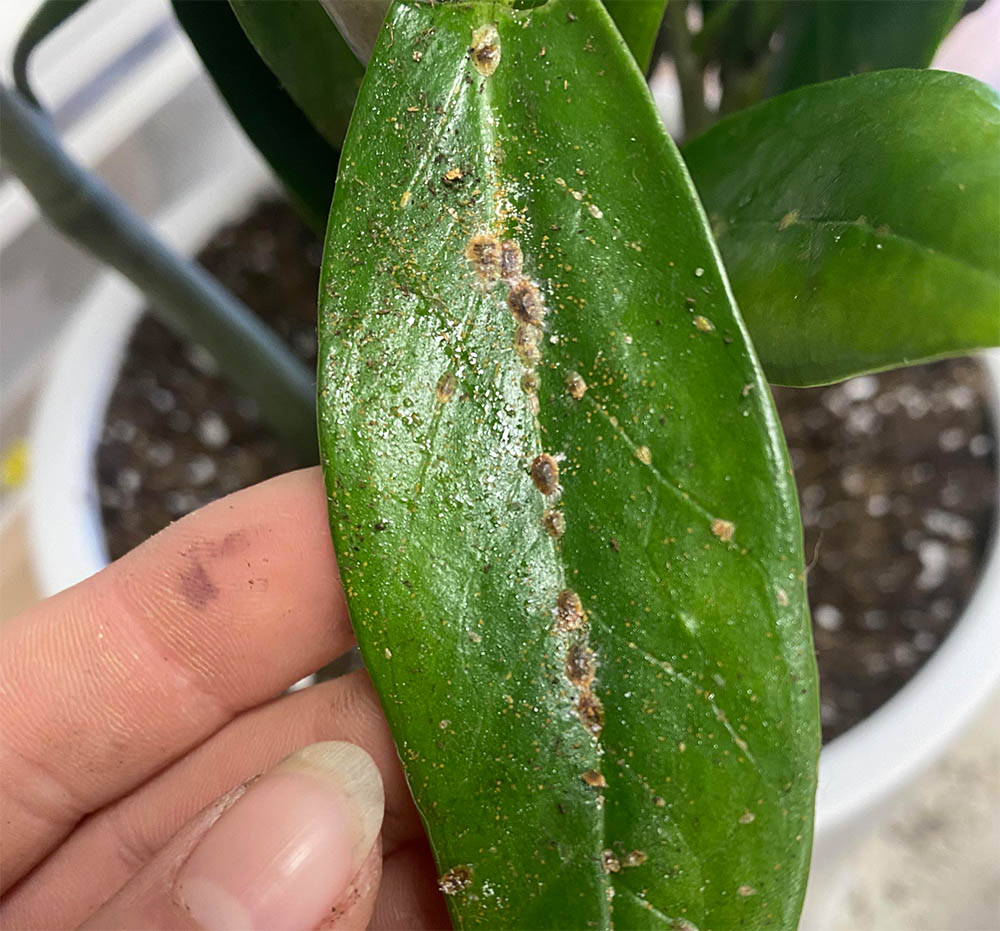 One pest you tend to see less often on Philodendrons is scale. Scale can often be overlooked as tiny bumps or bits of buildup on a leaf or stem. Although they resemble small, brown bumps, scale are actually small insects that sport a hard, brown shell that protects them as they suck sap from below.
If you see these small bumps on the stems or leaves of your plant and they don't wash away with water and gentle pressure, you're likely dealing with scale. You have a couple options. First, you can try to remove them by hand. This might be a tedious job, depending on the size of your Philodendron, but these bugs are often stationary, so you can usually scan the plant from top to bottom, removing them along the way.
Neem oil can also be of help in combating scale, but it tends to work better on the younger life stages, when they are more mobile and are less protected by harder shells.
Just like with mites, you can also use rubbing alcohol as a treatment. Using a Q-tip dipped in alcohol, spot treat each individual scale. The alcohol will begin to dissolve their shell and kill them within a matter of days. Again, you may want to apply this treatment multiple times across several days to ensure good coverage.
---
Mealy Bugs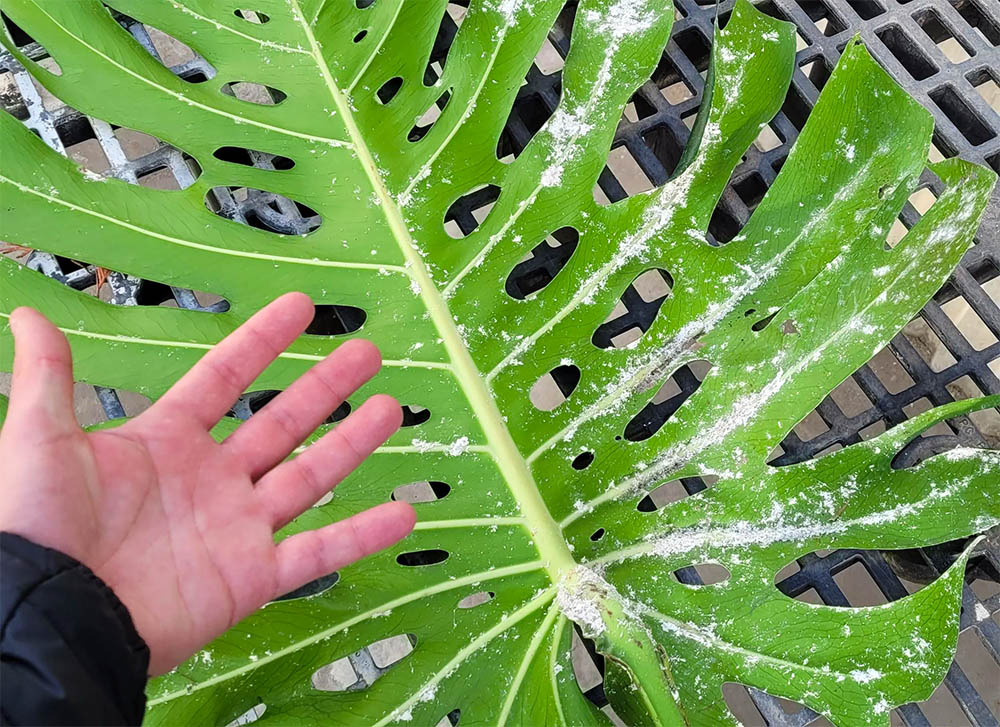 Although, personally, I've never seen them on a Philodendron, mealybugs are yet another pest that can take up residence in these plants. Although less common than many other pests, these bugs have to be the most recognizable, looking like little cotton tufts stuck to the underside of leaves.
Mealybugs are sap feeders, so they will chew into the leaf tissue of your plant, leaving damage that will turn the leaves yellow or brown, make them curl, and give the entire plant a weakened appearance. They will also excrete a sticky residue called "honeydew", which can facilitate an infection of sooty mold, which, left unchecked, can kill your Philodendron.
Physically removing these bugs, similar to scale, is an effective way to prevent their spread. However, you'll still want to use an insecticidal soap to treat all surfaces of the plant to kill any juveniles, as well as clean away any honeydew present.
Alcohol applications are also effective with mealybugs, but you'll need to repeat the process several times to ensure you haven't missed any.
If an infestation of mealybugs is left unchecked for too long, there's a good chance they will have laid eggs in the soil, a situation that becomes harder to treat. At this point, an insecticidal rinse is probably your best option to clear out any immature bugs, plus any treatments on mature adults.
---
Common Philodendron Diseases
In addition to the critter that might attack your plant, Philodendrons are also susceptible to a few common diseases, both viral and bacterial. Again, in the grand scheme of things, these aren't common occurrences, but it's good to be aware of them so you can identify them quickly, in the rare instance your Philodendron comes down with an issue.
---
Root Rot
Likely, the most common disease you'll run across with your Philodendron is root rot, most often caused by a fungal infection prevalent in overwatered soil. This disease attacks the root structures of your plant, decaying them to the extent that water and nutrient absorption break down and gas exchange is diminished.
The first signs of root rot are the presence of yellowing leaves, often starting near the base of the plant and working up. In severe cases of root rot, black or brown patches might start appearing along the leaves and stem of the plant, indicating the spread of the rot throughout the plant.
The best fix for root rot is to stop watering your plant immediately. If the problem is in its early stages, just adjusting how you water your Philodendron can stop the issue in its tracks. However, if the problem is more advanced, you will probably need to repot your plant into fresh, well-drained potting soil, making sure to remove any dead or mushy roots to stop the spread of the disease.
For more information, check out this article which details how to save a Pothos plant from root rot. While Pothos and Philodendrons are different, the steps to eradicate root rot are the same.
---
Bacterial Leaf Spot
A less common disease that might show up on your Philodendron is leaf spot. This is a bacterial infection that can cause brown spots with light yellow halos all over the leaves of the plant. They are often irregular in pattern and are more prevalent lower on the plant.
This happens because soil-dwelling bacteria can be splashed up onto the leaves during a watering session. While much more common outdoors, leaf spot bacteria can be spread indoors and to other houseplants, so isolating an infected plant is a good idea.
If possible, the best treatment is to remove infected leaves, preserving as much of the plant as possible. In the case of self-heading Philodendrons, where pruning options are limited, a copper-based bacterial spray may be necessary to kill the disease. Just be sure any spray you apply is indicated for Philodendrons.
Prevention is crucial. Avoid top-watering your Philodendrons to minimize soil particles splashing up on the leaves. You should also only water when necessary to avoid waterlogging the soil, which will help minimize the proliferation of the bacteria. Ensuring your plant has good airflow and an appropriate humidity level will also go a long way in preventing the spread of bacteria.
---
Bacterial Blight
Similar to leaf spot, blight is a condition that is caused by bacteria attacking the stem of the plant at the soil line. Dark spots can begin to spread along the stem, eventually turning black. As the infection reaches leaf petioles, leaves begin to drop from the plant.
This can be a serious infection that, without intervention, will eventually kill the plant. You should remove any affected tissue, if possible, and isolate your plant to avoid spreading disease to other houseplants.
Copper sprays can be an effective treatment, as well as applying organic fertilizer with beneficial microorganisms. These good organisms tend to help control pathogens in the soil.
Again, prevention is key, and taking the same steps outlined above will go a long way in keeping bacterial infections in check.
---
Mosaic Virus
Mosaic viruses are part of a devastating class of diseases that can infect all kinds of different plants. Mosaic virus impacts plants on a cellular level, causing discoloration among leaves, and creating a mottled or streaked pattern in shades of yellow, cream, or light green.
In addition to the discoloration, normal growth is reduced and leaves will often have trouble fully developing and unfurling, causing a deformed or stunted growth pattern. In some cases, it might look like your Philodendron is variegating, but the fact of the matter is the virus is spreading throughout the plant.
Unfortunately, if you suspect your plant is infected with mosaic virus, there isn't a lot you can do. At this time, there is no effective cure for the disease, so your plant will eventually die. The best thing you can do is trash it before it infects other houseplants in your home. Do not throw your plant in the compost bin.
The virus can easily spread from one plant to another through vectors like aphids, mites, other pests, and direct contact, so prevention of the disease involves spacing your plants and making sure you have any pest infestations under control. Keep any new plants purchased outside the home isolated for a few weeks to ensure there are no signs of mosaic virus present before incorporating them into your houseplant collection.
In general, most reputable nurseries and garden centers do a good job of monitoring for the disease so the likelihood that you'd bring an infected plant into your home is low. However, it's always good to monitor your plants for any signs of mosaic disease so you can act quickly if something catches your eye.
---
Final Thoughts
Philodendron are generally pretty hardy plants that don't suffer from pest infestations or diseases often. It's part of the reason they are such popular houseplants.
However, knowing what to look for and catching any issues early is always the best practice when it comes to dealing with stuff like this because you can usually eradicate any problems with simple, natural solutions.
Don't forget that top-notch plant care goes a long way in preventing any pests or infections from gaining a foothold in the first place, so be sure you are watering correctly, providing lots of light to your plant, and giving everything a little room to breathe.