You've worked hard to grow your Dumb Cane into a hefty and healthy plant. The last thing you want is for something to come along and eat it. Sadly, many insects and arthropods can and will chow down on your Dieffenbachia if they find their way into your home. This post will introduce you to the most common Dumb Cane pests and explain how to get rid of them.
Dumb Canes are most commonly affected by sap-sucking pests like mealybugs, aphids, and spider mites. Not all of these creatures are easy to spot, so you'll need to watch your Dieffenbachia's leaves closely. If you discover an infestation, you can usually treat it with a combination of rubbing alcohol, soapy water, and neem oil.
Be prepared for a long fight if you need to dislodge insects from your Dieffenbachia. It will often take several rounds of treatment before you eliminate the infestation. You can increase your odds of success by cycling between different treatments. Our tutorial below will explain how to keep your Dumb Cane pest-free.
---
Everyday Care for Pest Prevention
The best way to stop pests from attacking your Dieffenbachia is to keep it healthy. Most of the bugs that plague indoor gardens prefer to go after plants that have been weakened by issues like dehydration or malnutrition. You can boost your Dumb Cane's resilience by simply following these basic care guidelines:
Plant your Dieffenbachia in a pot and potting mix with good aeration and drainage.
Water whenever the top two inches of the soil dry out.
Put the plant in a spot that's bright but doesn't get more than 2 hours a day of direct sunlight.
Fertilize once a month during the growing season, taking care not to use too strong of a dose.
Try to keep the ambient humidity above 60%.
Make a habit of getting up close and personal with your plant, inspecting the stems and leaves for signs of insect damage. Some indoor gardeners do this as they mist their plants in the mornings, which has the added benefit of discouraging bugs like spider mites that thrive in overly dry conditions.
---
Keeping Bugs Away From Your Dumb Cane
It's also important to be cautious about the most frequent source of houseplant pests: other houseplants.
Indoor gardeners often bring new plants home without realizing that predatory critters are hitching a ride. Before you purchase a plant, inspect it carefully for symptoms of pests. Even if you don't find any, it's best to quarantine the new arrival for a month or more before placing it in the same room as another plant.
During this time, wash your hands after every contact with your new plant. For extra security, you can enclose it in a transparent plastic bag, removing the covering only when watering.
---
Common Dieffenbachia Pests
When you scrutinize your plant's foliage to find bugs, what signs should you be looking for? We'll go over the most frequent foes of Dumb Canes and explain how to identify them.
---
Aphids
These notorious garden pests can show up indoors, piercing the soft, developing stems of your Dieffenbachia and sucking out the juices inside. As they feed, aphids excrete a sticky, sugary substance called honeydew. This can quickly become a breeding ground for sooty mold, which can cause further harm to your Dumb Cane.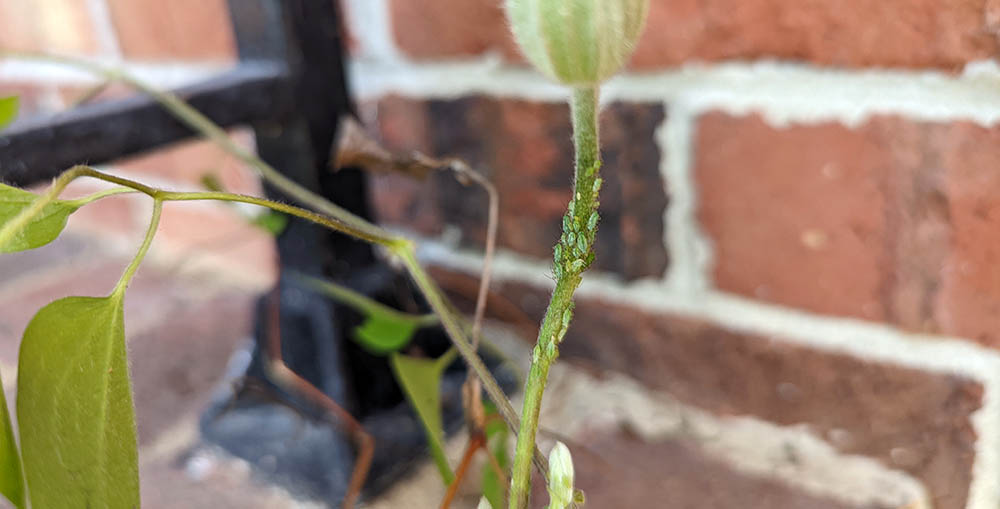 Although aphids are small, they can be spotted with the naked eye. Adults reach around ⅛-inch in length and look like small pear-shaped bubbles that cluster along the stems of your Dumb Cane, especially the newest growth. They appear in a wide range of colors; green is the most common in houseplants, but you might also see yellow, red, brown, black, or gray aphids. They leave behind fluffy white husks when they molt.
A sticky residue on the leaves is another potential warning sign – this could be the honeydew we mentioned earlier. Watch out for ants crawling over your Dieffenbachia, too. They eat honeydew, sometimes "farming" aphids to get it, and they may import these pests onto your plant.
The damage from severe aphid infestations usually manifests as stunted growth, with new leaves emerging curled, yellow, and deformed. Some shoots may never fully develop at all, withering and dying before they mature. And honeydew deposits can result in charcoal-colored mold spots on the leaves.
---
Scale
Scale insects are weird. Once they reach adulthood, they seal themselves inside a tough, waxy shield and clamp down onto the stem of a plant. Then they sit in that spot, draining sap from the plant and pumping out offspring until they die.
Unfortunately, they're incredibly efficient at the "offspring" part. Many kinds of scale can reproduce asexually, and each one may generate as many as 2000 nymphs before dying. These little "crawlers" are too small to see without a magnifying glass, but they'll soon find a tempting spot to settle down, armor up, and raise a brood of their own.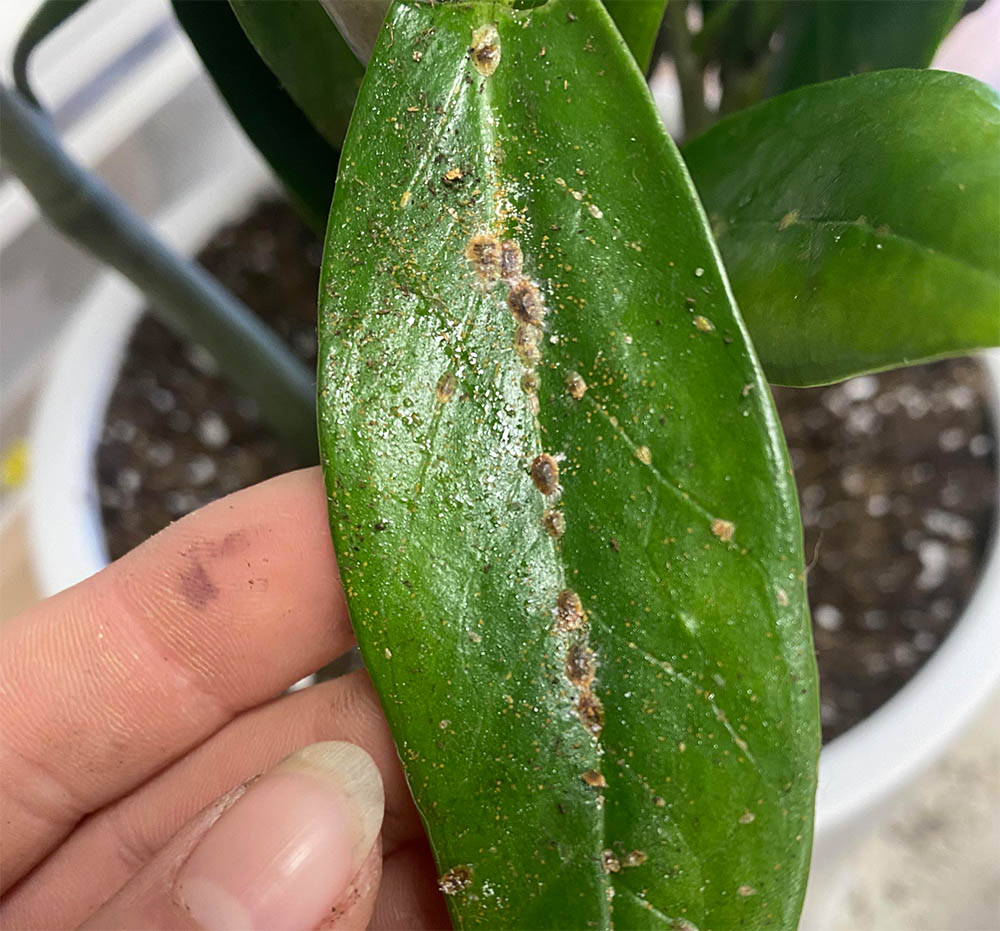 Adult scale bugs look like small round bumps on the leaves or stems of your Dieffenbachia. The most common variety has a dark brown coloration. They appear first on the undersides of the shoots and foliage, moving to the upper areas only when it gets too crowded below.
Like aphids, scale bugs produce honeydew, which may be your first clue that something is wrong. As they get more numerous, these insects will dehydrate your plant, causing stunted, yellowing growth as well as loss of leaves. Without treatment, a scale infestation will usually be fatal to your Dumb Cane.
---
Mealybugs
Mealybugs are close relatives of scale, but they're mobile instead of stationary, and the waxy layer covering them is fluffy and white. As a result, they look more like bits of lint or cotton fuzz.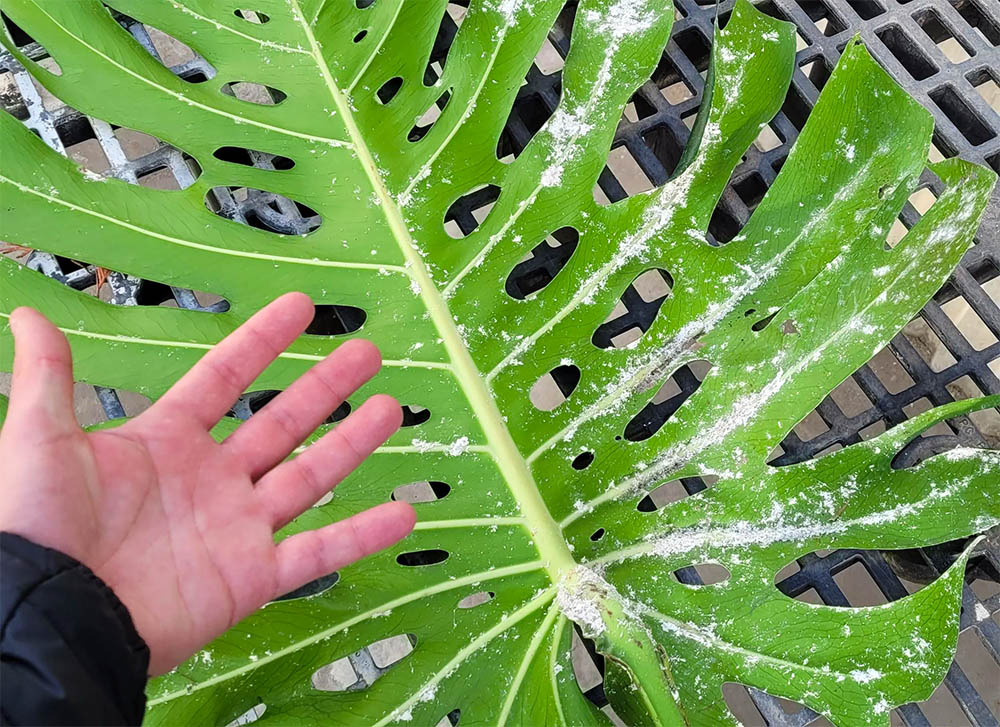 You'd think that would make them easier to spot, but mealybugs are annoyingly good at hiding. They often crouch in the junction between the stems and the trunk, or inside new leaves that haven't finished unfolding.
Mealybug damage causes the same effects as that from scale insects. And as with scale, you need to treat your Dumb Cane quickly and thoroughly if you want it to survive.
---
Spider Mites
These are among the most dreaded of houseplant blights, partly because they're so hard to stamp out and partly because they're so hard to see. Spider mites are tiny, they reproduce rapidly, and they're known to be excellent at quickly developing resistance to pesticides – treatments that worked on one generation may do little against the next.
Since each one is about the size of a fleck of pepper, you probably won't see any actual spider mites until you've already noticed that your Dumb Cane is hurting. You're better off looking for the traces of their feeding.
Spider mites pierce the leaves of plants to drain the sap, creating tiny, silvery scars. Unlike the grayish variegation of some Dieffenbachias, these marks will be spread evenly across the foliage in a random distribution, making the plant look faded or dusty.
Not certain whether your Dumb Cane is infested? Hold a sheet of white paper underneath the leaves and gently shake them. If the paper is suddenly covered with tiny, moving black specks, you've spotted the elusive mites.
A wispy, cobwebby substance draped over your Dumb Cane's leaves and stems is a dead giveaway that you have spider mites, but you don't want to let it get to this point if you can avoid it – this is a sign of an advanced infestation. The webbing acts as a scaffolding and a protective coating for the mite colony.
---
Treating a Pest Infestation in Your Dumb Cane
When you discover that your Dieffenbachia has been colonized by bugs, there are a few essential steps you'll need to take. These may vary a bit depending on the specific type of pest, but the same basic treatment plan is effective against a wide variety of unwelcome houseguests.
---
Step 1: Isolate
Once you notice harmful bugs on your Dieffenbachia, you need to get it far away from your other houseplants to reduce the chance of the infestation spreading. See our advice above about quarantining new plants; the same approach applies here as well.
The pests may have already spread to other plants by the time you notice them. In fact, you should probably assume that they have and give them the same treatment we'll describe below. But even a chance that you can contain the problem to your Dumb Cane is better than none.
---
Step 2: Rinse
Hose down your Dieffenbachia with a strong stream of water. Obviously, you don't want to tear the plant's leaves, so don't blast it with a power washer, but use the strongest jet your Dumb Cane can stand. It's best to do this outside if possible, using room-temperature water.
This step will knock off a good chunk of the pests currently swarming your Dumb Cane, and it will wash away the webs of spider mites, leaving them more vulnerable. A thorough rinse may be enough to get rid of a mild case of mites or aphids (don't count on it, though).
If you're nervous about hurting your Dieffenbachia's leaves by spraying it, you could hold the plant upside down and dunk its trunk and foliage into a big bucket of water.
---
Step 3: Prune
If your Dieffenbachia's pest problem is bad enough that some of the leaves are totally dead or completely loaded down with insects, you can write those leaves off as goners and trim them away. This will keep your plant from spending precious energy trying to prop up a bunch of doomed foliage.
Before and after every cut, wipe down your pruning scissors with a disinfectant solution such as rubbing alcohol or a 10% dilution of bleach. You should also wear gloves because Dumb Cane sap can irritate your skin.
---
Step 4: Swab
Wipe down your Dieffenbachia with isopropyl alcohol diluted to 20% strength using a cotton swab or makeup wipe. This can take quite a while, but it's important to be patient and thorough, getting every surface on the plant that you can reach. Keep reapplying the alcohol to the swab as you work.
This treatment is particularly helpful for scale insects and mealybugs. Scale can be hard to dislodge, even after they die; you may want to physically pry the bugs off your Dumb Cane with your swab or an old toothbrush.
It's a good idea to test your alcohol solution on a single leaf first, waiting a day to see if it suffers any ill effects. Some plants are more sensitive than others, even within the same species.
---
Step 5: Spray
The next step is to spray down your Dumb Cane with something to kill any bugs that you couldn't get in Step 4. There are several good options:
Soap. Don't use anything with degreasers or other harsh additives – a gentle liquid soap is best. Shake a teaspoon of it up into a liter of distilled water. There are also specially formulated insecticidal soaps that are tough on pests but gentle on plants.
Neem oil. This is a natural pesticide derived from the seeds of the neem tree, which not only kills mites and insects but shuts down their reproductive cycle. Use 1 teaspoon of oil per liter of water, but first mix ⅓ teaspoon into the water to help the oil emulsify.
Hydrogen peroxide. You might already have this in the 3% concentration that's meant for first aid. If so, you can use it right out of the bottle.
DIY organic pest killer. Take an onion, two bulbs of garlic, and two teaspoons of cayenne pepper, and puree them in a blender. Steep the resulting mush overnight in two cups of water, then strain this liquid into your spray bottle through some cheesecloth. This will be even more effective if you combine it with the mild soap we mentioned above.
As we advised with the rubbing alcohol, test your pest killer on one or two leaves before spritzing the whole plant.
Once you've found one that your plant can tolerate, shake it up thoroughly inside a spray bottle and mist every centimeter of your Dieffenbachia with a fine spray setting. Then let it dry. If you're using neem oil, take extra care to keep your Dumb Cane out of the sun for the next few days. It will be more vulnerable to sunburn than usual.
---
Step 6: Repeat and Alternate
It's unlikely that a single round of treatment will eliminate your pest problem. You'll probably have to repeat the steps above several times, treating the plant every 4-7 days.
Consider changing up the spray you use between repetitions, to get around any resistances. If the mites or insects on your Dumb Cane aren't vulnerable to insecticidal soap, neem oil or hydrogen peroxide might do the trick.
If you don't seem to be making much of a dent in the infestation, you might try increasing the concentration of your pesticides. Again, start with a small-scale test of each new formula.
---
The Systemic Approach
To combat really persistent invaders, you may need to apply a systemic pesticide – something that your Dieffenbachia will absorb through its roots and spread throughout its tissues. That way, any bug feeding on the plant will get a dose. Systemics get a bit of side-eye because they can be bad for pollinators, but that's not usually an issue with indoor plants.
Neem oil can be used as a systemic pesticide by performing a soil drench. Once a month, add some neem oil when watering your Dieffenbachia. Use 1-2 tablespoons per gallon, adding a teaspoon of gentle soap first to help the oil mix in.
Granules of imidacloprid are another option. You can mix them into the soil, where they'll dissolve slowly so that your plant will absorb them over the course of several months.
---
Fighting Fire With Fire
Not all bugs are harmful to Dieffenbachias. Some prefer to devour the creatures that are plaguing your plant. It might feel strange to release more insects inside your home, but it's an all-natural and often effective way to combat your Dumb Cane's infestation. Here are a few suggestions:
Ladybugs. Gardeners have known for centuries that these pretty beetles eat aphids, but they'll also happily feed on scale, mealybugs, and spider mites.
Mealybug Destroyers. The name says it all. These beetles have an absolutely voracious appetite for mealybugs.
Green Lacewings. These generalist predators are efficient killers of spider mites, aphids, scale, and more.
Predatory Mites. Several species of mites eat other mites rather than plants. Most gardeners opt for Phytoseiulus persimilis or Neoseiulus californicus, both of which love to munch on spider mites.
---
Cutting Your Losses
The methods described above can go a long way toward cleaning up a pest infestation, but sometimes your Dumb Cane is simply too far gone. If your plant is swarming with insects and most of its foliage is dead, you may have to accept that it's beyond the help of treatment.
You have a couple of options at this point. One is to simply throw the plant out. There's no shame in this; every houseplant enthusiast has to do this at some point. It's sad, but it may be necessary to protect your other plants that are still healthy.
Alternatively, as one last Hail Mary pass, you could cut the stalk of the plant all the way down to the soil. Most Dumb Cane pests live on the leaves and stem rather than in the dirt, so when new shoots grow up from the roots, there's a chance they'll be free of bugs.
---
Final Thoughts
Tackling an infestation in your Dieffenbachia is never fun. You'll need plenty of patience, persistence, and attention to detail to have a shot at correcting it. We hope this article has given you the tools you need to get your Dumb Cane healthy and pest-free once again.