Monstera deliciosa is a popular houseplant because it is low maintenance, fast-growing, and can grow huge even in indoor conditions. Thankfully, it is also super easy to propagate, meaning you can add this plant to every room in your home or share baby Monsteras with your friends.
Propagating Monstera deliciosa is easy and rewarding. There are several options for the propagation method, including water or soil propagation and (less commonly) air layering. The most important factors in successfully propagating a Monstera are taking a proper cutting and then giving that cutting the right conditions to establish itself as a new plant.
If you haven't propagated a Monstera before, this article is the perfect place to start. I'll give you detailed instructions on each propagation method, as well as the pros and cons of each. I will also review some of the FAQs of propagating Monsteras, so you can be fully informed before starting the process.
---
How do Monsteras Reproduce?
Obviously, Monsteras aren't taking cuttings of themselves in the wild, but they still use their nodes to spread around and create growth in new places. Monstera deliciosa also produces seeded fruits (which are apparently delicious and give this plant the deliciosa part of its name), so the plant can establish itself in new areas via seed dispersal as well.
When it comes to reproducing a Monstera at home, the most popular choice is water propagation. With this method, you place a cutting in water until it grows roots, then move it to soil. For those who prefer to skip the water rooting step, it's also possible to place a Monstera cutting directly in soil, and the cutting will (usually) develop roots and grow a new plant.
Less commonly, you can propagate a Monstera deliciosa using air layering. With this method, you allow the cutting to produce new roots while still attached to the mother plant.
---
Can You Propagate a Monstera Through Root Division? How About Growing Monsteras From Seeds?
Yes and yes! You can divide a single Monstera plant into two separate plants by dividing the root ball. However, I have found this very difficult to do because of how intertwined the root system and the stems tend to be on a mature Monstera deliciosa. This is better for a situation where the plant is too big, and you want to restrict its size. If your goal is just to propagate a new plant, there are far easier ways.
Monstera deliciosa can also be grown from seeds! As always, be sure the seeds are sourced from a reputable seller and that they are as fresh as possible. Growing Monsteras from seeds can be a fun and rewarding experiment, but propagating this plant from cuttings is faster and no more expensive.
If you are planning to grow Monstera deliciosa from seeds, you can find another article with step-by-step instructions here.
---
A Quick Note on Variegated Monstera Seeds
There are lots of sellers online listing what are purported to be variegated Monstera deliciosa seeds. These may seem like a more readily-available and reasonably-priced alternative to buying a plant or even a cutting, and they would be – if they were real. Unfortunately, the vast majority of these sellers are being intentionally dishonest to make a few quick bucks.
Variegated plants are being grown, propagated, and sold as fast as possible to maximize on their current popularity, but there's no guarantee that a variegated Monstera deliciosa will bear variegated seeds. Most of these plants won't even make it to the point of fruiting and producing seeds since it's so much easier and faster to propagate them from cuttings. If you want to experiment with growing a Monstera from seed, go for it – just don't get your hopes up for any of the rare varieties.
---
Do You Need a Node to Propagate a Monstera? What About an Aerial Root?
Throughout this article, you will see "node" mentioned quite a bit, so it's important to clarify what exactly a node is and why it's needed. Basically, a node on a Monstera (or any plant) is the area where the necessary cells for new growth are concentrated. A plant can't create new growth (a flower, stem, root, or leaf) in an area without a node.
---
What Does a Monstera Node Look Like?
On your Monstera deliciosa, nodes are a slightly thickened part of the stem, which may look brown and dry compared to the other parts of the plant. If you see an aerial root or a petiole (the base of a leaf) emerging from the stem, you can be sure there is a node in that area.
Monsteras tend to have a lot of nodes because they grow like other vining plants. Every point on the stem is a potential place to anchor itself to a support structure (usually a tall tree in the wild) or to the soil to obtain more nutrients. The areas in between nodes (called internodes) are generally smooth, uniform green stems. Most parts of the stem that have a different color or shape (usually kind of knobby or bumpy) are nodes.
---
Can You Propagate a Monstera Without a Node?
Unfortunately not. A Monstera cutting that includes a leaf plus its petiole without a node cannot grow into another plant on its own. It may develop roots if you put it in water, but the node is required for the cutting to branch off and grow anything beyond that one leaf.
If you have accidentally broken off a leaf and you're wondering what to do with it, try some of the ideas in this article: Rooting, Propagating, and Decorating with Monstera Leaves. There are multiple options besides just throwing it away, even if you can't create a new plant with the leaf.
---
Can You Propagate a Monstera Without an Aerial Root?
Aerial roots are a good sign, as they indicate a healthy Monstera looking to expand itself into new areas. In the wild, these aerial roots help the plant hold on to trees and climb, and they also help the plant absorb moisture and nutrients from its surroundings.
You can use an aerial root when you're propagating from node cuttings – and although they are not the same as the roots that grow in the soil, they can still help your new plant establish itself more quickly. Aerial roots are not helpful (but not necessary) to propagate this plant.
---
When to Propagate a Monstera Deliciosa
It is not a great idea to try to propagate a Monstera deliciosa that is still immature. Younger plants usually don't have that many stems with nodes on them, so cutting one off can make the plant look unbalanced. The plant should have several healthy stems and enough mature growth that you won't be cutting off more than about 25% of its foliage.
In terms of timing, the best time to take cuttings and propagate Monsteras is around the start of the growing season. Anytime from mid-spring to early summer works best, as this gives your cuttings the best chance of establishing themselves and also allows the mother plant to get the required sun and nutrients to recover from having pieces removed.
---
How to Take a Cutting from Your Monstera Deliciosa
For water or soil propagation, you will need to take a cutting that includes a node. From the description above, you should be able to identify at least a few nodes on your Monstera. An ideal cutting has a node, maybe an aerial root, and 2-3 healthy leaves.
Be sure to disinfect your cutting tool (I like a garden knife, but pruning shears work too) to avoid transmitting diseases or bacteria when you're cutting into the plant. Then cut cleanly through the stem, making sure to keep the node intact. I like to cut at least 2 inches below the node to be sure I get the whole thing.
After removing the cutting, let it sit for a few minutes until the cut area feels dry to the touch. Allowing the cut to slightly scab over helps to prevent your cutting from rotting. After this, you are ready to move the cutting to its water or soil propagation container.
For more information on Monstera nodes and how to take a cutting to maximize your chances of success, head over to this article.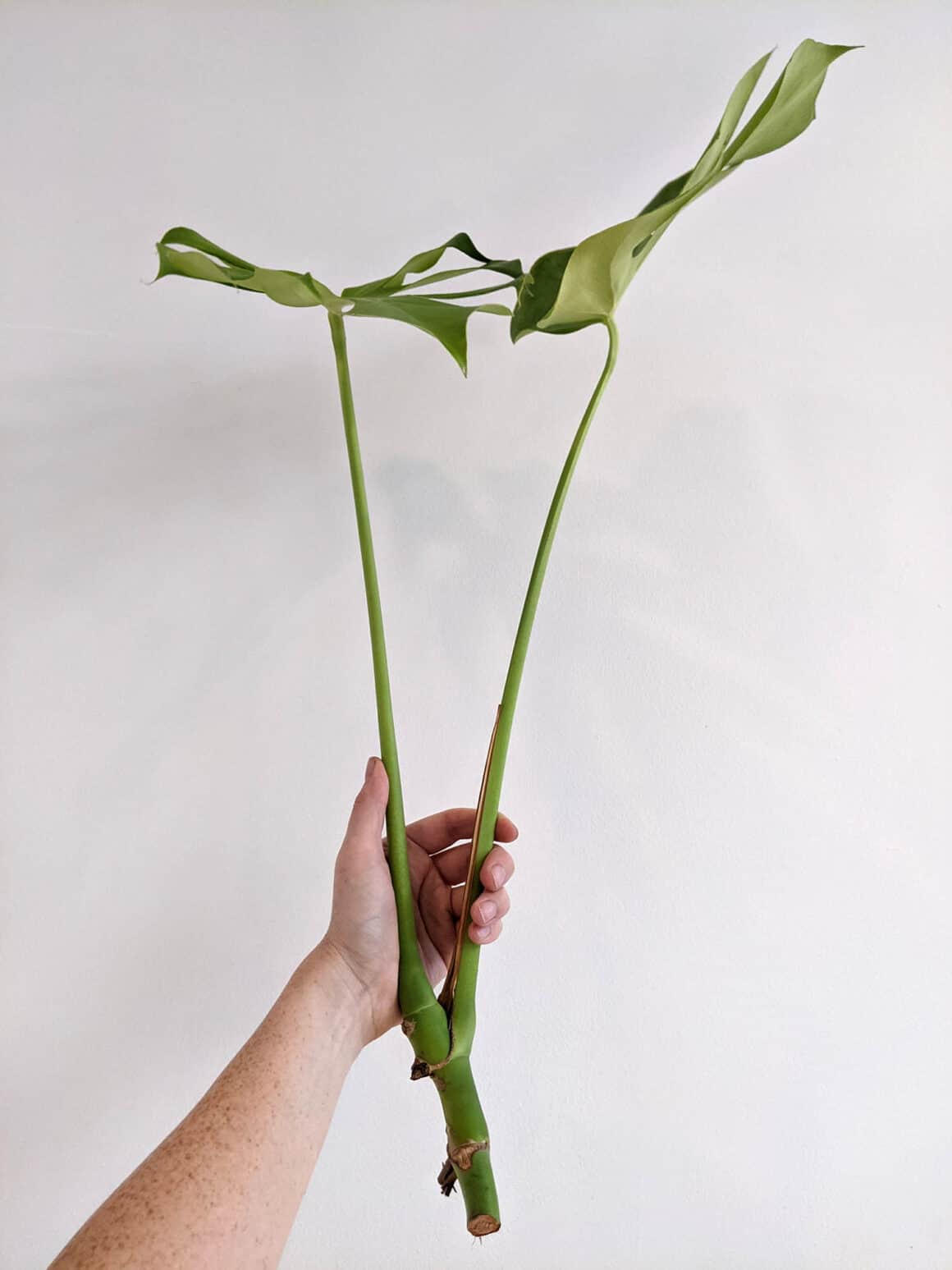 ---
Water Propagation: How to Root Monstera Cuttings in Water
Propagating Monsteras in water is mostly foolproof and by far the most common choice. I prefer to use a clear glass container, so I can monitor the water and the root development – however, you can use any kind of watertight vessel for this. It usually helps if the neck is a little narrower than the base since that assists the Monstera in staying upright in the container.
The nodes must stay submerged in water, with the rest of the plant above the waterline. If there are any leaves on the lower part of your cutting that would end up underwater, go ahead and trim those off.
Rainwater is the best option for plants in all situations, if you can access it. Otherwise, you could choose distilled, reverse osmosis, or filtered water. Tap water isn't great since it contains chemicals that plants don't like, such as fluoride and chlorine. Old aquarium water is a great choice as well if you can find it.
Once you have situated your Monstera deliciosa cutting in the propagation container, place it in an area that gets bright, indirect sunlight. Avoid putting it in direct sunlight since that can burn the leaves and encourage algae to grow in the water.
Ideally, you should change the water for your Monstera cuttings every couple of days, but a minimum of once per week. If you notice any cloudiness, change the water right away, and check to see if parts of the plant are starting to dissolve. Sometimes the part below the node can get slimy and rot away, so go ahead and gently remove any pieces of the stem that are soft or mushy.
Within a few weeks, you should start to see a few roots emerging from the node. Depending on the season and the conditions in your home, this could take a bit longer, so be patient. Once the roots are a few inches long, it will be time to plant them in soil.
---
Water Propagation: How to Plant a Rooted Monstera Cutting
There's no special trick to planting a rooted Monstera, but the most important thing is to choose the right soil and container. See the section below for more specifics about the types of soil and containers that work best for Monstera deliciosa.
Position your cutting so that the top root is about 1 inch from the top of the soil. You can either fill up the pot and then make a hole or hold the cutting in place while you fill in the potting mix around it (a second person may be helpful). In either case, make sure that the cutting is supported and won't fall over since it is likely to be top-heavy at this stage.
Give your plant a thorough drink at this point, and add more potting mix if needed because of settling. Place the pot in a bright windowsill or similar area, making sure it is not in direct sunlight. Keep a closer than usual eye on the cutting since it may be a little thirstier than usual as it settles into the pot and develops its root system.
---
Soil Propagation: How to Plant a Monstera Cutting Directly in Soil
If water propagation just sounds like a hassle to you, you might be wondering: can't I just pop this cutting into a pot and call it good? And the answer is yes, you most certainly can! For details, check out my article Propagating Monstera Deliciosa in Soil: Step by Step Instructions, but here's a summary.
Soil propagation starts with the same type of ideal cutting as water propagation, including a node and a few leaves. After that, you simply place the cutting into a pot filled with a free-draining potting mix, making sure the node is buried about an inch deep. Don't press down or press too much on the potting soil since that can cause it to lose the air pockets that help the roots stay healthy.
After planting your cutting, take care of it the same way you do for adult Monstera deliciosa. You will know that the roots have developed when the plant starts to put out new growth, or if you (gently!) pull on the plant and feel resistance.
Why would you choose soil propagation over water propagation? It's just a matter of preference. Some people like to watch the roots developing and know that the plant has established a preliminary root system before moving it to soil. Other people find the water rooting step a hassle and trust that the roots are developing below the soil. Planting directly in potting mix also solves the problem of needing to change out the water regularly.
---
How to Propagate a Monstera Deliciosa Using Air Layering
Air layering is a process that allows a cutting to develop roots from whichever node you select while still connected to the mother plant. Once the roots have sufficiently developed, the cutting is ready to be planted immediately after you remove it.
Although it can be a bit intimidating, air layering is actually a simple process. You will need some sphagnum moss, a clean and sharp knife, and cling wrap. After gathering your supplies, locate a node on the Monstera where you would like to force roots to grow.
Once you have located the node, use your knife to make an incision about half an inch below it. Roots will eventually emerge from this cut. Be careful not to cut too deeply; for Monsteras, cutting just about a third of the way through the stem is plenty.
You'll need enough moistened sphagnum moss to cover the entire node and the incision all the way around the stem. It should be damp but not dripping, so squeeze out excess moisture if needed. Then use the cling wrap to enclose a bundle of the moss around the stem and attach it using string, twine, or tape.
You will need to open this up every few days to spritz the moss, so don't worry about securing it tightly. There should also be some airflow to avoid getting moldy or rotten. Keep an eye on the moss and provide more moisture as needed (probably every few days). You should start to see roots within a few months.
Once the roots are a few inches long, it is time to take the cutting. Remove the moss and use your sanitized knife to cut below the new roots, being careful not to damage any. Then you can plant the cutting as described in the section above about water propagation.
Why would you choose air layering over soil or water propagation? This technique is more often used for difficult-to-root plants than for an easy propagator like Monstera deliciosa. If you were thinking of using this propagation method on another, more valuable plant, it could be useful to try it out on your Monstera first. Some people also prefer this method since it's low maintenance and doesn't stress the plant as much as a pruning can.
---
The Best Soils and Pots for Monsteras
After taking a good cutting, choosing the correct pot and soil for your Monstera deliciosa cutting is the other vital key to successful propagation. The requirements are much the same as for a mature Monstera, but since cuttings are not as established, they can be slightly more sensitive to mistakes.
For soil, the most critical factor is that it does not retain too much water. This matters because Monsteras dislike having excessive moisture around their roots. When people overwater their plants, it's very often the result of having the wrong soil (as opposed to giving it too much water).
Similar to many other tropical plants, Monsteras like to dry out between waterings and to have some air circulating around the roots. A soil that drains well will keep the roots strong and healthy.
What is free-draining soil? Basically, potting mix is made of several components (none of them are "dirt" surprisingly), such as peat, compost, sand, and vermiculite. Some of these absorb water, while others don't. Plants that like a moist, swampy environment would do well with a higher proportion of absorbent components than plants that like to be drier.
You can purchase a potting mix that advertises itself as being free-draining, or you can make a custom mix if you're concerned that the one you have is too dense. Amending the soil with orchid bark or sand will increase its drainage to be suitable for Monsteras.
On a related note, Monsteras dislike being in a pot that is too large. A big pot has more potting soil, which means more retained moisture. If anything, Monstera deliciosas have a preference for being slightly potbound. It's recommended to repot them only when it's really needed (2-3 years on average), and only to move to the next larger pot size (from a 6″ pot to 8″, for example).
Of course, when you're planting a cutting, you will have a very small root system or maybe none at all if you're doing soil propagation. In that case, use as small a pot as possible to provide the plant with a stable base. This starter pot may last you a year or less, if the plant grows especially fast, but that's better than accidentally over-watering because of an oversized pot.
For more details on which soil and pots work best for Monsteras, including a few recipes for custom potting mixes, head over to this article: The Best Soil and Containers for Monstera Deliciosas.
---
What to Expect From Your New Monstera Deliciosa Propagations
It may take a while for your cuttings to establish themselves and really start growing, but that is natural. Unless you start with a very large cutting (which is certainly possible with this plant!), don't expect to have a big Monstera right away. However, this plant is known for its rapid growth! Once you've got the conditions right, you may find yourself wishing it would actually slow down a bit.
You can probably expect your Monstera to start putting out new leaves and stems 1-2 months after it has developed roots and been planted. It might even put out new growth while it's still in its water propagation vessel! During the spring and summer months, your plant may put out a new leaf every month or so.
As larger leaves start to develop at the top of the plant, you might notice some smaller, lower leaves turn yellow and fall off. This is a natural part of the plant's growth, so don't let it concern you as long as the rest of the plant looks healthy.
Note: if your Monstera deliciosa cutting isn't growing or showing signs of distress like wilting or brown leaves, that may indicate that something isn't right. Check the moisture level in the soil, and inspect the leaves and stems for signs of pests or fungus. Make sure you have the light levels right. Overwatering and not enough light are the two major mistakes that people make with this plant.
I consider the first pot you use for a cutting to be a temporary home, so be prepared to replant your Monstera after the first year if it's doing well. You might also consider if you want to add a moss pole at this time, as Monsteras do well when they're given something to climb.
---
Final Thoughts
Hopefully, this article has convinced you that it is not too intimidating to propagate a Monstera deliciosa. Remember that these plants are hearty and can survive a little mistreatment, so they are a good option for beginners to propagate.
It is vital to include at least one node with your cutting and give your baby Monstera a little extra care. With minimal effort, you should soon see it start to take off and become a full-fledged plant of its own.
Remember that no one is 100% successful when it comes to plants, as this isn't an exact science. But if you follow these instructions and have a bit of patience, I'm confident you will be able to propagate your own Monstera deliciosa!