For Monstera deliciosa enthusiasts, one of the best parts of growing this plant indoors is its ability to grow into a sizable cornerstone for a jungle-like interior. But that growth also presents some problems, because a Monstera can quickly get too big for the available space. Unlike other popular houseplants with an upward, tree-like growth pattern (such as the fiddle-leaf fig or rubber plant), large Monsteras tend to grow outward. That's why many people like their Monstera deliciosa to climb something instead of trailing.
What is the best way to make Monstera deliciosa climb? By providing a support structure such as a moss pole, coco coir pole, or trellis, you can encourage your Monstera deliciosa to grow upright. This trains it to follow its natural inclination for climbing and may lead to a healthier plant with larger leaves.
The good news is, Monsteras are built to climb. Given the right conditions and a bit of encouragement, you can get this plant off the floor and out of the way. Throughout this article, I'll review some details about how and why Monsteras are often seen climbing on moss poles, plus give you tips about training this plant to climb.
---
Why Do Monsteras Need Moss Poles?
The popularity of moss poles for Monstera deliciosa is due to this plant needing some help to grow upright. In nature, Monsteras exhibit epiphytic growth, which means they attach to trees or other vertical surfaces and climb.
Many other popular houseplants like pothos and philodendrons grow the same way in the wild, but we generally use them as trailing plants indoors. Unlike those plants, though, Monstera deliciosa's size and weight make it too unwieldy to grow as a hanging or trailing plant in most situations.
In the absence of a tree to climb, Monsteras growing indoors do well with the support of a moss pole that fills the tree's role. That doesn't mean that this plant needs to climb on a pole, though. Your Monstera will grow just fine without one. The main reason to add a moss pole is so the plant will grow upright instead of trailing over the sides of the pot and onto the floor.
My article about Monsteras and moss poles can give you some tips about where to buy the right kind of moss pole to support your plant, or how you can make your own. Click here for that information.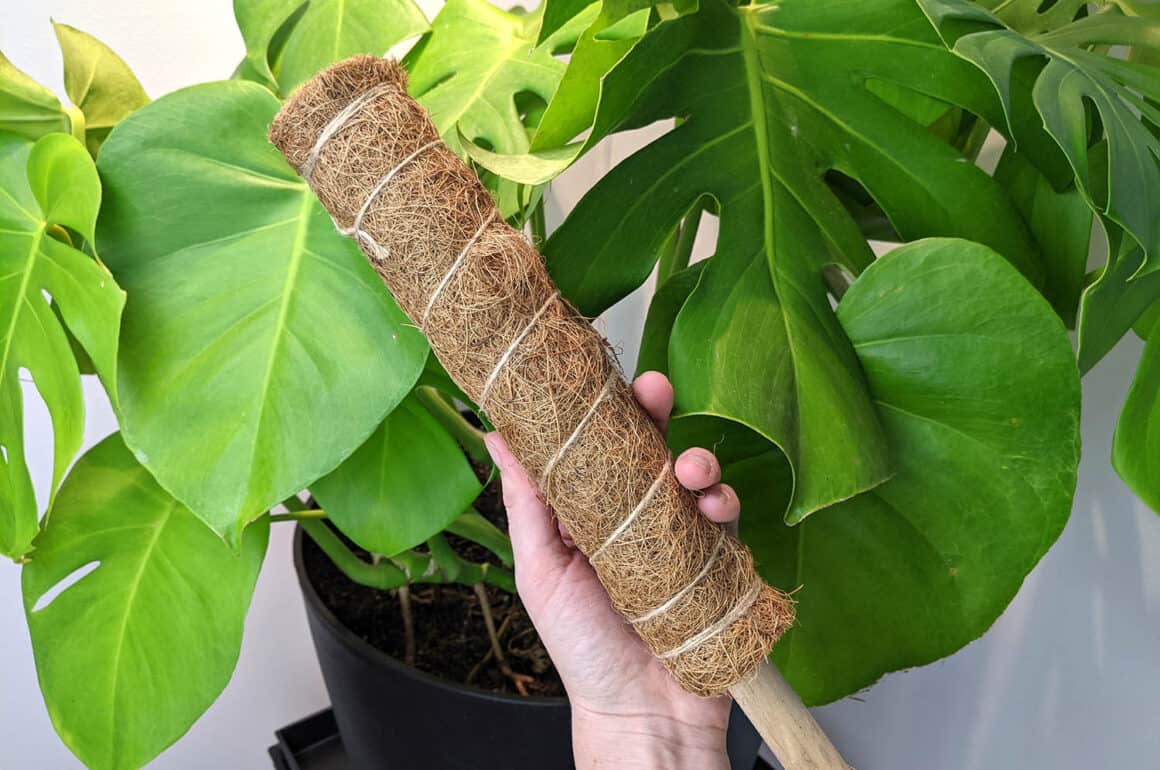 ---
Training Monsteras to Grow Upward
Monstera deliciosa usually grows vertically on just a few stems when it's young, but starts to grow sideways when it gets older and heavier. New plant owners may be surprised to find their once-vertical house plant starts to take up more and more horizontal space as it expands outward.
One of the best ways to train your Monstera to grow upward is to use a support such as a moss pole, coco coir pole, trellis, or stakes. However, you also have other options, since Monsteras can adapt to climbing on all sorts of supports.
Instead of staking your Monstera, pruning the new growth that occurs in unwanted areas will keep it from developing new leaves and stems in any direction but up. Sometimes houseplant owners are hesitant to prune plants, but this option serves the dual purpose of training the plant to be more vertical and keeping it to a manageable size.
You could also use Monstera's natural tendency to grow towards the light to keep it growing upward. If you notice that new leaves are stretching in the direction of the light source, you can rotate the plant so that those new leaves are on the side away from the window. As the leaves reverse direction, they will grow toward the center of the pot and help to balance it.
This article covers many different options for getting your Monstera to grow upright, so check it out if you want some additional detail on that topic.
---
When Is It Time to Add A Moss Pole To Your Monstera
Even if you've decided that your preferred method for getting your Monstera to climb is a moss pole, it's not always clear when is the right time to add it.
When does a Monstera need a moss pole? The short answer is that you should think about staking a Monstera when it starts taking up too much space or gets top-heavy. A few specific signs indicate that your Monstera is getting to a size to benefit from a moss pole. The signs include growth that is more horizontal than vertical, the production of aerial roots, and an unbalanced plant.
Basically, there's no time too early to add a moss pole to your Monstera. Even if the plant is still immature and hasn't put out aerial roots yet, it won't be negatively affected by having the pole there waiting. On the other hand, if you wait too long, it can be challenging to train a fully grown Monstera to attach to a moss pole and grow the way you want it.
To learn more about when it's time to add a moss pole to your Monstera deliciosa, I have another article all about the topic here: Four Signs That It May Be Time to Stake Your Monstera Deliciosa.
---
How to Make Monsteras Climb
Monsteras climb naturally, but it takes time for their aerial roots to attach to a support structure. A wild Monstera would climb whatever tree is closest, meaning the support is there from the beginning. Houseplant owners usually introduce the moss pole after their Monstera has already started to develop aerial roots, meaning that it usually takes some intentional effort to get the plant to attach.
Merely introducing a moss pole or trellis to your Monstera doesn't automatically mean it will start climbing. If the aerial roots can reach the support, they will attach in time, but this process takes a lot longer than most of us want to wait. Not only that, but the plant may never locate the supports without some guidance, so it is better to train your Monstera to get it growing the way you want.
After reviewing some of the options for staking Monsteras and explaining the process of adding a moss pole, I'll explain exactly how to guide this plant so it will attach to and eventually climb the pole.
---
The Best Options for Staking Monsteras
One of the most popular options for staking Monsteras is a moss pole, but it's far from the only choice. There are some benefits to using a moss pole or a coco coir pole, since they have a natural texture that's easy for the aerial roots to grab. However, other types of plant support have also been used successfully to get a Monstera to grow upright.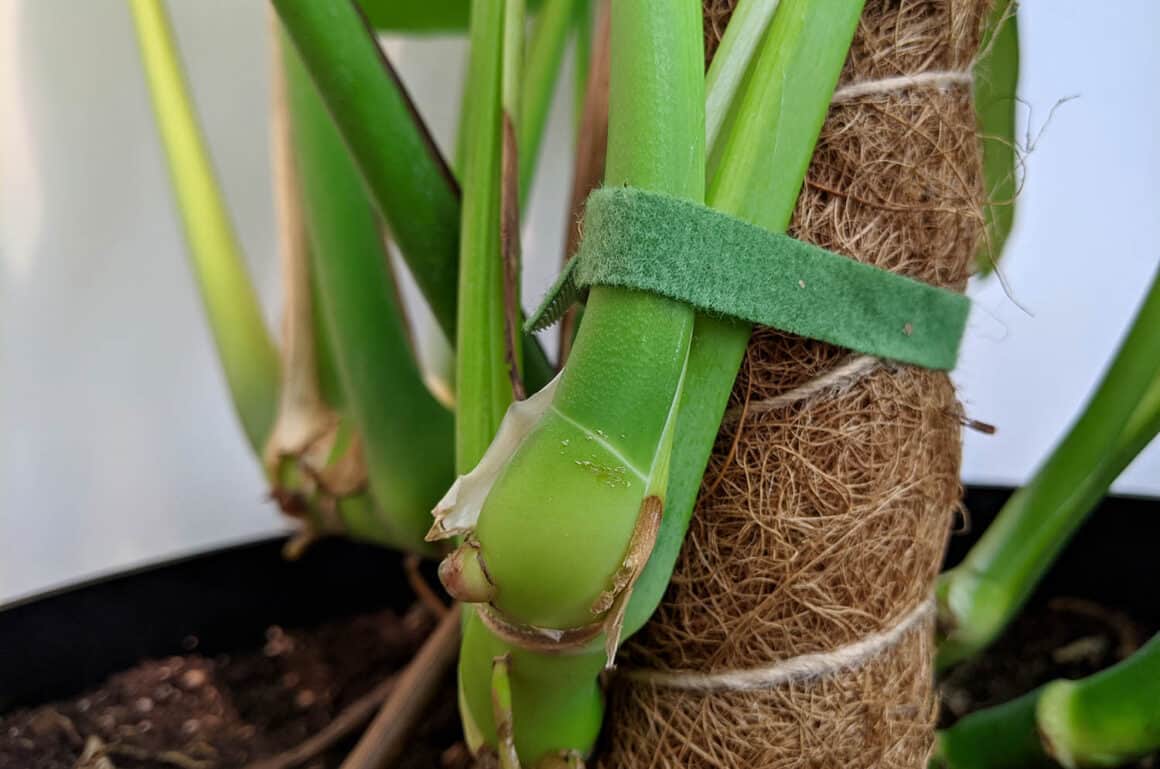 The choice is mainly based on what kind of appearance you prefer. Even in a full and lush plant, the stakes will probably be slightly visible. Moss poles and coco coir poles look more natural since they are covered with organic material. Trellises are generally made of wood or metal, so they can be found in different colors or materials that best suit your interior design. Some people will also use a rope to suspend Monstera stems from above, which is great for vertical growth if you don't mind its look.
Make sure your trellis, moss pole, or other supports are sturdy enough to hold the current and anticipated growth of your Monstera. If your desired result is for your Monstera to reach your ceiling, for example, a simple moss pole is probably not going to be a long-term solution. Likewise, bamboo stakes are readily available and inexpensive, but the slimmer ones won't stand up to a very heavy Monstera.
---
How To Repot a Monstera With a Moss Pole
The best time to stake your Monstera is when you're repotting it, for a couple of reasons. First, you'll be sure you can insert the pole in a part of the pot that doesn't already have roots in it. You want to avoid damaging the roots when you add the stake, but that can be difficult to do in an established pot.
Repotting a Monstera can be a bit of a challenge because of their size, weight, and substantial roots. I recommend potting a Monstera in a plastic nursery pot, and then placing that inside your decorative pot. Plastic pots are lighter, so they're easier to pick up and move. They flex and bend, so you can get them off a stubborn root-ball more easily than terra cotta or ceramic pots.
Adding a moss pole when you replant a Monstera is simple, but you might want to have a second person there to assist if your plant is especially big. As always, choose a new pot that is one size bigger than the current one. Monsteras dislike being in a pot that is too big.
It's best to repot Monsteras (and most potted plants) in the early spring, before the start of the growing season. At this point, the plant probably hasn't grown much for several months, and it may have depleted the nutrients from the existing soil. By repotting right before the days get longer and sunnier, your plant can maximize the growing season and start to establish itself on the support you provide.
---
Steps to Repot a Monstera with a Moss Pole
Before removing the plant from its current pot, decide which side you want to add the moss pole. Usually, people will put the support on the opposite side from where the plant is getting too heavy or unbalanced. Prepare your moss pole and potting soil for houseplants that drains freely.
Start by putting a layer of soil at the bottom of the new pot. Take the plant out of its current pot and inspect the roots for any damage or rot. If everything looks healthy, put your Monstera into the new pot.
At this point, assess the balance of your plant's growth and how you want it to grow in the future. If it is already well-balanced, go ahead and center it in the new pot. However, if your plant is growing sideways or is much fuller on one side than the other, you can rotate the root ball to be oriented more vertically.
Once you're happy with the position, start filling in the soil on all sides where you will not be adding the moss pole. Once you have done that, insert the moss pole into the pot deep enough that the soil will be able to keep it firmly in place. This is another time when it might be useful to have someone help you by holding up the plant while you position the pole.
Fill in the soil around the moss pole until it is firmly in place. Water thoroughly and then add more soil if necessary. Once it is anchored in the soil, follow the steps below to attach the Monstera to the moss pole.
---
How To Attach Monsteras to Moss Poles
There are two points that you want to use to anchor your Monstera stems in place, to make sure it attaches and climbs the support structure. The first is to anchor the largest, heaviest stems, and the second is to encourage aerial roots to attach.
If you have large stems growing horizontally, it's best to attach these to the stake to prevent further spreading. You may need to spend some time training larger stems, since they are not flexible enough to bend much.
For large stems, start by loosely suspending the stem from the pole using garden ties or a similar product. You want the stem to be pulled gently in the direction of your pole. Check it occasionally, and you can gradually shorten the tie as the stem starts growing in that direction. This takes patience, but over time you can redirect the stems to where you want them to be.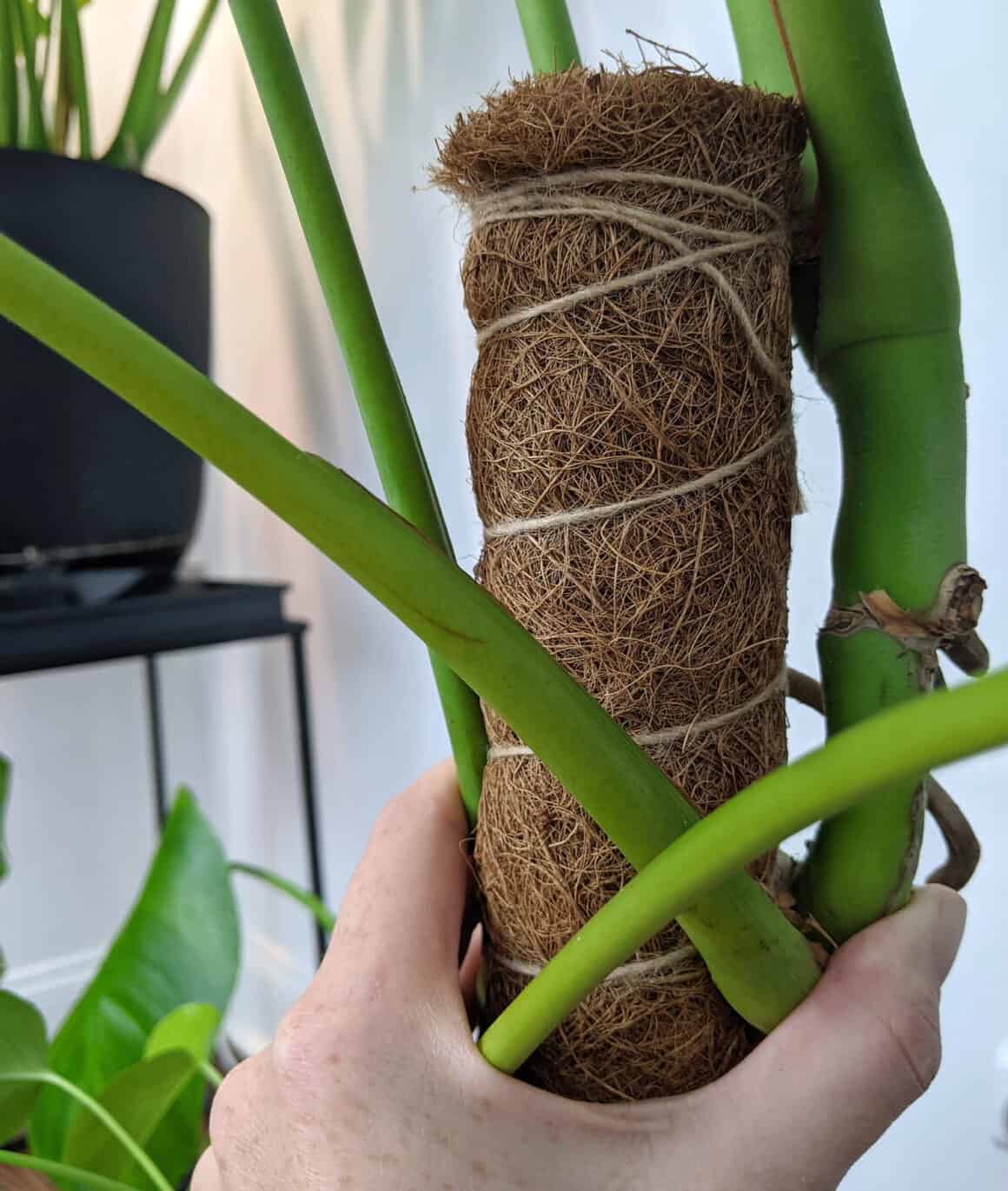 Since aerial roots are the ultimate anchors, you can guide them in a couple of different ways. The first option is to wrap or drape aerial roots around the support structure.
The second is to use garden ties to bind the aerial roots to the support. The points where the roots are touching will eventually grab on to the support, assuming there's some texture to it. They will attach to moss or coco coir most quickly, but they will also attach to other substances like stone or wood, given enough time.
If your Monstera does not yet have aerial roots, just skip that step for now. Once you see them emerging, you can direct them toward the moss pole as soon as they are long enough.
When using garden ties on stems or roots, it takes a bit of finesse to get the tension right. You don't want it to be so tight that it damages the plant, but it should be firmly secured. In general, Monstera deliciosa is a sturdy plant that can recover from some rough treatment, but it might look a little worse for the wear if it's tied too tightly.
---
What To Expect From Your Monstera Moving Forward
After you've added your moss pole and attached the stems and aerial roots, what next? First, give your Monstera a few days to ensure it doesn't have any adverse effects from being repotted. After that, you can basically go back to caring for your plant as usual, keeping an eye on the areas where you've attached it to the moss pole.
If you have added the support at the beginning of the growing season, you can start your regular growing season fertilizer regimen. You can expect rapid growth from your Monstera during the spring and summer months, although, of course, it depends on what conditions you provide. If the plant has been newly staked this season, it will probably have started to attach its aerial roots to the stake by the end of the summer.
If you want to check whether or not the aerial roots are attaching, you could start by loosening the ties that bind the roots to the stakes. If they stay in place when the ties are removed, you've successfully trained your Monstera to attach. Don't be discouraged if the aerial roots haven't attached in one season, though. It's perfectly fine to use garden ties. Some people just leave them on permanently.
Once the aerial roots have attached, your Monstera should start to climb the moss pole when new growth comes in. However, it's worth keeping an eye on because this plant doesn't always do what it "should." Ongoing encouragement may be required.
---
Final Thoughts
Getting your Monstera to climb can take a bit of effort at the beginning, but it pays off in the long run. The choice of support and growing style is really up to your individual preference, and the appearance you want the plant to have. Once you've added support and given it the right conditions, your Monstera should follow its natural instincts and start climbing!  
---
Get Our Monstera eBook for More Info
Have more questions about your Monstera Deliciosa? Want to know what you can do to keep it happy and healthy? Grab our latest book, How to Care for Monstera Deliciosa, and get all that and more.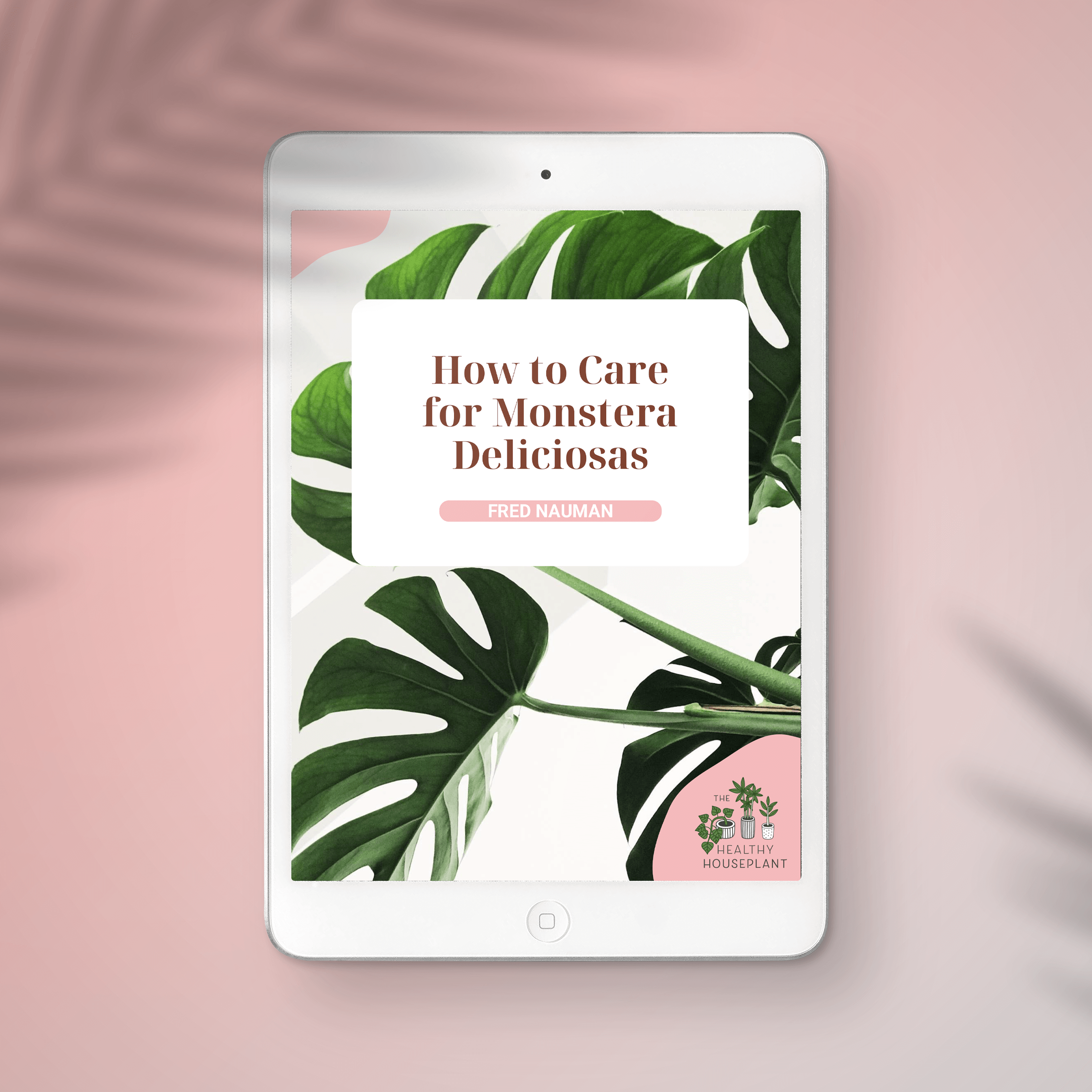 Our eBook covers:
Signs Your Monstera Isn't Getting Enough Light or Water
How to Grow Your Monstera to Epic Sizes
What are Fenestrations and How Can You Encourage Them
Tips for Fertilizing Monsteras
The Best Way to Prune this Plant
Propagation Tips and Tricks
The Best Type of Soil for Monsteras
Help Diagnosing Unhealthy Plants and How to Treat Them
And More!!
If you've got more to learn, grab a copy of our book today and get your Monstera Deliciosa back on track. Get your copy now!