Money Trees, or Pachira Aquatica, are trees native to Central America that thrive in climates with high-humidity. Indoors, they like the same environment, which can make people nervous. When it comes to watering and humidity, you may start to ask: how can I help my Money Tree thrive?
How much water does a Money Tree need? Money Trees should be watered no more than once a week, and only after the first inch of topsoil is dry. It is important to water these trees thoroughly until the water runs out of the pot's drainage hole. Money Trees should never be left in standing water.
While that's a straightforward summary of the basics of Money Tree care, there are many more factors to consider to keep your tree happy and healthy. But with a little more knowledge, you'll be a pro at watering your Money Tree and providing for its needs.
---
How Much Water Do Money Trees Need
When it comes to how much water a Money Tree needs, there are no hard and fast rules for every single plant. Some plants are larger, others are planted in small pots, some are in rooms with high humidity, and the list of variables goes on and on.
The best rule for Money Tree watering is to water only when the top inch or two of soil is completely dry. This can be checked by sticking your finger into the soil about an inch down. If it feels dry, it is definitely time to water.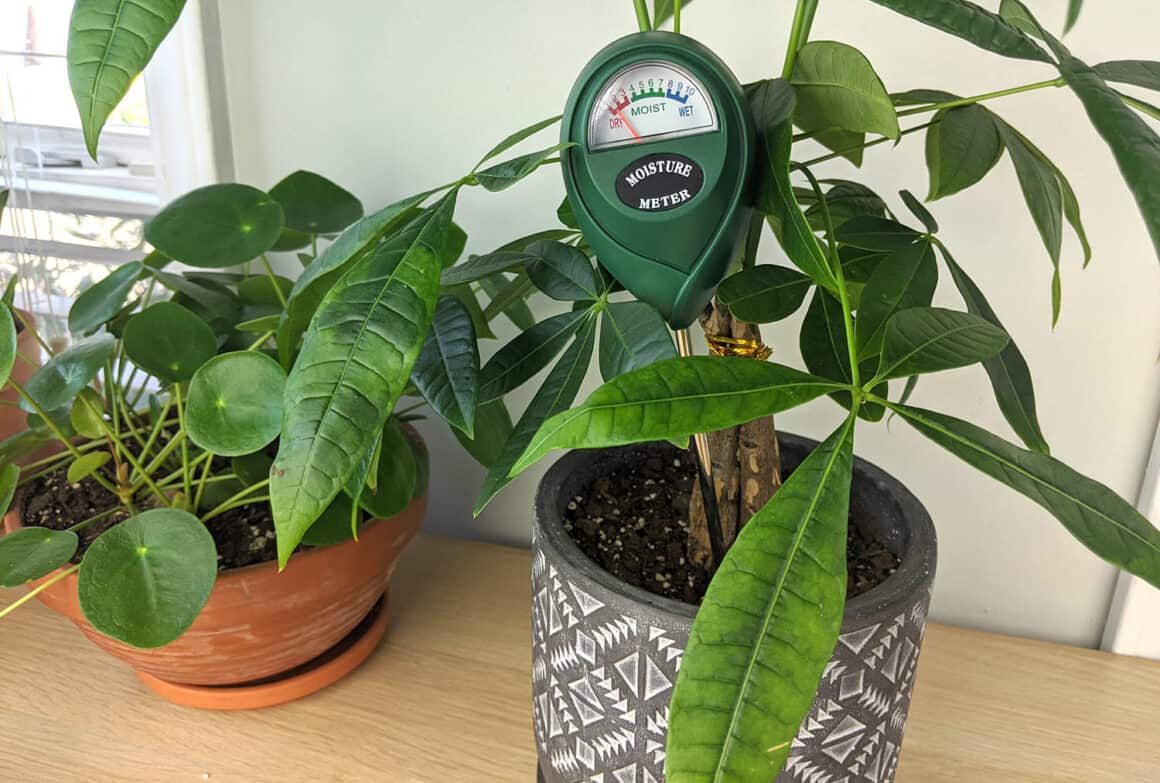 For a more scientific approach, you may want to purchase a small moisture meter. These devices will give you the most accurate information on the moisture level in your tree's soil. I use this one.
The time of year also contributes to how much water to give a Money Tree. Spring and summer are when these trees are in their growing season and will usually need more water then. During the colder months of the year, your Money Tree will go dormant. At that time it will need a lot less water.
Humidity plays a significant role in how much water a Money Tree needs. Trees in high-humidity environments, like bathrooms, won't need as much water as trees in drier, arid spaces, like close to a furnace.
---
Humidity and Money Trees
Money Trees are natives of Central and South American tropical wetlands and swamps, where they can reach an upwards of 30 feet. These are trees that thrive in environments with high humidity!
Depending on where you live, this may or may not be a problem. Some areas, such as the Southeastern United States, are known for their high humidity. But other regions, like the Southwest, have extremely low humidity levels and can make keeping a Money Tree a challenge.
Luckily, there are tools available to check your home's humidity and minor adjustments you can make to increase it. A hygrometer (like this one) can monitor the humidity levels in your home and can be a great way to determine which room is best for your tree. Money Trees prefer spaces with a humidity level of at least 50%.
---
How to Increase Humidity Around Your Money Tree
If you are finding the humidity levels in your home to be well under the 50% level that Money Trees prefer, there are some things you can do to raise them.
MISTING
To increase the humidity level around your tree, you may want to consider misting it lightly. The general recommendation is once a week, but that can and should be adjusted depending on your home's humidity levels.
To mist your plant, fill a clean spray bottle with rainwater or distilled water, and gently spray the tree. Be careful not to soak it, you simply want to emulate the effect of morning dew on its leaves. It's also important to spray in the early part of the day and allow it to dry out before evening. 
Some people debate the effectiveness of misting, stating that the water evaporates so quickly that it doesn't actually increase humidity. Personally, I mist several of my houseplants, Money Trees included, and have only had good outcomes from doing so.
SHOWERING
Another option for raising the humidity level of your plant is to shower your Money Trees. To shower your Money Tree, run the shower at a mild temperature and on the gentlest setting. Ideally, this should be one that simulates light rain. Once the water is running and at the right temperature, put the Money Tree underneath the water for a few minutes.
This helps increase humidity levels and clear the leaves of dust and debris that they may have collected since the last time they were cleaned. Be sure to let it drain fully before returning it to a saucer. Money Trees hate standing water.
PEBBLE TRAYS
Some Money Tree owners also like to use pebble trays with their trees. A pebble tray is usually a saucer filled with small pebbles or stones that plant owners fill with water and then rest the pot on top of. This is different than just letting the Money Tree sit in water because the soil and pot aren't actively absorbing the water, so it won't cause rot root.
The pebble tray's water will evaporate over time, providing the Money Tree with its own area of humidity. This is an excellent option for plant owners that prefer to be passive with their plant care.
HUMIDIFIERS
In cases when humidity levels are well below the suggestion for Money Trees, some people like to add humidifiers to the room their plants reside in. I personally use the 6L Warm and Cool Mist Humidifier and love it.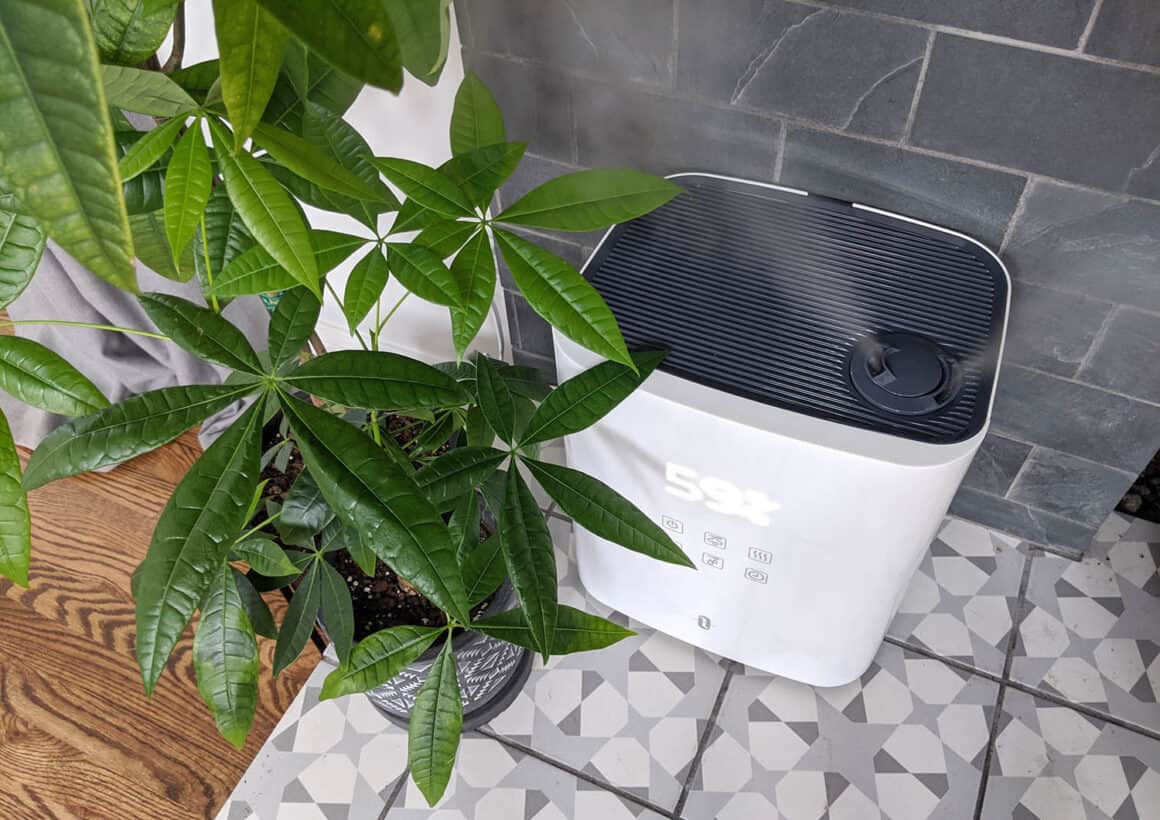 Overall, the humidity of the area your plant is in can have a significant impact on its health. It will also dictate how much water you need to add to your plant and how often.
For more information on which humidifiers work best for tropical plants and my personal recommendations, click here.
---
Water Deeply, Instead of Lightly and Frequently
There are two basic methods for watering houseplants. The first is to water with a small amount of water frequently. The second is to water deeply with a large amount of water less often. The second option is almost always better for your houseplants.
Your Money Tree should be planted in a container with a hole in the bottom to assist with drainage. If you do not have your tree planted in a container like this, beware. Standing water is not a friend to Money Trees. If I were you, I would move my tree to a proper container immediately, rather than risk overwatering it.
Once your plant is in the proper pot, you should water it thoroughly until about 20% of the water you put in runs out through the drainage hole in the bottom. This ensures that the water has penetrated all of the soil and has been able to reach the roots system of your Money Tree.
---
What Water is Best for Money Trees
Tap water is okay for Money Trees. Generally speaking, the water that is safe for us to drink is also safe for them. But there are a few other options that would be better for your tree.
Distilled water is the best option for watering houseplants, but it is also the only option that will keep you running to the store. The process of distilling water removes chemicals and minerals from the water that may build up in your plant, and distilled water is the safest option to use when watering your Money Trees.
However, leaving tap water out overnight actually mimics the distilling process. This is the method I use for treating most of my plants. I simply fill up a bottle of water and leave it on the counter for a day before treating my plants. When you leave tap water out in an open container for 24-48 hours, many of the chemicals evaporate out of the water, leaving it as a much better option for your houseplants than tap.
No matter what water you use to water your Money Trees, room temperature is always best. Water that is too cold or too hot can damage your plant.
---
How to Use a Moisture Meter to Check Money Tree Soil
As I said before, moisture meters are a great option for plant owners that aren't entirely comfortable watering their Money Tree. Moisture meters are inexpensive tools that, when inserted into the soil of your plant, shown on an easy-to-read scale what the moisture content is.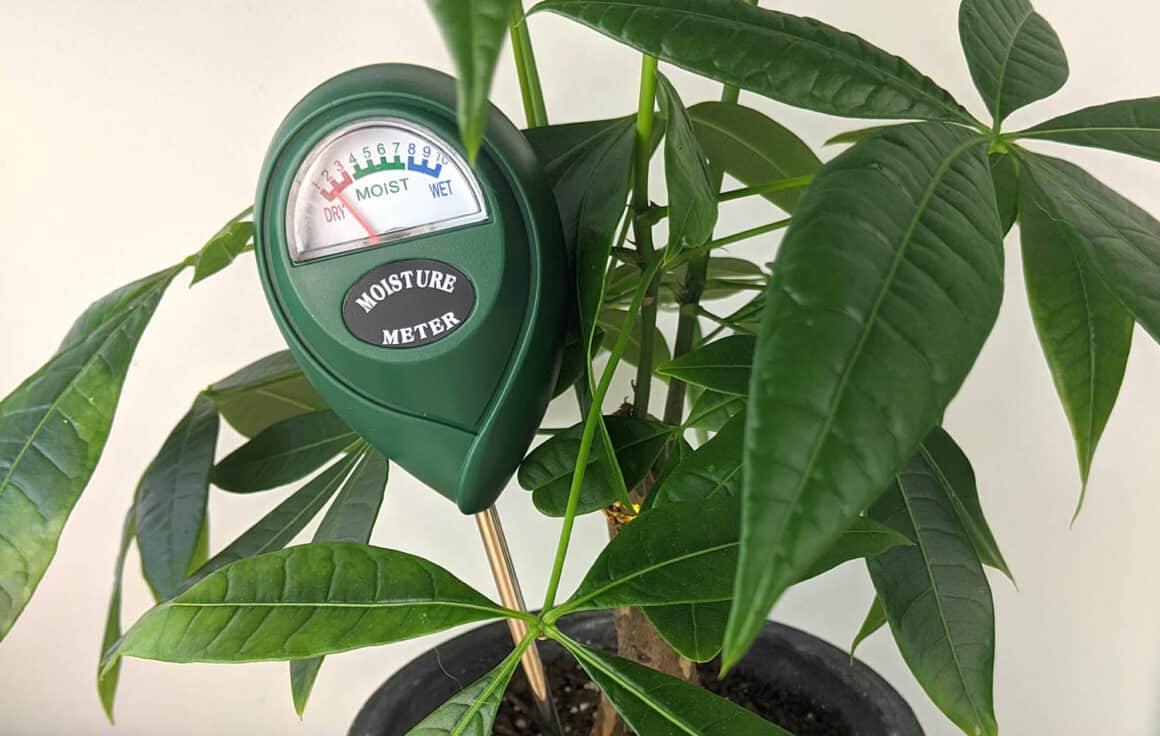 To use a moisture meter, insert the metal rod about 3/4s of the way into the pot. Testing the surface won't yield accurate results because most of the plant roots are further down.
The meter should tell you quickly how much moisture is present in your Money Tree's soil. Many also come with guides for individual plants that let you know when to water based on your moisture meter.
Money Trees should be watered when the soil reading starts leaning towards the "dry" side. You should not water the tree if it is too far to the "moist" side.
---
Signs Your Tree Needs a Drink
While overwatering a Money Tree will lead to certain death for your beloved houseplant, remember, underwatering isn't good for them either. These are trees that are native to swamps and moist areas and will need to be watered regularly.
WRINKLED LEAVES
One of the most common indicators that a Money Tree needs water is wrinkling or curling leaves. If you see this happening to your plant, check the soil with your finger or moisture meter and water it thoroughly.
CRACKING & HOLES
Another indicator is the appearance of cracking or holes in the leaves. However, this may also be a sign of pests infecting the plant. If you see holes, be sure to thoroughly inspect your tree for any evidence of aphids or mites. If your tree is clean, check the moisture level in the soil and water.
BROWN TIPS
Lastly, leaves with brown tips are usually a sign of underwatering. However, if you notice brown tips on your plant and the soil is wet, this could point to another problem: overwatering.
---
Signs That You've Overwatered Your Money Tree
We don't always know what's best for our plants. This statement is one that is both obvious and still took me a long time to learn. We love our plants and want them to thrive, but without proper plant knowledge, we often pay too much attention to their care and end up killing them with kindness.
The line between properly watering and overwatering a Money Tree is a thin one. It's easy to think that if some water is good, more water is better, but in the case of a Money Tree, this is a recipe for disaster.
Just as there are some clear physical signs that your Money Tree is thirsty, there are also some pretty clear-cut indicators it could use a break from watering.
DISCOLORATION
The most common indicator of an overwatered Money tree is found in the discoloration of its leaves. Leaves that are pale green, yellow or brown, all usually point to an overwatered Money Tree and are potentially signs of root rot.
BROWN TIPS
Brown tips can be a sign of underwatering but have also been linked to overwatering. When roots are overly wet, they can no longer absorb nutrients, oxygen, and water. When they can't absorb those things, they can't send them out to the rest of the plant. The result is leaves that dry up and fall off.
MUSHY STEMS
Droopy or mushy trunks are also a clear indicator of overwatering. When the plant has been kept too wet, its roots will start to rot and will no longer serve as a firm foundation for the plant.
Being diligent when watering is essential to prevent overwatering. Be sure to check the soil before watering, so you aren't giving it too much water too soon. And remember, never let your tree sit in water. If water has pooled into your plant's sauce, it should be drained.
---
The Problem With Overwatering Money Trees: Root Rot
All plants suffer when they've been overwatered, and Money Trees are no exception. While these plants are incredibly hardy, overwatering your plant will almost always send it to its grave.
The biggest issue with overwatering is that it leads to root rot. Root rot is caused by a fungus that attaches to plants' roots, preventing them from getting the nutrients they need. It can be aggressive and is a common cause of plant deaths.
Any of the signs discussed above (yellow or brown leaves and droopy, mushy stems) can be indicators of root rot. To check for this, gently pull the tree from its pot and inspect its roots. Healthy roots should be thick and white. If the tree's roots are brown and mushy, it has root rot.
There is usually a chance to save the plant if the rot is caught early enough. To save a tree with root rot, you'll need to follow these steps:
Remove the plant from its pot and gently remove the fungus-infested soil. Do not reuse this soil! It should be thrown away immediately.
Sanitize the pot so that there are no fungus spores left on it. I like to use a mixture of one part bleach to ten parts water.
Gently rinse the roots off. Try to avoid using cold water, as that may shock the plant.
Once all of the diseased soil is washed off, examine the roots and prune back any that show signs of rot.
Once the tree has been pruned, replant it with fresh, well-draining soil into a pot with a drainage hole.
After repotting, be sure to adjust your watering system to prevent it from happening again.
For more information on saving an overwatered Money Tree from root rot, read this article.
---
Final Thoughts
Money Trees are gorgeous, exotic plants that can spruce up any space, but they require care that can sometimes be confusing. Despite being native to tropical, moist areas, Money Trees are susceptible to root rot. Getting watering right has to be a top priority for Money Tree owners to prevent damage.
Thankfully, there are tools to make keeping a Money Tree easier. A moisture meter can guide new plant owners on when it's best to water their tree, which can prevent under- and overwatering. Both of which can hurt and even kill a Money Tree.
These plants can be sensitive. Besides humidity and watering concerns, Money Tree owners need to be diligent about getting their tree the right amount of light and preventing it from being exposed to drafts.
But don't let fears of failure keep you from investing in a Money Tree! There are plenty of resources to guide you on proper Money Tree care. Good luck!