Monsteras are among today's most popular houseplants, but people are also confused by their classification. What are they? Philodendrons? Palms? The list goes on and on. It is no wonder that people are so curious about them since they are often sold under a variety of confusing nicknames.
What is a Monstera deliciosa? Monstera deliciosa, also called a "Swiss Cheese Plant," is an evergreen aroid. It is a vining plant of the Arales order and the Araceae family. Monsteras are characterized by their broad, fenestrated green leaves with splits and holes and their large, reaching aerial roots.
Recognizing and understanding the characteristics of a plant is essential in providing it with the best care. Curious about what makes the Monstera Deliciosa an aroid, vining plant? Or are you wondering why it isn't a palm, succulent, or Philodendron? The answer is in the biological classification of the plant.
---
What is A Monstera Deliciosa?
A Monstera deliciosa is a tropical species of vine recognized for the iconic, oval holes and splits in their foliage. These holes are called fenestrations and they take a while to develop as they typically only occur in more mature plants.
The more mature your plant is, the more likely your Monstera will produce a leaf with a fenestration. For instance, one of my Monsteras is still fairly young (about two-three years old) and only occasionally produces a leaf with a few splits and fenestrations. The older it gets, the more splits I begin to see.
Monsteras go by many names, including; the Swiss Cheese Plant, Hurricane Plant, Mexican Breadfruit, and–incorrectly–a Split Leaf Philodendron. These gorgeous plants are native to Hawaii and Central America, and start out small but can grow to be huge in both your home and in the wild.
Monstera deliciosas should not be confused with the related species, Monstera adansonii, which has smaller, more textured, oval-shaped foliage. While Adansonii has fenestrations, they lack split leaves and are a more traditional-sized vining plant.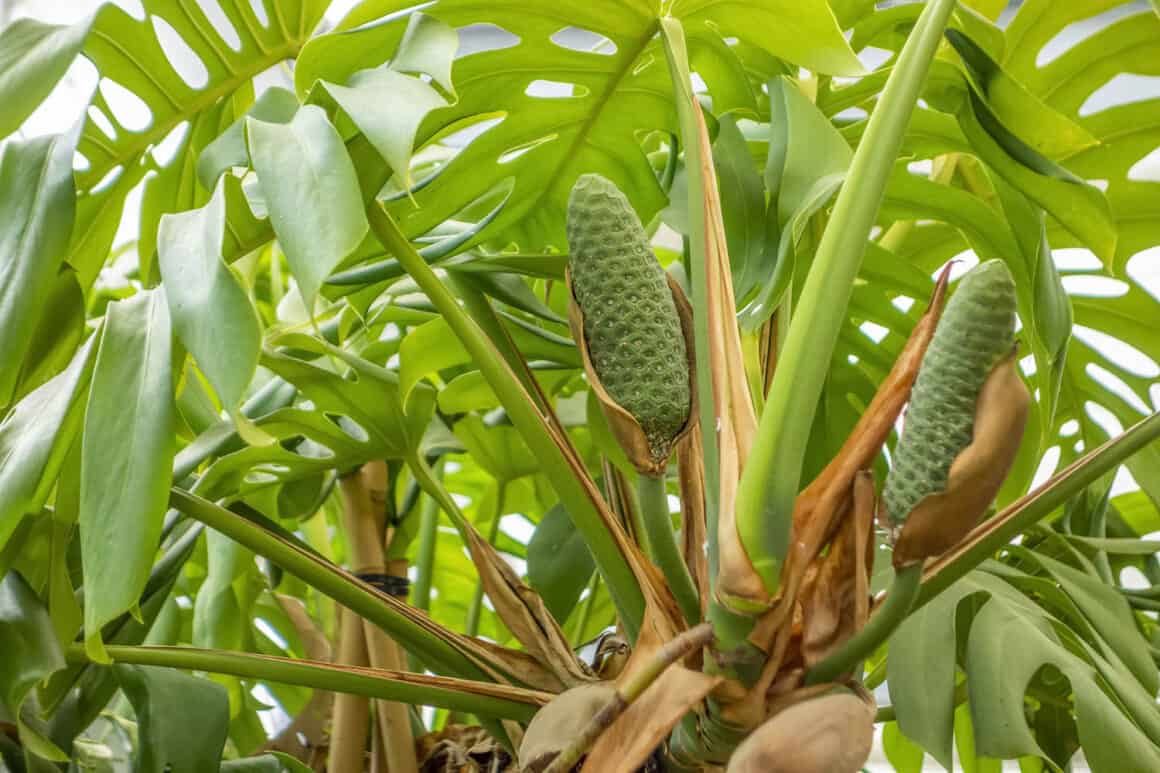 As previously mentioned, Monstera deliciosas are part of the aroid family, and while they rarely flower or produce fruit indoors, they are one of the few aroids that can produce fruit in the wild. The fruit is often referred to as Mexican Breadfruit and is shaped like a corncob. It is said to taste like a mix of pineapple, mango, and banana, and while the fruit is delicious, the rest of the plant is poisonous. To read more about Monstera fruits, read this article.
---
Are Monsteras a Type of Philodendron?
There are nearly 500 different species of Philodendron, but a Monstera isn't one of them. While the term 'Split Leaf Philodendron' might incorrectly be used interchangeably with Monstera, the two are entirely different plants. Philodendrons are also in the Araceae family, but they are in a different genus and species. This means that the two cannot cross-pollinate, and are therefore not the same plant.
While many people think they look the same, it is relatively easy to tell the difference between a Monstera Deliciosa and a Split Leaf Philodendron. Monstera leaves are smooth and heart-shaped, while the real Split Leaf Philodendron (the Thaumatophyllum Bipinnatifidum) has more angular, textured, almost ruffle-y foliage that lacks fenestrations but does have splits.
Also, Philodendrons do not produce edible fruit like the Monstera and tend to trail rather than climb. Like Monsteras, Philodendrons are native to the Americas but can also be found in the West Indies. For more information on the difference between Monsteras and Philodendrons, click here.
---
Is Monstera a Vine?
Yes, a Monstera deliciosa is a vine, but instead of trailing down like the Philodendron or becoming ground cover like Ivy, Monsteras climb up using their aerial roots. In the wild, they typically attach themselves to trees or rocks, searching for sunlight after growing along the dark rainforest floor.
This is why many plant owners add a small trellis or moss pole to their Monstera pot as they get older. Monsteras prefer to attach to something as they continue growing; otherwise, they lose their shape and struggle to keep themselves upright.
Technically speaking, Monsteras are epiphytes, which is the scientific name given to a plant that grows vertically using the support of other plants. They are not considered parasitic, however, since they do not harm the plant they're growing on.
While many vining plants stay relatively small like Pothos and Philodendron species, Monstera grows to have massive trunks, leaves, and aerial roots. While not your average vine, Monsteras are certainly considered to be vining plants.
---
Is a Monstera an Aroid?
Aroids are members of the Araceae family. And since Monsteras fit in that same classification, they are aroids too. This is a huge plant family, and many of them are very popular as houseplants, including Pothos, Philodendrons, ZZ Plants, Alocasias, and many more. However, it is important to note that not all aroids are vining plants, nor are all aroids Monsteras.
In the wild, aroids are commonly found growing on the forest floor and have adapted to surviving even the harshest low light conditions. Aroids typically stay in the shade of the forest understory but occasionally receive instances of dappled sunlight. This quality makes Monsteras so forgiving as houseplants–an aroid born in the understory can usually withstand almost anything.
Because aroids typically do not flower but rather emphasize foliage, they collect a lot of energy, which allows them to stay beautiful and green all year long. As a result, aroids have some of the most diverse and interesting foliage in the entire plant kingdom. Additionally, their typically waxy leaves allow excess rainwater to slide off and ensure the plant doesn't accidentally drown from being overwatered.
Aroids are also interesting because they are incredibly easy to propagate and root in water. But it is important to recognize that water does not have the necessary nutrients plants need to thrive long-term, and therefore propagated Monstera cuttings should not stay in water forever.
---
Is Monstera a Succulent?
A Monstera is not a succulent. Succulents are a group of plants that store water in their leaves, and although they vary from genus to species, their leaves tend to be thick and fleshy. Monsteras have thin, heart-shaped, fenestrated foliage, instead of thick, water-filled leaves and stems.
A succulent leaves' ability to store water allows them to thrive in dry climates and endure drought for extended periods of time. They hate humidity (which is the opposite of Monsteras), and if exposed to too much moisture, their roots and fleshy leaves will rot and collapse, killing the plant.
While Monsteras prefer warm, tropical climates and can withstand colder temperatures. Most succulents in the same environment cannot thrive. Most of the time, a succulent in colder temperatures will develop mushy leaves and freeze to death.
Like aroids, succulents propagate easily. But unlike the Monstera and other aroids, newly formed succulents grow from fallen leaves instead of leaf and stem cuttings.
---
Is Monstera a Palm?
While I have seen fake Monsteras at Target that resemble palm trees, a Monstera is most definitely not a palm. Despite both plants originating from tropical regions, these two are incredibly different.
There are roughly 2,600 different species of palm trees from over 181 genera in the Arecaceae family. The Arecaceae is incredibly diverse and contains species that exist all around the world, even the rainforest!
Palms come in many shapes and forms, like shrubs, trees, or even big, woody vines (like the Liana plant). While there are thousands of different species of palms, these trees are typically characterized by their evergreen fronds that sit on an unbranched stem. More specifically, palms consist of a trunk, stem, and leaf (frond).
Monsteras are members of the Araceae family and are not even related to the similar-sounding Arecaceae family. In fact, the Split Leaf Philodendron is a closer relative to the Monstera than the Monstera to the palm.
It is important to note that not all Palm Trees are actually 'trees,' and not all plants referred to as palms are actually palms. For example, the Yucca Palm, Sago Palm, and Traveler's Palm are not actually a part of the Arecaceae family. Like the Monstera, there is a lot of confusion surrounding what classifies or characterizes a palm tree, especially when many plants are incorrectly named.
---
Basic Care for Monstera Deliciosa
Now that you understand the classification of this popular houseplant, you may be wondering how to care for a Monstera deliciosa. The truth is that these houseplants are easy to manage and can survive through various conditions and environments.
For the healthiest Monstera, place your plant in a room with a higher humidity level (think bathrooms, kitchens, and basements) and make sure it has access to lots of bright, but indirect light. Monsteras can survive in lower light areas but will give you more growth with better, indirect exposure to the sun.
Monsteras should only be watered when the top one to two inches of soil are dry. Always check the soil with your finger or a moisture meter (like this one from Amazon) before adding more water and water thoroughly until the excess flows out through the drainage hole in the bottom of the pot.