It's hard to deny the allure of Fiddle Leaf Figs. These trendy house plants seem to have popped up everywhere over the last few years. Their giant leaves give them a distinctive sculptural look that suits any decor. However, Fiddle Leaf Figs have a reputation as being difficult to grow successfully. Among their other famously fussy traits, Fiddle Leaf Figs are also susceptible to some of the common insects that attack plants.
Fiddle Leaf Figs are susceptible to common insects that attack houseplants, such as scale, spider mites, mealybugs, and fungus gnats. Most pests can be treated with neem oil or insecticidal soap. Both treatments are effective but non-toxic, so you can use them indoors safely.
If you've seen pests or your Fiddle Leaf Fig is showing symptoms, read through this article to learn more about the most common insects and how to get rid of each. The key to getting rid of insects is to treat them early and consistently, so don't let the problem progress if you suspect a pest problem.
---
Treating Pest Problems on a Fiddle Leaf Fig
Most insects that attack Fiddle Leaf Figs can be treated with one of two options: neem oil and insecticidal soap. I'll review the pros and cons of each below and then note which product is best for each type of insect.
Neem Oil
Neem oil is my top recommendation to treat most pests on your Fiddle Leaf Fig. Neem oil comes from the neem tree and has long been known as a folk remedy to treat a variety of skin and hair conditions. In the U.S., it is most commonly used for horticultural treatments.
Neem oil is a great option for treating houseplants for several important reasons. First off, it is effective against a wide range of problems, including dozens of the most common pests that feed on indoor plants. It works by disrupting the insects' reproductive cycle, so it is not a traditional pesticide that kills insects with a toxic poison.
Neem oil is not harmful to children or pets, so you don't need to worry about using it in your home. It is also non-toxic to most beneficial insects like bees and ladybugs (unless you spray them directly). You can feel good about using it even if your plant is outside sometimes.
Finally, neem oil is also fungicidal. It can treat and prevent fungal infections, making it a smart option for all-purpose treatment and prevention of a variety of issues. It also possesses some antibacterial properties.
Note that some neem oil products contain ingredients that can be phytotoxic (damaging to leaves) in some plants. It is best to use cold-pressed raw neem oil. Be sure to apply neem oil in the evening since it does make plants more sensitive to direct sunlight after treatment. I usually prefer to keep my plants in a protected area for at least 1 or 2 days after treating them with neem oil.
Want to read more about neem oil and how the specifically work on Fiddle Leaf Figs? Read: Neem Oil and Fiddle Leaf Figs: Can You Spray Your Fig for Pests?
---
Insecticidal (Horticultural) Soap
Insecticidal and horticultural soaps are also products that can be used against various insect pests on indoor plants. You can purchase them or make your own using commonly available ingredients.
These soaps are effective against many soft-bodied insects, including spider mites, thrips, scales, whiteflies, mealybugs, and aphids. They work because they contain potassium salts of fatty acids (also known as soap salts), which dissolve the waxy coating on insects. This dries the pests out, and they eventually die.
Because the active ingredient in insecticidal soaps is simply that – soap – they are not harmful to humans, pets, or beneficial insects. However, you may need to reapply the treatment about once a week to ensure continued effectiveness.
---
The Most Common Fiddle Leaf Fig Pests
Fiddle Leaf Figs are susceptible to many of the common insect pests that plague houseplant owners, including scale, mealybugs, and spider mites. They seem to be especially attractive to spider mites. Some Fiddle Leaf Fig owners also find that their plants are infected with fungus gnats, although these are not related to the plant itself but rather the soil conditions.
Fiddle Leaf Figs have thick leaves and woody stems, so they are somewhat resistant to the types of pests that feed on leaf tissues. However, that doesn't mean they never get insects. Like many other tropical plants, Fiddle Leaf Figs can fall victim to several types of sucking pests.
---
Spider Mites
Spider mites are tiny arachnids that feed on the tissues of plants. Unfortunately, they are excellent at moving between plants that are close together, so if one plant gets them, other plants are also likely to be affected too. You should quarantine a plant as soon as you identify spider mites.
Mites can be hard to see with the naked eye. There are a few different varieties, so they might be red, brown, yellow, or even green. Once they establish themselves on a Fiddle Leaf Fig, identification becomes much easier because of their telltale webs.
Spider mites build webs in between stems and sometimes also on the backs of leaves. Looking closely, you can see the small specks of the mites themselves moving around on the webs.
The damage caused by spider mites starts off as small dots on the leaves, followed by discolored leaves and wilting. Left untreated, leaves will turn yellow and fall off. These symptoms can be similar to those caused by other issues, so be sure to identify that it's actually a pest problem.
Getting rid of spider mites is difficult because they are so small and can easily hide in the nooks and crannies of your plant. To treat spider mites, start by washing off the webs and cleaning both the tops and bottoms of all leaves. Using a hose outside is the best way to do this, but you can also Spray it off in the shower.
After washing the plant, treat it with neem oil or insecticidal soap according to the instructions. Multiple treatments may be necessary as larvae hatch and mature, but consistent use will control multiple generations.
---
Mealybugs
Unlike spider mites, mealybugs are usually easy to see without a magnifying glass and (once you know what you're looking for) are immediately identifiable. These insects are white and fuzzy-looking.
Mealybugs tend to prefer the undersides of leaves and the crevices in the joints of Fiddle Leaf Figs, which makes them a bit more difficult to discover. You may notice the symptoms of mealybug infestation before you see the insects themselves.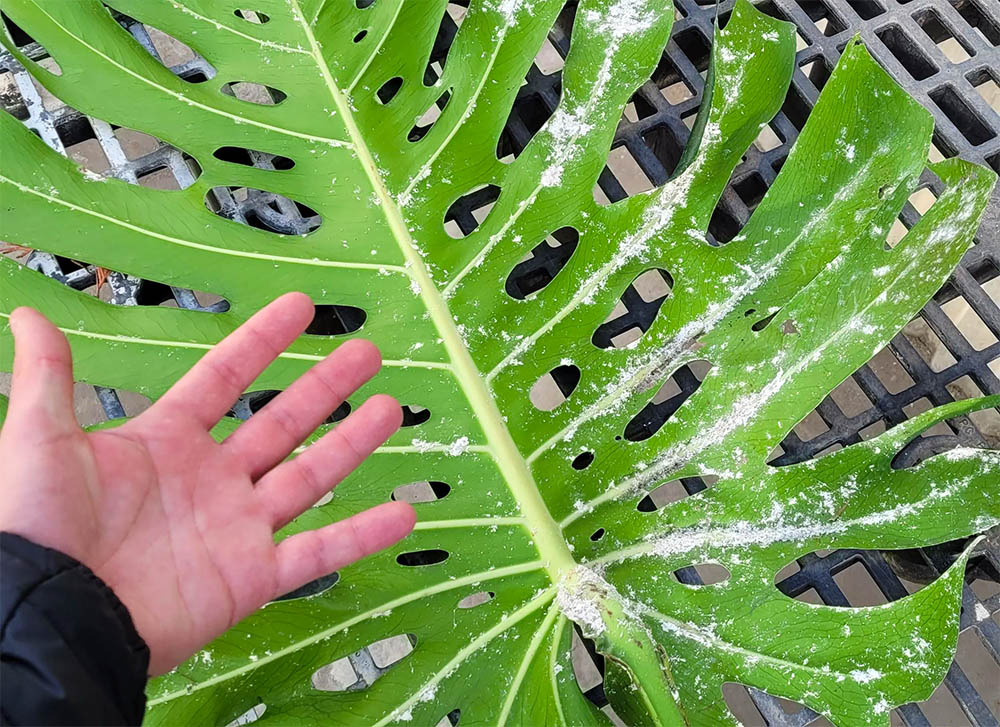 Like other sucking insects, mealybugs feed on the juices from your Fiddle Leaf Fig's stems and leaves. As the plant weakens, the leaves will start to wilt and become discolored. Some leaves may yellow and eventually drop off the plant. Your Fiddle Leaf Fig may also show stunted growth.
Mealybugs can be treated with neem oil or horticultural soap. You can also make a solution of 1 cup rubbing alcohol (70%) to 1 quart of water and use this to spray on any affected areas. One or two drops of dish detergent could also be added to this solution to increase its effectiveness.
Alcohol dissolves the insects' protective coating and can kill both adult insects and their eggs. You can also use a cotton ball soaked in rubbing alcohol to apply directly to visible insects, but this is unlikely to eradicate all of the mealybugs.
If your plant is heavily infested with mealybugs, you may want to prune back the areas with the most insects instead of trying to treat them. Some plants cannot be saved if too many mealybugs are present, in which case you may be better off throwing away the whole plant and purchasing a new one.
Also, remember that mealybugs can quickly spread between plants in the same space. If possible, move plants outside or to a quarantine location as soon as you identify mealybugs to minimize the possibility that they will spread. It is a good idea to treat all of your houseplants with neem oil or horticultural soap as a preventative measure.
---
Scale Insects
Scale is a type of insect that can be difficult to identify because it doesn't exactly look like an insect. Someone looking at a scale insect for the first time might think that it was just a natural part of the plant. The mature scale insect looks like a smooth, brown bump. Adult scale insects attach to the leaf and don't move.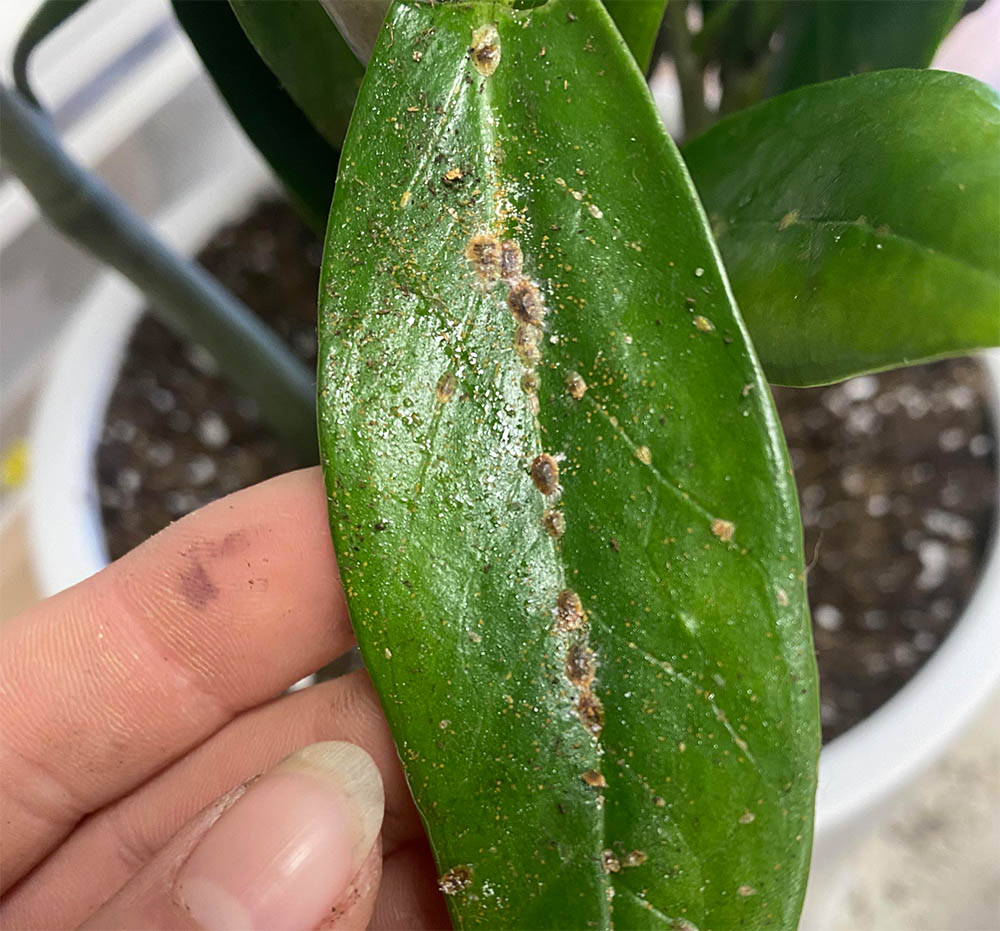 Like other pests on this list, scale survives by feeding on the tissues of a Fiddle Leaf Fig's leaves. Scale is easy to remove and kill, though. You can simply scrape the adult scale off your plant or use a cotton swab dipped in rubbing alcohol to remove any visible insects.
That said, the best way to control scale is by using a horticultural oil spray. Unlike a traditional pesticide, this oil treatment kills scale by coating the insect's exterior and suffocating it. If you use neem oil to treat scale, it functions in a similar way.
Immature scale insects, commonly called "crawlers," are much more mobile and difficult to see than their adult counterparts. To fully eradicate scale, you'll need to get rid of the adult insects and treat the plant with neem oil or horticultural soap to clear the plant of these insects at all points in their lifecycle.
You are most likely to see a scale insect itself before you notice any symptoms affecting your Fiddle Leaf Fig. Serious scale infestations can cause yellowing, withered, or dropping leaves. Leaves may be coated in a sticky residue called honeydew that is excreted by the scale insects.
---
Fungus Gnats
Fungus gnats are unique on this list in that they do not feed on your Fiddle Leaf Fig itself. Instead, fungus gnats feed on decaying organic matter in your potting mix. Fungus gnats can be incredibly annoying and difficult to eradicate. It's also quite difficult to prevent them from coming into your home since their eggs are present in many commercial potting mixes.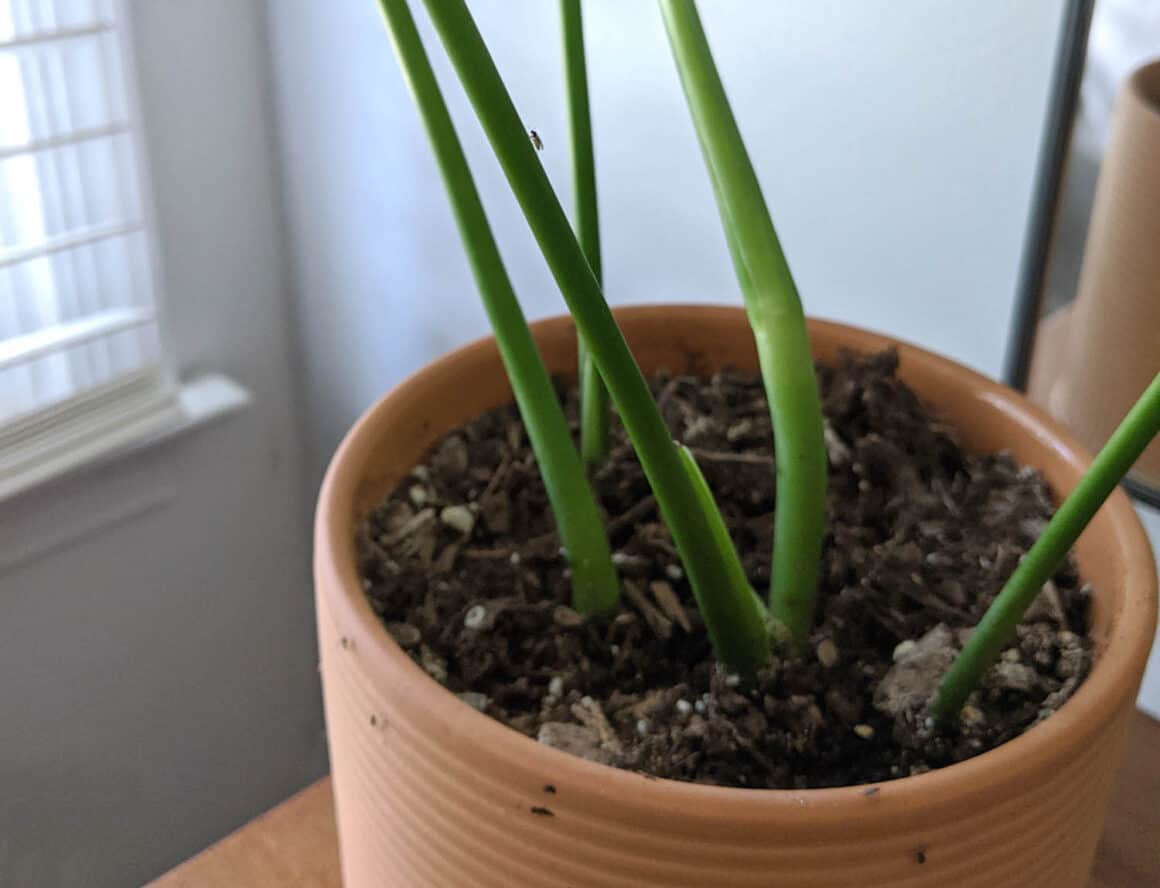 Fungus gnats are sometimes confused with fruit flies, as their behavior can be similar. However, once you know what each one looks like, it is easy to tell the difference. Fungus gnats have slimmer bodies and longer legs and look similar to a small mosquito. Fruit flies are fatter, and sometimes their bodies are brown or red. You're unlikely to see fruit flies around your plants, but fungus gnats can often be spotted crawling on the surface of the soil or flying out of the pot after you water the plant.
If your Fiddle Leaf Fig has fungus gnats, conventional wisdom says to water less. That's because fungus gnats need moisture to survive and will die off if the potting mix gets dry enough. But in practice, you may not be able to let your plant get that dry. You may prefer a different treatment.
One option is to use a product containing Bacillus thuringiensis subspecies israelensis (Bti), sold under the name Mosquito Bits. These products were designed to kill mosquitoes in standing water, such as a pond. However, they are also effective against fungus gnat larvae.
You can use them by dissolving the product into your watering can before watering, or you can sprinkle a layer of the granules over the top of the container, and they will gradually dissolve into the pot each time you water.
Another option is to put a layer of sand or fine gravel over the entire surface of the potting soil. Since the fungus gnats can't get through the sand to get to the soil, they can't lay their eggs and continue to reproduce.
To get rid of mature fungus gnats, consider using a yellow sticky trap to catch them as they fly around your Fiddle Leaf Fig. The combination of Mosquito Bits and sticky traps is the most effective for controlling a fungus gnat problem.
---
How To Prevent Insect Infestations on Fiddle Leaf Fig
Part of the reality of growing plants in our homes is that we will get insects sometimes. While the best prevention is to avoid them coming in, it's not always possible to prevent them. However, you can minimize your chances of introducing plant-eating insects by doing all of the following:
Inspect new plants before you buy them. You should also buy from reputable sellers whenever possible. Take stock of the general condition of the plants being sold, not just the individual ones you are purchasing. If there are insects on other planets, they are likely to be on yours too.
Quarantine new plants. To quarantine your newly purchased plants keep them separate from your existing collection. This could be done in a separate room or section of your home. Quarantine for a few weeks to be sure new plants are healthy and free of pests.
Monitor your plants regularly. The best way to keep your plants healthy is to catch any pest problems as early as possible. Clean their leaves at least every few weeks and monitor for any signs of disease or insect damage. A magnifying glass can be helpful to identify whether some small object is an insect or just a speck of dust.
Apply preventative treatments. You can use neem oil or horticultural soap to prevent insects and diseases before they happen. This might be especially useful if you have many plants coming in and out, have had insect issues in the past, or if your houseplants are exposed to outdoor insects.
Use biological controls. If you have a lot of indoor plants, it might make sense to introduce beneficial insects into your home. Although it may seem counterintuitive, many people have found success in stocking their homes with insects that prey on houseplant pests. Green lacewings are probably the most popular for indoor use, as they attack a variety of pests and their larvae are so driven by hunger that they can decimate an infestation in just a couple of weeks. However, biological controls are not for everyone. If the idea of putting more insects into your home isn't appealing, stick to the more traditional means of eradicating pests.
---
Final Thoughts
If your Fiddle Leaf Fig shows signs of distress, be sure to check for insects and treat the plant accordingly. There are plenty of safe and effective treatments available, depending on what sort of pest you have discovered.
I like to have both neem oil and insecticidal soap on hand at all times. This way I can apply them as preventive measures or grab them at the first sign of any pest problem.
Although it can be difficult to fully eradicate insects once they have found their way into your home, you can avoid serious damage to your Fiddle Leaf Fig with consistency and diligence. Remember, most of the pests listed above will probably take more than one treatment to eradicate.