Whether you have been propagating new Pilea babies or you're just looking to repot a mature plant, knowing what type of soil to use can be tricky. Every person you ask has a different answer. So, what soil is best for Pilea Peperomioides?
The most important factor in ideal soil for Pileas is drainage. Pileas hate to sit in anything soggy, so a well-draining, quick drying soil is key. For a store bought option, try Cactus & Succulent blends or mix some potting soil you already own with perlite or pumice to increase drainage.
There are a lot of options out there for potting soil. If you are still feeling a bit lost, read on for my suggestions for items you can buy in your local stores. I'll also provide information on how to tweak the potting soil you already have for your Pilea Peperomioides, also known as the Chinese Money Plant.
---
The Most Important Factor In Pilea Soil
Whether you've decided to purchase premixed soil or stir up some of your own, you must remember the most important factor for ideal Pilea soil is how quickly it drains.
Pileas hate to sit in soggy soil. In fact, overwatering is the number one cause of unhealthy Pilea plants. When watering Pileas, it is important to make sure that the top inch of soil is completely dry before rewatering. If your soil does not drain well, this could take much longer than with a well-draining soil. Also, it is worth noting that overly wet soil can result in a fungus called "Root Rot" that will kill your Pilea if not remedied.
Though they generally aren't thought of this way, Pileas (members of the Urticacea family) are technically perennial, evergreen succulents. While not an ordinary succulent, Pileas need the same type of soil as other succulents – one that is porous, drains well, and dries quickly.
---
Get the eBook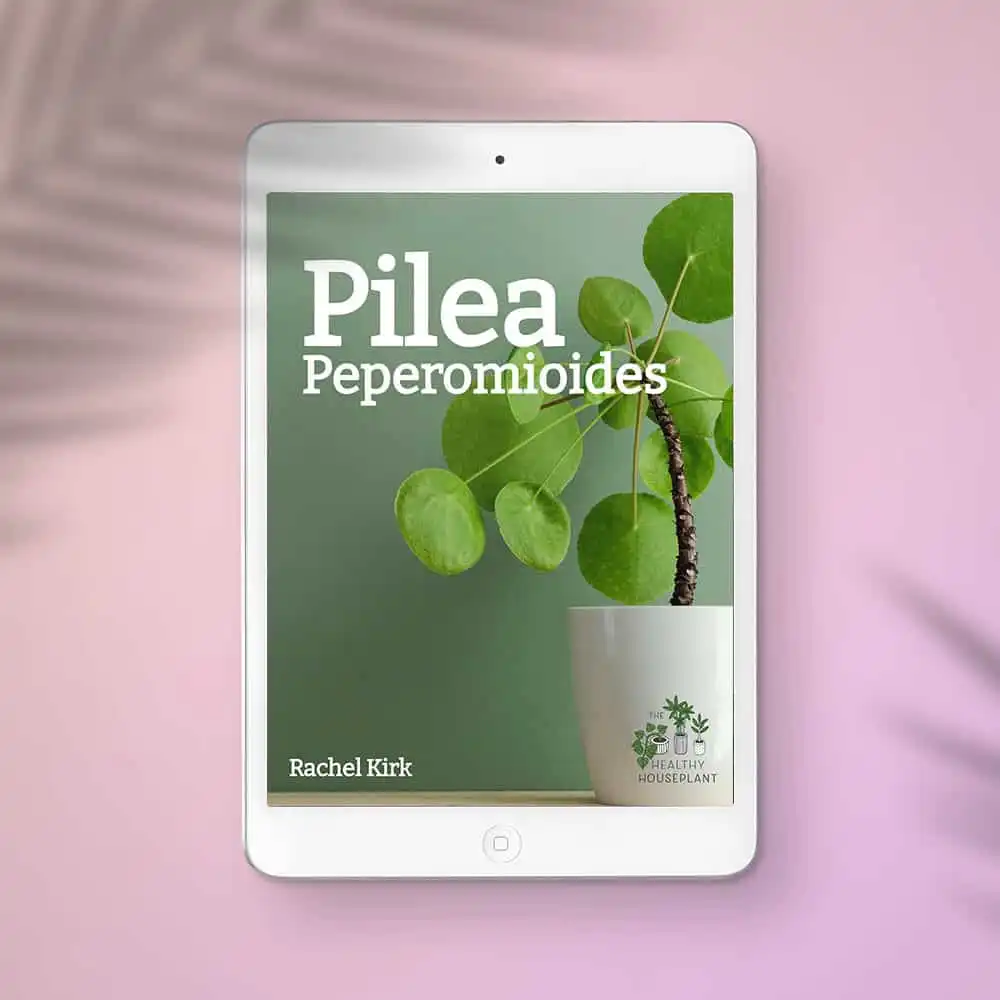 The Ultimate Pilea Care Guide
Don't waste your money by bringing home a Pilea that you're going to kill. Get our 70+ page ebook, and learn all the tips and tricks it takes to make your Pilea happy and healthy for years to come.
GET YOUR COPY NOW
---
Premixed Potting Soil Available in Stores
There are a lot of potting mixes available in most local garden shops. If you would like to buy a mix you can take directly off the shelf and immediately plant your Pileas into, you'll want to get a cactus and succulent mix. This will ensure that the soil you've selected won't retain too much water and will drain quickly.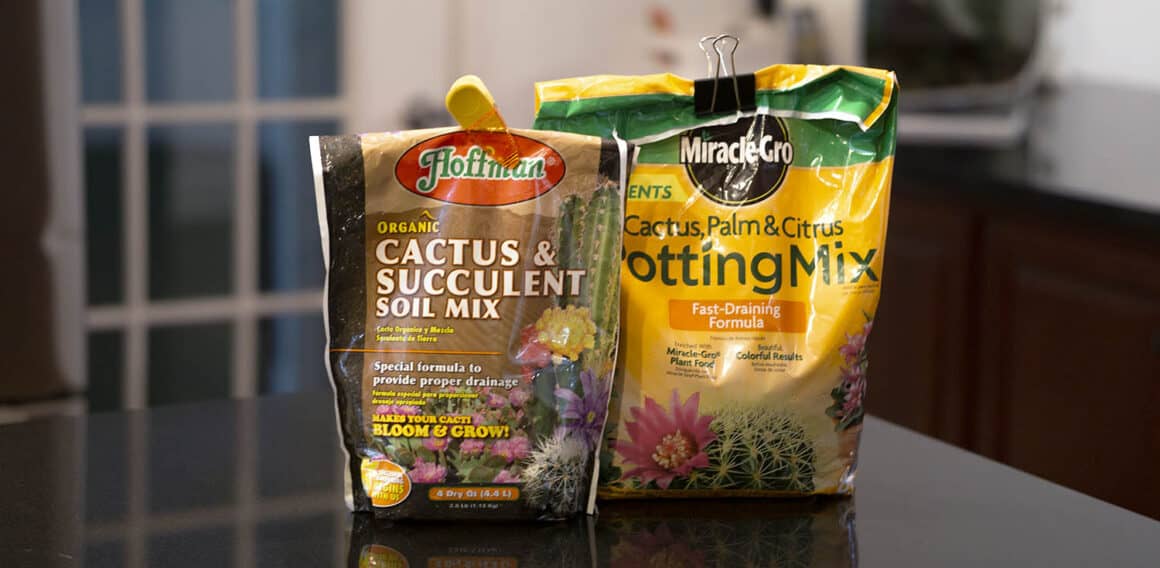 A very popular premade potting soil for use with Pileas is this one. It contains a mixture of peat moss, peat, limestone, perlite, and sand.
The most readily available cactus mix is Miracle-Gro Cactus, Palm, and Citrus Potting Mix. This mix includes peat moss, sand, and perlite. Generally the lowest cost premixed soil, Miracle-Gro is a great option for Pileas and is enriched with Miracle-Gro plant food that should feed your Pilea for a year or more. Miracle-Gro Cactus, Palm, and Citrus Potting Mix is available at Walmart, Lowes, and lots of other stores you probably have near home. If you cannot find it available locally, it is also available online.
---
Creating Your Own Soil Mixture
If you prefer a more hands-on or DIY solution to Pilea soil mixtures, you can create your own potting soil by using the potting soil you already have at home and adding in some perlite or pumice to improve the drainage for your Pilea.
Sphagnum peat moss is the main ingredient in most potting soils. While it is an excellent base for potting mix, it often needs limestone to be mixed in to balance its pH and additional nutrients incorporated for your plant. If you are experienced at creating your own soil from scratch, you should be able to do this easily. For everyone else, I recommend starting with a store bought potting soil. It already includes everything Pileas need and just requires one additional ingredient, either perlite or pumice.
Perlite is an additive in lots of potting soil recipes. It is a mined volcanic rock that expands when heated, making it look like a small white styrofoam ball. When added to potting soil, perlite helps to improve the drainage of the mix.
Pumice is similar to perlite. It is also a mined volcanic rock and behaves similarly when mixed into potting soil. However, because it is heavier than perlite, it will not rise to the top of the mix after watering like perlite often does.
I like a mixture of 4 parts soil to 1 part perlite or pumice. Whether you choose perlite or pumice will depend on what is available to you and won't make a lot of difference.
This is not a science. Different people have success with different mixtures as their environments are different. Experimentation is the best way to find the perfect soil for your Pilea plant.
---
Which Containers Are Best for Pileas
Whether you are planning to repot a mature plant or create a new home for some propagated pups, it is likely that once you have the soil figured out you will need to turn your attention to a container.
When choosing a container for your Pilea, the most important aspect, as with the soil itself, is excellent drainage. For this reason, you should always choose a pot with a drainage hole in the base.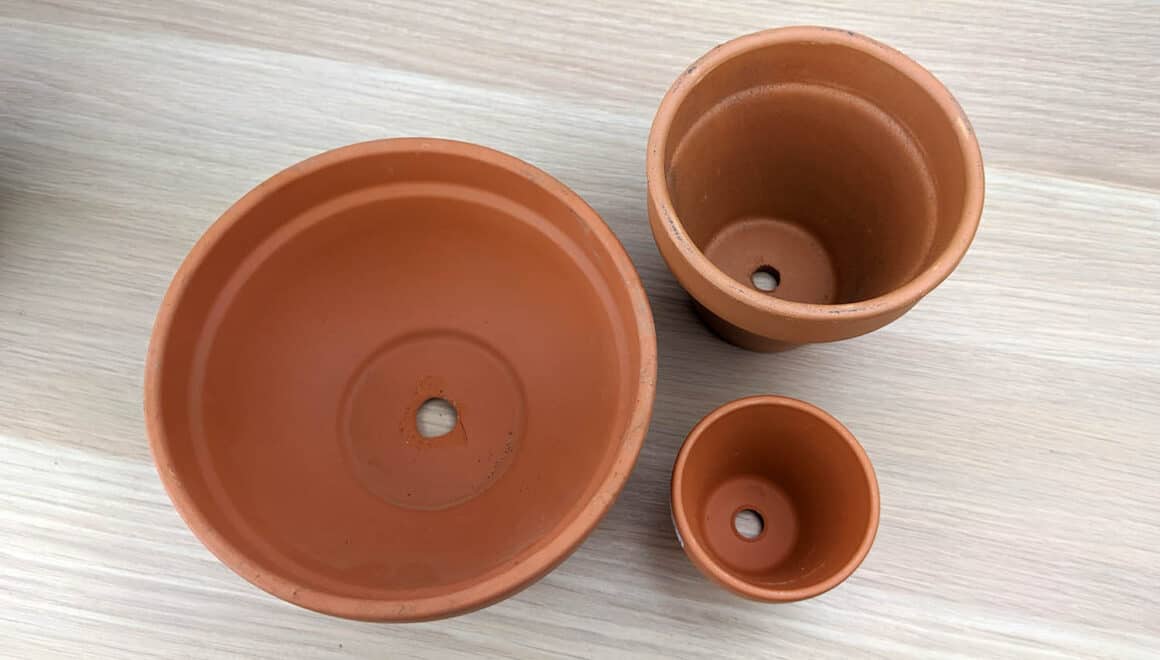 Most people prefer the use of terra cotta pots for Pilea plants because they are simple to find and inexpensive. And, more importantly, terra cotta absorbs water and allows the soil to dry out more quickly. If you have been known to overwater your plants in the past, terra cotta may be a bit more forgiving than a glazed ceramic or plastic pot.
Size matters. If you choose a pot that is too big for your Pilea the soil will take longer to dry out and could potentially cause your Pilea to develop root rot. If you are repotting a new plant that has just arrived to you, choose a pot that is similar in size to the plastic pot it came in. Then, when repotting in the future, choose a pot that is only 1-3 inches larger than the previous pot.
---
When to Repot Pileas Plants
Not sure if you should repot your Pilea? Pileas are slow growers and don't need to be repotted often. Your new Pilea should be able to continue on in its original container for about a year before needing to be replanted. After that, once every two years or so should be adequate.
If you have new Pilea babies that you are wanting to pot in their own container, it is best to wait until the plantlets are 2-3" tall before removing them. Remember, the larger the baby, the better chance it has of surviving without its mother plant.
I recommend repotting Pileas in the early spring or summer. Like most plants, Pileas are in growing season during the warmer months of the year and often slow down in winter and become dormant. Any pruning, potting, or relocating is almost always best when done within the growing season.
For more information on repotting Pileas, click here.
---
Find What You Like
If you read online forums about Pileas, you'll find that almost everyone has their own soil mixture that they prefer. Finding the "perfect" soil usually involves a bit of trial and error. The simplest option is to buy a premixed cactus or succulent soil mixture, but if you don't have that available to you, or you just want to try something new, mixing your own Pilea soil is simple. To find the ideal soil for a Pilea where you live, try out some of the options mentioned above and find what you like and, more importantly, what your Pilea likes.
---
For More Information on Your Pilea
Have more questions about the best way to care for your Pilea Peperomioides? Want to know what you can do to keep it happy and healthy? Grab our latest book, Caring for Pilea Peperomioides, and get all that and more.
Our eBook covers:
The Number One Way People Kill Pileas
What Indoor Conditions Will Help a Pilea to Thrive
The Right Way to Water and Light These Plants
How to Feed, Prune, and Repot Your Favorite Houseplant
All The Options for Propagating Pileas
Step By Step Instructions for Diagnosing and Treating Unhealthy Pileas
And More!
If you've got more to learn, grab a copy of our book today and get your Pilea Peperomioides on track for show-stopping growth. Get your copy now!