When your Anthurium shows symptoms that could be insect damage, it's important to promptly confirm if it's infested. Left untreated, bugs can quickly overwhelm your Flamingo Flower and spread to attack your other houseplants. So what are the most common Anthurium pests, and how can you stop them in their tracks?
Anthuriums are susceptible to attacks from scale, aphids, and spider mites, all of which can cause yellowing and shriveled leaves. Most of these bugs can be killed by spraying the plant with a dilute solution of soapy water, though adult scale insects are more stubborn and may need to be wiped off with rubbing alcohol.
If you suspect your Anthurium has attracted pests, isolate it immediately from any other plants, limiting the spread of the infestation. Be prepared for a few rounds of treatment; you'll usually have to spray or wipe down your Flamingo Flower a few times to ensure you've eliminated the attackers at every stage of their life cycle. Read on for more information on identifying, curing, and preventing pest infestations.
---
What Is Eating My Anthurium Leaves?
The fleshy tissues of Anthuriums are irresistible to sucking insects and arthropods. These nasty little critters pierce leaves and stems to drink up the nutrient-rich fluids inside. Worse, they tend to breed quickly, and they're often hard to see with the naked eye, so they may go unnoticed until your Anthurium is crawling with them.
The damage from sucking pests is more subtle than the big holes left by caterpillars and slugs. Symptoms include yellowing, wilting, shriveling, stunted growth, and deformed leaves. This damage will often be more pronounced on new growth, which is an especially tempting target for sucking bugs.
In the early stages, you can easily mistake signs of bug infestation for dehydration or nutrient deficiency. Spotting the bugs themselves is the most reliable way to tell the difference. This often requires careful inspection, so give your Anthurium a thorough looking-over once in a while. Spotting an infestation makes it much easier to defeat.
Now let's talk about the major types of Anthurium pests and what they look like when they're feasting on your plants. Then once you've determined the pest in question, scroll to the bottom of the article to find out how to eradicate the problem.
---
Aphids
This common garden pest also wreaks havoc on indoor Anthurium plants. Some kinds of aphids can reach adulthood and start laying new eggs just one week after hatching, which means their population can grow explosively. When an aphid colony gets too crowded, they'll start to develop wings to fly off and latch onto other plants.
Aphids also produce a sticky, sugary substance called honeydew, which serves as a breeding ground for fungus or sooty mold.
Do I Have Aphids On My Anthurium?
Identification is easiest if you can spot the aphids themselves. They're shaped a little bit like water balloons – which is appropriate, because they can quickly swell up with fluid as they gorge themselves on your plant. Pale green aphids are the most common, but there are a wide variety of other colors, from black to peachy orange.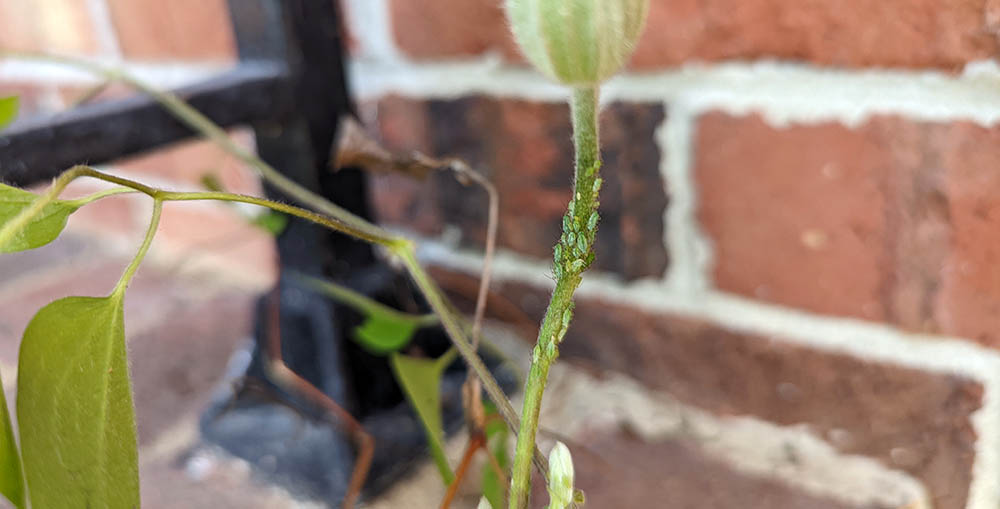 Aphid eggs are usually too small to see, but the adult insects are often visible in dense clusters along the stems of your Anthurium. The larvae leave behind whitish exoskeletons as they grow and molt; if your Flamingo Flower appears to have suddenly come down with dandruff, you may see adult aphids before long.
The sticky honeydew that aphids leave behind is another tell-tale sign, though other sap-sucking insects like scale and mealybugs produce this fluid as well. Sooty mold on your Anthurium's leaves – a charcoal-colored, powdery substance – can develop as a result of honeydew buildup.
---
Scale
Scale are small but notoriously stubborn houseplant pests. Once they find a location where they can feed, they clamp down and become totally immobile until they die (and often hang around for a long time afterward). They'll cover themselves with either a hard shell or a waxy covering that helps anchor them in place and shield them from harm.
Then they get to work draining your Anthurium and spawning hundreds of tiny larvae called crawlers. Young scale insects are invisible without a magnifying glass, and they only stay mobile until they can find a permanent spot to latch on.
Do I Have Scale On My Anthurium?
Scale is often mistaken for some kind of bacterial infection, since the insects' armor makes them look like tiny, smooth bumps on the leaves and stems of your Anthurium. The adults are about the same size as aphids and come in a similar variety of colors.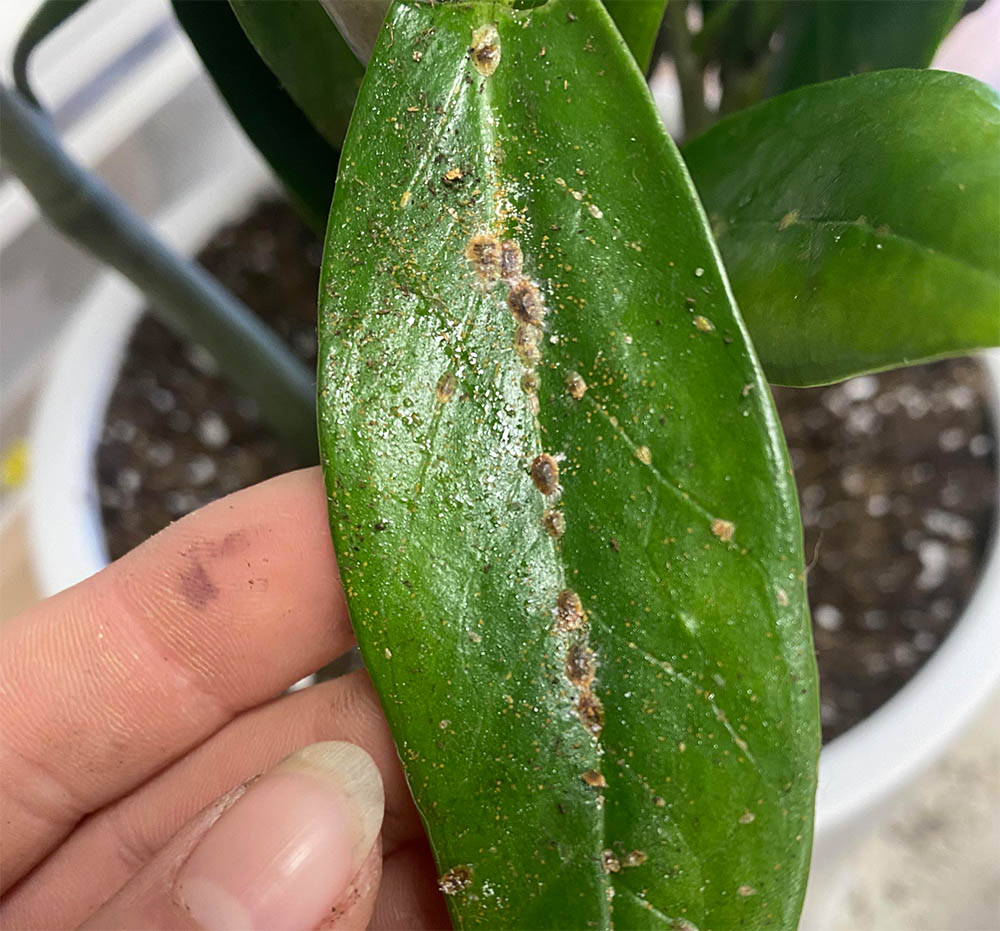 The armored lumps will usually be present in clusters, which make them easier to spot and recognize; just be aware by the time you see adult scale, there are undoubtedly lots of larvae around as well.
Like aphids, they're often accompanied by sticky honeydew that can give rise to mold. Often you'll spot the sooty discoloration on your Anthurium's leaves before you notice the tiny nubs that house the adult insects.
---
Mealybugs
Technically, these are a species of unarmored scale insects, but they look and behave quite differently from their hard-shelled cousins. Mealybugs are pale, oval-shaped bugs that look like spiky shells covered in cotton fluff. Unlike armored scale, they do move around as adults, though not very much or very fast.
They're known for concealing themselves within small crevices or junctures on plants. Some houseplant growers have even reported seeing new blooms open up with mealybugs already nestled inside!
Do I Have Mealybugs On My Anthurium?
These creatures are actually fairly easy to spot, unlike many of the other pests that afflict Anthuriums. Check your plant for clumps of fuzzy-looking white secretions and oval-shaped white insects with many tiny legs.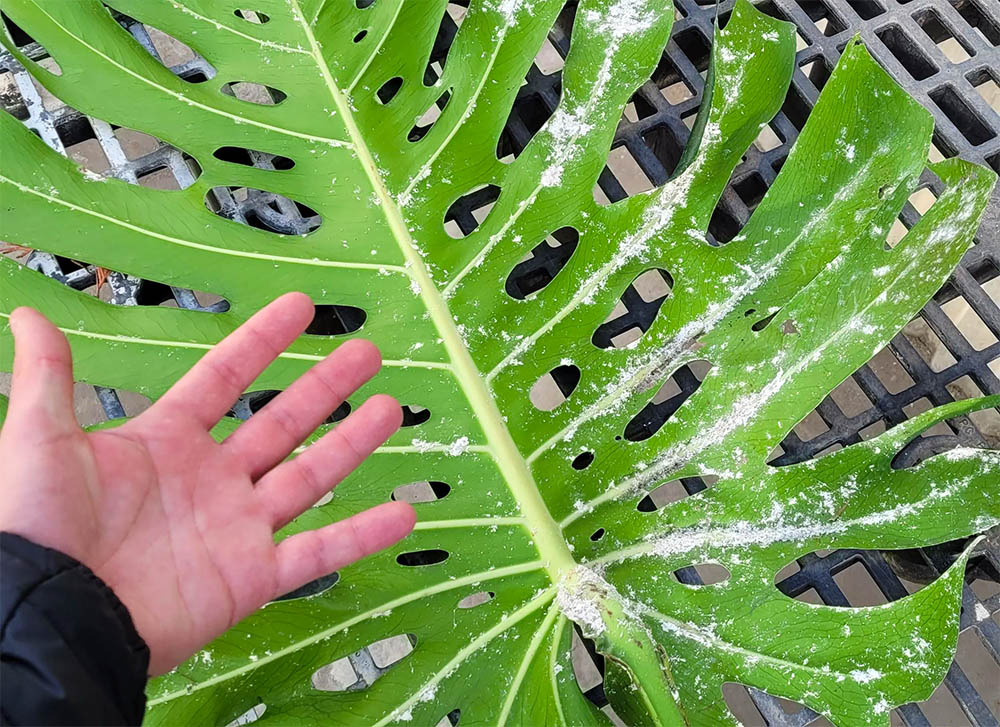 Common hiding places include the undersides of leaves and the crannies where the petioles of your Anthurium meet the stem. As with scale, the presence of honeydew and sooty mold is another tip-off.
---
Thrips
Thrips are much more active than scale and mealybugs; they jump or fly away when disturbed, and can spread quickly to other plants. They also reproduce rapidly and asexually, with no need to find mates.
Thrips lay their eggs inside the tissues of plants, and larvae fall into the soil when they hatch, both of which can make it hard to fully eradicate an infestation. It can be helpful to treat your Anthurium's potting mix in some way, as well as the foliage, in order to kill off any larvae.
Do I Have Thrips On My Anthurium?
Thrips are often less than 1/10 of an inch in length, but they move around a lot, so if there's a substantial infestation, you can often spot them crawling over the leaves. The juveniles are whitish and slightly smaller, while the adults are dark brown or black. All of them are slender with pointed tails.
In addition to spotting the insects, you can often identify thrips by their characteristic pattern of damage. They scrape away at the surface of your Anthurium's leaves, rather than the stems, leaving behind speckles or patches of pale discoloration. They may also cover your plant's leaves in small black specks of their waste.
Unlike many insect pests, you're more likely to see thrips on the top side of the leaf than the underside, though in serious infestations, they'll be all over the place.
---
Spider Mites
In keeping with their name, these aren't actually insects; they're arthropods, more closely related to spiders. Most varieties can even produce a fine webbing that lets them windsurf long distances, which explains how they seem to pop up in gardens like the result of evil magic. They're small enough to crawl through screen doors and windows too, so even indoor plants aren't always safe in the summer.
Spider mites target the tiny pores in the leaves of your Anthuriums, causing the plants to suffer from dehydration.
Do I Have Spider Mites On My Anthurium?
Like thrips, spider mites create white marks across the leaves of the plant. However, the scars from thrips are usually scattered randomly, while the marks of spider mites cluster around the veins and ribs of the leaves.
If you think there are mites on your Anthurium, you can check by tapping on a leaf while holding a sheet of white paper beneath it. If lots of tiny specks like fine grains of pepper fall onto the paper, you've got mites.
When the population gets large, most species of spider mites begin covering the plant with a wispy substance that resembles cobwebs. This webbing tends to be most prominent in the spaces between petioles and stems. Once it gets to this point, your Anthurium is in serious trouble.
---
How to Treat Anthurium Pests
There are a few steps that can help no matter which kind of creature is plaguing your Anthurium. We've laid out the process below, with notes where particular pests call for special measures. Minor infestations can often be treated with only the first few steps, while more severe problems will require you to go further down the list.
---
Step One: Quarantine Your Anthurium
If you have more than one plant, limiting the spread of the infestation is a crucial step regardless of which creepy-crawly is responsible. Move your Anthurium to an enclosed room with no other houseplants. Until you're confident the plant is cured, wash your hands thoroughly after every time you touch it.
If you use pruning shears or other tools on the plant, sterilize them afterward by wiping them down with a rag or paper towel soaked in disinfectant. 70% isopropyl alcohol, or a solution made from 1 part bleach with 9 parts water, should keep anything sinister from hitching a ride on your tools.
---
Step Two: Spray The Bugs Off Your Anthurium
Use a garden hose or a shower spray nozzle to blast as many insects off your Anthurium as you can. If you've caught the problem in its early stages, this may be enough to get rid of aphids and mealybugs. More serious infestations will require more work, but you should still give your Anthurium a rinse; reducing the number of insects on the plant is a helpful first step.
Employ room-temperature water with the strongest stream that you think your Anthurium will tolerate. This method relies on the force of the water to blast bugs off of the plant. Spray in all the nooks and crannies and across the undersides of the leaves. You'll probably want to repeat this every few days, in addition to any other steps.
If you think your Anthurium is too delicate for a spray blast, you can turn it upside down (keeping a firm grip on the stems) and dunk all its leaves into a bucket of water.
Hopefully this goes without saying, but do this in a location where the insects can't jump onto your other houseplants! Outdoors is best if possible, but the bathtub should work well too.
---
Step Three: Prune Your Anthurium
It's time for a little triage. If some of your Anthurium's leaves have been completely swarmed and savaged by insects, trim them off. This will help the plant conserve its energy and reduce the rate at which the infestation spreads.
Use a good set of pruning shears (disinfecting between cuts as described above), and wear gloves, because Anthurium sap can be irritating to human skin.
---
Step Four: Swab Your Anthurium
Prepare a dilute solution of rubbing alcohol (four parts water to one part 70% isopropyl alcohol), and get a pack of cotton makeup remover pads. After your Anthurium has dried out from its rinsing, use the pads to wipe down the leaves and stems of your plant with the alcohol mixture. Again, be as thorough as possible, and don't forget the undersides of the leaves.
This is particularly effective against mealybugs and aphids, though many growers have reported success against spider mites as well. Note: alcohol should kill scale insects as well, but the adults have some resistance thanks to their tough shells. Even when they're dead, they may still cling to the plant. To be sure you're removing them thoroughly, use a Q-tip soaked in the same alcohol solution to pry them loose.
Some Anthuriums are more sensitive than others to harsh substances like isopropyl. Test your alcohol solution on a couple of leaves before swabbing the whole plant, waiting a day or two to see if it suffers any noticeable harm.
---
Step Five: Spray Your Anthurium With Soap and Water
Liquid soap can be remarkably effective against soft-bodied insect pests, smothering them and dissolving their cells with fatty acids. There are lots of specially-formulated horticultural soaps on the market, designed to be gentle enough for leaves but tough enough to kill bugs.
You can also make your own with any mild liquid soap you have in your home, as long as it doesn't have additives like degreaser, which can strip your Anthurium's leaves of their protective coating.
Wait a day or two after treating your plant with rubbing alcohol, then dilute your soap of choice in warm (but not hot) water. Use one teaspoon of soap per liter of water. Shake the mixture thoroughly in a spray bottle and mist it over your Anthurium. This method relies on hitting every bug with the soap, so be thorough – soak every surface on the plant, paying special attention to spots with lots of critters.
Wait about 10 minutes, then rinse the plant off so that the soapy residue doesn't smother it.
Note: adult scale bugs are unlikely to be affected by soap. Their shells are just too tough. If you have an advanced scale infestation, you can skip this step.
---
Step Six: Repeat
It's practically unheard of to cure an infested plant with a single application of any non-systemic pest killer. You'll probably have to repeat your treatment at least three times, waiting 5-7 days between each application.
With scale, we recommend repeating the alcohol swab. For most other pests, repeating the soap spray should be enough.
---
Step Seven: Apply a Horticultural Oil
Neem oil is a powerful insecticide that functions like a hormonal "off-switch" for the feeding and mating behavior of sucking insects and mites. When bugs absorb this stuff, they simply stop eating and breeding, and their populations dwindle and die over time.
If the soap or alcohol treatment didn't eradicate your bug problem, adding a bit of neem oil can often finish the job.
Employ neem sparingly with Anthuriums – they're monocots, with stomata on both sides of their leaves, which makes them particularly susceptible to suffocation from oily compounds. But if you dilute it well and apply it only once per month or so, your plant should be okay.
Mix about ⅓ of a teaspoon of your liquid soap into a liter of warm water, then dissolve a teaspoon of neem oil into this mixture. You can add a bit more soap if the oil doesn't seem to be emulsifying. Shake it up well inside your spray bottle, and continue shaking periodically as you spray.
Again, test the solution on a small patch of the plant beforehand, and if you decide to go ahead with the treatment, cover your Anthurium completely. Repeat once a month while the infestation persists.
---
Step Eight: Treat Your Anthurium Systemically
Many growers prefer to stick with organic and topical remedies for their insect problems. But there is another option for truly intractable infestations: a systemic pesticide.
"Systemic" here means that the chemical is taken up by the roots and permeates the entire plant. That way, anything that bites it gets a dose, and you don't need to worry that you've missed some of the bugs. Systemic pesticides can harm pollinators like birds and honeybees. But that's likely a moot point with your indoor Anthurium.
If you want to go this route, the usual recommendation for creatures that snack on Anthuriums is Imidacloprid.
Note: thrips, mealybugs, and spider mites are notorious for developing resistance to chemical insecticides. If you don't get them all with the first treatment, repeated applications are unlikely to do much good.
---
Some Other Natural Treatment Options
There are a few other organic ways to fight pests on your Anthuriums:
Introduce predatory insects like ladybugs. This might be a tough sell if you have roommates, but these little beetles chow down on sucking insects (especially aphids) like they're trying to get their money's worth at an all-you-can-eat buffet.
Mix up a homemade spray from vegetables that have natural defenses against pests. One quick recipe: puree an onion, two bulbs of garlic, and two teaspoons of cayenne pepper, then steep it overnight in two cups of water. Strain this mix through cheesecloth and stir it into one liter of your liquid soap spray.
Sprinkle the potting mix with food-grade diatomaceous earth. This dust contains tiny fossilized microorganisms that desiccate and puncture the bodies of insects. It's especially helpful against thrips, since their larvae can hide out in the soil. Make sure the space has adequate ventilation when you're working with diatomaceous earth, and consider wearing a dust mask.
---
Preventing Pests on Anthuriums
None of the measures described above are as effective as keeping your plants from getting infested in the first place. So how can you avoid future bug problems?
The most essential method is to keep your Anthurium in good health. Plant-eating insects are bullies – they prefer to go after plants that are already weakened. Make sure your Flamingo Flower gets lots of indirect light to keep it strong. Water it thoroughly but not excessively – see our article on the subject for more detail.
Anthuriums also do best with a decent amount of humidity, and spider mites thrive in overly dry soil, so keep the plant moist by misting its leaves with water at least once a week. If you notice the plant's foliage becoming dusty, wipe them clean with a damp cloth.
You should also watch out for these common ways that plant pests sneak into the home:
New plants. Always check a newly purchased houseplant for hitchhikers before placing it in the house. Even if you don't see any symptoms, quarantining the newcomer for a few weeks is a sensible precaution.
Produce. Many of the invaders that chomp on houseplants are also garden and farm pests, and they can occasionally use your grocery bags as a Trojan horse. Cut flowers can pose a similar risk.
Open windows. Thrips, spider mites, and flying aphids can all sneak onto your plants directly from outside. Be extra vigilant if you have your Anthurium next to an open window or out on a balcony.
Ants. Because of the sweet goop that sucking insects produce, some species of ants actually "farm" them. Do your best to keep ants away from your Anthurium, or they may load it up with mealybugs or aphids.
---
Final Thoughts
The best chance you have at curing an infestation on your Anthurium is to catch it early on. Once bugs have a chance to lay eggs all over your plant, they'll be much harder to dislodge.
Your care and attention are almost as crucial to your houseplants as water and sunlight. So check in on your Anthurium regularly to make sure that it's healthy, strong, and pest-free.