ZZ Plant (Zamioculcas zamiifolia), the nearly bulletproof houseplant, can take its fair share of neglect. In fact, it is so self-sufficient, it can sometimes be hard to figure out when it needs basic care, like a good watering. So, what is the best way to determine if your ZZ Plant needs water?
What are the signs that your ZZ Plant needs to be watered? Despite being extremely efficient at self-managing their water requirements, there are a few ways your ZZ Plant might indicate it is thirsty. Dry leaf tips, dropped leaves, or shriveled stems are all indicators that your plant needs water.
I know this stuff can get confusing. I've told you time and time again that ZZ Plants thrive on neglect. But paying attention to the small signs your plant exhibits might be the difference between just keeping your ZZ alive and allowing it to flourish.
---
How & When to Water ZZ Plants
First thing's first…let's not put the cart before the horse. Nothing in this article will be helpful to you if you don't know the proper way to water your ZZ Plant. It's definitely not rocket science, but there is a best practice for watering semi-succulent plants, such as ZZs.
ZZ Plants are native to Eastern Africa, a land that experiences long periods of drought interrupted by the occasional heavy rainstorm. ZZs have adapted to that climate by utilizing their rhizomes, potato-like structures used to store water and nutrients, as their water reservoir during drier times.
When you water your ZZ Plant, you will want to do so thoroughly, making sure all of the potting mixture is saturated. This mimics the plant's natural watering cycle and has the added benefit of washing away any excess mineral salts. The plant's roots will quickly soak up plenty of water and store it in the rhizome. Consider bottom watering smaller plants to ensure that they're fully saturated.
Drainage is key! ZZ Plants are efficient at storing water when it's available, but they don't like having their feet wet for too long. You will want to make sure your plant has quality, porous soil, and a drainage hole in the pot. Be sure to let the excess water drain from the pot and then empty the saucer to allow the pot to fully dry out before the next watering.
When to water is a slightly different story. Typically, ZZ Plants like to dry out almost completely between watering, so having them on the same watering schedule as your other houseplants may be too frequent.
Most of the time, all your ZZ Plant needs is a shy smile or maybe a little wave from you as you pass by with the watering can. Rather than having a set schedule for watering your ZZ, only water your plant when the soil is dry, or your plant is giving you signs that it's thirsty.
Have more questions about watering ZZs? Wondering what you can do to keep your plant happy and healthy? Grab our latest book on Caring for ZZ Plants so you can take the very best care of your houseplant.
---
Check the Soil to Determine Water Needs
The very best way to determine if your ZZ Plant needs water is to pay close attention to the soil it is planted in. As mentioned above, ZZs like their soil to dry out between watering. If the roots and rhizome stay damp for too long, they have the tendency to rot.
The easiest way to check the moisture level in your ZZ plant soil is to stick your finger in about two inches deep. If the soil is damp, it still has plenty of water. If you are finding it dry and crumbly, water the plant well and make sure it drains properly.
You can also check the soil by poking a finger through the drain hole. If there is only a slight amount of dampness, you can water again. If your finger feels wet and has soil stuck to it, wait it out a few more days.
Another method is similar to how you check a baking cake for doneness. Stick a wooden chopstick or skewer through the soil to the bottom of the pot and then pull it out. If your chopstick comes back damp with soil stuck to it, no need to water for now.
If you prefer a scientific approach, a moisture meter may be a nice investment for you. These devices are usually cheap and will take all of the guesswork out of watering. I use this one.
It is good to be diligent about checking soil moisture as it is the best way to know when it's time to water your ZZ Plant before it's actually showing any physical signs of dehydration. Using this method, you can stay ahead of the watering requirements without causing any physical harm to the plant.
---
Other Signs Your ZZ Plant Needs Water
Checking the soil dampness is an excellent start to ensuring your ZZ Plant has adequate amounts of water. However, there are still many factors that can change how often you need to water your plant. Things like local climate, season, the humidity in your house, light levels, and airflow all affect how fast your houseplants dry out.
Even if you feel like you have your ZZ Plant on a good watering schedule, you should keep an eye out for a few more physical signs that might indicate your ZZ needs more water than you are giving it. These signs are important to look for because, unlike the soil test, these directly impact the health of your ZZ Plant. Underwatering should be remedied as quickly as possible.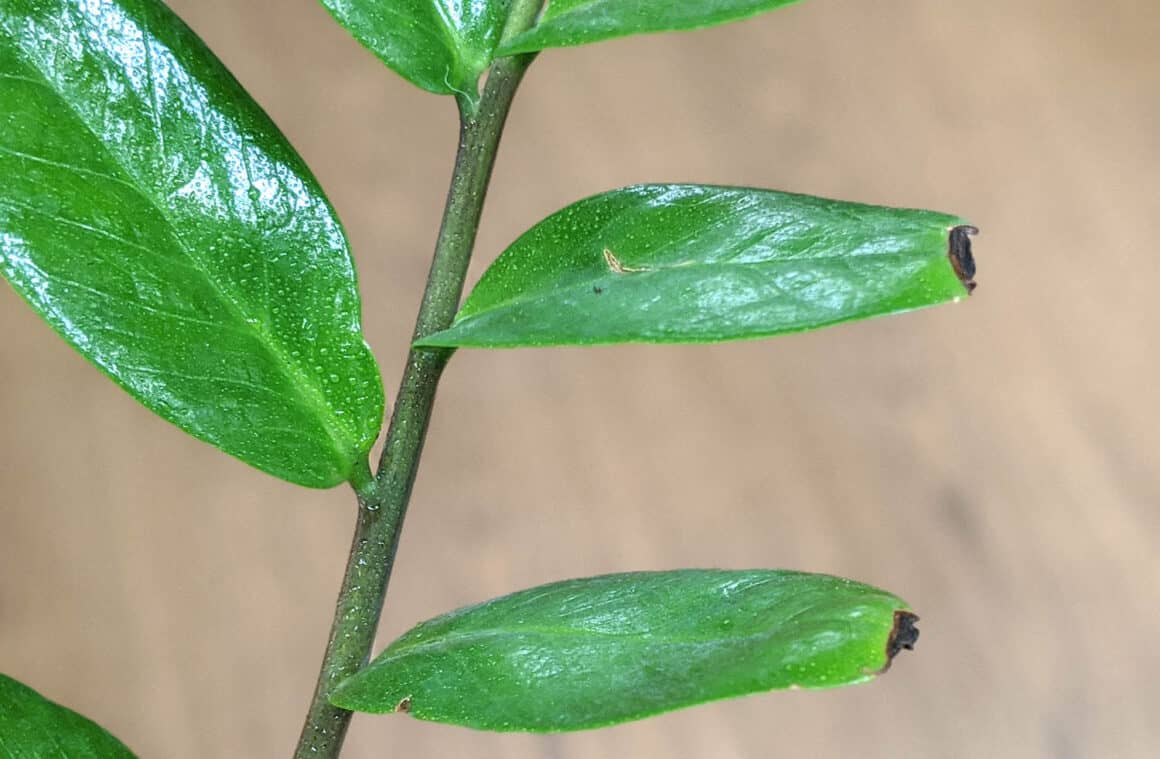 Dry Leaf Tips
You may notice that your ZZ Plant looks healthy overall, but are starting to see shriveled, brown, dry tips on some of the leaves. As a semi-succulent plant, ZZ leaves are regularly pretty waxy and turgid (swollen from water pressure). If the plant is drying out, you might notice the leaves get a bit softer, and the tips start to dry out as a way to conserve water.
Dropping Leaves
Aside from dry leaf tips, ZZs have developed a pretty ingenious mechanism for conserving water during long periods of drought. You might see that leaves are dropping from your plant one at a time. This is your ZZ's way of sacrificing a small part of itself to save the whole plant and is a pretty clear sign that you need to give it more water.
Shriveled Petioles
A less obvious, but still noticeable, sign that your ZZ might be thirsty is the shriveling up or wrinkling of the plant's petioles. Petioles are the stems that arise from the rhizome, off of which the leaves grow. If you notice that they are starting to shrivel, especially near the base of the plant, it's probably time to water.
---
READ OUR EBOOK
Keep Your ZZ Happy With Our Guide
ZZ Plants are tough. They can survive a range of conditions and require little input from us. But if you want your ZZ to thrive, you'll need to know a thing or two about what they need and love. Get our 80+ page care guide and you'll be on your way to a very healthy houseplant.
GET YOUR COPY NOW
---
Signs That You May Be Overwatering
We don't always know what's best for our plants. This statement is one that is both obvious and still took me a long time to learn. We love our plants and want them to thrive, but without proper plant knowledge, we often pay too much attention to their care and end up killing them with kindness.
The line between properly watering and overwatering a ZZ Plant is a thin one. It's easy to think that if some water is good, more water is better, but in the case of a ZZ Plant, this is a recipe for killing your otherwise "un-killable" plant.
Just as there are some clear physical signs that your ZZ Plant is thirsty, there are also some pretty clear-cut indicators it could use a break from watering.
Yellowing leaves are the most common sign of overwatering. Essentially, the roots are saturated with too much water and can't properly absorb nutrients from the soil, slowly turning the leaves yellow.
Other signs that overwatering is occurring include droopy stems, mushy and browning stems, rhizome rot, and widespread leaf drop (more dramatic than the occasional dropped leaf due to dry conditions).
If you see any of these signs, the best thing to do is to stop watering immediately and allow the soil to dry out as described above. This could take several weeks to a month. You may have to prune any mushy or rotten looking stems during this time, as well. For more info on saving a ZZ from root rot, read this article.
ZZ Plants are great additions to any plant collection since they practically take care of themselves. However, knowing how to properly water, and more importantly, when to water goes a long way towards keeping your ZZs happy and healthy. By paying close attention to your ZZ's soil and physical conditions, you can ensure that you're providing your plants with the proper amount of water every time.