As you dip your toe into the world of houseplant collecting, you may find that, aside from what is readily available at your local plant shop or nursery, you can go down numerous rabbit holes to explore the rarest and most expensive varieties that people spend their lives trying to obtain. Philodendrons are no different! So which Philodendrons are the rarest?
With close to 500 identified species in the genus, there are several rare varieties that people are willing to spend hundreds to thousands of dollars for. Typically, the plant's scarcity, demand, and whether or not it is variegated, are driving factors to classify a variety as "rare," which also impacts the cost of buying a plant or cutting.
While some of the varieties on the list below are likely out of reach for most of us, it is always fun to dream about getting your hands on such a special plant. Let's explore some of the rarest varieties of Philodendron and what makes them so unique.
---
What Makes a Plant Variety Rare?
To get a better understanding of why the plants on this list are considered rare, it helps to know what some of the common driving factors are that make them so special.
---
Scarcity
One pretty obvious concept is the idea of scarcity. A plant's availability will always be tied to how common it is. A lot of these rare Philodendrons are only found in very specific geographic locations, oftentimes residing in only one country.
The sheer number of plants also determines how likely it is that we can find, collect, and successfully cultivate a variety for mass distribution to houseplant collectors around the world.
---
Demand
Like everything else, houseplants are subject to viral trends. Spider plants had their macrame-adorned heyday back in the 70s but have since been replaced by other varieties that set the new standard of plant fashion (we're looking at you, Fiddle Leaf Fig!).
Any time a new variety of plant becomes the next big thing on social media outlets, you can expect its value to shoot up, pushing up the price and driving down the supply so that it's impossible to meet the demand, triggering "rare" status.
---
Variegation
While there are plenty of variegated varieties of Philodendron, many are considered rare species because much of the variegation is due to a genetic mutation in only one of roughly 100,000 plants.
Known as chimeral variegation, patterns on the leaves can be splotchy or random, with whole leaves being unaffected. Plant cultivators take painstaking efforts to identify plants with these variegations and propagate new clones from stem cuttings. However, newly propagated Philodendrons will often revert back to a solid green color, as this type of variegation is famously unstable.
Some harder-to-find varieties do exhibit variegation, often securing their spot on any list of rare Philodendrons.
---
What's the Deal with Patented Philodendrons?
Before we get into our list, there is one other thing we needed to discuss first: patented plants. In your quest to find the rarest Philodendrons around the globe, you may have noticed that some varieties are actually patented. What exactly does that mean, and does it have any effect on whether a plant is considered rare?
Plant patents became a thing back in the 1930s as a way to help protect plant cultivators and breeders who came up with new varieties. Inevitably, carefully cross-breeding or genetically modifying existing varieties to develop new ones takes a lot of time and money in research, so plant patents have become a way for the creators of new varieties to restrict who is allowed to propagate patented varieties.
Once a plant patent is approved, the creator of that variety has the rights to propagate it for 20 years before the patent expires. By controlling the stock of the new variety, the patent holder can charge a premium for cuttings and recoup some of the money they spent developing the specialized variety.
If you've ever been curious whether any of your houseplants are patented, you can look at the original tag it came with to see the patent number printed on it.
Some more common varieties of Philodendron have been patented at some point, although many have reached their 20-year limit. Rojo Congo, Lemon Lime, and Brasil are varieties you might find in your local plant shop.
What does a plant patent mean to us common plant enthusiast? Well, if you happen to have a patented plant, technically, you are not allowed to take any cuttings and propagate new clones without the permission of the patent holder. You are also definitely not allowed to sell any propagated plants.
While it is unlikely that you'll get a mysterious knock on the door from a sunglass-wearing government agent in the event you have propagated a few cuttings from a patented plant for your own enjoyment, you should be aware that there are cases where plant breeders have gone after individual consumers who began selling illegally propagated plants.
As for rarity, plant patents are usually filed for varieties that plant breeders see as having a strong market presence and the ability to be mass-produced for maximum profits. I am sure there are patents for much-rarer Philodendrons, but they likely won't be the driving factor in what makes the plant rare.
---
Which Philodendrons are the Rarest?
Although each of the varieties listed below is considered to be a rare Philodendron, most are available for purchase, but you may need to be willing to shell out a tidy sum to get your hands on one.
---
Philodendron erubescens: 'Pink Princess'
Here is a great example of a plant being classified as rare due to high demand. Because of its ability to grow several feet tall while sporting green leaves with brush strokes of blush pink, cream, and light brown, Pink Princess became…well, the Princess of Pinterest and other social media sites.
It hails from Columbia, where it grows in relative abundance, but because very few specimens are exported to other parts of the world, the demand for this beautiful plant remains higher than the supply, even spurring less-than-reputable sellers to hock a knockoff variety that they can treat to appear pink in color temporarily.
---
Philodendron hastatum: 'Silver Sword'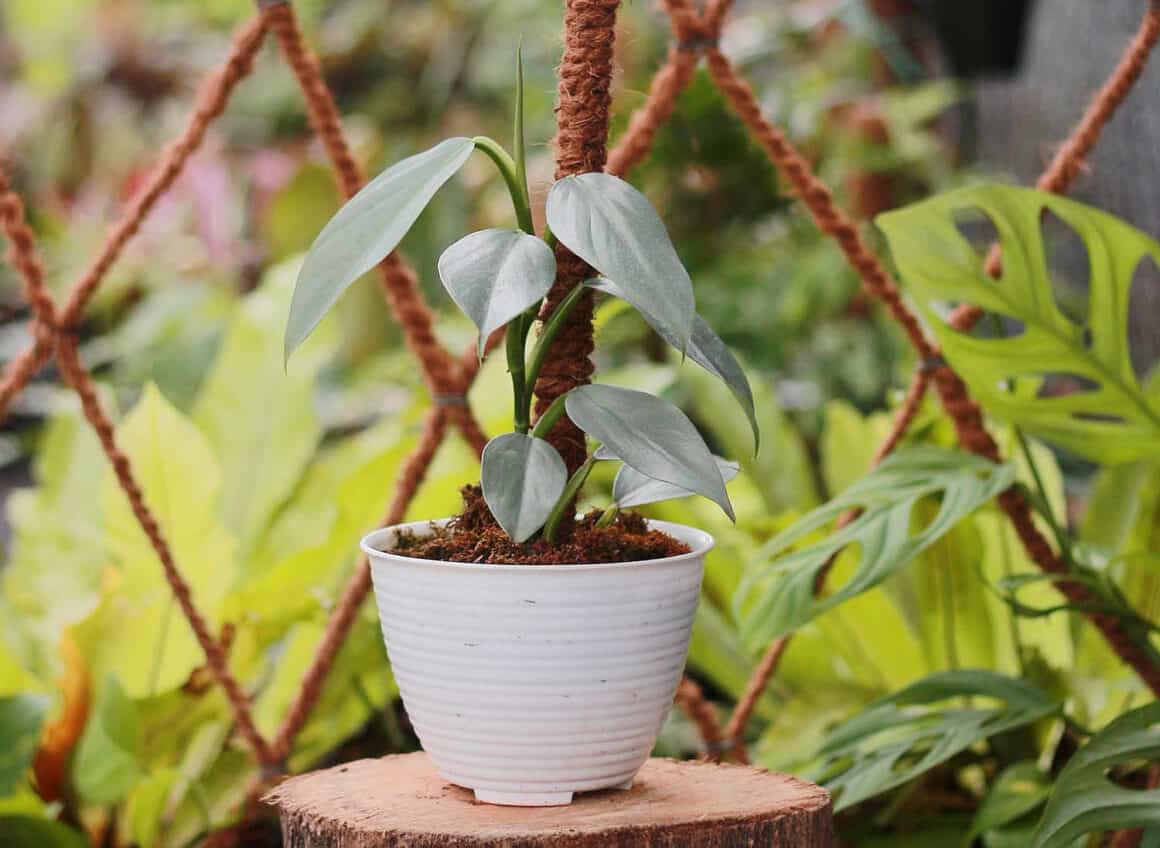 Silver Sword lives up to its name, with long, narrow, sword-like leaves that shine with a silvery blue coloration. A natural climber, this variety does best when supported with a trellis or pole. As the plant grows taller, its leaves take on an even narrower, sharper look.
It may be easier to find Silver Sword in stores than it once was, but this variety has now been classified as endangered due to the clear cutting of its natural habitat in Brazil, so don't be surprised if it becomes harder to find in the future.
---
Philodendron 'Red Moon'
Red Moon is an incredibly beautiful variety of Philodendron that unfurls bright green to almost yellow leaves that have uneven brushstrokes of deep red. As the leaves age, they take on the darker green hues typical of a common Philodendron. Because the yellow/red leaves of the plant do not contain chlorophyll for photosynthesis, maintaining older leaves is required for the plant to survive.
---
Philodendron 'Mamei'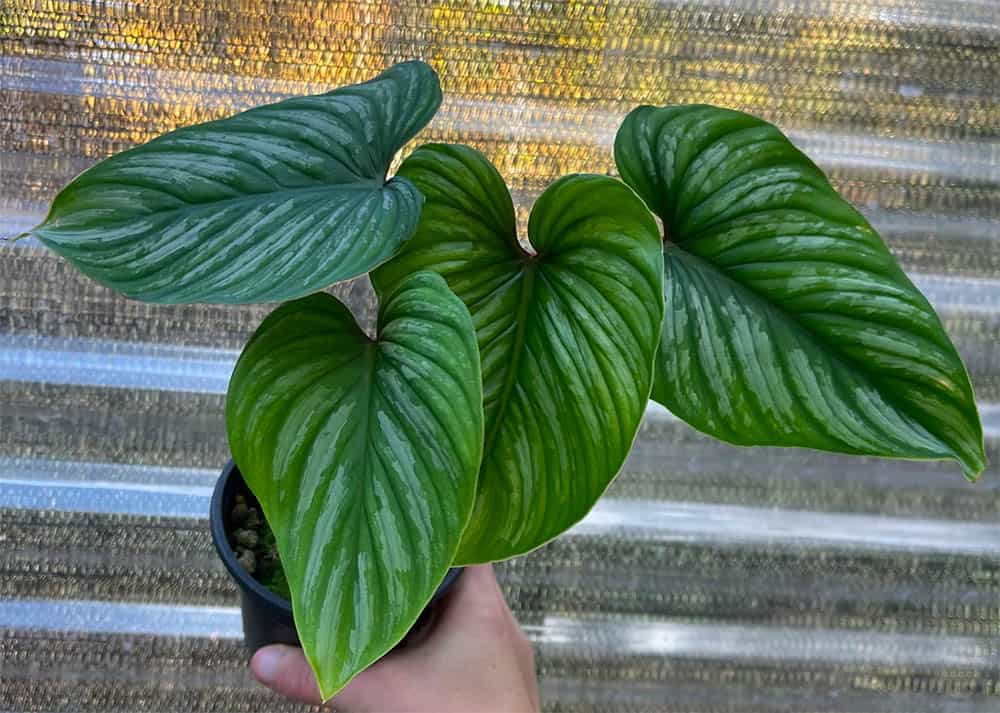 Once considered much rarer, Mamei is a variety that has become a bit more common, but will still run you $60-$150 dollars for a 6-inch pot…well over the price for more common Philodendrons.
Mamei grows wide, green leaves that take on splotches of silvery grey coloring, earning it the apt nickname "Silver Cloud." While still considered a climber, it has a more wide-ranging habit, producing upright growth from traveling vines on the ground.
---
Philodendron 'Joepii'
This uniquely shaped Philodendron is prized for its fascinating leaf structure. Long, thin leaves protrude from very slender stems, widening near the ends to form lopsided lobes. The heart-shaped ends of the leaf near the stem are also skinny and elongated, reminiscent of crudely drawn bunny ears, and stick straight up in the air as the leaf hangs.
A more common (yet still pretty rare) variety that is similar to Joepii is Philodendron 69686. With the same deeply-lobed structure, the leaves of 69686 can grow very large, so the plant requires lots of space, preferring to wind its way up trees to spread out.
---
Philodendron 'Billietiae' Variegated
Here is a great example of a Philodendron being considered rare due to variegation. A normal Billietiae plant isn't all that rare and costs under $100, but if you ever come across a variegated specimen, be prepared to pay upwards of 10 times that much for a single variegated leaf cutting!
This variety sports beautifully shaped leaves on sturdy, orange stems. Swaths of speckled variegation in beautiful yellow colors can adorn some or all of the leaves. However, because this type of variegation is chimeral (due to a rare genetic mutation), it is often unstable, and propagating new plants from it won't always yield more variegated specimens.
---
Philodendron 'Spiritus Sancti'
After researching rare Philodendrons for this article, the general consensus seems to be that Spiritus Sancti is likely the rarest of them all!
This is a beautiful variety, with long, slender leaves and a deep green color, that only grows in the state of Espirito Santo in Brazil. With only a handful of plants still growing in the wild and fiercely protected by the local government, it's no wonder that any legitimate specimens for sale would fetch top dollar.
Although ultra-rare in their native habitat, it looks as though this variety has been successfully tissue cultured, so there is more stock to go around than there used to be. However, you'll still pay a pretty penny for a plant or cutting!
---
Collecting Rare Philodendrons
As you can see, with a genus as big as Philodendron, there are plenty of different varieties that are considered unique or rare. If you dig a little deeper, you'll likely find several more varieties that have their own distinctive characteristics that stand out from the most common varieties we usually find in our local plant shop.
If the idea of collecting them is enticing, just know that you need to do your research, both on where these plants come from and who is selling them, to make sure you aren't being scammed. Also, plan on shelling out some money for these guys. There are plenty of reputable sources to purchase from, but they will price plants commensurate to their rarity, so if the price sounds too good to be true, it likely is.
However, if you do end up with a few rare Philodendrons, the good news is that most of them are as easy to care for as more common varieties. Again, it would be best to do your research on the specific varieties you have to make sure there aren't exceptions to the normal care routine, but generally, most Philodendrons are easy, even the rare ones.
The fascinating world of rare plant collecting can seem daunting at first, but as long as you are armed with good information and some common sense, you may just end up with some truly amazing plants. Best of luck and happy hunting!