You have a Pothos plant, but you're not sure which kind it is. Maybe you got a cutting from a friend who isn't sure about the plant's ID. Or maybe you bought one online and want to make sure you got what you paid for. Identifying these plants isn't always easy, since there are lots of similar-looking varieties. That's why we've put together a simple step-by-step guide to determining which type of Pothos you're looking at.
Almost all Pothos varieties belong to one of two species: Epipremnum Aureum or Epipremnum Pinnatum. These plants have very similar growth habits and require virtually identical care. Practically the only way to tell which type of Pothos you have is by looking for tell-tale differences in their colors and markings.
This guide will walk you through the process of sorting between different kinds of Pothos. Take it step by step, and try not to beat yourself up if you're unsure where your plant falls – some of these varieties are very hard to tell apart! Luckily, no matter which type of Pothos you're growing, the same types of care should help it thrive.
---
How Many Types of Pothos Are There?
This question isn't as straightforward as you might think, since some Pothos varieties are disputed. For example, many people feel there's no real difference between Marble Queen and Snow Queen Pothos, or between the Golden and Hawaiian Pothos. Besides, these houseplants are very popular, and commercial growers keep coming out with new cultivars.
However, at least 15 different varieties of Epipremnum are well-known enough to be identified and sold as named cultivars. We'll help you distinguish between these types of Pothos and tell you a little bit about how they grow.
---
Which Pothos Do I Have?
Now that you're certain your plant is a Pothos, let's find out which type of Pothos it is. We'll start with the biggest distinguishing features and work our way down to the more nitty-gritty ones. You may want to set your plant next to the screen and refer to it while you read. Now let's identify your Pothos together.
---
#1: Does Your Pothos Have Multicolored Leaves?
Yes: Skip to #6
No: Continue to #2
---
#2: Is Your Pothos Deep Green or Yellow-Green?
Yellow-green: Neon Pothos
Deep green: Continue to #3
The Neon Pothos might be the most easily identifiable variety thanks to its bold chartreuse leaves. If your plant is the bright lemon-lime color of Mountain Dew, without splashes of other shades, it's a Neon Pothos. On the other hand, if it's more of a forest green or Kelly Green, keep scrolling.
---
#3: What Type of Leaves Does Your Pothos Have?
Rumpled cone or taco shapes: Shangri-La Pothos
Long, flattish blades: Continue to #4
Short, heart-shaped leaves: Skip to #5
One of the rarest Pothos varieties is also the easiest to spot. The Shangri-La is a patented cultivar created by Terunoworld, a specialty plant nursery in Japan.
Due to a quirk of genetics, the leaves of the Shangri-La Pothos don't unfurl all the way. Instead, they remain twisted into cones or folded along the central vein in a pita shape. Often, they'll point upward more than other types of Pothos.
This effect can make them look like the spines of a dragon, hence the nickname "Godzilla Pothos". Other common names include "Spinach Pothos" and "Sleeping Pothos". Some people think the Shangri-La looks sickly and unappealing, while others love its distinctive, slightly spooky appearance.
---
#4: Do the Leaves of Your Pothos Have a Silvery Sheen?
Yes: Cebu Blue Pothos
No: Baltic Blue Pothos (or possibly Satin Pothos – see below)
If you're at Step #4, it means the leaves of your Pothos are noticeably longer than they are wide. They're not as heart-shaped as other Pothos leaves – instead, they look more like a sword or maybe Gene Simmons' tongue.
This means you have an Epipremnum Pinnatum. Most Pothos cultivars fall under the closely related E. Aureum species – the only exceptions are the two types named above. Fortunately, you can care for a Pinnatum just like any other Pothos.
But which Pinnatum Pothos is it? The key distinguishing factor is the color. The Cebu Blue Pothos has a slightly hazy, silvery shimmer on the surface of its leaves. This makes them look faintly blue-green in certain lighting, which is where the name comes from.
The Baltic Blue Pothos has a darker green color. It lacks the telltale glint of a Cebu Blue, though it does have bluish undertones. The Baltic Blue is also much more likely to have fenestrations (split edges) than other types of Pothos.
Important exception: If the leaves are such a deep, glossy green that they look almost black, you probably have a specific type of Satin Pothos called a Scindapsus Treubii "Dark Form". You can read more about them in Step #6 or follow this link for our complete guide to Satin Pothos plants.
Hopefully, you're now firm on the identity of your Pothos. If your plant doesn't look like the pictures of Cebu Blue or Baltic Blue, you may need to backtrack a bit and see if you jumped to the wrong step.
---
#5: Do the Leaf Points Curl Sharply to One Side?
Yes: Jade Satin Pothos
No: Jade Pothos
The most "vanilla" type of Pothos is the Jade Pothos. Its leaves have a classic forest green, and like other Epipremnum Aureum plants, they're heart-shaped with a tip pointing straight out. This plant might not blow your hair back, but it's a hardy, fast-growing vine that can thrive in a huge range of conditions.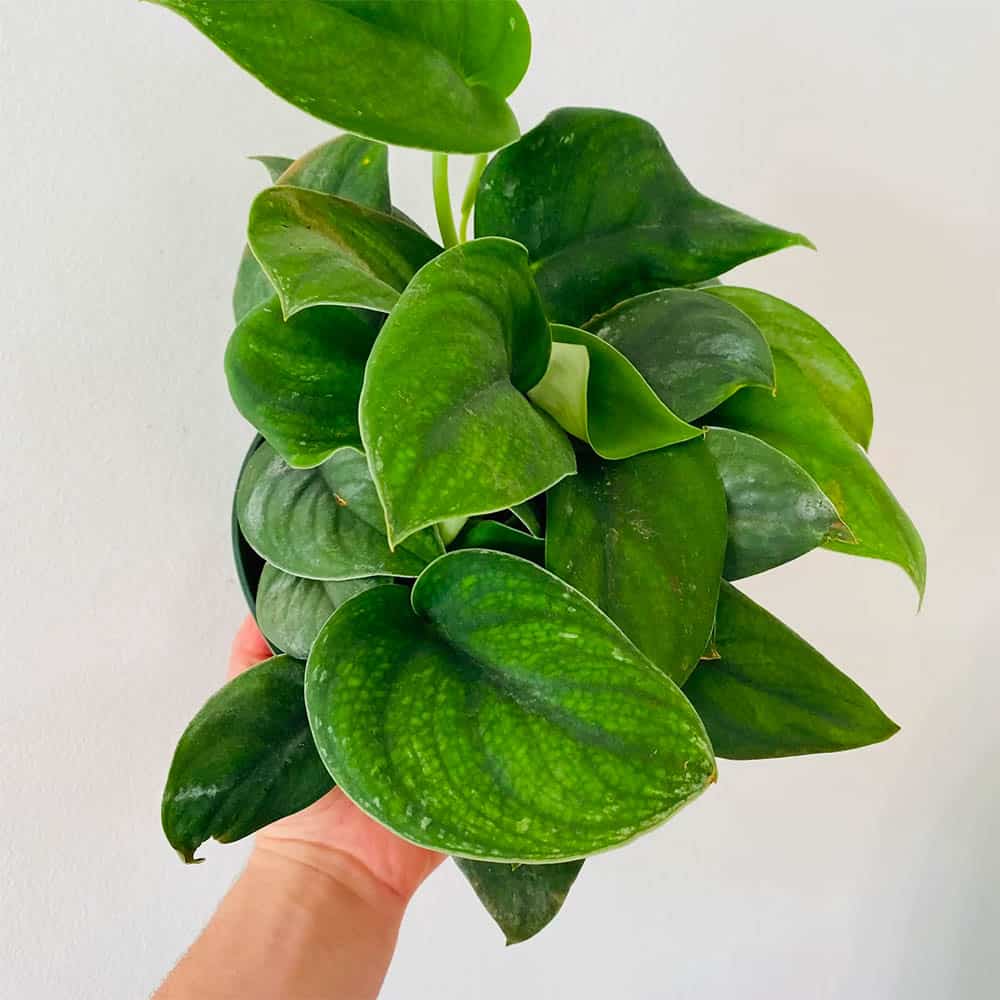 On the other hand, you might have a plant that looks allllmost like a Jade Pothos, except that the leaves are noticeably asymmetrical. They curl sharply to one side or the other. They might also have a slightly mottled appearance, with the spaces between the veins looking lighter than the rest.
In that case, you probably have a Jade Satin Pothos. Despite the similar appearance and name, this plant is in a totally different genus called Scindapsus. Scindapsus plants are commonly called Satin Pothos or Silver Pothos. Most of them have some silver-gray variegation, but the Jade Satin is a notable exception.
---
#6: What Color Is the Variegation on Your Pothos?
If you've made it this far, it means there are streaks, dots, bands, or uneven patches of different colors on your Pothos plant's leaves. This is called variegation, and it's what distinguishes some of the most highly prized types of Pothos. Where you go from here depends on what colors you can see on your plant's leaves.
Silvery-gray plus green: Silver/Satin Pothos
Yellow-green or lime-green and deep green: Continue to #7
White or cream and green: Skip to #9
A Pothos that has dots or patches of gray or sparkly silver is called, appropriately enough, a Silver Pothos (or sometimes a Satin Pothos). They often resemble Aglaonemas, AKA Chinese Evergreens. You can also sometimes recognize them by the more pronounced curves of their leaf tips.
Silver Pothos plants belong to the genus Scindapsus, unlike the other plants on this list. They're different enough that you'll probably want to read our full-length article on Silver and Satin Pothos plants.
However, if your plant has no gray coloring, it's probably an Epipremnum. If it has any white, off-white, or cream coloration, jump down to #9 to identify it. Otherwise, keep going to #7.
---
#7: Are the Yellow and Green in Large Patches or Small Flecks?
Large, distinct patches: Global Green or Emerald Pothos
Small streaks and dashes: Continue to #8
There are two types of Pothos that feature big patches of lime green or yellow alongside areas of forest green. Global Green is the more well-known variety. It tends to have bright yellowish-green near the central vein of each leaf and darker patches of green at the outsides.
Emerald Pothos is the opposite – it has its lighter green sections clustered at the edges. This variety also often has a less sharp contrast between the two shades of green.
---
#8: Are the Leaves Mostly Yellow or Mostly Green?
Green with splashes of yellow: Golden Pothos (or possibly Hawaiian Pothos – see below)
Yellow with splashes of green: Variegated Neon Pothos
Near-equal mix: Jessenia Pothos
The Golden Pothos might be the most iconic Epipremnum plant – in fact, the name "Epipremnum Aureum" literally means "Golden Pothos". This plant's foliage has a green base but features large, bold speckles and bands of yellow. Sometimes that yellow coloring is bright enough that it almost looks white.
Some growers identify another variant called the Hawaiian Pothos. It looks very similar to the Golden Pothos, but it has larger leaves. However, it's unclear whether this is really a different cultivar or just a Golden Pothos that's grown quite big.
What if the leaves look almost entirely chartreuse or lemon-colored, with only a few splashes of green? In that case, you probably have a Neon Pothos with a little bit of darker variegation.
Then there's the Jessenia Pothos. This one is fairly rare, and it sports an equal or near-equal blend of yellow and deep green. The colors also tend to be more thoroughly mixed, with lots of smaller flecks. A Jessenia Pothos rarely has any near-white coloration.
It can be hard to distinguish between these three varieties with 100% certainty. You'll just have to consider the amount of each color and make your best guess at which type of Pothos you have.
---
#9: Are the White and Green in Large Patches or Small Speckles?
Large, distinct patches: Continue to #10
Small streaks and dashes: Snow Queen or Marble Queen Pothos
Some Pothos varieties include large, irregular white patches, often clustered at the edges of the leaves. If your plant looks like that, keep going to #10. If all of the variegation comes from flecks and spatters of white and green, you've got either a Marble Queen or Snow Queen Pothos.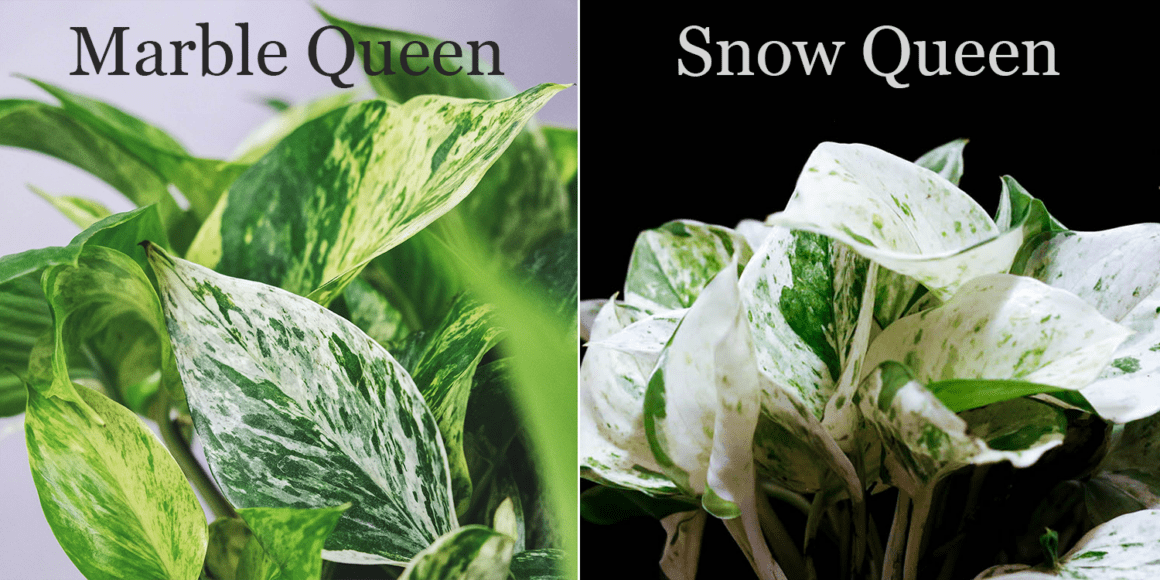 These two cultivars look remarkably similar – so similar that some people claim they're actually the same plant. In our view, they have enough differences to qualify as distinct varieties, but it's easy to see why some disagree.
Telling them apart mostly comes down to looking at their color balance. A Snow Queen Pothos looks like a white plant that's been dotted and streaked with green. A Marble Queen has a more even blend, with green covering at least 50% of the leaves. The white patches also tend to have a bit of a yellow tint, making them look more like an off-white or cream color.
Keep in mind that this balance can change depending on how much sunlight you give your plant. Brighter light generally means more white in the foliage.
---
#10: Are the White Sections Totally White?
Yes: NJoy Pothos
No: Continue to #11
The NJoy is an interesting Pothos variant with leaves patterned almost like hunting camouflage. The colors appear in large splotches and can include several different shades of green. Large white or ivory sections also typically show up around the edges of the leaves.
Several other Pothos have similar variegation, but the NJoy features very little green speckling inside the white areas. If you're seeing lots of green dots, keep scrolling.
---
#11: Are The Leaves Round and Fat?
Yes: Manjula Pothos
No: Glacier or Pearls and Jade Pothos
These three variants get mixed up all the time, since they all look pretty much like an NJoy Pothos with a lot more green speckling. They also feature a fair amount of minty green, along with some grayish or silver shading mixed into the white patches.
The quickest way to tell which Pothos you have is to look at the shape of the leaves. A Manjula Pothos has very wide, curvy leaves. They look more like the heart symbols on playing cards than other Pothos leaves, which tend to be a bit longer. Manjulas also tend to have large sections of fine white-and-green spattering like a Marble Queen Pothos.
If the leaves are slightly longer and don't have as much Marble Queen patterning mixed in, you've either got a Glacier Pothos or a Pearls and Jade. Which one? Your guess is as good as ours. There's no clear consensus on whether Glacier is a real Pothos cultivar or just a marketing term. And the people who claim to know the difference all contradict each other.
If there is a difference, it's that Pearls and Jade has more green dashes inside the white sections, while the white sections on a Glacier contain more gray or blue-green.
The good news is that both varieties are absolutely gorgeous. We wouldn't worry too much about getting "scammed" into, say, buying a Pearls and Jade labeled as a Glacier. They're virtually identical, and they're truly lovely plants.
---
Do You Have a Pothos or a Philodendron?
The plant most commonly confused with Pothos is a Philodendron. If you went through the flow chart above but still can't tell which type of Pothos you're looking at, it may actually be a Philodendron! It's especially easy to make this mistake if you have one of the Philodendrons with smaller, non-lobed leaves, such as:
Heart-leaf Philodendron (looks a lot like a Jade Pothos)
Lemon-Lime Philodendron (very similar to the Neon Pothos)
Philodendron Brazil
Philodendron Rio
Philodendron Micans
The best way to tell them apart is to touch the leaves. Philodendron leaves tend to be thinner and sport a soft, smooth texture. Pothos leaves are thicker and a bit bumpier, with a waxy gloss. Also, while both plants are often said to have heart-shaped leaves, the bumps of the "heart" are more curved and pronounced on a Philodendron leaf.
If the plant is currently sprouting new leaves, check whether they're wrapped in a pale beige covering. This is called a cataphyll, and Philodendrons produce them while Pothos don't. They'll shrivel up and fall off soon after the new leaf fully emerges. Plus, new leaves on a Philodendron are often brownish or pinkish at first, while Pothos leaves tend to start as a light green.
You can also look for aerial roots. Those are the brownish, stringy growths that sometimes pop out of the stems. In Pothos, the aerial roots are thicker, and a single node never produces more than one. A Philodendron can have a cluster of several skinny air roots coming from one node.
Trying to decide which you'd rather purchase? We have an article devoted to the differences between Pothos and Philodendrons, you can read that here.
---
Do Different Pothos Varieties Require Different Care?
Now that you know which type of Pothos you're raising, you might be wondering if it has specialized care needs. For the most part, the answer is no.
The main exception is sunlight. Heavily variegated plants have less chlorophyll than all-green ones, making them less efficient at converting sunlight into food. Eye-popping, multicolored cultivars like the Snow Queen or Manjula Pothos grow more slowly. They need tons of bright, indirect sunlight to grow fast and avoid reverting to green.
You might also want to watch out for all-green leaves emerging on your variegated Pothos. Prune them off as soon as they show up, cutting back until you hit a variegated section of the vine. Otherwise, they could outcompete the colorful foliage.
The best Pothos for low-light conditions are the Jade Pothos, the Baltic Blue, and the Dark Form Satin Pothos. No plant loves to grow in a truly dim space – give them a decent amount of indirect light if you can. But these all-green varieties have an easier time with a limited sunlight budget than their variegated cousins.
No matter what kind of Pothos you're growing, it needs:
Fast-draining potting mix with lots of chunky ingredients
Bright, indirect sunlight
A drink of water when the top two inches of soil are dry
Mild doses of fertilizer every four to six weeks during the spring and summer
A slightly larger pot every one to two years
For more detailed instructions, take a look at our many other Pothos care articles at The Healthy Houseplant!
---
Which Type of Pothos Grows Fastest?
A Pothos that fares in low light also tends to grow fast if given lots of sun. Jade Pothos and Baltic Blue vines can gain more than a foot of length every month of the growing season. On the other hand, Scindapsus Treubii Dark Form is a slower grower despite its tolerance for dim lighting.
Pothos with mostly yellow-green variegation, like the Golden and Neon Pothos, are nearly as speedy as the all-green varieties. You're more likely to have trouble keeping these plants in check than encouraging them to grow.
Of course, the growth rate of any Pothos depends on its care conditions. Without bright light, water, and fertilizer, even a Jade Pothos won't spread as quickly as it should. If you're having trouble getting your plant to grow, click here for advice.
---
Final Thoughts
Identifying which type of Pothos you have can be a confusing process. In the end, it may come down to making your best guess based on the pattern of variegation. We hope our guide helps make the process a little easier for you! No matter which cultivar you're growing, it should grow into a beautiful houseplant with a little care and encouragement.