ZZ Plants (Zamioculcas Zamiifolia) are a great choice for beginner houseplant owners as these plants are not overly needy and can stand a little neglect. But that doesn't mean you can ignore warning signs like curling or discolored leaves. If your plant is trying to tell you that something is wrong, it is best to pay attention.
Why do ZZ Plant leaves curl? The answer is that ZZ Plant leaves most often curl due to underwatering or too much direct light. However, it could be due to becoming rootbound in their pot or colder temperatures as well. With adjusted watering, placement, or repotting in a larger pot, your ZZ Plant can be revived.
Curled leaves are not a death sentence. And while damaged leaves and stems will need to be removed, your plant can bounce back to its former glory. Keep reading to find out how what you can do to restore your ailing ZZ Plant.
---
Before We Get Started, Let's Talk About the Basics
One unique feature of the ZZ Plant is its rhizome root systems (tuber-like bulbs that store water under the soil to nourish the plant.) ZZ Plants are native to East Africa and are designed to withstand drought conditions for extended periods of time. When the storms come during the rainy season, the rhizomes quickly soak up any water to store up for the dry season ahead.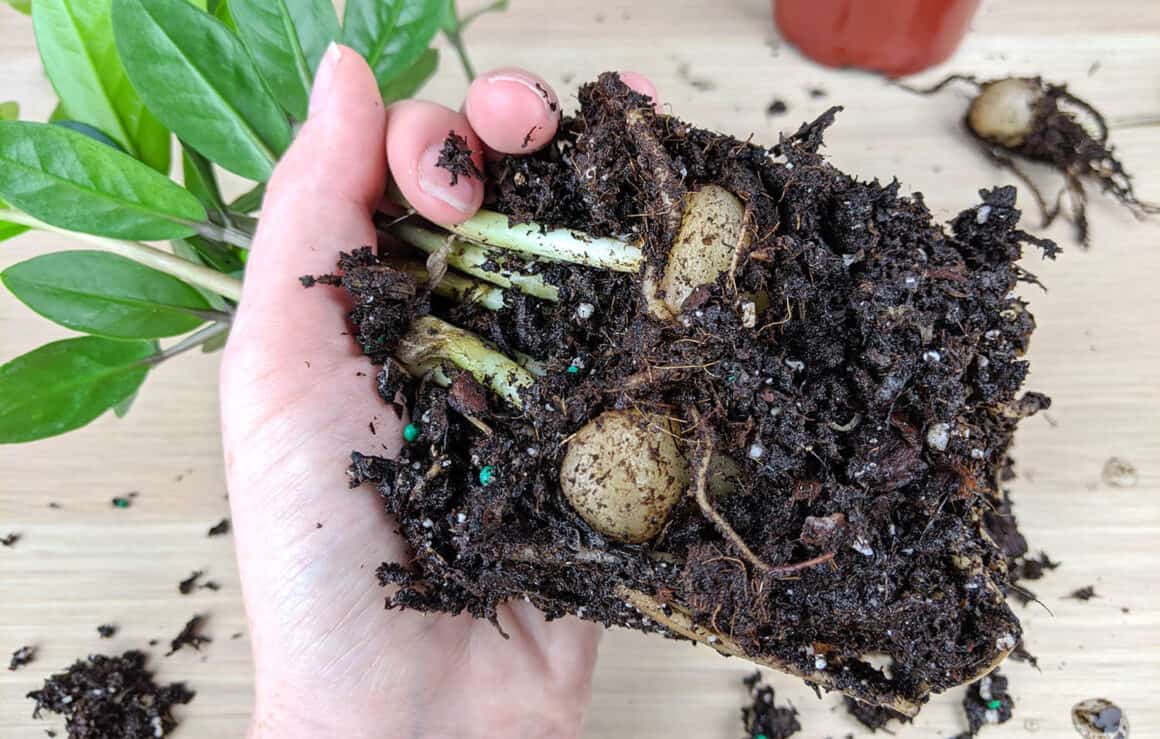 In your watering practices for the plant, you'll want to mimic these conditions. Only water when the soil has completely dried out to avoid root rot, and thoroughly soak the soil when you do water, giving the rhizomes a chance to absorb all the moisture.
How often you need to water will depend on the time of year, humidity, and temperature. Some plants may need to be watered once a week, while some plants could take up to a month to completely dry out, depending on the conditions where you live. Let the plant guide you to its needs for water. You can check the soil with your finger or use a moisture meter for more accurate measurements.
Make sure your pot and soil have excellent drainage qualities. You'll know that you've watered enough when you see water run out through the drainage holes in the bottom. I opt to place my plants in the sink to let them drain, so they don't make a mess.
When it comes to sunlight, ZZ Plants have different needs than other houseplants. ZZ Plants prefer bright, indirect light. Prolonged exposure to direct sunlight can result in dried-out leaves.
The leaves on a ZZ Plant should be thick and waxy, so when they start to curl, turn mushy, or get brown tips, you know something is not right, and your plant needs attention.
---
Why Are My ZZ Leaves Curling?
The reason that your beloved ZZ has curling leaves could stem from several different issues. I'll start with the most common and work my way through the top four reasons why your ZZ Plant may have curling leaves and give you my recommendations to fix the issue.
---
Underwatering: The Problem
While we've touted the ZZ Plant's ability to store water, it is possible to underwater the plant. Curling leaves or dry leaf tips can signal that you've been too cautious with the watering can. You'll want to consistently check the soil with your finger or a moisture meter to gauge the moisture level. If the soil is dry and crumbly and leaves no residue on your finger, it needs water.
Underwatering: The Solution
If your ZZ Plant is underwatered, give it a good drink of water, easing it back into a more regular watering schedule. The temptation is to inundate your plant, but too much water too fast isn't healthy for the plant either. A general rule for plants is to avoid any sudden, extreme changes in water levels, temperatures, and light. When caring for your ZZ Plant, make small, gradual changes to ease them back to health. For more information on watering ZZs, read this article.
---
READ OUR EBOOK
Keep Your ZZ Happy With Our Guide
ZZ Plants are tough. They can survive a range of conditions and require little input from us. But if you want your ZZ to thrive, you'll need to know a thing or two about what they need and love. Get our 80+ page care guide and you'll be on your way to a very healthy houseplant.
GET YOUR COPY NOW
---
Too Much Sunlight: The Problem
Curling, yellowing leaves could also be a symptom of your plant receiving too much direct sunlight. Pay attention to how much light your plant is receiving throughout the day. While south-facing windows are popular choices for houseplants, the constant light can sometimes be too much for the ZZ Plant leaves.
Too Much Sunlight: The Solution
Move your ZZ Plant to a new location with less direct light, or place it further from the window. Blinds or curtains can also provide filtered light for your plants. Click here for further reading on ZZs and light.
---
Cold Temperatures: The Problem
If your ZZ Plant leaves are curling, it could be because the plant is in an area that is getting too cold. Remember that the ZZ Plant is native to a warm region and thrives best at temperatures between 65-75 degrees Fahrenheit.
Cold Temperatures: The Solution
Check the placement of your ZZ Plant. Is it too close to an AC vent or fan? Are your windows letting in cooler air during the winter months? If so, make some adjustments in your ZZ Plant's environment. Move them away from drafty windows or vents to keep them warm and happy.
---
Rootbound ZZs: The Problem
Curling leaves can also be a sign that your ZZ Plant is rootbound. While ZZ Plants don't mind starting off in smaller pots, rootbound (or pot-bound) plants don't have enough room for their rhizome system to expand and keep growing. ZZ Plants should be repotted every couple of years to allow for proper plant growth.
Rootbound ZZs: The Solution
It may be time to move the plant to a slightly larger pot if the roots have taken over, especially if the roots are visible outside of the pot. Select a pot that is one size larger than the existing one and choose a well-draining soil mixture made for succulents and cacti. Keep an eye on your soil-to-root ratio. If there is too much soil in the pot, the soil will retain more moisture than the plant needs, leading to root rot.
---
Pruning Out Dying ZZ Stems and Leaves
Once you've identified the problem causing the curling leaves, it's time to prune the troubled areas on your ZZ Plant. It's best to remove the stems near the base of the plant rather than individual leaves or portions of the stem. No one likes a choppy haircut, plants included!
If you spot mushy stems or even soft spots on the rhizomes, you'll need to prune or cut them away. Try to trim the stems as close to the rhizome as possible. If you need to trim away parts of the rhizome, don't worry. This can be accomplished without affecting the entire rhizome.
As with all plant care and pruning, use clean, sharp utensils. If you are pruning stems or leaves, be wary of the sap. It can be an irritant to the skin, so avoid touching your ears, mouth, or nose after handling the ZZ Plant clippings. Those with sensitive skin may want to wear gloves as a precaution, though it's not required.
---
ZZ Plants and Toxicity
While ZZ Plants are wonderfully easy to maintain, they do come with a warning: all parts of the plant are considered toxic to humans and pets. Make sure cuttings are properly disposed of, out of the reach of small children and pets. This can help guide your decision in the placement of your plant to avoid any accidental ingestion of parts of the plants by pets or small children.
The good news is that exposure to the sap of the ZZ Plant is likely to only produce allergy-like symptoms. If parts of the ZZ Plant are ingested by animals or humans, mild to moderate symptoms of nausea, vomiting, or diarrhea are possible. For more information on ZZ toxicity, read this article on the subject.
The key to ZZ Plants is to remember that a little goes a long way. A little water, a slight adjustment, and minor pruning will help to keep your plants happy and thriving.