A gorgeous climber native to Central and South American rainforests, the Monstera deliciosa is an aggressive and fast grower. Because these plants can quickly become enormous, you may be wondering how, if, and when you should prune your Monstera.
Monsteras need to be pruned regularly. Pruning encourages growth and results in an all-around healthier plant. Cuttings taken from the plant properly can also be propagated, giving you a regular supply of new Monsteras. Pruning should be done in early spring before the Monstera enters its growing season.
If you're relatively new to houseplants, the thought of slicing into your beloved Monstera may send shivers down your spine. But never fear, pruning is simple, and it is actually good for plants. Keep reading, and I'll cover how to prune the different parts of your Monstera, why you need to, and how to propagate the cuttings.
---
Should You Prune a Monstera Deliciosa?
The quick answer is yes! Nearly all plants benefit from periodic pruning. Besides encouraging growth in the newly-trimmed areas, pruning is vital to maintaining the overall health of your plant. Monsteras grow very quickly, so pruning is essential.
The older foliage on a well-established Monstera will die back over time, resulting in yellowing and dying leaves. Because of this, these older parts of the plant are more susceptible to infection and disease. Monsteras are generally hardy plants, but an infection, like stem rot, isn't uncommon.
Pruning is also important if you're concerned about your Monstera outgrowing your living space or becoming unruly. Regular pruning can keep your plant small enough to be manageable without harming it. If you have a Monstera that grows too fast, you can read about what to do here.
---
When Is The Best Time To Prune Houseplants?
In general, the best time to prune any houseplant is before it enters its growing season and is still dormant. Plants enter a dormant period in the winter because of the lack of available sunlight, which prevents them from producing glucose to continue growing. During these periods, plants produce little to no growth and require less water to survive.
Most plants begin coming out of this dormant period in the early spring when the days start to get longer, and the temperatures begin to rise. This is the best time to prune any part of the plant because they are preparing to enter a period of high growth activity, meaning that they'll have an easier time repairing the damage from being pruned.
---
Special Considerations When Pruning a Monstera Deliciosa
While it's unlikely that you'll have a problem, it's important to know that the sap produced by Monsteras can cause skin irritation. It won't seriously hurt you if you come into physical contact with it, but it can cause a rash.
Monsteras, and many other varieties of plants, contain a compound that is mildly toxic when ingested. While you probably aren't eating any parts of the Monstera besides its fruit, it's still important to be aware in case of an allergic reaction. The irritation is caused by the presence of calcium oxalates.
If possible, try to avoid coming into contact with the sap. The best way to do this is to wear gloves while pruning. If you do get some of the sap on your skin, wash it with soap and warm water and avoid touching your face and eyes.
---
Where to Cut and Prune A Monstera
Where you should prune a Monstera depends a lot on what your goal is. If you need to keep it from outgrowing its pot, you'll need to carefully trim back its roots. If you want to get rid of dead or unsightly leaves, you should cut those off at the stem. But what about if you want to propagate your plant?
If you aren't familiar with the term, propagation is the process of taking parts of an established plant and rooting them, either in a growing medium or in water, so that they grow into a separate plant. It sounds daunting but is actually really, really easy.
If your goal is to prune for propagation, you'll need to cut beneath a node. Nodes are the part of your plant where the stems and leaves grow. On a Monstera, these areas are raised and a little bit of a lighter green. If you aren't sure where a node is on your plant, pick a leaf and follow it all the way down to where it meets the main stem. You should find a node there. Often, older plants will have nodes with several leaves growing out of them.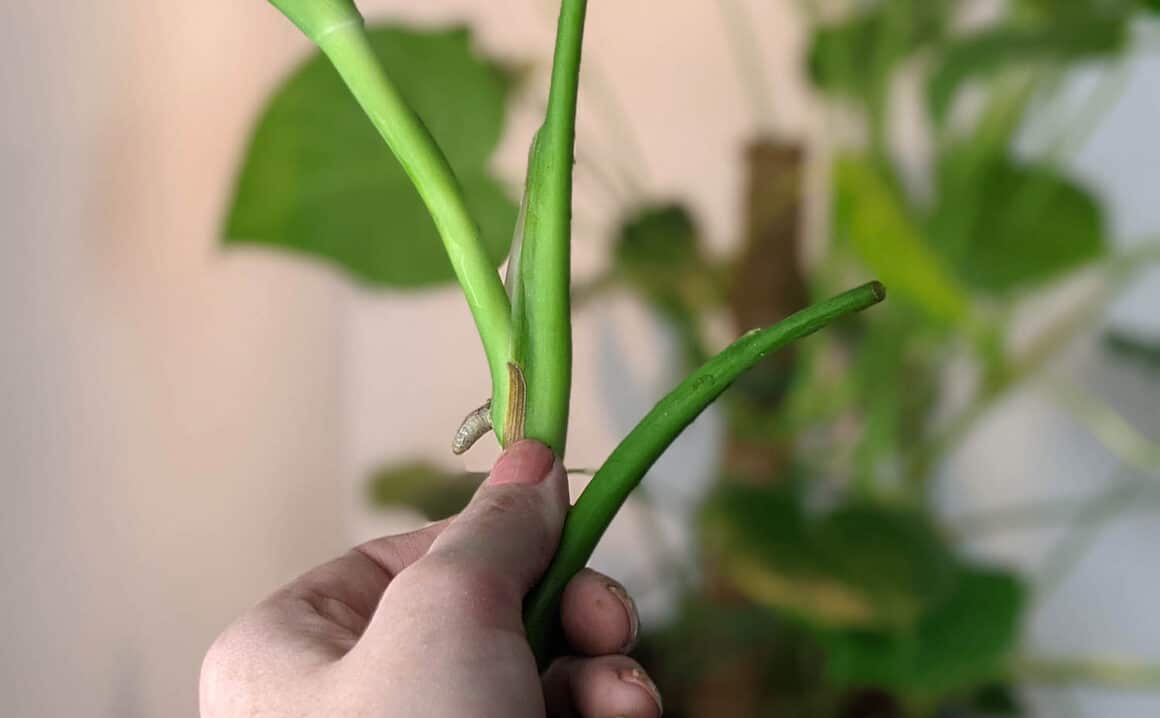 Cutting beneath these areas is the only way to successfully propagate a Monstera cutting. If you aren't concerned about propagation and just want to remove leaves, you don't need to be worried about this. For more information on Monstera nodes and taking proper cuttings, read this article.
---
Pruning Monstera Leaves: Trimming Back Large Plants
I usually use a sharp garden knife to prune my plants, but you can also use garden shears. Be sure to sterilize your tool before you cut to avoid spreading any disease to your plant. If you find a stem is too hard to cut through cleanly, stop and look for a tool that's better suited to the purpose. You want to make sure the stem doesn't get compressed or damaged while you are cutting.
Depending on the size and condition of your Monstera, pruning it back may be as easy as cutting off a few stems. If you have an overgrown and unruly plant, the process may be a little bit more complicated.
In the case of an enormous Monstera, removing too much growth haphazardly can be detrimental to the plant and cause shock that seriously damages your plant and stunts its growth. If your plant is large enough for this to be a concern, you may want to consider cutting beneath nodes with a significant amount of growth. A single cut (or two, depending on the plant) will be less likely to get infected than dozens of cuts across the plant.
Look for stems or offshoots with multiple leaves and try to clip those areas. This will allow you to make more progress with a fewer number of cuts, thus reducing the risk of introducing bacteria or infection to your plant. The more cuts you make, the more chances there are to infect your Monstera.
These cuttings can also be propagated, either by sticking them in a fresh pot of soil or in water, meaning that you might end up with several well-established Monsteras rather than one gigantic and overgrown one.
If your plant isn't this large or doesn't require much pruning, a few selective cuts made as close to the parent stem as possible is sufficient to keep your Monstera from growing wild.
Any pruning that could be taxing on your plant's health should be done in early spring before they enter the growing season of late spring and summer. This will ensure that your Monstera can heal properly and will have access to enough sunlight to produce the energy it needs to repair the areas that have been cut.
---
Pruning Monstera Underground Roots to Hold Back Growth and Keep The Plant In a Smaller Container
If your Monstera continues to grow to the point that it needs frequent repotting, pruning the underground roots is a helpful method for slowing it down. I covered all you need to know about Monstera roots in-depth in this article, but we'll do a quick summary here.
Underground roots, also known as lateral-subterranean roots, are the part of the plant that grows in the soil. The "lateral" part of their name comes from the fact that they generally grow off the main stem root. These are the roots responsible for absorbing water and nutrients from the soil, which are vital to the health and development of the plant.
If your Monstera has the space to grow more underground roots, it will. And if it grows more underground roots, it will be able to take up more water and nutrients, meaning it'll continue to grow new leaves and stems.
Unfortunately, letting your Monstera become root-bound may slow down growth but will ultimately do more harm than good. Root-bound plants suffer all kinds of problems that come from them not having enough soil to allow them to absorb any water or nutrients. Left like this too long, there's a possibility that the plant can completely die back.
To address all of this, you'll need to periodically prune back your Monstera's underground roots. This sounds a lot scarier than it is! Monsteras are hardy, so cutting some of its roots won't hurt the plant as long as it is done correctly.
Be sure to use clean, sterile, and sharp shears. Roots are arguably the most delicate part of a plant, so sterilizing the shears well is very important. Not doing so can introduce pests and diseases that may have been picked up from other plants.
For more information on pruning Monstera's underground roots, see this article where I cover the topic in-depth.
---
Steps To Pruning The Roots Of A Monstera
Remove your Monstera carefully from its pot. If it doesn't come out easily, tap the sides of the container to help the soil come loose or run a butter knife around the inside edge of the pot to loosen its grip. Brush off the soil on the roots. You can also untangle or work apart the roots to make them easier to deal with.
Inspect the roots for any signs of damage or rot, such as browning or mushy roots. Trim these first and then immediately sanitize the shears.
Now it's time to start cutting the roots! Limit the amount you cut to no more than 1/3 of the total volume of roots and try to avoid the main stem root, which is usually much larger and thicker than the others.
After this, all you need to do is repot your Monstera with fresh soil and put it back where it was before. Keep an eye out for any signs of shock, like wilting or yellowing leaves. And be careful not to overwater your plant.
---
Pruning Aerial Roots
Aerial roots are another type of root that develops on Monsteras. These are roots that grow above ground, hence the term "aerial", and allow the Monstera to grow up and around larger plants like trees.
Aerial roots can become troublesome for plant owners that have large Monsteras. They aren't especially pretty and can get very long. It's unlikely that they will cause any structural damage, but if that's a concern, you'll need to be diligent in pruning them.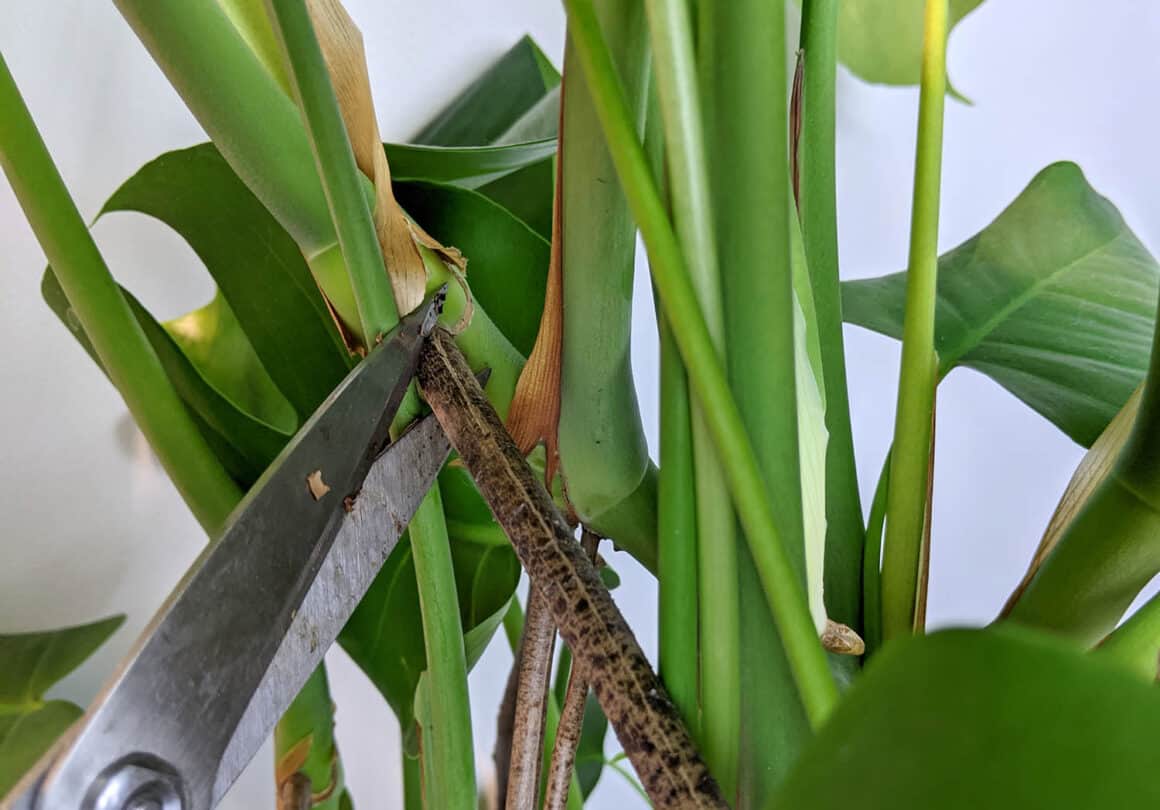 Pruning an aerial root is as simple as pruning the rest of the plant. Starting with sterile shears, identify any aerial roots that are wild and unsightly. Trim these aerial roots as close to the stem or node as possible without cutting it. Cutting or damaging the stem or node can weaken the plant, making it more susceptible to damage from pests or diseases.
Aerial roots often grow back aggressively, so don't be surprised if you find two growing in the place of the one you cut. Just be consistent in pruning! For more information on aerial roots, click here.
---
Pruning Back Dying or Yellow Growth
If you've had your Monstera a long time, it may be beginning to look a little bit ratty. Monsteras often lose older growth, resulting in it yellowing and eventually dying. A few leaves doing this, especially on an older plant, isn't anything to be concerned about. These can easily be trimmed back.
If your plant isn't very old or is suddenly showing a lot of yellowing across the plant, this may indicate an issue like overwatering or root rot. If that's the case, you shouldn't prune it at all! You'll need to address the main concern before you can do anything else.
Much like pruning back regular leaves on a plant that has grown too large, the process of pruning back old growth is straightforward. Decide before you get started on what needs to go. Anything with unhealthy holes (not just fenestrations) should be trimmed in addition to the yellowing or dead leaves.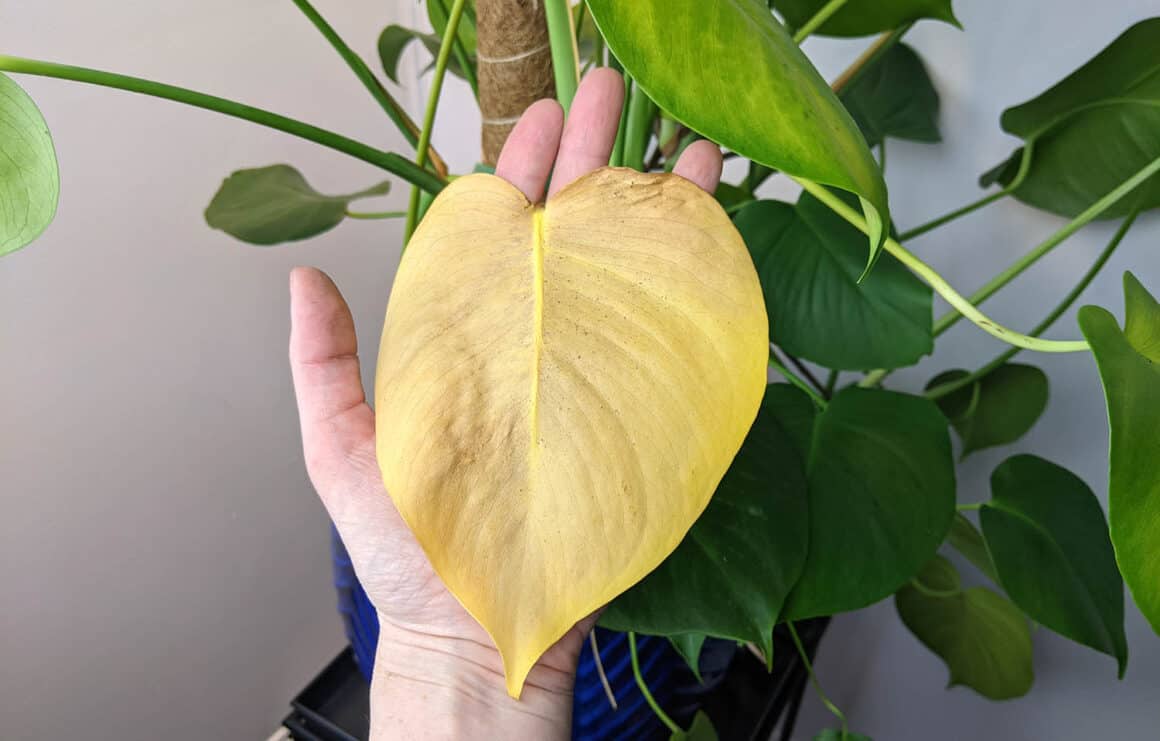 After you've planned it out, simply follow the leaf and stem back to the main stem and trim it as closely as you can without cutting the main stem. As always, use sterile shears!
Leaves that don't look healthy shouldn't be used to propagate any cuttings. Don't worry about pruning beneath nodes in this situation. After you've finished pruning, either toss or compost the leaves that you've removed.
---
How to Propagate What You Cut
Like many other plants, Monsteras can easily be propagated from cuttings taken off of the mother plant. Propagation involves taking these cuttings from a healthy plant, putting them in soil or water, and allowing them to grow roots. The process is really simple and is a great way to learn more about your plants and how they grow.
When pruning a Monstera with the intention of propagating, it's essential to look for healthy leaves and nodes. Cuttings must be taken from beneath a node for propagation to occur. This is because nodes hold the required tissue to create a new plant. For more information on that, read this article.
To take a cutting, all you need is a pair of sterile shears and your prepared growing medium or jar of water. After you've decided what parts of the Monstera you'll be taking for cuttings, cut directly beneath the selected nodes.
While it's ultimately up to you to decide how you want to propagate your Monstera, I prefer to put my cuttings in decorative jars filled with water. I have seen claims that rooting a plant in water results in weak roots, but I have never had an issue with rooting this way. I have, however, had several cuttings fail while rooting in soil.
Propagating in water allows you to watch the cutting for any problems, such as rot, indicating the plant won't be successful. It also allows you to watch the roots develop. This isn't necessary for a healthy plant, but it is a really cool process to observe.
If propagating in soil, use fresh soil and keep it moist but not wet. Soil that is too wet can encourage mold and bacteria growth, which will seriously damage and likely kill a delicate cutting.
For more information on propagating Monsteras, click here.
---
Final Thoughts
Pruning a Monstera deliciosa is vital to keeping it pretty and healthy. Done properly and regularly, pruning can also encourage new growth across the plant. Just be sure to follow the steps I've outlined above. Pruning at the wrong time of year won't kill your plant, but it will stifle its chances of success, especially when propagating.
If you decide to propagate, be sure to do a lot of research! You can start with this article that talks all about taking proper cuttings.
It's very important that you pay special attention to your Monstera deliciosa after any pruning to ensure that the plant isn't suffering shock and hasn't been exposed to any pathogens. Things like drooping, wilting, or yellowing leaves are never a good sign, so be diligent in making sure that your Monstera is getting the right amount of humidity, sunlight, and water.
If you decide to prune the roots and replant your Monstera into a different container, be extra diligent in watching for signs of transplant shock. One of the easiest ways to avoid this is by returning the plant to the original location it was in your home. Moving a plant after replanting can be too much change at once! 
---
Get Our Monstera eBook for More Info
Have more questions about your Monstera Deliciosa? Want to know what you can do to keep it happy and healthy? Grab our latest book, How to Care for Monstera Deliciosa, and get all that and more.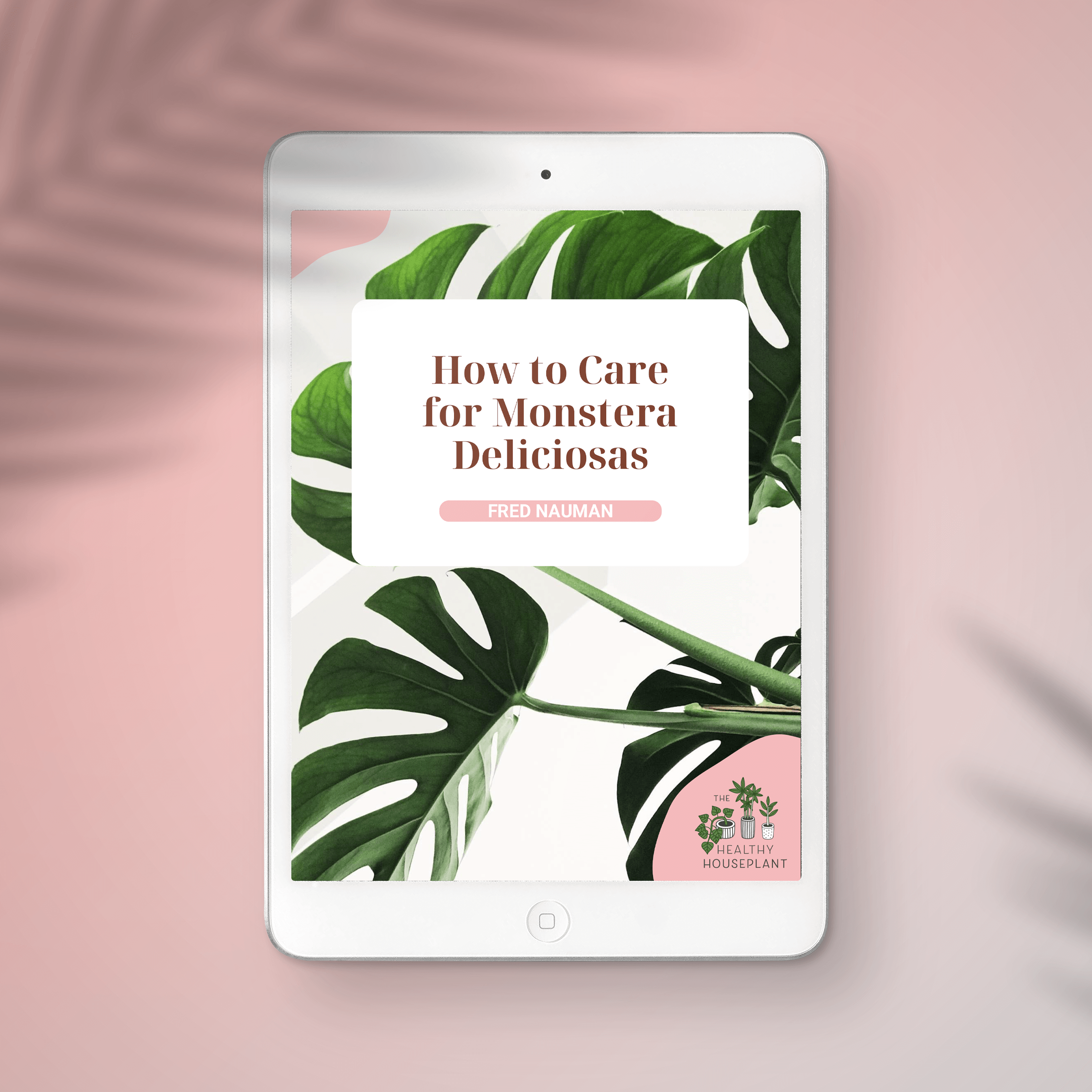 Our eBook covers:
Signs Your Monstera Isn't Getting Enough Light or Water
How to Grow Your Monstera to Epic Sizes
What are Fenestrations and How Can You Encourage Them
Tips for Fertilizing Monsteras
The Best Way to Prune this Plant
Propagation Tips and Tricks
The Best Type of Soil for Monsteras
Help Diagnosing Unhealthy Plants and How to Treat Them
And More!!
If you've got more to learn, grab a copy of our book today and get your Monstera Deliciosa back on track. Get your copy now!