Anyone who has owned a ZZ Plant (Zamioculcas zamiifolia) has probably found out that they are not famous for being the fastest growers. The idea of pruning them can seem a bit daunting when considering removing months or years of hard-earned growth. However, there are certain situations where your ZZ Plant could actually benefit from the occasional trim.
While regular pruning is usually unnecessary for ZZ Plants, there are certain occasions where trimming the plant will benefit it in the long run. Removing diseased or damaged foliage, cutting back leggy growth, and topping longer stems to even out the plant are all good reasons to grab your garden shears.
If you've thought your ZZ might need a trim, but haven't gathered the courage to put scissors to stem, perhaps this article can help set your mind at ease. ZZ Plants are hardy and tough, so pruning the plant from time to time shouldn't have any lasting effects on the plant's growth.
---
A Note on ZZ Plant Toxicity
Before you begin pruning your ZZ, you should be aware that these plants are considered toxic to humans and animals. That sounds scarier than it actually is, though.
ZZ Plants contain a naturally-occurring compound that can cause irritation to soft tissues (like your skin, mouth, and eyes). It is present in all parts of the plant, but most commonly encountered in the sap, which is exposed any time a stem breaks or is pruned.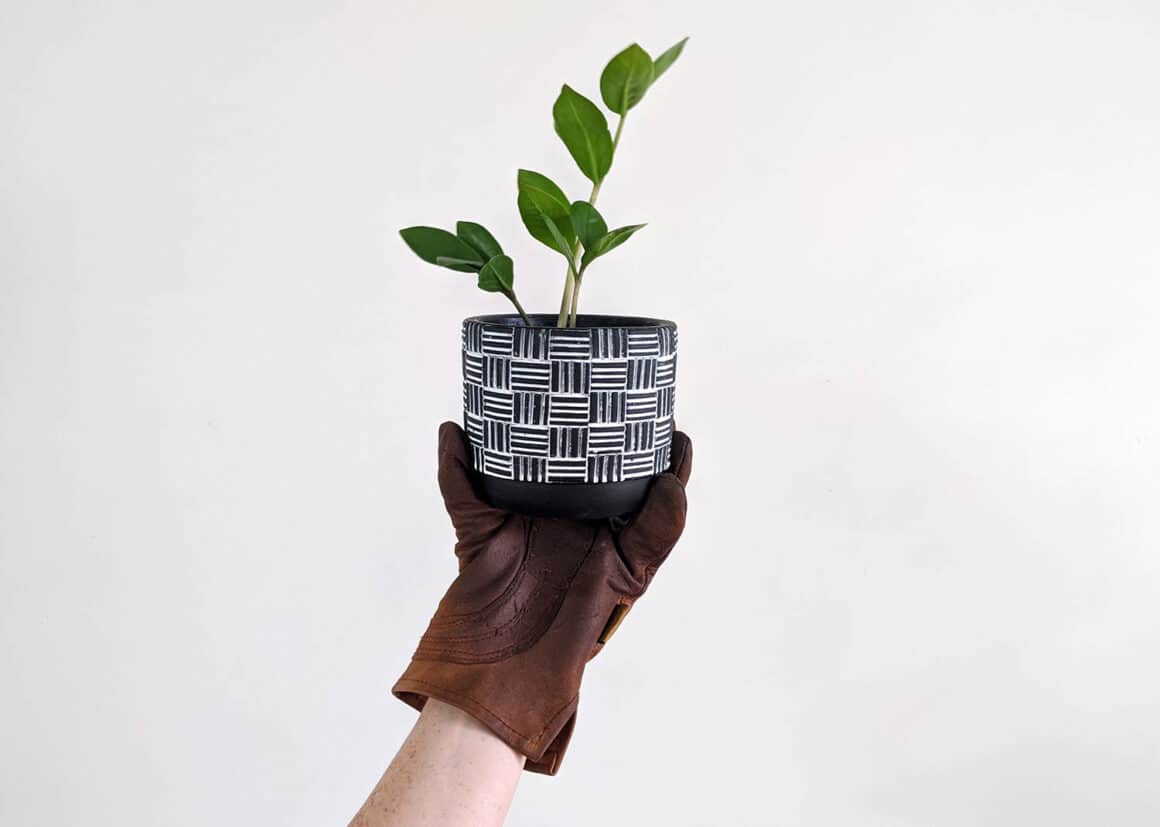 If you come into contact with the sap, you may experience itchy, rash-like symptoms on your skin. These are usually mild and dissipate once you wash with soap and water. Avoid this by wearing gloves when you work with your ZZ Plant and avoid touching your face. Always keep the plant out of reach from curious pets and pick up any plant pieces when you're finished pruning.
---
READ OUR EBOOK
Keep Your ZZ Happy With Our Guide
ZZ Plants are tough. They can survive a range of conditions and require little input from us. But if you want your ZZ to thrive, you'll need to know a thing or two about what they need and love. Get our 80+ page care guide and you'll be on your way to a very healthy houseplant.
GET YOUR COPY NOW
---
Four Reasons Why You Should Trim Your ZZ Plant
As I said before, ZZs are some of the slowest growers among houseplants, and cutting them back can feel like a daunting task. But there are some occasions where a small trim may be just what the doctor ordered.
---
Balance the Look of the Plant
The most common reason you might trim up your ZZ Plant is that you've got a rogue stem that has grown much faster than any of the others, giving it a lopsided appearance. ZZs seem to have a mind of their own and don't always put on growth symmetrically, so it's not uncommon to see one stem beginning to tower over the rest.
By pruning the tallest stalk back, you can make your ZZ Plant more symmetrical, so it looks fuller and more visually pleasing. In addition, the plant will have more energy to utilize elsewhere, hopefully pushing more growth on the smaller stems.
---
Remove Old or Dead Foliage
Another common reason to trim your ZZ Plant is to remove the plant's old or dead leaves. Like many plants, ZZs experience leaf senescence, or the natural process of leaves aging and dying as the plant grows. Typically, this is seen as older leaves of the plant begin to yellow and fall off the plant.
However, sometimes, those leaves may hang onto the plant for quite a while, so it is best to trim them away for a cleaner look. This also helps avoid any potential sources of rot that can affect other parts of your plant. Any nutrient reabsorption that may be occurring would be minimal and easily compensated for by fertilizing your ZZ Plant.
---
Remove Diseased Foliage
Although ZZ Plants are tough, they are somewhat sensitive to overwatering, which can occasionally lead to rot showing up on different parts of the plant. If you see any brown, mushy tissues along the stems or on any leaves, you will definitely want to trim out the affected areas to discourage the rot from spreading.
Rot will typically start where the plant is in contact with soggy soil, so where the stalks meet the rhizome at the soil line is a common spot for rot to present itself. While it's sad to prune out growth due to disease, you will want to remove the entire affected stalk to halt the spread of rot.
---
Remove Leggy Growth
One great thing about ZZ Plants is that they can tolerate a wide range of light exposures. However, I think we sometimes take this too literally and inadvertently place our ZZs in spots that are too dark. As a result, our ZZs get a bit leggy.
Etiolation, or sparse, weak plant growth, is your ZZ's way of telling you they need more light to grow properly. Once you have found a more suitable spot in your home for the plant, you'd be doing your ZZ a favor by pruning off the weakest and most sparse growth to redirect the plant's energy into producing healthier foliage, now that it is in the right lighting conditions.
Again, it's hard to trim away your ZZ's hard-earned growth, but leggy stems rarely grow into healthy stalks, so it's best to remove them sooner rather than later. That way, your ZZ isn't wasting energy better served elsewhere in the plant.
---
How To Trim Your ZZ Plant
ZZ Plants are definitely not delicate like flowers. I've seen them come back without issue from light trims, hard prunes, and everything in between. You can regularly divide them into multiple plants, and they'll still bounce back. Needless to say, ZZs are tough.
Hopefully, that puts your mind at ease when you have your scissors in hand and start to worry about how and where to make your cuts.
For minor pruning of overgrown stalks, you can easily trim the stem back to match the others and produce a more symmetrical plant. If you find that your stems are all crisscrossed and crowded near the soil, consider removing whole stems to allow more airflow and a lighter overall look to the plant.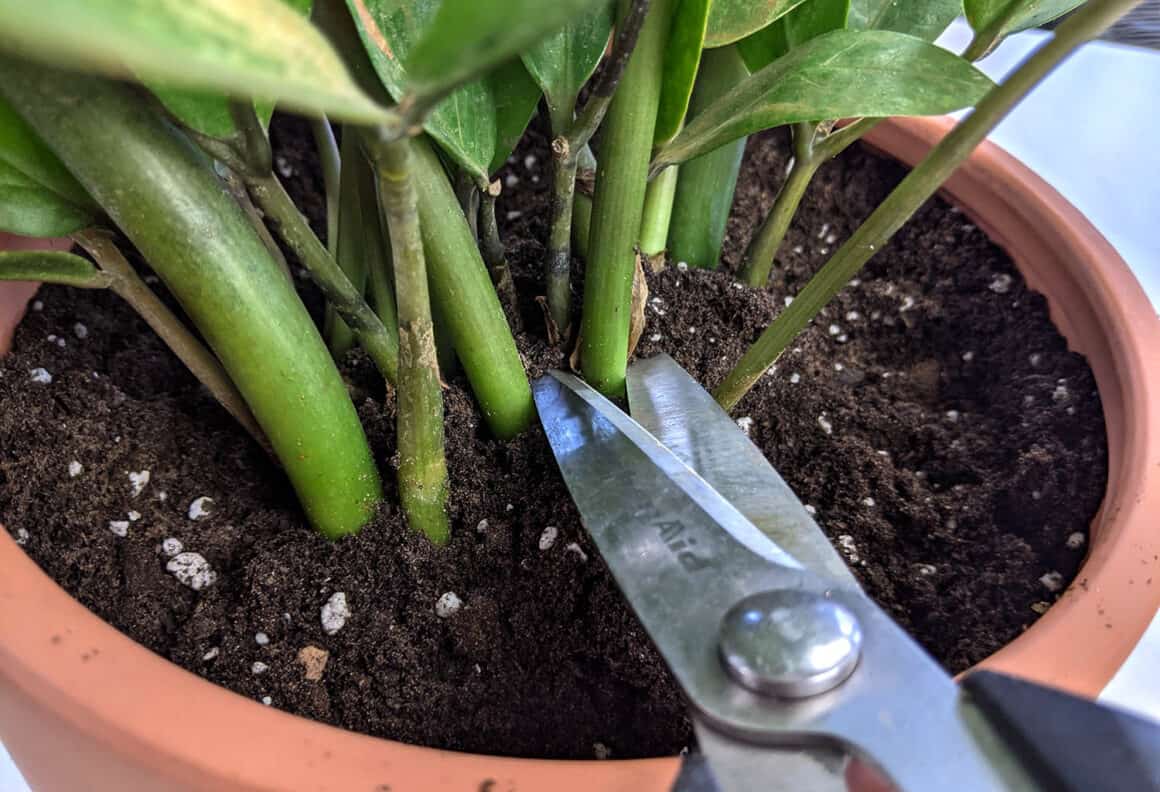 If you are just removing older leaves or damaged portions of the plant (say, from a tipped pot), your best bet is to only clip off the affected parts of the plant, snipping leaves off where they meet a stem, or trimming an injured stem just under where the damage starts.
If you are combating a disease or rot issue, you will want to be more liberal with the amount you remove. Typically, if you see rot starting to creep up a stem from the soil line, you will want to remove the entire stalk from the plant. You will also need to investigate under the soil to see if rot has spread to the roots or rhizome. You can read more about that process here.
For leggy foliage, I typically suggest removing any sparse growth down to the soil line. If your ZZ Plant hasn't had proper light exposure for some time and most of the plant is leggy, you may want to consider only removing the worst stems first, leaving enough for the plant to continue producing new growth. At a later date, you can do a second prune to remove the remaining leggy growth.
Regardless of the reason you are trimming your ZZ Plant, always use sharp, clean garden shears or scissors to make straight cuts. This will allow for faster healing and avoids introducing disease into the plant.
---
When to Trim Your ZZ Plant
Because ZZ Plants tend to handle pruning well and bounce back quickly, you can trim your plant whenever you think it's necessary. Many plants do better when you prune them at specific times of the year, but I found that ZZ Plants aren't that fickle and will heal quickly regardless of timing.
If you wanted to be extra careful, wait until early spring, when your ZZ Plant is close to coming out of dormancy. This will ensure that all the important tasks of storing nutrients and bolstering root systems have been finished, and your ZZ will be quick to start producing new growth (and healing tissue) as it enters its growing season.
---
Don't Forget to Propagate What You Cut
Did you know that everything you cut off your ZZ Plant can most likely be propagated into a new plant? Any undamaged stems or leaves that are removed can be rooted out in water or soil and, eventually, grow into another ZZ to add to your collection.
The easiest way to do this is through stem propagation in water. Place any stem tips that you've removed from the plant into small containers of water. Allow them to sit in a brightly lit (indirect light only) window sill, changing the water weekly. In a few months, you'll start to see new roots growing from the cutting.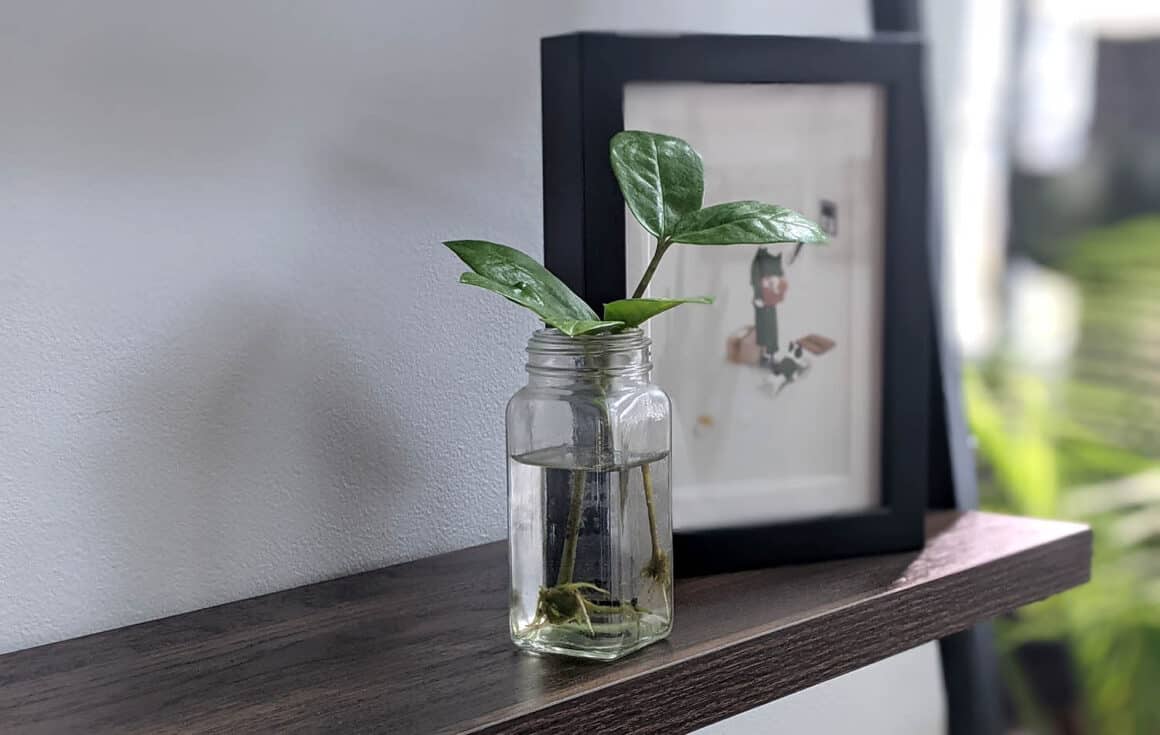 Once the roots are about an inch long, you can plant your cuttings in a small pot with well-drained soil to root out. As the cutting takes root and grows, you can eventually pot into a larger container. For more information on propagating ZZ cuttings, click here.
---
Final Thoughts
Cutting back our houseplants can sometimes be a scary proposition, especially when dealing with a slow grower like the ZZ Plant. However, there are many benefits to giving your plant a quick trim, and you'll often end up with a healthier, happier, more visually pleasing plant in the long run.
---
Need More Help With Your ZZ Plant?
Have more questions about what is wrong with your ZZ Plant? Want to know what you can do to keep it happy and healthy? Grab our latest book, Caring for ZZ Plants, and get all that and more.
Our eBook covers:
How Toxic Are ZZs Really?
What Is a Rhizome and Why Do ZZs Have Them?
Proper Watering Techniques and Light Levels
Tips for Fertilizing ZZ Plants
The Most Common Reasons for Pruning Your Plant
Step By Step Instructions for Repotting ZZs
How to Propagate ZZs from Stems, Leaves and Rhizomes
Help Diagnosing Unhealthy Plants and How to Treat Them
And More!
If you've got more to learn, grab a copy of our book today and get your Zamiifolia Zamioculcas back on track. Get your copy now!