I bought my first Monstera deliciosa at my local grocery store. It was a relatively small plant, but I was so excited to find it that I didn't mind. I brought it home and couldn't wait for the day that it would develop gigantic leaves full of the splits and slits they're known for. But I waited and waited, and still, the plant had small leaves lacking fenestration. Then I started wondering: Do all Monsteras split? What could I do to help encourage it to fenestrate? After some digging, I found my answer.
If the leaves of your Monstera aren't splitting, it usually comes down to two factors: the age of the plant and the volume of available sunlight. A Monstera that is too young won't fenestrate until it is about three years old. A lack of sunlight can also prevent Monsteras from producing fenestrations.
If you're not super familiar with Monsteras, fenestration is probably a brand new idea to you. In this article, I'm going to cover everything you need to know about fenestrations. I'll talk about their theorized purpose, when to expect them to develop, and what you can do to get your Monstera's leaves to start fenestrating.
---
What Are Fenestrations?
Anyone who has seen even a picture of a Monstera deliciosa has noticed the distinctive holes and slits that larger leaves tend to develop on well-established plants. These holes are the fenestrations that make Monsteras such coveted plants. This unique trait can only be found on a handful of other plants, including the Monstera adansonii.
Instagram and other social media platforms are riddled with people sharing their gorgeously fenestrated Monsteras. So if you have a Monstera that isn't putting out holey leaves, you may be feeling a bit worried. But lack of fenestration isn't always something to be concerned about, depending on the plant's age and the conditions it lives in.
Fenestrations can range from small holes inside of the leaf to larger ones that actually divide the leaf. The intensity of the fenestration, in part, depends on the size of the leaf and the age of the plant. A very well-loved Monstera can produce enormous leaves that feature both holes and slits, making for a gorgeous display of various fenestrations.
---
Why Do Monsteras Fenestrate?
There is no agreed-upon reason for the Monstera deliciosa's fenestrations. An early theory put forward by H. W. King was that the fenestrations developed to allow water to pass through to the parts of the plant below. King believed that this development was advantageous in allowing the water to move through the leaves, which would otherwise act as "umbrellas" and prevent water from reaching the plant's roots.
This theory was discredited by Michael Madison's "A Revision of Monstera" in 1977. Instead, Madison suggested that the fenestrations helped the plant thermoregulate better, preventing it from becoming too hot in sunlight. However, this theory doesn't account for the fact that Monsteras tend to prefer shade or partial sunlight in their natural habitats.
Christopher Muir went on to propose a new theory in 2013. Dr. Muir suggested that the fenestrations developed to increase the likelihood that a given leaf would capture sunlight in what he called a "stochastic" environment. This means that the availability of sunlight was sporadic due to the rainforest canopy.
It may seem counterintuitive that a plant would develop holes in its leaves to catch more of the filtered sunlight, but, broken down, the idea (kind of) makes sense. A non-fenestrated leaf can't grow as large as a fenestrated leaf but will capture all of the light that lands on it; a fenestrated leaf can grow much larger, allowing it more exposure to sunlight, but it can't quite capture all of the light that lands on it due to the holes.
In the example that Muir gives, a fenestrated leaf will probably catch the same amount of sunlight in a given day that a non-fenestrated leaf will. But the fenestrated leaf is likely to be exposed to more sunlight, which gives it an advantage in the rainforest where sunlight is sporadic.
Despite all of this, there is still no thoroughly understood and accepted reason for the Monstera's fenestration. Dr. Muir's theory, though, does account for why only larger, well-developed Monsteras will develop fenestrations, a topic we'll cover more in-depth later on.
I have also seen proposals that the fenestrations allow heavy winds to pass through the leaves without damaging them, though I can't find a source for where this idea came from. Regardless of why Monsteras developed fenestrated leaves in the wild, these evolutionary adaptations don't have much of a purpose when kept indoors.
---
Do All Monstera Leaves Split?
The quick answer to this is a resounding no. Fenestrations almost exclusively develop in older plants, so a Monstera grown from seed that has only popped out a few fresh sprigs of growth won't develop fenestrations for a long time… somewhere near three years!
And, even in an older plant, not every leaf will come out fenestrated. This is a point of serious frustration for some plant owners and can cause concern. A lack of fenestrations isn't always something to be worried about, though.
If you have noticed that your older Monstera isn't putting out any fenestrations, you should look into what the problem might be. Often, a Monstera will fail to fenestrate if it doesn't have access to enough light. There are often other signs that come with this, so the issue can be reasonably easy to identify.
---
Why Your Monstera Isn't Fenestrating
If you are worried about your Monstera's lack of fenestrations, there can be a couple of issues contributing to why it isn't growing leaves with holes. Almost always, though, it's a matter of your Monstera not having all of its needs met.
To understand this better, let's quickly review the photosynthesis process. Photosynthesis is how a plant uses sunlight to convert water and carbon dioxide into glucose and oxygen. The resulting glucose is what the plant uses to perform its various functions, including growth and reproduction.
If any of these needs aren't met, a Monstera can't correctly complete photosynthesis and won't have enough glucose to continue to grow. One of the first things that any plant will shut down when this happens is producing new leaves.
Often, when it comes to a lack of sunlight, a Monstera will produce small, thin, and weak leaves that lack fenestrations. The leaves that it does produce, if any, will fail to become thick and glossy, making the process of identifying the problem fairly easy.
A lack of water and humidity can have a similar effect. Often, a Monstera that doesn't have enough water will completely stop growing and, if neglected long enough, will begin to die back.
It's also important to remember that a young Monstera won't fenestrate. It generally takes a Monstera two to three years before it will start putting out fenestrated leaves. This is only a guideline, so your Monstera may need more or less time to begin producing fenestrations.
---
When To Expect Your Monstera's Fenestrations
If you're purchasing a Monstera from a nursery and it already has leaves with fenestrations, it's fair to expect that future leaves will have fenestrations, too.
A young Monstera won't put out fenestrations until it is two or three years old. When you're shopping for your new plant, a young Monstera can be identified by its smaller leaves, lack of fenestrations, and fewer nodes and aerial roots. The leaves will often be thinner and a lighter green than older leaves on other plants. Younger plants also tend to be a lot cheaper than older ones.
The same timeline applies to a Monstera grown from seed. Depending on the conditions, a seedling can pretty quickly produce a leaf, but it'll be years before a fenestration appears.
If you want a Monstera with fenestrations immediately, it is worth the cost to invest in a plant that already has at least a few leaves with fenestrations. This makes it more likely that future leaves will develop those characteristic splits and slits because it shows that the plant has reached the level of maturity it needs.
---
Tips For Encouraging Fenestration
If encouraging fenestration is a priority for you, there are plenty of different ways to ensure that your Monstera has everything it needs to start producing them. Most often, a lack of fenestrations comes down to the plant missing some part of its upkeep. I've broken this down below to some of the easiest ways to encourage a Monstera to develop fenestrations.
Give Your Monstera More Sunlight
If I had to pick a single thing that impacts the formation of fenestrations the most, it would be available sunlight. Universally, a Monstera that does not have enough sunlight will not fenestrate. This is something that Dr. Muir discusses in his research and has to do with light availability.
It may not be that your Monstera isn't getting enough sunlight to grow—just that it isn't getting enough light to fenestrate. Slightly increasing your Monstera's sunlight may be enough to help it along.
There are other indications that a Monstera doesn't have enough sunlight, though. Failing to grow any new leaves is one; poorly developed growth is another. Keep an eye out for things like this to make sure your Monstera is happy and healthy.
Moving your Monstera to a better window may also help it grow leaves with fenestrations. I've covered more on proper lighting for Monsteras here, but generally, a window facing south, east, or west will work well for these plants. Just be sure to watch the area you'll be putting the plant for at least a day so you can be sure that it'll work.
Get Your Monstera A Grow Light
If you're limited on your natural light options or just need an extra boost for your plants in the winter months, a grow light is a fantastic option. They come in a ton of different styles and can accommodate a whole host of size and space limitations.
The Monstera I was talking about at the beginning of this article never developed new fenestrated leaves until I put it under a grow light. I thought my house had enough bright light for my Monstera, but whether it was the placement in my room or the intensity of the available light, it continually put out small, solid leaves. Once I added the Aspect grow light from Soltech above it, it started producing bigger leaves with beautiful fenestrations.
If you're not familiar with them, grow lights are lights that emulate the natural light spectrum of the sun and help plants grow in places where only limited sunlight is available. There are a lot of different options, which can make finding the right one overwhelming. We have a great article that covers everything you need to know about grow lights here. My Monstera is under the pendant light from Soltech, but the Sansi bulb is a much more affordable option that I've also had great success with.
Make Sure Your Monstera Has Enough Water
Watering your Monstera regularly can make a huge difference in the plant's overall quality of life. Because they are tropical plants, Monsteras will need to be on a regular schedule that accounts for their current habitat.
As a general rule, a Monstera deliciosa should be watered when the first inch or two of soil is dry. Waterings should be thorough so that the water completely saturates the soil, and any excess water should be drained from the saucer.
It's equally as crucial that a Monstera not be overwatered. Overwatering can lead to root rot, which will ultimately damage the plant in the long-term. Finding the right balance is key to encouraging fenestration growth.
Increase Your Monstera's Humidity
If watering isn't a concern, there's a possibility that a lack of humidity might be contributing to your Monstera not putting out fenestrated leaves. And whether it's affected fenestrations or not, it's good to check-in and make sure that your Monstera is in a humid enough environment: being too dry will prevent the plant from reaching its fullest potential.
In an ideal home, a Monstera will absolutely thrive in a well-lit bathroom. This area gets plenty of humidity throughout the week, so you won't need to compensate or accommodate your plant at all. Not everyone has access to a bathroom with good lighting, though.
If that's the case for you, the humidity in an area can be increased easily with a humidifier. These come in various shapes and sizes and are now available in a lot of neat styles. Simply add water, turn the humidifier on, and it'll put out a steady stream of steam. For more information on my favorite humidifiers, read this article.
For a budget fix, your Monstera's saucer can be turned into a pebble tray. All you'll need to do is add some pebbles to it, place the plant's pot on top, and fill the saucer with water. The water will evaporate slowly, creating a small area of humidity around the plant.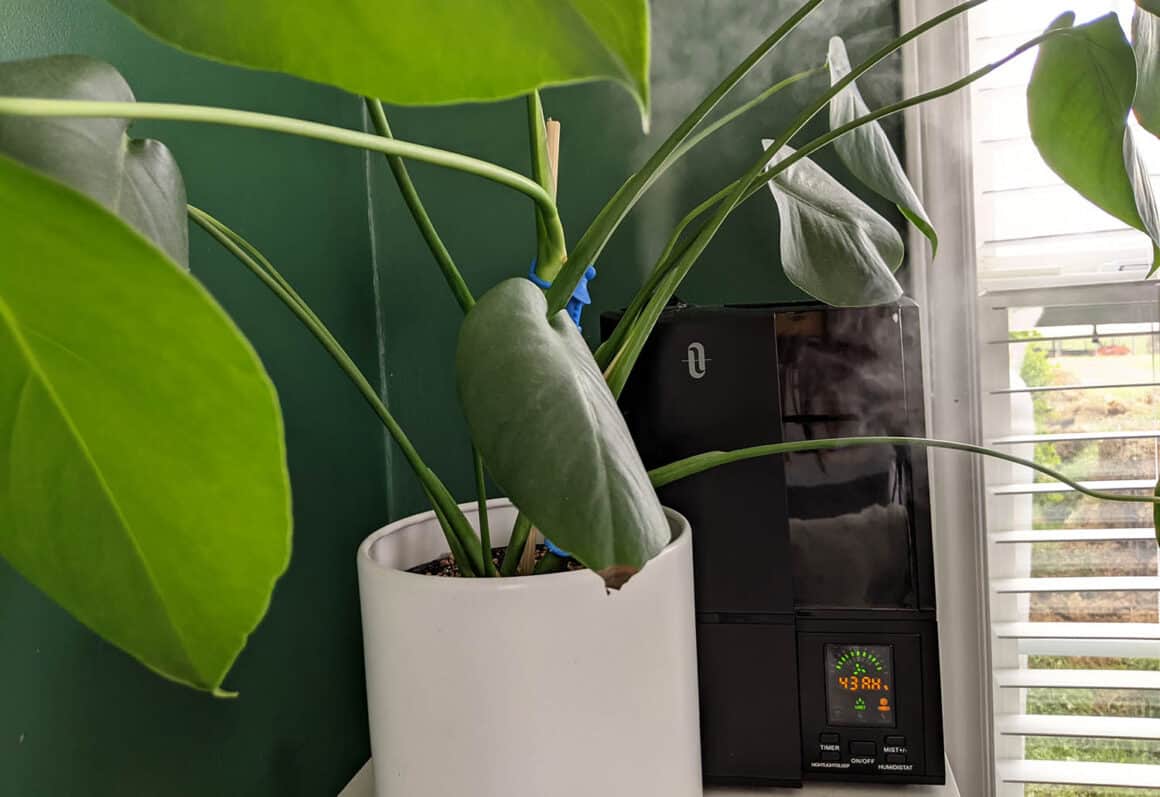 Fertilize Your Monstera
Any problems with a plant's growth almost always come down to getting the right balance of water, light, and nutrients. If you're confident that your Monstera is good in the water and light departments, it might be time to evaluate its nutrient-levels.
Repotting your Monstera regularly with fresh soil is a great way to introduce fresh nutrients but isn't always plausible, especially with a towering Monstera. If this is the case for you, adding a water-soluble fertilizer periodically is a great way to ensure that your Monstera has everything it needs to grow.
Monsteras should be fertilized with a balanced fertilizer diluted to half strength. When it comes to adding in nutrients, start small. You can always add more fertilizer, but it is difficult to remove it if you've added too much. For more information on the best way to fertilize a Monstera deliciosa, consult this article.
Prune Your Monstera's Old Growth
Pruning is vital to encourage growth in any plant. In the case of Monsteras, pruning any old growth can help your plant develop fenestrations.
Pruning should be done in the spring and early summer before the growing season starts. There's no reason to be intimidated by the process because it's super simple. All you need is a pair of sanitized, sharp shears (or scissors) and a clear understanding of where to cut.
Before pruning your Monstera, take time to identify what leaves need to be taken off. Anything too old, which will often have scarring and discoloration, can safely be removed. In addition to those, any leaves that are browning, burned, or have holes that aren't fenestrations should be removed.
Removing these leaves will allow the plant to allocate its resources elsewhere and encourage it to put out new growth that will be more likely to have fenestrations.
Repot Your Monstera
In any situation where you want to encourage a plant to grow, replanting it in a slightly larger pot with fresh soil is a good option. Established Monsteras can be challenging to repot, so be sure to find help if you need it.
When sizing up, you should only increase the plant's pot by one size. Going too much larger can cause the soil to retain excess water, leading to root rot.
It's also important that repotting be done with fresh soil. This reduces the risk of cross-contamination and introduces fresh nutrients to the plant, which is vital for encouraging growth.
For a step-by-step guide on repotting your Monstera, click here.
---
What Do New Monstera Leaves Look Like?
The process of watching a new Monstera leaf grow is incredibly exciting, especially in younger plants that don't have new growth often. When a new Monstera leave begins to form, it almost always comes from a node. New growth is a very bright green that borders on white and will be very small as it starts out. Over time, it will grow longer and begin to show more details, such as veins.
Generally, as the leaf becomes more detailed, you should see if and where fenestrations are developing on it. Don't be alarmed if you don't see any: they aren't always visible until the process of unfurling has started.
Once the new leaf has reached the right size, it will begin to unravel slowly, a process frequently referred to as unfurling. During this time, the leave will begin to uncurl, exposing the new growth to more sunlight and allowing you to see its full size and details. This can take several weeks to months, so don't feel rushed and don't try to help it along. Forcing the unfurling can damage the leaf, resulting in one that is malformed and ugly.
Right after unfurling, the leaf will remain thin and bright green. The longer that it has been open and exposed to sunlight, the darker and thicker it will get until it eventually begins to look like the mature leaves that make the Monstera so beautiful.
A Monstera won't fenestrate after the leaf has unfurled. The fenestrations are predetermined and won't come in after the leaf has fully matured. This can be really disappointing, but don't let it be a discouragement. Monsteras grow quickly, so your plant will be on to its next leaf before you know it.
---
Final Thoughts
I was so disappointed when I found out that a young Monstera wouldn't fenestrate right away. I've always enjoyed getting my plants as babies and helping them flourish.
But don't completely discount the idea of getting a young Monstera plant. I have one that I've watched grow from a single, sickly leaf to several beautiful ones that are slowly getting larger. It isn't the same as the enormous, several-foot-wide leaves I'm used to seeing, but it's still beautiful, and it is much easier to manage than a larger plant.
The most important part of owning a Monstera and waiting for fenestrations is to be patient. As long as your plant is cared for properly, it will put out fenestrated leaves. Don't feel defeated if it takes longer than you were hoping! Your Monstera is doing its best. Given enough time, a healthy Monstera will become awe-inspiring.
Just be sure to care for your plant well and give it access to lots and lots of bright, indirect light. There is nothing as fulfilling as finally seeing the first fenestrated leaf unfurl, becoming gorgeous and vibrant. Each leaf that comes in after is just as exciting!