Although found much more frequently on outdoor plants, aphids can be a common insect that takes up residency on your tender houseplants. Despite being pretty ubiquitous as a plant pest, when it comes to indoor plants, many people aren't sure how to deal with them. How did they get in? What's the best way to treat for them? Are they dangerous to your houseplants?
While it is true that aphids can do a lot of damage to houseplants, they seldom kill a mature plant on their own. However, the tissue damage they inflict and the buildup of honeydew excretions can cause a plethora of health conditions for the plant that can be hard to recover from.
Regardless of whether or not they can kill a houseplant, we do know what kind of damage they can do, causing anything from unsightly, stunted leaves to the introduction of fungal infections and other diseases.
By familiarizing yourself with what aphids are, how they reproduce, how they spread, and what you can do to eradicate them, you'll be equipped with the information you need to identify an infestation early and what actions to take to minimize the damage done to your houseplant.
In this article, we'll cover the most common questions asked about aphids so you can arm yourself with the knowledge necessary to protect your plants from these annoying little insects.
---
What is an Aphid?
Aphids are small, piercing insects that are often found on the tender parts of a variety of different plants, both outdoors and in. Adults can be about 1/8" big and often have a pear-shaped, soft body. The most common variety you find on houseplants is the green peach aphid, which has a yellowish green color. Other varieties can be different colors.
---
How do Houseplants Get Aphids?
Houseplants, being indoors, are a lot more protected from aphid infestations than many outdoor plants. However, your houseplants can and do get aphids in a variety of mundane ways.
An aphid can commonly find its way onto a houseplant after crawling or flying in through an open window. They also tend to stick to pet fur or the sleeves of our shirts, so transferring them to our indoor plants after being out in our gardens is another common vector.
Also, even though nurseries and plant shops try to stay vigilant about pest infestations, aphids are persistent little insects and can stow away on a recently purchased plant that you bring into your home. It's always a good idea to thoroughly check for any bugs before integrating new houseplants into your collection at home.
---
What is the Aphid Lifecycle?
One of the main reasons aphids are a formidable pest is their ability to reproduce quickly. This is due to their somewhat unique lifecycle.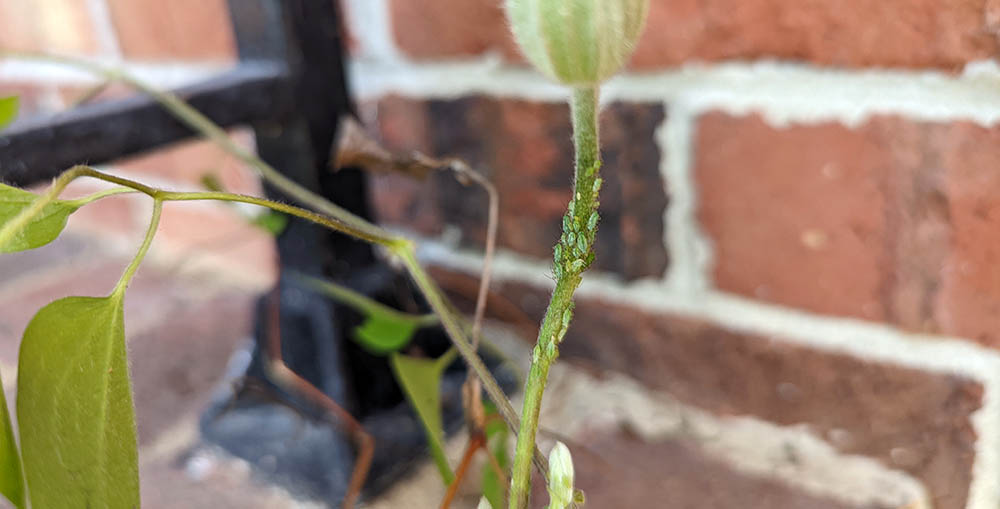 Typically, female aphids hatch from overwintered eggs in the spring. They have the ability to produce live offspring without having to sexually mate with a male, so immediately, they begin to produce female juvenile aphids, referred to as nymphs. These nymphs also have the ability to produce their own young, so within a matter of only a few days, you can imagine how fast a population can grow.
In the summer and fall, when climate conditions are right, males hatch from their eggs and mate with the females, which then proceed to lay new eggs to overwinter for the next season.
Although their ability to produce offspring can be alarming, the good news is that indoor conditions are not conducive for egg laying, so that part of the lifecycle rarely happens within houseplants. Also, because adults and nymphs are essentially the same, treatment options are more straightforward since you don't have to consider targeting different life stages (i.e., eggs, larvae, adults) as you do for some other pests.
---
Do Aphids Reproduce Sexually or Asexually?
Aphids have a complicated lifecycle that actually relies on both sexual and asexual reproduction. When females hatch from their eggs in the spring, they have the ability to give birth to live nymphs almost immediately. This is a process called viviparity and is a form of asexual reproduction that results in clones of the female. Depending on environmental conditions, some female aphids can produce eggs without a sexual partner, as well.
When the weather warms up enough, some eggs will hatch as males, whose only real job is to mate with the females. This is an important part of the lifecycle, as well, since the eggs produced through sexual reproduction are often what will overwinter and hatch the following year to start the cycle all over again.
---
Are Aphids Born Pregnant?
So, what about these nymphs? If females can produce live offspring without a partner, does that mean they are born pregnant? In simplified terms…yes, they are. In fact, aphids exhibit a condition called "paedogenesis," which is essentially pregnancy at early life stages.
This means that a nymph about to be born to a female can already have the cells of the next generation developing within it. Essentially, a new female is already developing before its grandmother gives birth to its mother. This is an evolutionary advantage for an insect with many predators, allowing the population to boom within weeks.
---
Are Aphids Parasites?
Although aphids live on and derive nutrients from plants, they are considered herbivores. Many organisms are classified as parasites because not only do they live on or within a host, but part of their lifecycle is reliant upon the presence of that host. Even though different life stages can happen apart from the host, at some point, it is needed to complete a necessary step in the parasite's life cycle.
For aphids, their entire lifecycle can happen apart from a plant, other than them needing to feed on it for sustenance.
---
Can Aphids Bite Humans?
Aphids do not have the ability to bite humans. Their mouthparts are modified to pierce plant tissue in order to get to the phloem, where they feed on the sap of the plant. These mouthparts are neither big enough nor strong enough to pierce human skin.
---
What Does Aphid Damage Look Like?
Aphids do their most damage when they feed on your houseplant. As they pierce into the plant tissue to access the sap, they create puncture wounds across the surface of the tender leaves, stems, or new growth.
As their population grows, this damage can start to add up, and you might start seeing leaves that are starting to wilt, look discolored, grow stunted or irregular, or begin to curl.
Furthermore, as they feed, aphids excrete a substance referred to as honeydew. This sticky, sugary substance ends up coating parts of the plant where aphids are present. As it builds up, honeydew can encourage the growth of sooty mold and other fungal infections that can impact the plant's health.
---
Why Do Aphids Secrete Honeydew?
When aphids feed on a plant, they do so by piercing into the phloem, where sap is present. Because sap is very sugary, aphids need to be able to consume a lot of it, bypassing much of the sugary carbohydrates in order to secure enough nutrients they need, like protein.
Along with this, plant phloem is pressurized as a way to carry nutrients to all parts of the plant. When an aphid bites into this pathway, the pressure within the plant pushes a lot of sap through them all at once.
An aphid's body has evolved to handle both of these situations by excreting honeydew, which essentially is just minimally processed sap that has pushed through the GI tract of the aphid.
Although pretty benign on its own, honeydew can build up on the surfaces of the plant, creating a sticky mess. It also promotes the growth of sooty mold, which can have detrimental effects on the plant's health.
---
Will Aphids Kill Houseplants?
It's fair to say that aphids can do a lot of damage to a houseplant, but in general, it is probably pretty rare that an infestation will be the sole cause of death to a mature plant.
However, aphid damage is enough to make one of your prized houseplants look pretty sad. Damaged leaf and stem tissue is unsightly, and overall, the plant can't carry out necessary functions as efficiently. This can cause stunted or halted growth since the plant is using a lot of energy to try and repair the damage caused by aphids.
Also, as with many insect infestations, aphids and their honeydew can introduce disease to the plant, which is already in a weakened state. So, while aphids on their own may not kill a houseplant, there is still a big risk to its health if you leave it untreated.
---
Will Aphids Spread to Other Plants?
As an aphid population grows on a plant, there is more of a likelihood that the infestation could spread to other plants in the vicinity.
Remember that aphids can fly or crawl, seeking out new food sources, and they are also easily transferable, catching rides on humans and pets. This is especially important to consider when doing normal plant care chores like watering. All it takes is one or two aphids to drop onto your sleeve or the water can before another one of your houseplants now has a bug issue.
---
Do Aphids Have Wings?
One of the ways aphids spread is by flying from one plant to another. Winged aphids will sometimes be produced in well-established colonies, where these flying individuals often leave the host plant searching for a new food source.
The appearance of winged aphids tends to happen only after several generations have occurred in one population, as the original food source starts to become tapped out. The females that produce live nymphs can begin producing winged offspring that eventually move on in search of a new host plant.
Although possible, this is, luckily, less common indoors, helping keep aphid infestations in check amongst houseplant collections.
---
Can You Drown Aphids?
Now that you know a little more about aphids and how they work, you might be thinking about what to do if you find them on your houseplant. One of the most common questions in regard to aphid treatment is whether or not you can drown them in water.
Technically, yes, you can drown aphids by submerging your plant in water, but we wouldn't recommend it. Aphids can store a lot of oxygen in their exoskeleton bodies, so to be sure you've killed them, a plant would probably need to be submerged for 24-48 hours. This is not good for your plant, which needs air exposure to carry out essential functions like gas exchange and respiration.
Rather than putting your houseplant at extreme risk just to drown the aphids, try a different approach. There are many different ways to combat an aphid infestation that don't involve drowning your houseplant.
---
How Do You Treat for Aphids?
Aphids can definitely be a pain to deal with, especially when you find them in your home. The good news is that these soft-bodied insects are susceptible to a lot of different treatment options that are mostly pretty safe and natural, so you can feel good about using them indoors.
First and foremost, you can save a lot of grief by quarantining any plant with aphids. Aphids can easily spread to other plants, so by isolating infested houseplants, you're already making sure the problem won't get worse.
If you want to try non-toxic, environmentally friendly treatments first, try spraying your plant with soapy water, Neem oil, or insecticidal soaps. These treatments work by either desiccating or smothering the aphids so they can't feed and eventually die off.
If you're dealing with an intense infestation, you may want to move right to the big guns. Certain chemical sprays can be very effective in knocking back an aphid population. These formulas differ widely, but all contain some insecticide compound that kills on contact. Just be sure to read the label carefully to ensure the formula is safe for your specific houseplant.
Take a look at this article that highlights the different treatment options for an aphid infestation.
---
Final Thoughts
Aphids are a common pest that tend to find their way onto our houseplants from time to time. The good news is that there are plenty of ways to treat them once you identify the problem. By understanding what aphids are, how they reproduce and spread, and what kinds of damage they cause, you are better equipped to detect their presence on your plants early on, giving you more time and more treatment options to keep them in check. If you stay vigilant and act accordingly, these pests should pose no threat to your beloved houseplant collection. Happy hunting!