Associated with prosperity and good fortune, Money Trees can be lush, long-lasting houseplants, but their leaves are prone to dropping. Looking at sparse branches can lead many Money Tree owners to wonder if their plant's beautiful, vivid leaves will grow back.
Will Money Tree leaves grow back? While some leaf shedding is natural, excessive leaf loss is a sign of imbalance in the plant's care regimen. But don't worry! With proper care, including the right amounts of water, fertilizer, and sunlight, your Money Tree leaves will most likely grow back.
The lush foliage of a Money Tree (Pachira Aquatica) is a sign of its health. In their natural habitat, Money Trees are tropical plants, so they benefit from bright, indirect light and consistent moisture balance. Additionally, pruning and light fertilizing can stimulate growth. But be careful not to go too far with any of these activities, or you may worsen leaf drop and harm your plant's health.
---
Do Money Trees Lose Their Leaves in the Winter?
Since the Pachira Aquatica is, first and foremost, a tree, many people are curious about whether they'll shed their beautiful leaves each year as the days turn colder. The short answer is "not normally." But some of the variables that coincide with winter can impact your Money Tree health.
For example, Money Trees are best suited to temperatures between 65- and 80-degrees Fahrenheit. While the temperature of most indoor spaces would fall within those ranges year-round, be careful not to place your Money Tree in drafty areas, such as entryways or near poorly sealed windows. A cold winter breeze can lower the temperature below what is suitable for your Money Tree, causing leaf drop.
Also, Money Trees prefer slightly humid environments. While this may be easy to accomplish on a muggy summer day, the winter months tend to have a dehydrating effect on both indoor and outdoor air. And while it may make sense to move your Money Tree to a more humid space in the home, such as a bathroom, keep in mind that Money Trees do not respond well to frequent moves.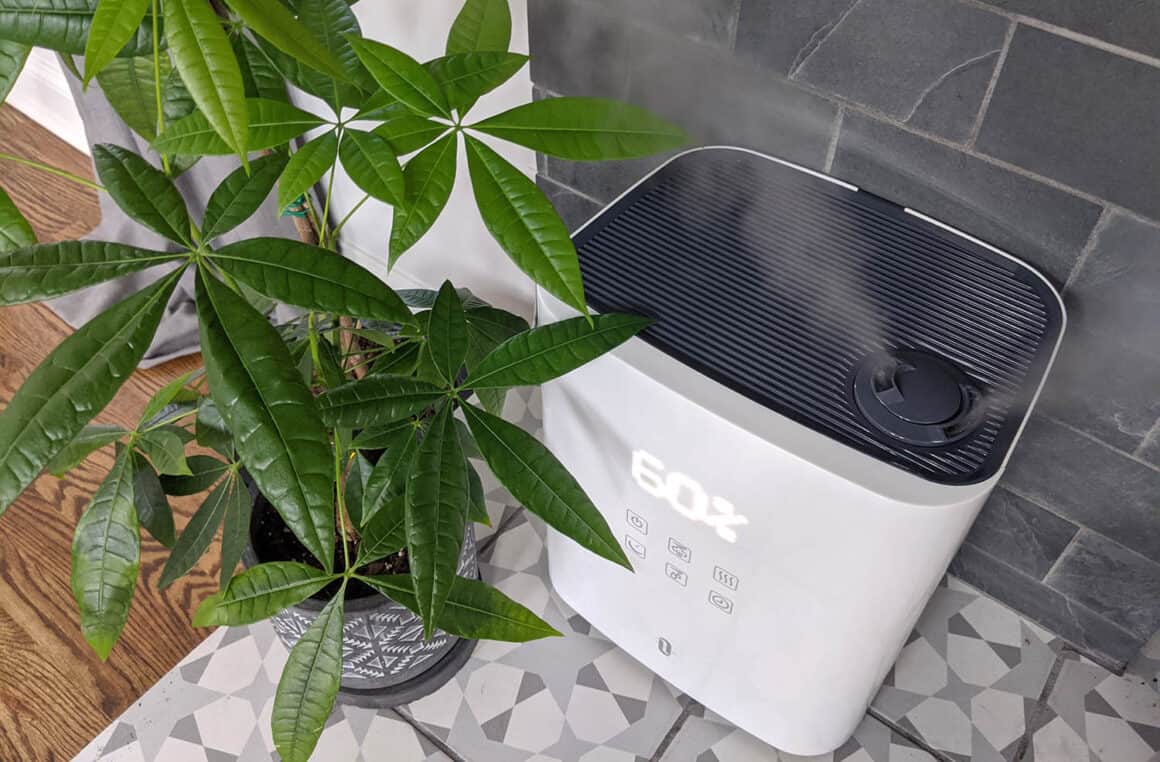 Consider adding a humidifier to your space or putting your potted tree on a pebble tray to increase the humidity near your tree during the dryer months of the year. Also, keeping multiple plants close to each other is a simple way to raise the humidity level in that area.
Keep in mind that dry winter air may dehydrate the soil more quickly. That said, do not overcompensate through excessive watering. Sitting in wet, muddy soil, or water accumulation in the draining dish beneath the pot, can cause permanent root damage to your Money Tree. Instead, allow the top two inches of soil to dry before watering.
---
Why Is My Money Tree Dropping Leaves?
If you've noticed a few of your Money Trees leave piling up on the floor beneath your beloved houseplant – do not fear. Some leaf loss is normal.
But if you feel like your tree is losing too many leaves too quickly, the cause may be a simple problem that can be remedied. Keep reading for the top four reasons Money Trees lose leaves, along with my suggestions of what to do about it.
---
Reason 1: Too Much Water
The Problem: Just because Money Trees like humidity does not mean they like saturation. The quickest way to an unhealthy plant is overwatering. That's because waterlogged roots can lead to root rot, which can be fatal for your plant.
If you believe this could be your issue, look for signs of overwatering. Is there standing water in your plant's dish? If you insert your finger into the soil a couple days after watering, does it still feel wet, or muddy?
Do stems appear to be soft and yellow? This is an indication of root rot, Act fast!
The Solution: Let the soil dry out – ideally until the first two inches are dry – before watering again. As long as your plant is in a pot with proper drainage, adjusting your watering schedule will solve your problem.
If your Money Tree is not planted into a pot, which will allow water to flow out from a drainage hole after each watering, transplant your tree to a new container. Proper drainage is critical for healthy Money Trees.
If you've found any indication of a more severe issue like root rot, you'll need to follow a few more steps. Remove your plant from its current pot, and gently wash away as much of the potting soil as you can. This will allow you to get a good view of the root system of your Money Tree. For more information on saving Money Tree from root rot, read this article.
Once the soil has been cleared away, trim back any rotted roots you find. Healthy roots are white and crispy. Rotted roots are brown and mushy. Clip back anything that looks unhealthy, including mushy trunks and stems. Then repot your tree in a peat-moss soil or a bonsai potting mix. These soils allow for more adequate drainage.
---
Reason 2: Too Much Direct Sunlight
The Problem: Too much sun can harm your Money Tree. This advice may seem counterintuitive. After all, plants love sunshine, right? The answer is yes, but to varying degrees.
Money Trees thrive in bright indirect light, but not in prolonged, direct sunlight. Too much direct sun can lead to "leaf scorch," in which the leaves will begin to dehydrate, brown and drop.
The Solution: Move your plant to an area where it will receive bright, indirect light. When I purchased my newest Money Tree, I immediately put it into the sunroom of our home. After a month or two, I started to notice it wasn't looking so good anymore. I had given it too much bright light.
After I moved the tree into our kitchen, about 4-6 feet from the nearest window, it is thriving again. Instead of losing leaves, this plant is now producing new ones.
The beautiful thing about Money Trees is that they're hardy – which means that even if they do lose some leaves, with a quick remedy, you'll be able to turn it around and get it growing again. For more information on the ideal lighting conditions for your Money Tree, read this article.
---
Reason 3: Too Little Water
The Problem: As I said before, Money Trees can be a bit finicky about their water. Too much water can quickly kill your favorite houseplant, but too little water will cause other issues.
Brown, crunchy leaves are a clear indicator of underwatering. They also mean that those leaves are dying, and will soon drop. However, there are signs indicating the need for more water before leaves begin to lose their softness and color.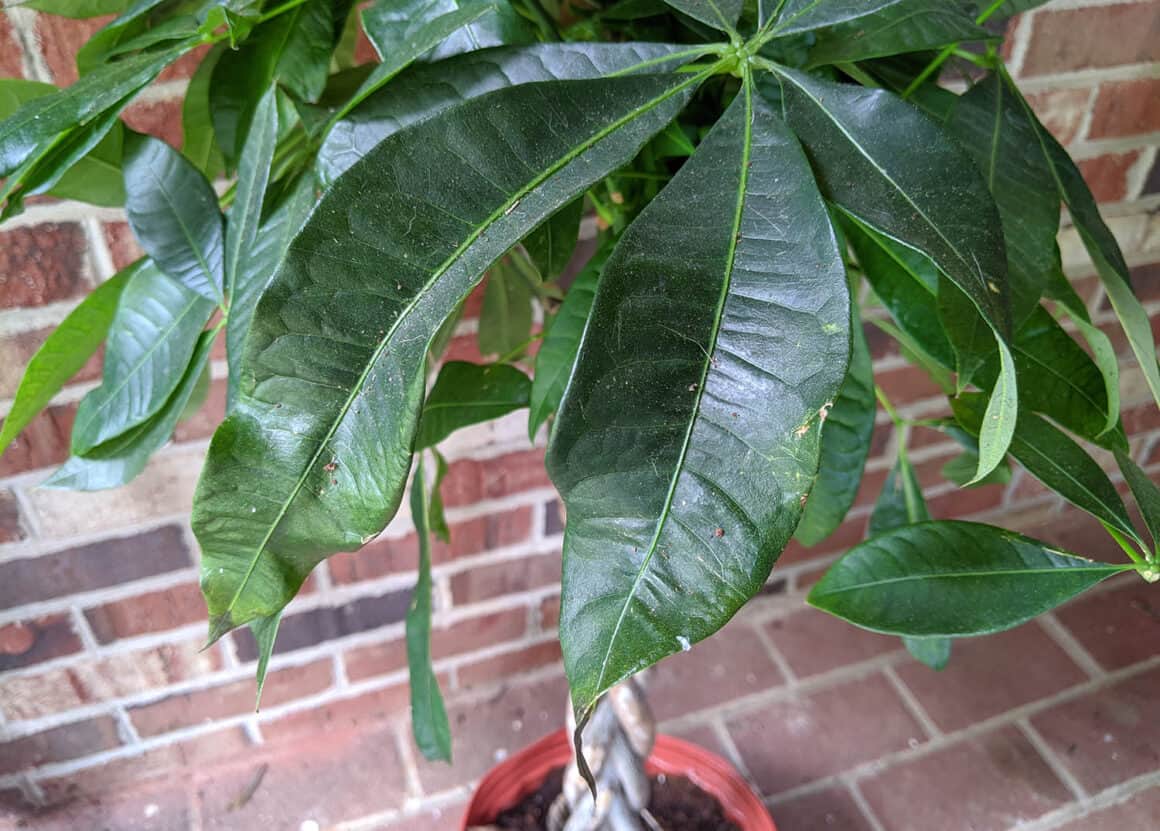 If your Money Tree leaves are beginning to look wrinkled or curled, this is often a sign of dehydration.
The Solution: If underwatering is the problem, you'll need to give your Money Tree a drink more often. But beware – watering too frequently will also cause problems. A good rule of thumb is to only water your plant when the top one to two inches of soil are dry.
If you're having trouble gauging the moisture level in your plant's soil, you can buy a moisture meter to monitor more closely. These helpful devices are not expensive and can be purchased at big box home improvement stores like Lowes or Home Depot, as well as online.
One more note on proper watering practices: When you water your Money Tree, water it thoroughly until water runs out the drainage hole in the bottom of the plant. This ensures that all of the soil is soaked and that the root system will have access to the water it needs. As long as you have a pot with a drainage hole, this will be your best method for watering.
---
Reason 4: Not Enough Nutrients Available to Your Plant
The Problem: Money Trees need nutrients like phosphorus, nitrogen, and potassium to help them grow and thrive. Initially, they gain those nutrients from the potting soil they're planted in. But after a few months, your Money Tree will deplete the nutrients in its soil. At this point, you'll have to add something to your plant.
The Solution: Fertilize your Money Tree. I prefer to use a liquid houseplant fertilizer with my Money Trees, and many popular brands (like Espoma and Jacks) on the market can make fertilizing easy and straightforward. 
I suggest fertilizing your Money Tree once or twice a month during the growing season. Suspend feeding in the winter months when your tree goes dormant, and the growth rate slows down.
Always, always, always dilute your fertilizer to half strength before putting on your houseplants. Money Trees can be burned by too much fertilizer. Resist the temptation to use more fertilizer than advised. If your plant begins to yellow or drop leaves, reduce the fertilization, and check for signs of improvement. For more information on fertilizing Money Trees, click here.
---
Patience Is Key
Still worried about your Money Tree? Remain calm. It's common for plant lovers to do more harm than good by trying too many solutions at once. Dousing your plant with fertilizer, water, and UV light is just going to shock your Money Tree, and confuse you even more.
If your plant is experiencing leaf drop, or other signs of decreased health, diagnose and treat using the steps above, and wait for changes to take effect. Patience is key.
Focus on the health of the other leaves and signs of new growth. If the vibrancy is returning to other parts of the plant, and new buds are forming, stay the course! If you do not see improvement, continue to diagnose, and watch carefully.
One final note: Leaves that are already in the process of dying, such as those that are significantly brown or yellow, will not be restored and will drop regardless. You may want to proactively trim them away. With time, love, and improved care, your Money Tree can grow and thrive for years to come.