No matter the cause, it's always alarming when your Pilea Peperomioides is missing leaves. Don't panic! Pileas are hardy plants and, more often than not, they will recover.
As long as there is at least one leaf still attached to the stem, the Pilea plant should be able to photosynthesize and grow new leaves. If only the stem is left, it is unlikely that the Pilea leaves will grow back.
Often times Pileas, also known as Chinese Money Plants, will bounce back on their own. However, depending on the amount of leaves that are missing, why they fell off in the first place, and how the plant looks, you may need to take some additional action steps to revive your plant.
---
Why Pilea Leaves Fall Off and What to Do
Some leaf shedding is normal for all plants. If your plant is simply losing a few of its bottom leaves and they are being replaced by new growth, there is no need to change your care routine.
However, it is important to understand why your Pilea's leaves fell off in the first place. In some cases, if you do not correct the problem, your plant will continue shedding leaves until there are none left.
Not all Pileas will need the exact same care when they are missing leaves. The first thing to examine is why the leaves are shedding. This can be a difficult process, but I can guide you through some of the most common reasons. Once you understand where your problem is coming from, then you will be able to take the additional steps needed to bring your Pilea back to her former glory.
You can find the most common reasons for Pilea leaves to be missing, as well as a short action step to correct it, in the table below:
| | |
| --- | --- |
| Reason | Action Step |
| Damage From a Pet | Cut Back Damage and Treat Normally |
| Accidental Damage | Cut Back Damage, Consider Topping the Pilea and Treat Normally |
| Overwatering | Let the Plant Dry Out and Potentially Repot |
| Nutrient Deficiency | Fertilize the Plant Once Per Month During Growing Season |
| Environmental Change | Wait for Plant to Adjust and Treat Normally |
| Temperature | Remove Plant from Drafts or Exposure to Extreme Heat or Cold |
If you are unsure of which reason is causing your Pilea leaves to fall, keep reading, and I will discuss the symptoms that usually lead to each cause. Once you understand the cause, you can correct the problem and get your Pilea back on track.
---
Damage from Pets
Lucky for us, Pilea Peperomioides are not toxic to dogs or cats. Depending on how much was consumed, your pet may experience an upset stomach, but generally, that is all.
If your furry friend has been snacking on your Pilea plant leaves, the first thing that needs to be done is to clean up the damage. A leaf with a puncture or rip in it will not grow back to its full size and health. The best thing that can be done is to pinch off the damaged leaves. As previously stated, as long as there is a leaf or two left, Pileas will typically start to regrow new leaves once the damaged ones have been removed.
By removing damaged leaves, your Pilea will no longer be attempting to send energy to dead or dying leaves and will be free to send energy toward new growth.
After you have cleaned up your Pilea plant, return to your normal watering and care routine.
---
Get the eBook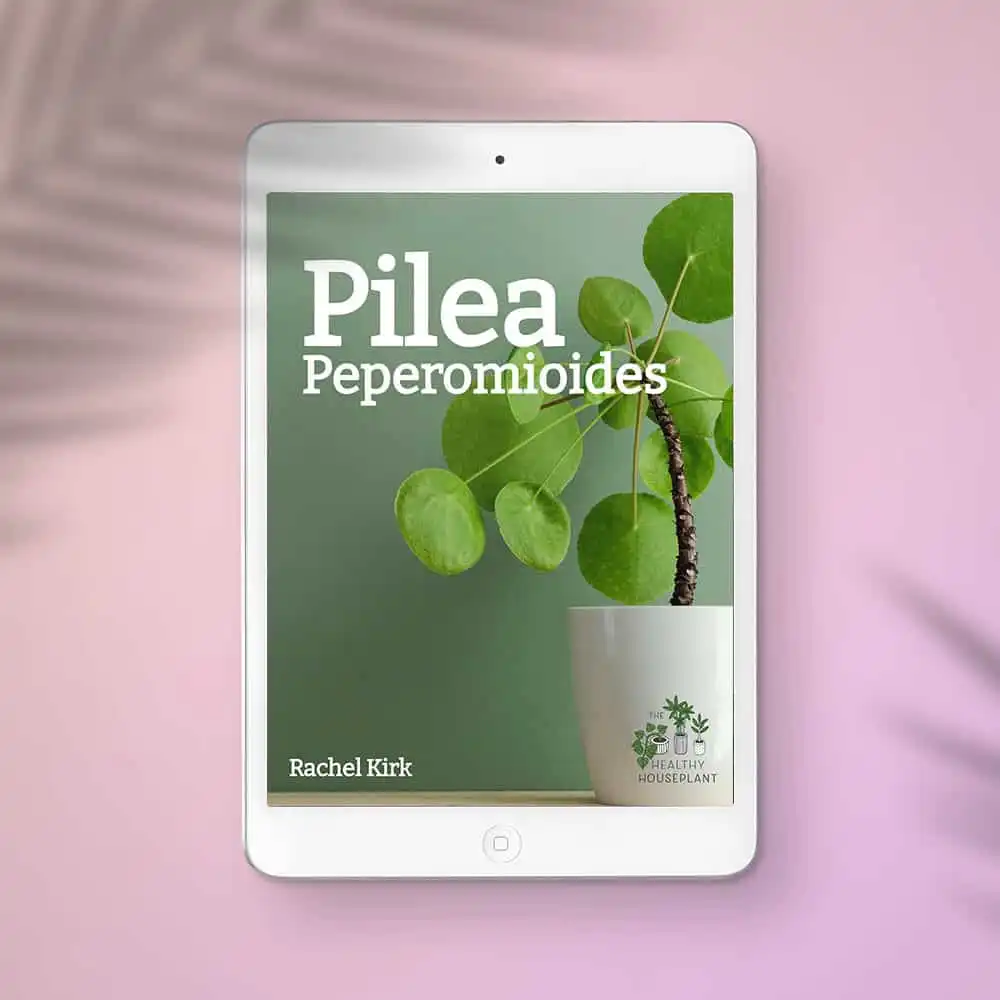 The Ultimate Pilea Care Guide
Don't waste your money by bringing home a Pilea that you're going to kill. Get our 70+ page ebook, and learn all the tips and tricks it takes to make your Pilea happy and healthy for years to come.
GET YOUR COPY NOW
---
Accidental Damage from Hitting, Dropping or Knocking Over
As with Pileas that have been damaged by pets, if you or someone in your family has accidentally damaged your Pilea, any ripped or punctured leaves will need to be removed.
If the stem has been damaged, it is best to "top" the plant by removing the top portion of the Pilea. To do this, use a sharp knife and make a clean cut just below the break or bend in the stem. The plant will start to fill back out with new growth in a month or two.
If you have topped your plant, it is possible to replant the top in a separate pot and turn your one Pilea into two. Simply cut away the damaged area and either root directly in soil or in water.
Once your Pilea has been cleaned up, and potentially topped, return to your normal care routine.
---
Overwatering
The most common, non-accidental, cause of Pileas shedding leaves is overwatering. Pileas do not like soggy soil and prefer for their soil to dry out between waterings. If your Pilea is in a pot without a drainage hole, repot it to a new one where it can drain properly.
Unlike most plants, droopy leaves on a Pilea are often a sign of overwatering. If your plant's leaves are yellowing or browning uniformly before dying off, you will need to take some steps to save your plant from overwatering.
If you've caught this problem quickly, you should be able to simply adjust your watering frequency to allow your plant to dry out. In addition, move your plant to the shade for a few days. Less light will cause your soil to dry more slowly but will reduce stress on the plant itself.
An overly watered Pilea will need more than a reduction in water to recover. For plants in this situation, you will need to trim back any unhealthy leaves as well as damaged roots, leaving only the healthy white roots. Repot your plant in new soil and move to the shade until it dries out.
In the future, only water your Pilea when the soil is completely dry. To determine if your plant is in need of water, place your fingertip in the soil and see if the first inch of soil is dry, if so, it is time to water.
For more information on saving an overwatered Pilea, check out this article that gives you step by step instructions on the subject.
---
Nutrient Deficiency
Just like all plants, Pileas need nutrients to grow. If you are certain you are not overwatering your plant, this may be the next course of action you should take.
Pileas generally don't need a lot of fertilizing. However, it is recommended to use a regular houseplant fertilizer, diluted to half strength, on your Pilea plant no more than once per month during the growing season. Growing season for most regions is spring through fall. In the winter, your Pilea will become dormant and fertilizing will not be necessary.
---
Environmental Changes
Have you recently moved your Pilea from outdoors to indoors? Have you repotted it? Have you changed the room it was in your home? Often plants are affected by changes in their environment, including changes in temperature, exposure to light, or watering schedule. It is normal for plants to drop a leaf or two after a change like this.
If you've made a change in the environment of your Pilea, wait a week or so for the plant to normalize to its conditions and then resume your normal treatment routine.
---
Temperature
Pilea plants are best kept in temperatures between 65 – 75 degrees and out of the way of drafts of heat or cold. To be safe, keep plants a safe distance away from doors and windows. Also, make sure that your Pilea is not sitting near a heating or cooling vent. Exposure to excessive heat or cold may cause your Pilea to drop leaves.
If you suspect temperature issues to be the cause of your Pilea leaves falling off, move your plant to a better location within your home. Once the plant is no longer exposed to extreme temperatures, you should be able to resume your normal care routine.
---
Patience is Key
No matter what has caused your plant to shed leaves, after remedying the situation, it is important to be patient. Pilea leaves will often grow back, but they won't do so overnight. Sometimes it can take a couple of months before your plant starts to return to its old self, especially if this has happened during the plant's dormant season (late fall and winter).
Pileas are hardy plants and are excellent at bouncing back. So if you have a Pilea that is missing a few leaves, don't panic! In most cases, with a little TLC, your Pilea plant's leaves will grow back and she will be as good as new.