We, collectively as plant owners, spend a lot of time worrying about the state of our Fiddle Leaf Figs (Ficus lyrata). Because they've gained a reputation over the years for being finicky houseplants, we tend to worry about any little change we see and think it indicates a major health issue. While, of course, there are definite signs of distress, what about wrinkled leaves? Does the occasional puckered leaf indicate a problem?
In general, the appearance of a wrinkled or puckered leaf on your Fiddle Leaf Fig usually isn't an indication of an underlying health problem. Most likely, environmental factors like low humidity or insufficient water impacted a new leaf as it was unfurling or growing in, with the lack of moisture causing the leaf tissue to wrinkle.
While these puckered leaves may not be as aesthetically pleasing, they typically function just like any other leaf and are not a sign of some ongoing care issue. This article will cover what a healthy Fiddle Leaf Fig leaf looks like, what to expect from new growth, and the most common cause of wrinkling or puckering on Fig leaves.
---
What Does a Healthy Fiddle Leaf Fig Leaf Look Like?
Fiddle Leaf Figs are known for their large, shiny, scalloped leaves. In general, a healthy leaf will be medium to dark green and uniform in color. The leaves tend to get large (several inches across), tapered at the base, and then fan out towards the ends. Oftentimes, the edges are gently scalloped, creating slightly wavey edges to the leaf.
New growth unfurls out of the top bud sheath, an often dry-looking, brown piece of plant tissue covering the growth tip at the top of a stem. New leaves start small and can often be very pale green or yellow in color, although they green up quickly as the leaf grows. New growth also tends to be thin and shiny but thickens up quickly as the leaf tissue bulks up and becomes more rigid. Generally, both new and old leaves should be free of blemishes, discolorations, tears, and holes.
---
Is There a Difference Between Wrinkling/Puckering and Curling?
For the sake of this article, it is worth differentiating between a leaf that is wrinkled or puckered and one that is curled. Curled leaves are actually a pretty common sign of various health issues, like over-or underwatering, but leaf curl tissue is a biologically different cell shape than wrinkled leaf tissue, so they should not be confused.
Leaf curl is when the edges of a leaf begin to curl up or down as if the entire leaf will roll up on itself. This can be subtle or very obvious, depending on the severity of the stressor that is causing it. If you notice leaf curl, you should assess your plant care habits and see if your Fig needs any alterations to its environment.
When a leaf is described as puckered or wrinkled, some portion of the leaf tissue (usually near the tip) is actually deeply wrinkled, while the rest of the leaf is relatively smooth. This is a much less serious issue, which we'll dive into below.
Be aware that many online articles assume that when people are searching for "wrinkled" or "puckered" leaves, they really want to know about leaf curl. This can get super confusing and is a surefire way to panic a lot of folks who are just curious about their wrinkled Fig leaves. Keep that in mind as you do your research.
---
Why Do Fiddle Leaf Figs Get Puckered or Wrinkled Leaves?
So, what causes a Fiddle Leaf Fig leaf to wrinkle? Most likely, you will see puckered leaf tissue on your Fig because of the conditions those specific leaves were experiencing as they were growing in. As I mentioned above, new leaves grow from the apex bud at the top of your Fig's stem. They start as small buds but begin to unfurl (or unroll) and then grow in size. To do this, the plant needs a lot of moisture, both in the air and within itself.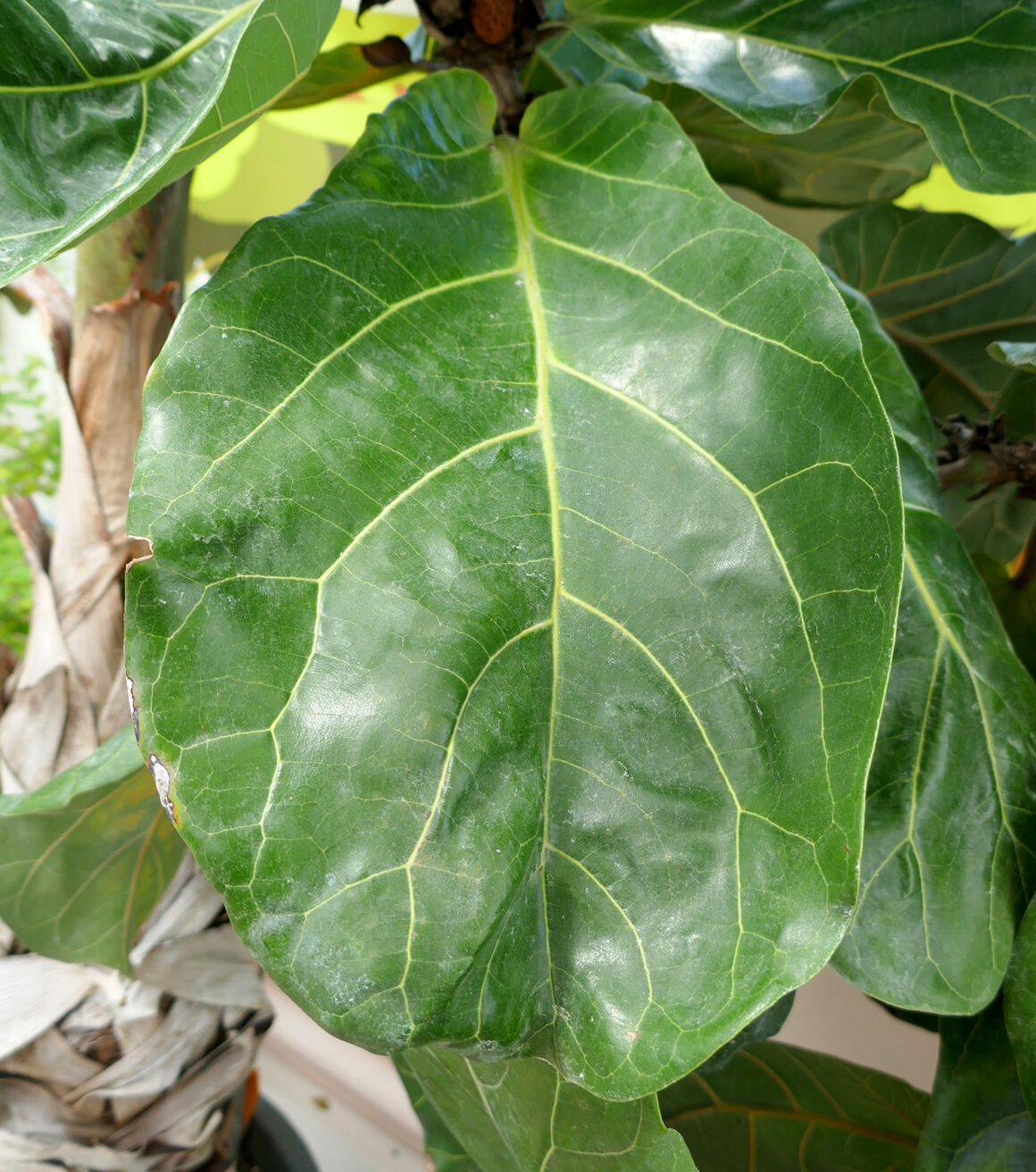 Fiddle Leaf Figs are tropical plants that are native to some very humid places. The higher humidity in the air helps the leaves unfurl as they usually should. However, if the humidity is too low, as is often the case in centrally heated and/or cooled homes, the drier air may cause a disruption in the unfurling process, causing the leaf to stick or snag on itself as it opens up. This can cause the tissue to stretch or tear as it emerges, eventually causing the puckered look as the leaf grows in.
Another factor is how much water is available within the plant when the leaf is growing in size. Most plant leaves attain their full size by absorbing water, so if the plant happens to be underwatered at the time the leaf is trying to expand, it can grow in irregularly, causing wrinkling of the tissue. These wrinkles and puckers, either caused by issues unfurling due to low humidity or a lack of water as the leaf grows, are permanent since your Fig's leaves don't tend to change shape after they are fully formed.
But that's all it is! In general, even if you have a few wrinkled leaves on your Fig, they are still fully functional and are helping the plant photosynthesize and respirate along with all the normal-looking leaves. All it means is that there was a slight lapse in adequate moisture when the leaf in question grew in.
---
How To Avoid Wrinkled/Puckered Leaves Moving Forward
Although wrinkled leaves are generally not a cause for major concern, you may not find them as pretty as normal Fig leaves. If you want to prevent puckered leaves in the future, you've got to dial in and monitor your plant's moisture levels.
---
Humidity Level
First, you need to address the humidity levels in your home. Most houseplants do just fine when the humidity is between 35-50%, but if you live in drier climates or rely on your central heating a lot, your home may have levels much lower than this.
If you find your Fig is producing a lot of wrinkled leaves and suspect humidity is the cause, the most effective solution is to add a humidifier to the room your Fiddle Leaf hangs out in. A room humidifier will take the guesswork out of adding moisture to the air and will give you the most consistent results. You can play around with different humidity levels and watch the new growth on your plant carefully to dial in the range over time.
People have also reported success with putting their plants on pebble trays filled with water or misting their Figs regularly, but in my own experience, the change in humidity with these methods is minimal, and they aren't nearly as effective as a humidifier.
We have lots more information available on humidifiers. So if you're considering adding one to your home, but don't know where to start, read this article: The Best Humidifiers for Houseplants.
---
Watering Habits
To avoid wrinkled leaves in the future, you will also want to dial in your watering habits. Ensure your Fig has enough water available to supply new leaves with the moisture they need to grow consistently by watering your Fig properly.
Figs like consistently damp soil but are very sensitive to overwatering. This can sometimes be a tricky line to walk, so the best method of determining when to water your Fig is by sticking your finger down into the topsoil to feel for moisture. When the top two inches of soil are dry to the touch, you can water your Fig deeply, allowing excess liquid to drain from the bottom of the pot.
This ensures that your plant always has enough water at its disposal without waterlogging the roots. Don't worry that the top few inches of soil dry out between waterings. The dirt deeper in the pot still has plenty of moisture available for the roots, and this way, you avoid cycling the plant between extreme wet and dry conditions, which can promote disease and stress.
Think of a puckered leaf as a snapshot of the conditions when that leaf grew. If you only have one or two here and there, you may have just missed a week of watering, or it was a particularly dry time of year.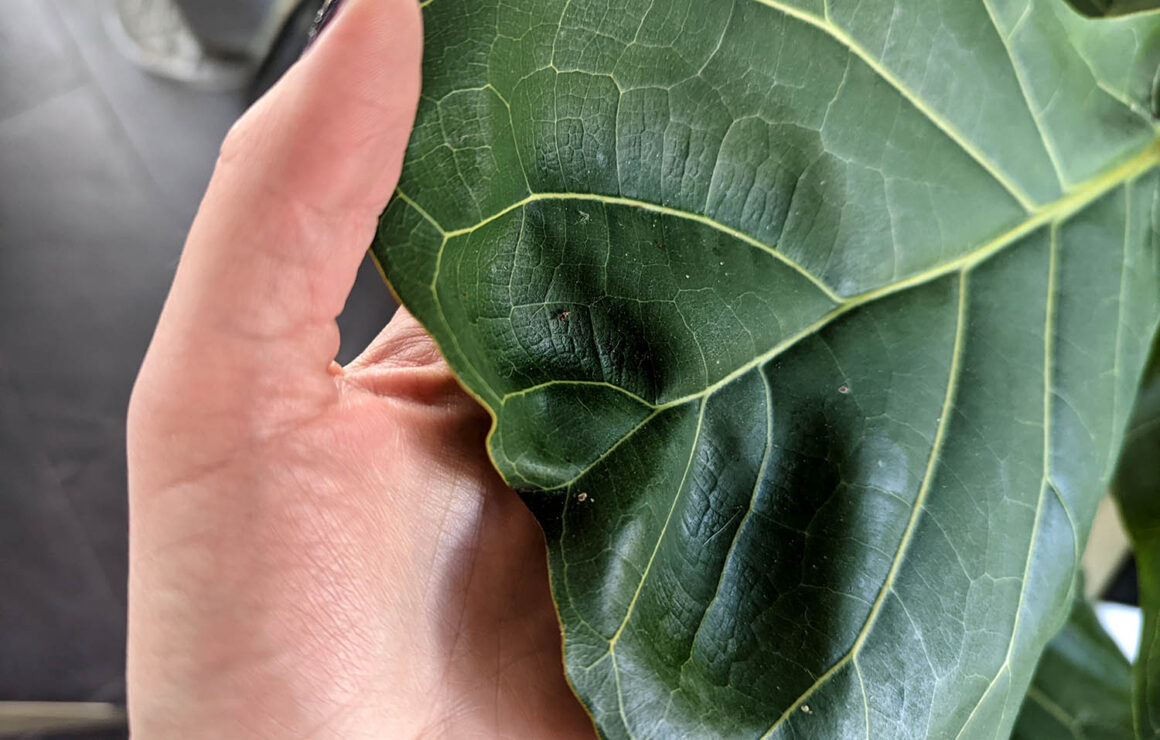 However, if you notice many of your Fig's leaves have grown in wrinkled, it could indicate that your plant hasn't had enough humidity or you haven't been watering properly for some time. If this is the case, you'll want to reevaluate your watering habits and investigate your home's humidity levels, supplementing with a room humidifier, if necessary.
---
Final Thoughts
If you notice a few wrinkled or puckered leaves on your Fiddle Leaf Fig, breathe deep, take a step back, and don't worry so much.
A lot of folks confuse these deformities with leaf curl, which might actually indicate a more pressing issue, but generally, all it means is that you had a humidity or watering issue at one point in time. If your plant is healthy otherwise, it's nothing to worry about.
As long as you keep an eye on your watering and humidity levels, your Fig should continue to push out new, healthy leaves season after season.