Spathiphyllum flowers are beautiful, but also kind of strange-looking, with a single creamy white petal cupping a lumpy stalk. New Peace Lily owners often wonder if they should apply standard care practices like deadheading to these odd blooms. We're here to clear up the confusion and explain why you should remove the dead flowers from your Peace Lily.
Peace Lilies do benefit from deadheading, as long as it's done with care. The blooms last for around a month after unfurling, then turn brown and shrivel up. Once that happens, cut off the dead Peace Lily flowers near the very base of the plant. Make a clean, angled cut with a set of disinfected shears.
Deadheading a Peace Lily isn't just good for its appearance. It also helps invigorate your plant and encourages it to produce fresh new blooms. See below for our recommendations on the best way to remove dead Peace Lily flowers and keep your plant looking fabulous.
---
Why Should You Cut Dead Flowers Off Your Peace Lily?
Everything your Peace Lily does has an energy cost. The sunlight falling on its leaves provides the budget, and it socks away some savings in the form of sugars. Your plant draws on those reserves for every bit of growth it puts out. Every leaf, root, stalk, and blossom represents an investment of energy on your Peace Lily's part.
And flowers are especially expensive. They contribute no income – they don't photosynthesize, take in water, absorb nutrients, or store energy. All they do is look pretty and offer a slim chance for your Peace Lily to reproduce.
That means there's a limit to how many flowers a Peace Lily can support at one time. And once a bloom forms, your plant has to spend energy on maintaining it. It will continue this upkeep long after the spathe starts to fade, in case there's a chance that the spadix could still bear fruit.
That's reason number one to remove those blossoms once they're past their prime. The sooner you remove them, the sooner your plant can stop wasting energy supporting them. Deadheading – cutting off dead flowers – lets your Peace Lily grow faster. It also frees up part of the energy budget for fresh new flowers. The plant should bloom more often if you deadhead frequently.
Reason number two is that dead blossoms aren't very pretty. The withered flowers and stalks look like crumpled tissues and bits of old straw. Who needs that hanging around their decorative plant? Clip them off and get your Peace Lily looking like a snack again.
---
How to Know When a Peace Lily Flower Dies
We're going to walk you through the life cycle of a Spathiphyllum bloom. That way, you'll be ready to deadhead your Peace Lily as soon the flowers begin to die off.
Each blossom on a Peace Lily pushes up from the base of the plant on a separate stalk, just like the leaves. It starts with the white "petal" wrapped around it in a twisted cone shape. The spathe is actually a special type of leaf that protects the flowers as they develop.
The flowers themselves are tiny, and they grow in rows along the stubby cylinder at the center of the bloom. That bumpy spike is called the spadix, and spathe and spadix together form the inflorescence.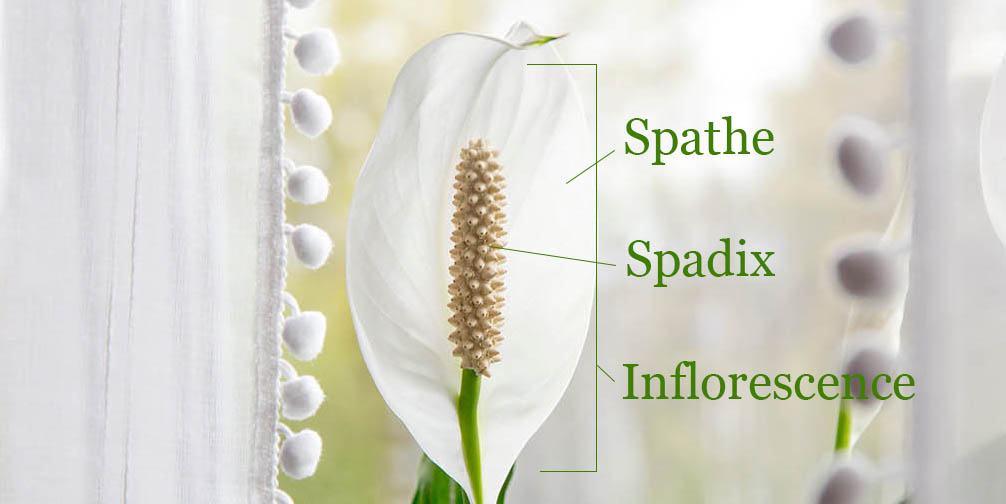 It can take a while for the spathe to unwrap and form its characteristic hood behind the spadix. Once it does, the inflorescence is on a ticking clock. For the first 4-5 days after opening, it's in the female phase of its life. The tips of the cones on the spadix look slightly fuzzy as they open to receive pollen.
Next, puffy, wispy, pollen-bearing anthers pop up between the bumps of the spadix. It starts to look dusty and swollen. Inexperienced Peace Lily owners sometimes mistake the pollen for a pest problem, especially when the powder falls onto the leaves below. This phase lasts another 4-6 days.
The bloom will usually stay healthy and white for another week or two after the male phase ends. If your Peace Lily is in great shape, the flowers may last a bit longer. They've been known to stay healthy for long as two months after unfurling.
Eventually, the spathe will turn green, then brown, and it will start to sag and crumple. This is your cue that it's time to deadhead.
---
How to Remove Dead Peace Lily Flowers
Clearing dead flowers from a Peace Lily isn't very complicated. You'll only need a few supplies to make the process as easy and successful as possible.
First up is a good pair of pruning shears. When a Spathiphyllum blossom is totally shriveled, dry, and dead, you can often pinch it off the plant with just your fingers. But deadheading is a lot more effective if you remove the flowers when they're just starting to turn brown. It's easier to take them off cleanly if you have some snippers.
Next, you need some disinfectant to wipe down the blades. This gets rid of bacteria that might get into the cut and make your Peace Lily sick. You can use rubbing alcohol, hydrogen peroxide, or 1 part bleach in 9 parts water.
Finally, you might want some gloves. Peace Lily sap contains chemicals that irritate some people's skin. If you know you're not sensitive to your plant's juices, you can skip the gloves.
Once you sanitize your shears, snip off the thin stalk that's holding up the dead flower. Get as close as you can to the spot where it joins the rest of the plant. That stem won't produce any new leaves or blooms, so leaving it in place is just a waste of energy.
Make your cut at a 45-degree angle. This makes water droplets a little less likely to collect on the cut end and incubate fungal infections. It won't make a huge difference, but why not give your Peace Lily every advantage you can?
Repeat this process, disinfecting each time, until you've taken off every spent bloom. Make sure to scoop out any plant parts that fall into the pot. Decaying bits in the soil can attract annoying pests called fungus gnats.
---
Helping Your Peace Lily Blooms Last Longer
Deadheading your Peace Lily is all well and good. But you also want to keep those blooms looking healthy and gorgeous for as long as possible. Here are a few strategies you can use to get the most out of your Peace Lily flowers:
Provide plenty of light. Spathiphyllum plants bloom longer when they get at least 6 hours of bright indirect light each day. Check the shadows near the plant when the sun is high. If they're vague and shapeless, the spot may be too dim to support robust Peace Lily flowering.
Keep it out of the sun. Notice that we said bright indirect light above. When a Peace Lily sits right in the sunlight, its flowers may brown up and shrivel prematurely. Too much sun will burn the foliage as well. If the plant is by a southern or western window, consider scooching it back a few feet or hanging up a thin curtain. Our post on Peace Lily lighting has more detail.
Use some climate control. Your plant's flowers should last longer in conditions that mimic its ancestral jungles. Try to keep the temperature above 65 degrees Fahrenheit and the humidity above 60%.
Don't let it get thirsty. Peace Lilies like their roots to have a small amount of moisture available at all times. If you let yours get thirsty enough to start drooping, the flowers may wilt early. Check the soil with your finger every few days, and water when the top inch feels dry.
---
Final Thoughts
Deadheading your Peace Lily is one of those small gardening tricks that can have a big impact. By cleaning up the wilting blooms, you're helping your plant stay beautiful and grow strong. Once you make a habit of removing dead flowers from your Peace Lily, you'll see for yourself what a difference it makes.