A note on names: In scientific circles, Snake Plants are now considered part of the Dracaena genus, and the name Sansevieria has been retired. However, many people still know these plants by their former name, so we'll sometimes refer to them as Sansevierias. We have an article on the subject here.
You chose your Snake Plant because you felt it would enhance your home's beauty and charm. So it's pretty disappointing when its pot begins to swarm with tiny flying insects. These irritating invaders are called fungus gnats, and although they probably won't hurt your Snake Plant, they can put a serious crimp on your happy plant parent lifestyle. Fortunately, a few simple tricks can help you banish them for good.
You can catch and kill adult gnats with sticky paper traps to cut down on their numbers. Meanwhile, let the soil dry out between waterings to make it inhospitable to larvae and eggs – not to mention less attractive to adult bugs. When your plant needs water, mix in a bit of hydrogen peroxide or BTI bacteria to kill the critters lurking in the potting mix.
If all else fails, you may need to repot your Snake Plant in a clean pot with fresh soil. Using a potting mix with good drainage should help prevent this issue in the future. You can also reduce the odds of infestation by cleaning up dead leaves and making sure not to water more than necessary. Keep reading for more detail on how to get rid of the gnats on your Snake Plant and keep them from coming back.
---
Recognizing Fungus Gnats
If you notice a cloud of tiny black bugs flitting around when you water your Snake Plant, you probably have fungus gnats. They're not very strong fliers, so they tend to hop around on the surfaces of leaves until you disturb them. When they do take to the air, they have an annoying tendency to fly right at your face.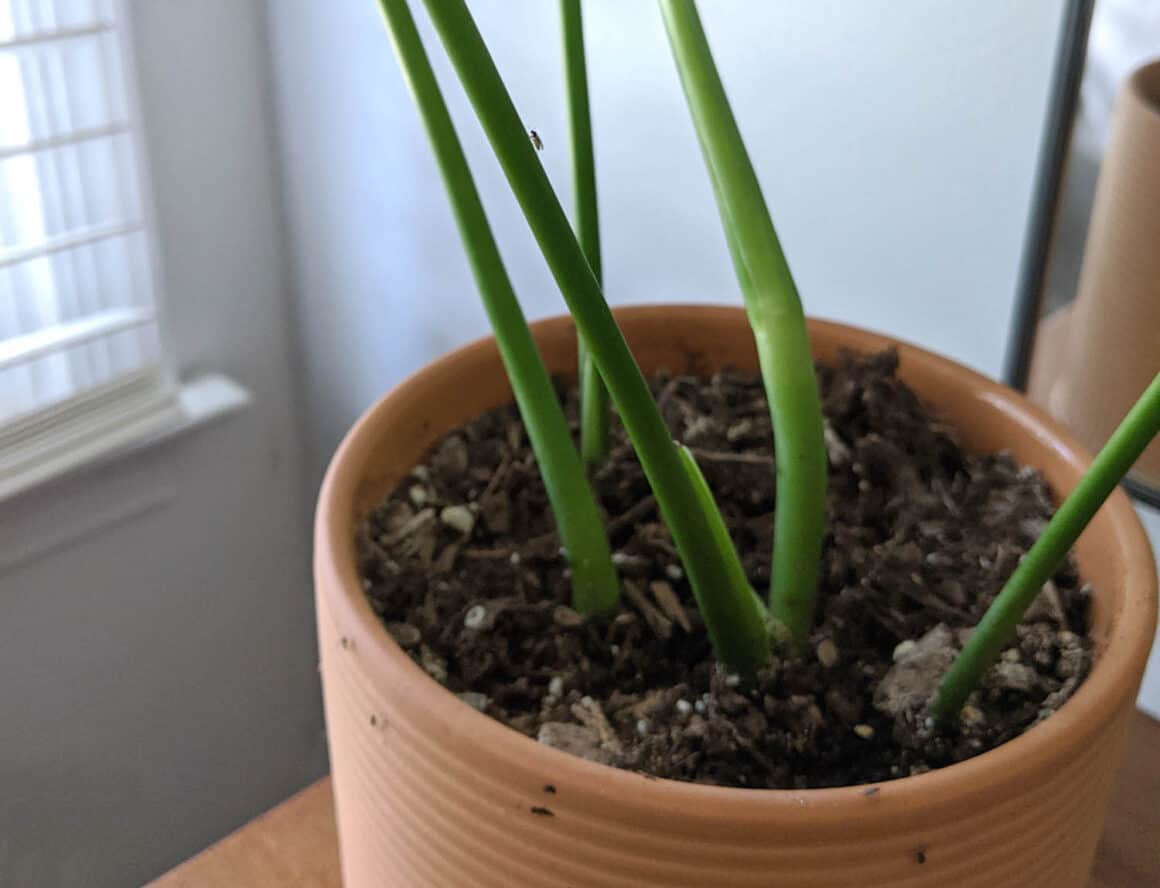 The adults are only a couple of millimeters in length and resemble miniature mosquitos. You might also be able to spot the larvae in the soil; they look like pale, skinny worms around 5 millimeters long.
Fungus gnats are pretty easy to distinguish from other flying plant pests. Thrips are much smaller, almost impossible to see without a magnifying glass, and they leave specks of white scar tissue and dark excrement on a Snake Plant's leaves. Whiteflies are, shockingly enough, white, and usually a little smaller than gnats.
---
Why Does My Snake Plant Have Gnats?
Fungus gnats are a common nuisance in indoor plants because none of their natural predators live inside the home. Once they get into your Snake Plant's pot, only a determined effort on your part can get rid of them.
But how did they get there in the first place? The most common vector for infestation is a new plant that you brought home. Fungus gnat eggs and larvae can lurk undetected in soil for weeks before they start turning into annoying flying adults. It's easy to accidentally buy a plant that's harboring stowaways.
Gnats can also slip into your house through just about any opening, even the holes in your window screens. It's impossible to completely prevent them from finding a way in; the best you can do is to reduce the odds.
Fungus gnats like to set up shop in pots with damp soil, especially if there's a lot of decaying organic matter inside. Their name comes from their diet; the larvae feed on the fungi that grow in wet soil and on rotting plant matter.
---
Will Fungus Gnats Hurt My Snake Plant?
Fungus gnats are nuisances, not plant killers. Weird fact: the winged adults don't eat anything at all. They just spend a week or so flitting around in the air, mating, and laying eggs before dying.
The larvae can be more of a problem, although they prefer to munch on rotting scraps in the soil rather than on your Snake Plant. In especially severe infestations, they may start going after the roots, but you'll probably get annoyed enough to take action long before that point.
Unfortunately, although gnats are mostly harmless, they can be a red flag for a much more serious problem. The damp soil that they adore is very bad for a Sansevieria, and can often harbor root rot. Yes, that's as bad for your plant as it sounds! See our article here for identifying and treating root rot.
---
How to Keep Fungus Gnats Away
Here are our top tips for preventing a gnat infestation in your Snake Plant's pot.
#1: Water Only When Necessary
Sansevierias are adapted to dry desert soils. If their potting mix doesn't dry out enough between visits from the watering can, it will create a breeding ground for fungi and bacteria. These microbes attract fungus gnats, and if they reproduce enough, they'll start rotting your Snake Plant from the roots up.
Before watering your Snake Plant, check to see if the upper 2-3 inches of the soil feel damp. If they do, hold off on the hydration. Wait a day or two and check again.
#2: Keep the Soil Clear of Decaying Material
When your Snake Plant's older leaves wither up and start to die, don't just let them drop into the pot and break down. Disinfect a knife or a pair of pruners with rubbing alcohol and trim the dying leaves off at the base.
#3: Use the Right Kind of Potting Mix
Getting rid of decaying leaves won't help if you've planted your Sansevieria in soil that contains lots of organic material. You're better off with a succulent blend that's mostly made of minerals or chunks of wood that take a long time to break down.
A bit of compost to provide natural fertilizer is okay, but it shouldn't take up more than 10% of the total volume. Avoid mixes with a lot of peat moss or other squishy bits that decay quickly. Not only will they attract gnats directly, but they'll also make it harder to avoid overwatering.
#4: Use a Top Dressing
Fungus gnat larvae usually only live in the topmost layers of soil. Some houseplant owners like to deter them by covering up the potting mix with an inch or two of pebbles, gravel, or extra-coarse sand. Any kind of chunky inorganic matter that won't retain water is good.
This technique works especially well with Snake Plants because their roots tend to be quite shallow, so you don't need to worry that you're not leaving enough room at the bottom of the pot. As a bonus, a top dressing can add some nice decorative flair.
#5: Quarantine New Plants
Newly purchased plants are the most common source of fungus gnat infestations. Isolate them in a separate room for a few weeks, watching for signs of bugs, before placing them near any other plants. If you want to be extra careful, cover the foliage with a clear plastic or glass container (sort of like a mini greenhouse) while you wait.
---
How to Get Rid of Fungus Gnats on Your Snake Plant
Stamping out a colony of gnats usually requires combining a few different techniques. Here are the most effective options:
#1: Let the Soil Get Dry
As we said earlier, fungus gnats thrive in damp soil. Sometimes all you need to do to kill them is wait and hold off on the watering.
Many plants can't hold out long enough without water, but Snake Plants are insanely drought-tolerant. Yours can probably survive until the soil starts clumping into a solid mass.
#2: Sticky Traps
Fungus gnats are pretty dumb and they're attracted to bright colors. Pop a couple of yellow sticky traps into the pot, and within a couple of days, they'll be covered in dead bugs. Change them out when they get too gross. This will take big chunks out of the gnat population as well as help you track the scale of the problem.
If you don't want to buy sticky traps, it's pretty easy to make your own. Color an index card with a yellow marker, coat it with petroleum jelly, and prop it up in the soil on a toothpick or a small stick.
#3: Hydrogen Peroxide
If drying out the soil isn't enough to stop a new round of gnats from hatching, mix in some hydrogen peroxide the next time you water your Snake Plant. Start with the 3% strength stuff you'd find in a first aid kit, and mix it with water in a 1:3 ratio. Then water your Snake Plant as normal (which should be a thorough soak that penetrates down to the bottom of the pot).
#4: Mosquito Bits
No, these tiny pellets aren't chopped-up bits of mosquitos. They're little granules containing colonies of a bacterium called Bacillus thuringiensis israelensis, or BTI for short. This species destroys mosquitos, fungus gnats, and other flying pests while leaving people, plants, and pets alone. It's a safe and natural insecticide.
We don't recommend sprinkling the bits right into the pot. They'll get soggy and decompose, which isn't great for the quality of Snake Plant soil. Instead, drop about a tablespoon into a gallon of water and let them soak for around 24 hours. Then use that to water your Snake Plant.
You might need to repeat this a few times to fully eradicate the fungus gnats, but if you combine it with sticky traps and let the soil dry out between waterings, you should eventually get them all.
#5: Repot Your Plant
If you've tried everything else and you simply can't shake the bugs, you may need to give this batch of soil up as a lost cause. Uproot your Snake Plant, wash off the roots, and ditch the old potting mix in an outdoor trash can. Do not put it into your compost pile!
Wash the pot out, let it dry, then wipe it down with some rubbing alcohol and let that dry too. In the meantime, you may want to dunk the roots in the same hydrogen peroxide solution you used for the soil drench, just in case any eggs are still clinging to them.
When you replace your Snake Plant, put it in the kind of rocky soil we described in the section on preventing infestation. You should consider using a top dressing as well. For the first month or so after transplanting your Sansevieria, keep it out of direct sunlight and be even more careful than usual about overwatering.
---
Final Thoughts
If you're dealing with a fungus gnat problem in your Snake Plant, you have our sympathies. Make sure to combine a few of the strategies laid out above – they're much more effective together than on their own. We wish you success in driving these obnoxious pests out of your home!
Want to keep reading about what you can do to keep your Snake Plant healthy? Here's a list of some other articles we think will be helpful!