If you are one of the few houseplant enthusiasts who haven't had to deal with an outbreak of aphids, I have just one thing to say. You're one lucky duck! Also…give it time. Okay, that's two things, but the reality is that you will likely have an infestation on your hands at some point, so knowing what to look for and how to react when it does happen will allow you to keep these bugs in check.
Aphids are very common sap sucking insects that can infest houseplants quickly. They like to feed on tender leaves and shoots of plants, causing damage to plant structures and potentially introducing disease. Identifying aphids is easy, and there are many different treatment options to eradicate them from your houseplants.
The main thing to remember is to not panic at the first signs of aphids. While they can multiply rather quickly, you luckily have plenty of options at your disposal to keep their numbers in check and, eventually, get rid of them completely. Having a better understanding of what these insects are and how they operate will help you identify a problem early on, giving you the best chance of eliminating any threat to your houseplants.
In this article, we will cover the basics of what aphids are, how they feed and multiply, and several options for treating your houseplants once you realize you have an infestation. Hopefully, by the end, you will feel equipped to easily manage any aphid issue that may crop up in your home.
---
What Do Aphids Look Like?
Aphids are small, piercing, sucking insects often found on tender, new growth of many outdoor and indoor plants. Adults can reach up to 1/8" in size and have pear-shaped, soft bodies. Most often, aphids are a pale green color, but depending on the species can also appear black, brown, gray, pink, orange, red, or white.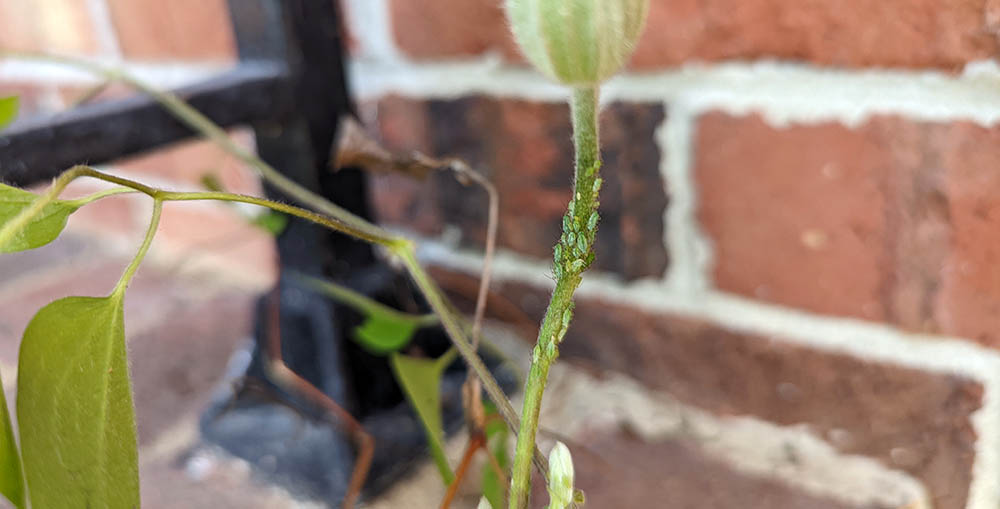 The most common type of aphid that attacks indoor houseplants is the green peach aphid, which has a yellowish green color and that same pear-shaped body.
---
How Do Aphids Reproduce and Spread?
Although each individual aphid can do its fair share of damage to a plant, the true reason aphids are considered such pests is their ability to reproduce quickly, causing a full-blown plant infestation in a matter of days. This is mainly due to the fact that these insects have quite a prolific lifecycle.
Outdoors, females will emerge from overwintered eggs in the early spring, ready to find tasty plants to make their homes. The females have the ability to give birth to live young, called nymphs, without undergoing sexual reproduction with a male, a process known as viviparity.
Because these females can produce several nymphs every couple of days, and then the nymphs can start producing their own young, you can see how quickly the growing insect population can overrun a plant. Later, in the fall, males will emerge from eggs and sexually reproduce with the females, which lay new eggs in a barky location for the following spring.
Things are slightly different indoors. Due to the conditions of indoor environments and the fact that we will often work to eradicate any infestations on our houseplants, it is improbable that aphids will lay any eggs in the soil of your plants. The aphids you see are likely female nymphs producing live young. This should be comforting news since you won't need to worry about these bugs hatching every spring.
---
How do Aphids Spread to Houseplants
Usually, aphids are introduced to houseplants in a variety of run-of-the-mill ways. One crawls or flies through an open window, one is carried in on clothing or a pet's coat, or an infested plant is brought indoors and placed near other houseplants. Regardless of how they get into your home, the important thing to note is that it is easy for them to spread. Houseplants placed near an aphid-infested plant are at high risk of gaining a few unwanted guests.
Also, people are great at spreading them from plant to plant. As we stick our arms down into our plants to prune or water them, it's not hard to imagine how a few stowaways might end up on our sleeves before we move on to tend our next plant. In some cases, once a colony of aphids gets well enough established, winged females can begin emerging and fly off to find new, healthy plants to feed on.
Because one single infested houseplant can put your whole collection at risk, it is important to look for the warning signs that a plant might have aphids so you can act quickly and either quarantine or treat the problem as soon as possible.
---
Signs That Your Houseplant Has an Aphid Issue
Being able to identify that your houseplant has a potential aphid infestation early on is the key to managing the issue before it becomes a big deal. Left unchecked, your plant's health will plummet as the aphid population grows, requiring you to act quickly, with harsher treatments, in order to save it.
Luckily, aphids are actually pretty easy to spot, if you know what to look for. By paying attention to a few key signs, you should be able to catch an aphid issue early enough to take corrective action before much damage has been done to the plant.
Aphids are considered sucking insects that use their mouthparts to pierce into the phloem of a plant to access sap. This creates small puncture wounds across the plant tissue on the tender areas of the plant, most often on the underside of leaves or along the stems and leaves of new growth. You may also see small clusters of aphids congregating around newly budded flowering parts.
Because these piercing mouthparts can actually destroy plant tissue, left unchecked, aphids can do a lot of damage to the tender parts of your houseplant. You may notice that the leaves of an infected plant start wilting or look crackled, discolored, stunted, or begin to curl. These are all signs of an aphid infestation.
Another sign your plant is housing an aphid colony is the appearance of honeydew on its leaves and stems. Honeydew is basically a sugar-rich, sticky excrement aphids produce as they feed on the sap of plants. It can be clear, white, or grayish in color and will likely begin to cover any surfaces around where aphids are present. As honeydew builds up, it can also encourage the growth of sooty mold and fungal infections that can be detrimental to the plant.
Lastly, as an aphid population grows on an infested plant, after a while, you will begin to notice them. As mentioned above, they tend to congregate in groups around the most tender parts of a plant and on the underside of leaves. At a certain point, they may become so abundant they are basically impossible to miss.
One silver lining is that they probably won't ever be in your houseplant's soil. While varieties of aphids attack the root systems of plants, they aren't commonly found on indoor houseplants. Also, remember that aphids don't typically lay eggs in the soil due to indoor conditions.
---
How to Treat Indoor Houseplants for Aphids
When the time comes when you've identified an aphid infestation on one of your beloved houseplants, it is important to remember not to panic. To be frank, aphids are a bit gross, especially in large numbers, but often, you have many different treatment options available for your plant.
Many of these treatments can be used in tandem with others, and based on the severity of the infestation, you can start with gentle, natural treatments first before moving to harsher options if wanted or needed.
---
Quarantine Your Houseplant
First things first, make sure to move an infested plant away from any other houseplants in your home. If it's warm enough to keep the plant outside, on a covered porch, or in a garage, great. If not, try to find space to isolate and treat the plant, like in the shower or bath of a spare bathroom. Aphids can travel from plant to plant, so it's important to quarantine any plants suspected of being infested to minimize spreading of aphids to the rest of your collection.
---
Wipe Them Away
One of the most effective, although sometimes tedious, treatment options is the physical removal of the bugs from the plant. Because aphids are typically only giving birth to live nymphs, you don't have to worry about treating your plant for multiple stages of their lifecycle, which is why wiping them away can be so effective.
Use a small cloth or Q-Tips to brush any aphids off each part of the plant. The key to success with this option is thoroughness, so make sure you check each leaf and stem and remove any bugs present. You may need to repeat this every few days until you are sure you got them all.
---
Blast With Water
Another way to physically remove aphids is by using a spray nozzle to blast your plant with water, essentially rinsing away any insects. This one only works well if your houseplant is hardy enough to withstand a strong blast of water. You'll need to treat more delicate foliage another way. Again, consistency and thoroughness are keys to success with this method, but this is a good way to initially get a lot of aphids off of a plant.
---
Use Soapy Water
Another easy, at-home remedy that is pretty effective against aphids is to spray your plant with soapy water. Using a spray bottle filled with water and about a teaspoon of dish soap, cover the entire plant, including the underside of the leaves, with the soapy spray. The dish soap works to dissolve the waxy membrane of the aphids' bodies, causing desiccation as everything dries out.
This is often my go-to first line of defense, especially if I don't have any other treatment options on hand. I find it works pretty well, even for larger infestations, and can be done around kids and pets. One thing to remember is that soap can also work to dissolve the waxy cuticles of leaves on several tropical plants, so just keep that in mind when treating certain houseplants.
---
Insecticidal Soaps
Working similarly to soapy water, insecticidal soaps are an extremely efficient way to deal with soft-bodied insects like aphids. These soaps are essentially water mixed with potassium salts or fatty acids that work to dissolve the cuticle of the insects' bodies, disrupting the function of cell membranes and causing dehydration. They are also great cleaning agents for honeydew and sooty mold.
Insecticidal soaps can have chemical additives to make them stronger, but there are plenty of formulas that are low or non-toxic and suitable for organic gardening. You can also make your own version of an insecticidal soap at home for a more natural approach to pest control. A quick internet search will show you plenty of recipes using household products and/or kitchen spices. You should be able to find one that works well for you and your home.
---
Neem Oil (and Other Horticultural Oils)
Another great, environmentally friendly option for aphid treatment is Neem oil. This naturally-derived oil is highly effective at managing aphid populations and has an additional chemical compound that can protect a plant against fungal infections.
Neem oil works by coating the aphids completely and suffocating them, so in order for it to be successful, good coverage of the entire plant is necessary. Luckily, many Neem products come as handy ready-to-use mixtures, meaning they have already been diluted into water and can be sprayed directly on the plant. You can also get Neem Oil as a concentrate and make your own formula.
Other horticultural oils can be very useful in the treatment of aphids, but Neem is a gold standard, mainly due to the additional chemical compounds that can treat other plant conditions.
---
Chemical Sprays
If you are having trouble keeping an aphid population in check or your plant is in dire health, you may need a treatment option that's a little stronger. Plenty of synthetic chemical formulas are safe to use on houseplants and contain specific compounds that kill insects on contact.
Before spraying anything on your houseplants, check the label to see if your plant is listed for treatment and that you are clear on how exactly to apply it. Many chemical sprays contain active ingredients categorized as pyrethrins, imidacloprid, or pyrethroids. Pyrethrins are plant-derived insecticides and tend to be safer and more benign than other sprays, so I tend to look for formulas made with them.
---
Pruning
Lastly, if you ever find that an aphid problem has gotten so bad on a part of your houseplant that you don't think it will ever recover, do not rule out pruning off the worst parts of the infestation. Sometimes, even after a pest problem has been fixed, the damage already done is severe enough that your plant won't ever fully recover. Instead, it may waste a lot of time and energy trying to make the repairs to plant parts that will likely need to be removed anyway.
Strategically pruning back your infested plant works two-fold by removing a good portion of the aphid infestation and allowing the plant to redirect energy into repairing healthier parts and pushing new growth.
---
Final Thoughts
Aphids a probably one of the most common pests you'll find attacking your houseplants. Early detection is key to keeping their population in check, so be sure you have an eye out for any damaged, wilted, or curled leaves, and don't ignore any sticky substances covering leaves or stems.
Be diligent with whatever treatment option you choose, making sure to be thorough with removals and get full coverage on any sprays. You may need to repeat these treatments every few days to ensure there aren't any sneaky holdouts, and don't be afraid to combine certain treatments for a more effective result. By acting quickly, most aphid infestations are highly manageable, and you'll have your houseplants looking great and staying healthy in no time at all. Good luck!