A big and colorful Croton gets noticed by everyone in the room. Unfortunately, sometimes these bold houseplants also tend to catch the attention of some common plant pests that treat the tropical leaves as a tasty snack. But who are these little pests? And what can you do to get rid of them and get your Croton back to normal?
Crotons are susceptible to many common indoor pests like aphids, fungus gnats, spider mites, scale, mealy bugs, and thrips. Although tissue damage and disease can result from severe infestations, treatment for these pests is straightforward, and if dealt with quickly, your Croton will usually recover.
It can be very upsetting when you discover any of your houseplants have a pest infestation. The good news is that Crotons are pretty resilient plants, so when caught early enough and treated correctly, your plant will likely recover from any damage within a matter of weeks.
The key to protecting your Croton is being able to identify which pest you are dealing with quickly and accurately and knowing how to treat that particular infestation. This article covers the most common types of pests you might find on your Croton and offers ways to get rid of them fast.
---
A Quick Note on Commercial Insecticide Sprays
Almost all the pests that affect Crotons can be dealt with by exposure to commercial insecticides. But please remember that only certain insecticide sprays are formulated to be used on houseplants, and their availability is often subject to local laws in your state, region, or country. It's also worth noting that even houseplant-rated sprays may not be acceptable specifically for Crotons, so be sure to check the label before applying to your plant.
Many sprays require ventilation, so treatments need to be done outside, and your houseplants may need to stay outdoors for several days. The decision to use an insecticide spray comes down to your own comfort level. Consider what ingredients are being used, what you are spraying, where your plants are placed, and who or what might come into contact with them before using any of these products to treat pest infestations.
---
Common Croton Pests and How to Deal with Them
I love plants that tend to be nearly immune to pest infestations (fist bump to my snake plants). However, if that were my only criteria for picking out houseplants, my collection would end up looking a bit…boring. Crotons bring interest and color into our homes and make guests ask, "What kind of plant is that?"
Unfortunately, those big, glossy, tropical leaves that we love are enticing to many critters as well. Crotons are more susceptible to being infiltrated by a family of pests than other typical houseplants, which isn't good for the Croton and can also put other plants in your home at risk.
However, don't let this deter you from owning such a beautiful plant. Most often, the pests that prefer Crotons are common bugs that are easily identifiable and for which there are simple treatment options that can be implemented quickly.
---
The First Rule of Dealing with Pests
Before we get into any specific pest, it's important to know the number one rule for eradicating infestations on your precious houseplants: Quarantine!
Most pests that can affect a Croton would be happy to make lunch of your other indoor beauties. To keep the infestation from spreading, the most immediate thing to do is to move your plant away from all the others in your home.
Set up your Croton in an area where you can keep an eye on it, but it will still receive some light from the windows and consistent temperature, and then treat it. The last thing you want to do is share the love with other houseplants in your collection.
Now, let's go through the list!
---
Aphids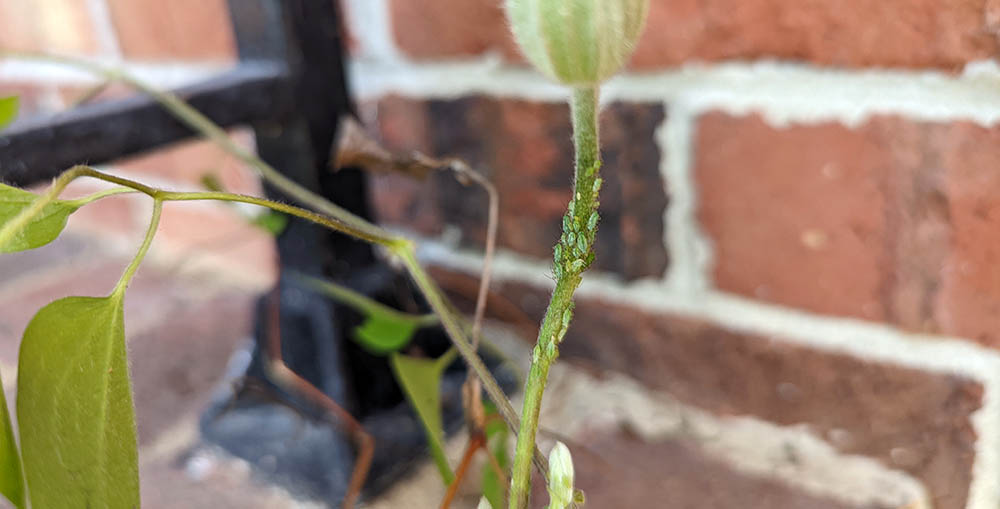 How to Identify Them:
Likely needing no introduction, aphids are small, usually, green, sap-sucking insects that like to take up residence along the stems and under the leaves of your plants.
They penetrate the plant's tissues in search of sap, leaving behind damaged stems, wilted leaves, stunted growth, and the potential for disease to move in. When left unchecked, aphids can multiply rapidly.
How to Treat Them:
The good news is that there are many treatments for aphids that are low-impact and easy to perform.
For mild infestations, you can mix a solution of water and dish soap into a spray bottle and physically spray the aphids on your plant. The soap will degrade the bugs' exoskeletons, causing them to dry out. You may need to respray every few days until you no longer see any new aphids.
Horticultural oils or neem oil are also great ways to treat aphid infestations. Spraying your plants with these oils will coat the bugs, eventually suffocating them. Oils are also effective at destroying the larvae and eggs of aphids, disrupting the infestation in each cycle of life.
---
Fungus Gnats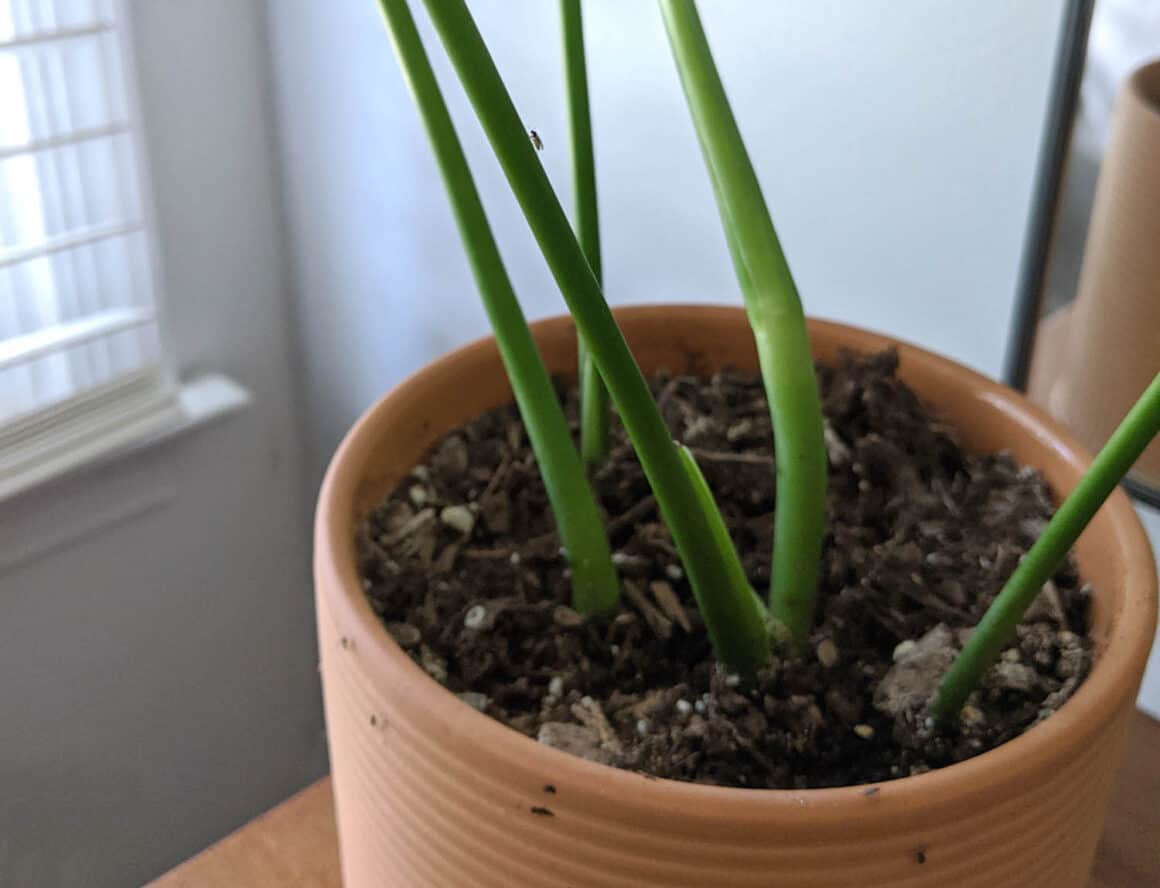 How to Identify Them:
Fungus gnats are also pretty prevalent pests you've likely encountered on other houseplants. Typically found around plants that have perpetually damp potting soil, adult fungus gnats (similar looking but slightly larger than fruit flies) hovering around the topsoil and leaves are usually the first sign of an infestation.
Fungus gnat eggs are laid in the soil around a plant, and, once hatched, the larvae will search out root structures to munch on. Over time, this creates substantial damage to the root system and can introduce fungal disease to the plant, causing the roots to die and the plant to wilt.
How to Treat Them:
I find a two-pronged attack on fungus gnats best. On one hand, you'll want to kill any flying adults so they can't lay any more eggs, but you also need to treat the eggs and larvae to protect the root system and prevent any new adults from emerging.
For the adults, use a yellow sticky card, commonly sold at nurseries and garden shops, to trap any gnats flying around your plant.
For the eggs and larvae in the soil, use an application of hydrogen peroxide. The peroxide reacts within the first inch or two of soil, destroying any gnat larvae, and leaving water as the only byproduct to soak lower into the soil. To apply, mix one part of 3% hydrogen peroxide with four parts water and give your Croton's topsoil a good soak. You may have to apply a few rounds of the hydrogen peroxide solution over several days to ensure complete coverage.
Another popular solution is the use of Mosquito Bits. Either soak the bits in water overnight, drain them off and then water your plant with the soaked water every two to three weeks. Or mix in the bits to the top layer of soil, and some of the effects will be released with each watering.
---
Spider Mites
How To Identify Them:
Spider mites are a common houseplant pest that is super sneaky. These bugs are so small that you often don't know your plant is suffering from an infestation until the damage on the leaves is severe enough to show at a noticeable level, at which point you have to act fast.
Almost too small to see without a magnifying lens, these yellow/brown spider mites typically live on the underside of leaves and create tiny holes as they eat. The damage to the leaves will look brown, scabby, and discolored. In addition, you'll often see downward curling leaves and spider-like webs spanning across the backside of leaves and over the soil.
How To Treat Them:
Unfortunately, spider mites are a bit persistent and sometimes difficult to treat, but some dedication on your part will go a long way in getting rid of them. To begin with, if the weather allows, take the plant outside and use a gentle spray on your garden hose to remove as many of the pests from the plant as possible.
After removing the masses, you can treat spider mites much like you treat aphids. Dish soap and water sprayed on the underside of leaves will help control a mite infestation. Also, you can use horticultural soaps or neem oil on a weekly basis to aid in suffocating the mite population.
Wiping the underside of your Croton's leaves with diluted rubbing alcohol has also been known to be an effective treatment. I like to dilute it in half to avoid causing any damage or trauma to the leaves of my houseplants. You can apply it at a stronger mix, but you will probably want to wipe your leaves with clean water after an hour or so to avoid damage to your plant.
Whatever treatment you choose, plan on carrying it out each week until there are no longer signs of leaf damage from mites and you see no other signs of infestation.
---
Scale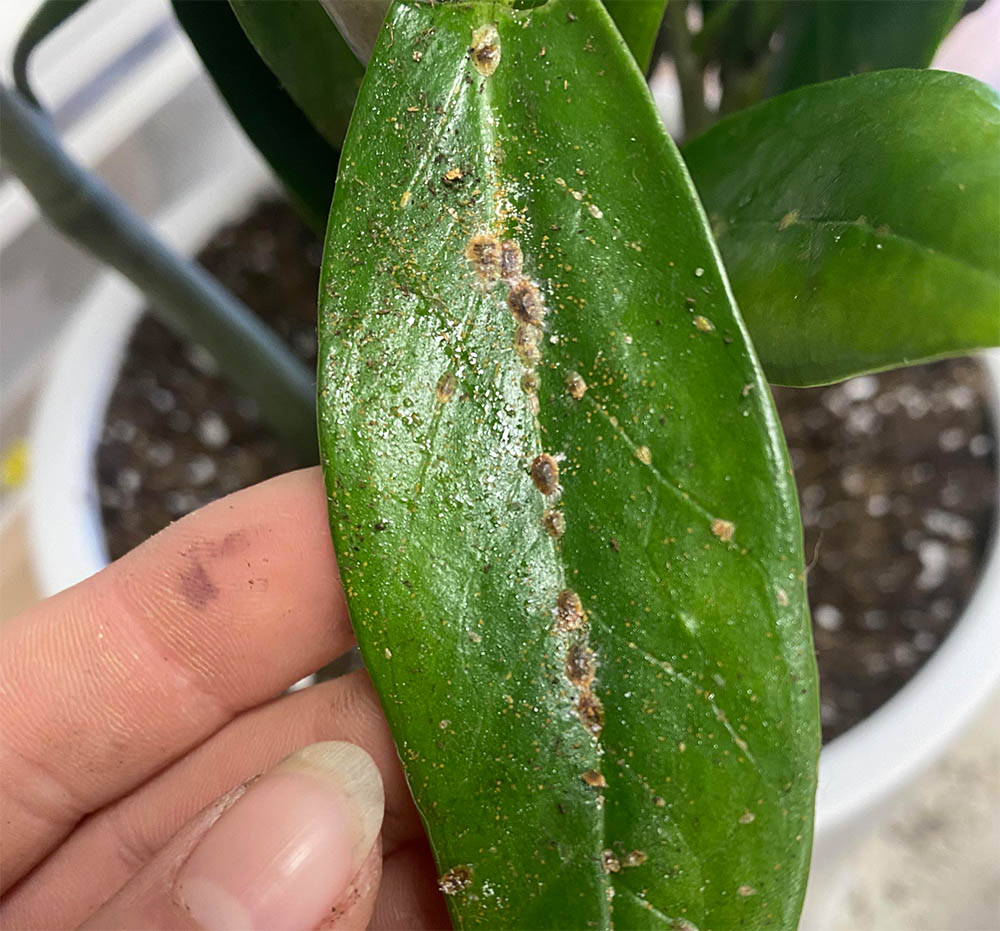 How to Identify Them:
Scale are interesting pests that can be hard to identify since they often look like tiny bits of buildup or gunk on the leaf or stem surface. In fact, these insects have a hard, brown shell that protects them as they suck sap from plant structures.
If you start seeing tiny, oval lumps appearing on the surfaces of your Croton, take a closer look. If it's not a splash of dirt or actual plant material, you are likely dealing with scale. Left untreated, scale can destroy plant structures and stunt growth.
How to Treat Them:
Because of their hard shells, scale can be a bit tricky to effectively treat, but a little persistence will pay off. One solution is to remove any scale by hand. Depending on the size of your Croton, this might be a tedious job, but it is effective, nonetheless.
You may also consider pruning your Croton back. Since these plants can handle hard prunes pretty well, you may want to remove any affected portions of the plant, ensuring what's left is free of scale and let the plant grow back in.
Neem oil is also a natural solution that may help with scale but tends to work on younger life stages where they are still mobile and less armored by their shell.
Rubbing alcohol applied to the shells of individual scales will work to dissolve the shell and kill the pest. You can dip a Q-Tip in alcohol and touch the back of each scale. It may take a few days and a few applications to fully kill all the scale on your plant.
---
Mealy Bugs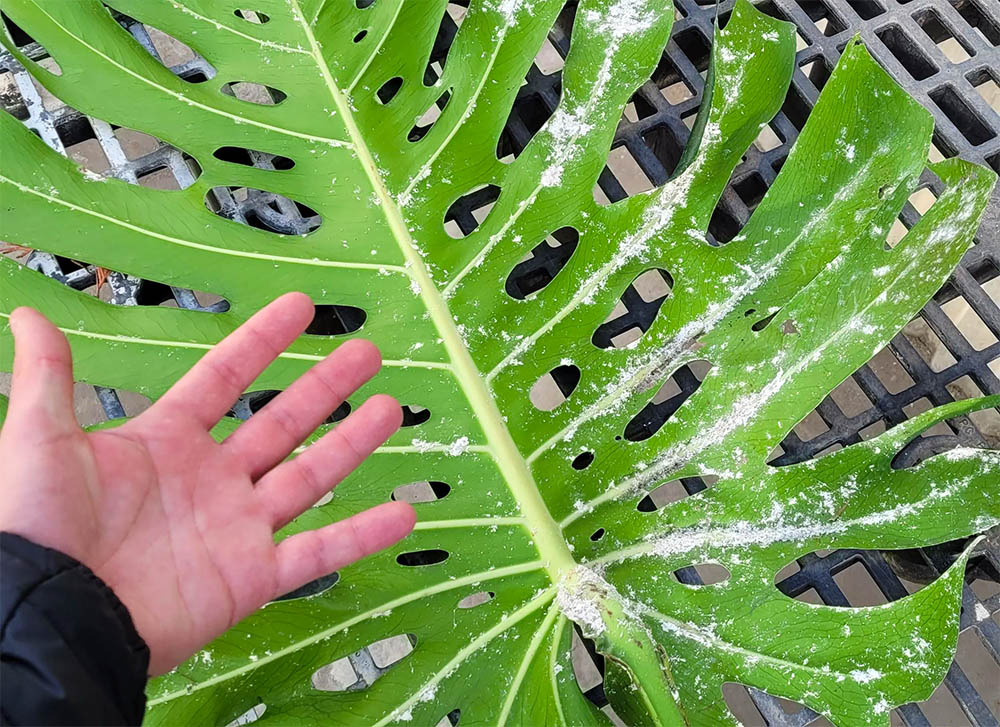 How to Identify Them:
Mealybugs are likely one of the most recognizable pests that attack Crotons, but because they stick to the underside of leaves and deep down in leave axils, they can be hard to spot until you've got a real situation on your hands.
These distinct-looking pests often appear like little tufts of cotton stuck on the backside of your plant's leaves. Their white, fluffy bodies are actually quite armored, making them a tricky pest to eradicate. Left untreated, your plant will show signs of damage on the leaves and stems where mealy bugs feed, and you'll begin to notice honeydew, a sticky residue they excrete, covering parts of the plant.
How to Treat Them:
Treatments for mealy bugs are best when the infestation is caught early. Physical removal of individual bugs is helpful, but you'll also want to use an insecticidal soap to treat all surfaces of the plant to ensure no mealy bugs are hiding out. This will also help wash away any honeydew, which can cause more severe issues if allowed to build up on the plant surfaces.
Alternatively, you can use the rubbing alcohol trick outlined above to destroy the armored shells of the mealy bugs over the course of a few days, but you must repeat this process a few times to make sure you've treated any new or missed bugs.
If an infestation has gotten bad enough, chances are the mealy bugs have laid eggs in the soil of the plant, which is harder to treat. But you can still use an insecticide rinse to help rid your Croton of mealy bugs. The rinse will kill any bugs and eggs in the soil but often need to be repeated to catch different pests in each part of the lifecycle.
---
Thrips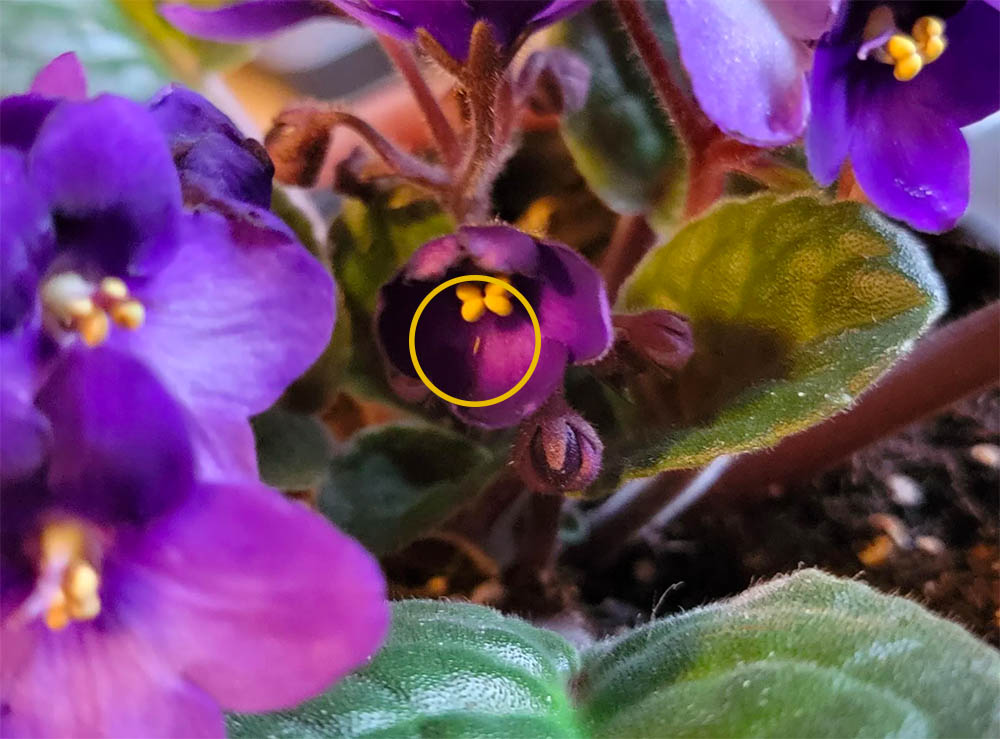 How to Identify Them:
Thrips are tiny, thin, winged insects that feed on plant leaves with rasping mouth parts. They are so small, in fact, that they often go unnoticed until plant damage becomes apparent. They vary in color from white to brown, are sometimes banded, and camouflage well with the plant tissue they feed on.
Damage to your Croton from thrips will often look like calloused patches of silver-grey scarring. Leaves will begin to curl or distort, and new growth will look stunted and damaged. If you see any similar damage and suspect a thrip infestation, you can take a sheet of white printer paper, hold it under a leaf, and tap the leaf several times. If you see dark specks against the paper about the size of ground pepper, those are most likely thrip.
How to Treat Them:
Thrips can be difficult to treat, mainly because the infestation is usually pretty bad by the time we notice an issue. At-home treatments can be limited, but insecticide soaps and neem oil applications are usually pretty effective. Treating your Croton with several applications can usually knock back even a serious infestation within a matter of a week or two.
Rubbing the underside of leaves with diluted rubbing alcohol can also be an effective treatment option. Because thrips are winged, they do have the ability to target other houseplants near your Croton. Don't forget to isolate the plant during treatment to avoid spreading these pests to other plants.
---
How to Protect Your Croton from Pests Moving Forward
Based on the list above, it may look like Crotons are pretty susceptible to pest infestations. And while it is true that lots of tropical foliage plants may be the equivalent of a Christmas feast to a little sap-sucker or flying insect, the truth is that Crotons are generally pretty resilient.
Because of a Croton's thick, glossy, leathery leaves, many bugs have a hard time accessing the delicate tissues and fluids from the plant, making an established infestation less likely. However, if your plant is suffering from a lack of quality plant care, that is when conditions tend to favor the pests, allowing them to dig in as the plant's health declines. This means that the best line of defense against any type of pest infestation is to take good care of your Croton!
Proper watering is perhaps your very best weapon. Keeping your Croton correctly watered will ensure your plant is as healthy, without creating any conditions favorable to pests. Fungus gnats love perpetually wet soil to lay eggs in, so making sure not to overwater is essential. Mealybugs, too, love moist soil and thrive best when plants are overwatered.
On the other hand, thrips and spider mites usually do better when the conditions are much drier, and the plant is dehydrated. This happens in instances of underwatering. By avoiding either extreme, you'll ensure your plant stays healthy without worrying about accidentally creating an environment preferred by pests.
Provide your Croton with plenty of sunlight, supplemental applications of fertilizer, and warm temperatures to encourage strong, healthy growth. Keeping your plant in an area with higher humidity also goes a long way in discouraging pests who prefer drier climates. Make pruning a regular part of your plant care. Not only will this keep your Croton pushing new growth, but will periodically remove older or unhealthy plant matter that bugs find easier to attack and feed on. By keeping your plant healthy, your Croton will fare much better against any potential infestations.
---
Final Thoughts
As far as tropical foliage plants go, Crotons are pretty resilient specimens. While they have their fair share of pests that may find them tasty, many of these bugs are commonplace and can be controlled with rather simple methods.
Keep a sharp eye out for any possible pest infestations, and use the information in this article to identify what you're dealing with. After treating the problem, double down on proper plant care to ensure your Croton is in fit and fighting shape to avoid future pest issues. Best of luck!