Even though they have gained a reputation for being a bit persnickety at times, Fiddle Leaf Figs are still as popular as ever. Perhaps this is because these plants are powerhouses that can put out lots of growth and shoot for the sky. Before you know it, you might find your Fig is scraping the ceiling with nowhere else to go. If that's your reality, what can you do about a Fiddle Leaf that has grown too tall?
Fiddle Leaf Figs can grow ten feet or more indoors, and that can make regular care and maintaining their long-term health difficult. If you find yourself with a Fig that's too tall for the space it's in, you'll need to prune it back, so be prepared to make significant cuts on your Fig.
It can be a little nerve-wracking to make large pruning cuts to a prized houseplant, but if you do it correctly, you'll end up with a plant that is a much more manageable size, and you can more easily maintain its shape and size moving forward. And don't worry, we will guide you each step of the way.
---
How Tall Do Fiddle Leaf Figs Get?
Like many other houseplants, Fiddle Leaf Figs are cultivated varieties of subtropical species that, when grown in their natural habitats, tend to get a LOT bigger than what we see in our homes. In their native environments, Fiddle Leaf Figs have the potential to grow upwards of 50 feet tall.
Of course, you won't see anything like that happening in your home. Cultivated versions of these Figs typically tend to grow to about 10-12 feet but they have been known to grow larger. I know someone whose Fiddle Leaf grew up to the top of their vaulted ceiling and decided it wasn't finished yet, so it turned and grew along the rafters.
But even Fiddle Leaf Figs grown outdoors in areas where they are hearty (mostly USDA Zones 10-11) tend to only get about 15-25 feet tall. Regardless, a Fig that has grown taller than you can definitely become a challenge to care for, so knowing when and how to prune it back is essential for its longevity and your enjoyment of the plant in your home.
---
What to Do When Your Fiddle Leaf Gets Too Tall
Fiddle Leaf Figs are good growers. They may not be the fastest, but they are sure and steady when they have everything they need. A healthy plant will put on several inches in a growing season. In most cases, we celebrate this growth since it means our Figs are happy. However, you may realize that your Fig has grown tall enough or is actually outgrowing its space at a certain point. Now, it's time to prune.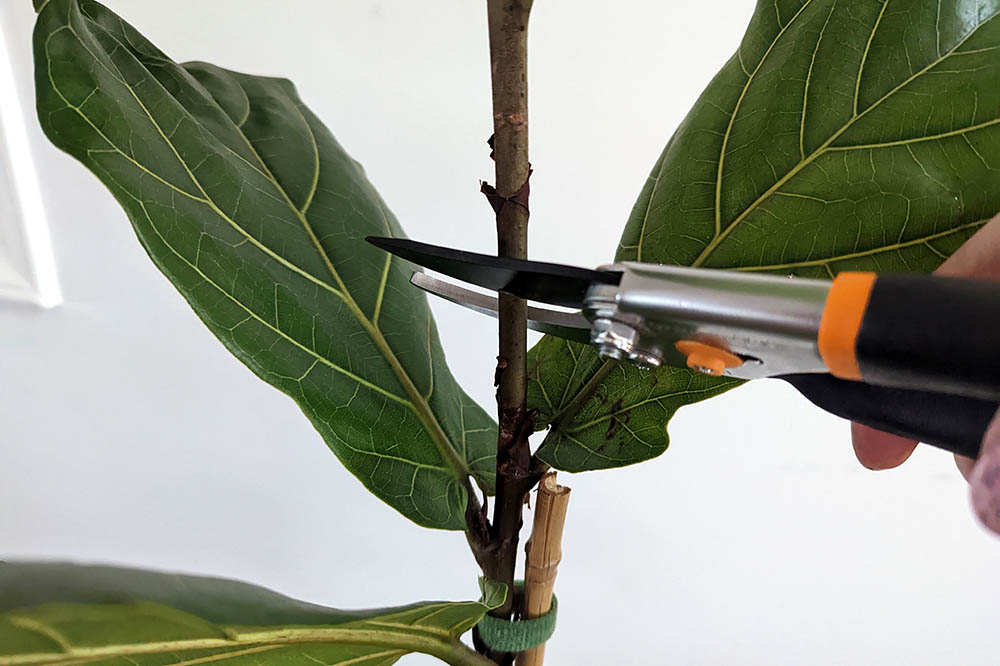 Pruning your Fig doesn't have to be scary and, in fact, should be part of your regular care regimen. A well-pruned Fig tends to be healthier overall and can be tailored to make quite an architectural statement in your living room. However, if you've missed a few pruning sessions and your Fig is a bit unruly, let's work through the steps you can take to get it back down to a manageable size.
---
Things to Consider Before Pruning Your Fiddle Leaf
Before you make any cuts to your plant, you first want to assess your Fig to understand its current shape and structure. If you have a newer plant that has never been pruned before, you likely have a single stem growing straight up with minimal branching. In this case, a topping cut would be appropriate. Get the step-by-step instructions for how and when to top your Fiddle Leaf Fig in this article.
Perhaps you have a well-branched Fig with multiple growing tips. Identify which stems or branches are getting unruly or too tall. Pruning those back first will help you determine if smaller cuts need to be made to secondary branches to tidy up the shape of your plant.
In some cases, you may have multiple stems planted in one pot. They may be singular stems or branching. If the entire plant is too tall, you may need to prune everything back at once, but you can often stagger the cuts on each stem over several weeks. This allows for a more gradual change in height and shape, with the added benefit of seeing where new branches might be growing in.
Another thing to pay attention to is the leaf distribution of your Fig. Ideally, any time you make large cuts to your plant, you want to do so in a way that keeps several leaves on the plant so it can carry on with important functions like photosynthesis. This will help your Fig recover faster, and there is less risk of shock. When deciding where to make your cuts, try to find spots that will get your Fig to the height you are working towards while still preserving as many leaves as possible on the plant.
---
A Quick Note on Branching
A cool thing about Fiddle Leaf Figs is the potential for multiple new branches to grow from where you make a cut along the stem. Auxiliary buds are located at nodes along the length of the stem, so when a cut is made, the nodes directly below the cut line are activated to start producing new growth. Typically, one to three nodes can be activated at a time.
This means that, for every cut you make, you can potentially have one or several new branches growing from that spot. This is why pruning regularly is a great way to encourage your Fig to branch and, eventually, achieve a bushier plant. Keep this in mind when deciding where to make cuts.
Try to visualize where new branches might grow in to help anticipate the future shape of your plant and new growth stems that will eventually need to be trimmed for height. Don't worry! If you hope to keep your Fig light and airy and fear that pruning it back will create too many branches, you can always clip off all but one new branch growing from a primary cut.
---
Make the Cuts
Now that you've assessed your Fig and have an idea of where to make your cuts, it's time to actually grab the shears and prune back your plant. You will want sharp, clean garden shears or knife to make your cuts. Any time you prune, you are creating a wound on the plant, so sterilizing your implements ahead of time can minimize the chances your plant will suffer from disease or infection.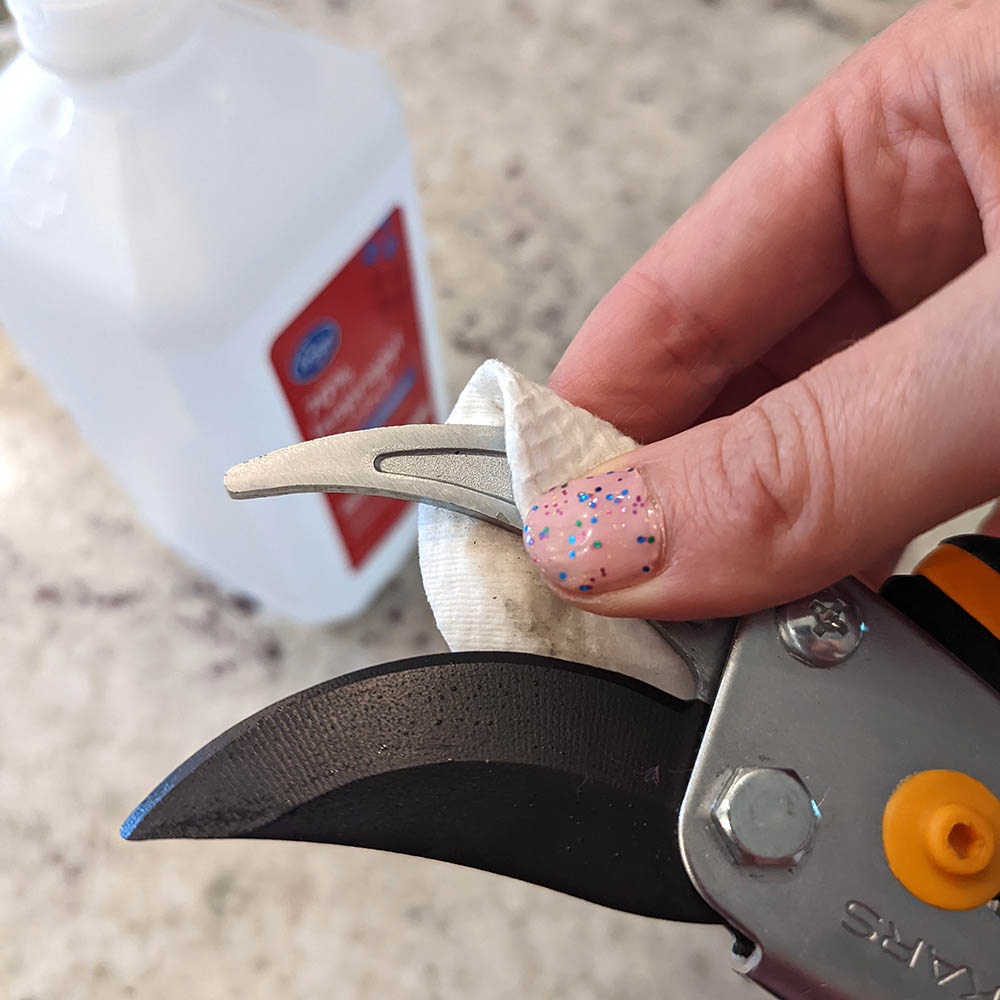 When you make your cuts, cut perpendicular to the stem to create straight, flat cuts. This keeps the wound as small as possible and easier for the plant to repair.
Start by making any larger "topping" cuts. Topping cuts (or top pruning) usually refer to cutting back the main growth stem of a plant to control for height. So, if you have a single-stemmed Fig that has grown too tall, a topping cut will bring it back down to a manageable height.
Remember that anywhere you make a cut, your Fig will begin pushing new branches from that location. So, when I am making a topping cut, I usually aim a little lower than what I've determined is the "ideal" height because I know new branches will eventually start growing upward from that spot. Again, this is where visualization of the shape and height you are trying to achieve can be helpful.
For more well-branched specimens, look first for any branches that are growing inward or crossing over other branches on the plant and remove these first. Then, you can determine which of the remaining branches are too tall and prune them back to whatever height works for the shape you are trying to achieve.
A general rule of thumb when pruning is to not take more than a third of the stem or branch at a time to avoid shocking the plant. This is definitely a safe approach, but I often find that I need to take more than that off to manage the height of an overgrown Fig.
In my experience, I've often taken half or more of a growing stem at one time without any issue. Of course, there is a higher risk of shocking your Fig to the extent that it might not recover, so I would encourage you to consider how healthy your Fig is and if it can handle such a hard prune.
---
Maintaining Your Fig Moving Forward
After you prune your Fiddle Leaf back to the desired height, it may look a little worse for wear. Don't worry, though, because it is already starting to activate new growth from the auxiliary buds and, within a few weeks, you should see new branches pushing from your cut locations.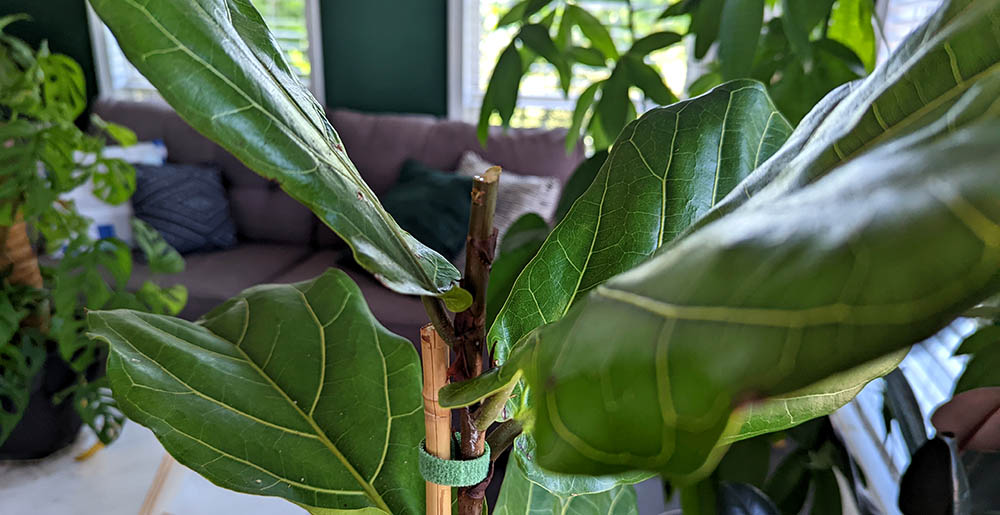 To help speed up this process, make sure your Fig has plenty of light and is being properly cared for. Be especially mindful not to overwater it during this time. You may have removed a significant portion of your plant's biomass, so its water needs may have changed quite a bit.
Moving forward, try to incorporate pruning as part of your regular care routine. Once or twice a growing season, evaluate the growth of your Fig and determine if any branches need to be pruned to manage the size and shape of your plant. By staying on top of this task, you will rarely, if ever, need to make such hard pruning cuts to tame a Fig that has outgrown its space.
---
Don't Forget to Propagate!
An added benefit to pruning back your Fiddle Leaf Fig to control height is that you are left with stem tips that can be propagated into new plants. Rather than composting what you've removed from your Fig, root out the cuttings and plant them in their own pots. Voila! More Figs for you or your friends!
The easiest way to root your cut stems is to stick them in a glass of water and place them in a window with lots of indirect light. Over the course of several weeks, you should see the cut ends of your Fig stems forming new roots. Once the roots are about three inches long, you can plant them in a container with fresh potting soil and allow them to fully establish as new Fig plants.
For step by step instructions on propagating Fiddle Leaf Figs, read this article.
---
Final Thoughts
Fiddle Leaf Figs are steady growers and can sometimes surprise us with how tall they'll grow in our homes. If you ever find yourself with a Fig that no longer fits in its space, you can easily bring it down in size by pruning it back.
For long-term maintenance of your Fig, plan on pruning about once or twice a growing season. This keeps your plant at a manageable size and, because it encourages branching, gives you more growth tips to work with to achieve the size and shape that fits your space perfectly. Happy pruning!