Monstera Deliciosa is quickly becoming one of the most popular houseplants on the market. People (myself included) love them because of their unique leaves, low maintenance attitude, and ability to grow to what their name implies: a monster of a plant! Many times you will see the gigantic versions of these plants growing with a moss-covered pole or tied to stakes. But do Monsteras really need support to grow? What's the best type of support for a Monstera? Do Monsteras need moss poles?
While they aren't essential, moss poles are regularly used to support Monsteras and other climbing plants. Providing your Monstera with a moss pole helps to keep it growing upright, promotes larger leaf development, and can provide some nutrients and moisture to the plant through their aerial roots.
A moss pole or other support is not strictly necessary for a Monstera to be happy and healthy. Depending on the plant's growth pattern and the space you have for it, you might find that you are content to let your Monstera spread out naturally. But if you want to train your plant to grow upright, below is more information about moss poles and some alternative options for your Monstera to climb.
---
Why Do Monsteras Need to Climb?
A Monstera's natural growth habit is epiphytic, meaning it grows attached to the trunk and branches of trees in the wild. Without anything to climb inside your home, Monsteras get top-heavy and will eventually start spreading out to the sides instead of growing vertically. Sometimes they even fall over if one side gets too heavy.
At that point, you could either prune the plant back to a more manageable size or provide it with support. Although there are several options you could choose for training a Monstera Deliciosa to grow upright, moss poles are a popular option. Plant owners prefer them since they look natural, are inexpensive, and may provide some additional moisture and nutrients to the plant through the moss.
---
What Are Moss Poles?
As you might guess, moss poles are just poles covered in moss. The pole can be made from any type of material, but wood, metal, and PVC pipes are most commonly used as the moss pole's base. They are not intended to hold the plant up like a stake, but rather to provide Monsteras and other climbing plants with a vertical surface to attach to and climb.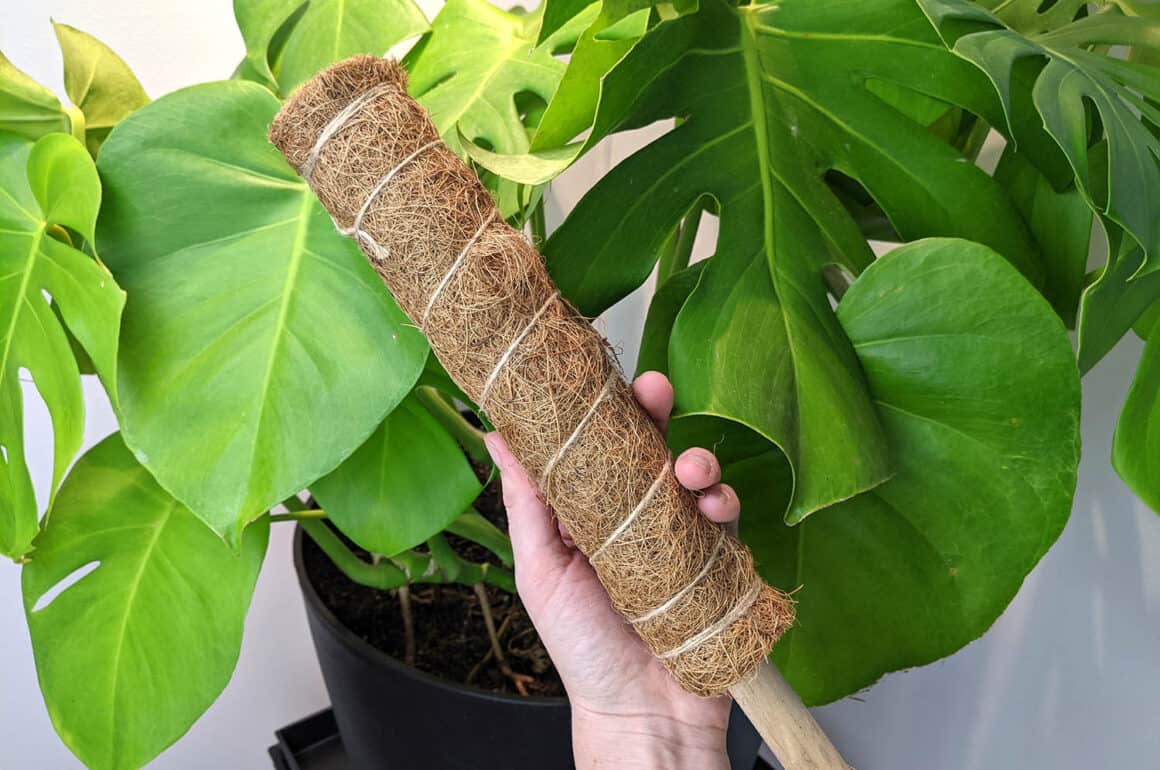 The moss on a moss pole is usually dried sphagnum moss, which is readily available in garden centers. Although new growth could conceivably sprout from dried sphagnum, it probably won't happen without perfect conditions. Most people are fine with the look of dried moss on a moss pole.
Theoretically, any kind of vertical support can be used with a climbing plant. The reason to use moss is that it is easier for the plant to grab with the aerial roots. The texture is closer to the mossy bark it would find back in nature.
---
Best Options for Climbing Monsteras
Your Monstera will eventually grow on whatever kind of support you provide for it, so your choice will come down to personal preference.
When reviewing the options, we will consider:
1. Appearance
2. How easy is it to train your Monstera to attach?
3. How much support does it provide?
---
First, moss poles and coco coir poles are natural-looking supports that mimic how this plant would grow in the wild. They come in a variety of sizes, and some (like this one from Amazon) can be stacked one on top of another to extend the size of the pole as your plant grows.
Small Monsteras can easily be trained to grow up the pole, but larger plants can be more challenging. Once the stems have started growing away from the center core of the plant, it is difficult to get them close enough to attach to the pole.
Small plants may attach aerial roots to the pole naturally as they grow, but larger plants probably will need to be tied to the support at first. Plant tape, garden twist tie, or soft plant tie can be used to train your Monstera toward the pole until it starts to grab on with the aerial roots.
The amount of support you can expect from a moss or coco coir poles depends on how thick and strong the pole is, how tall it is, and how big your plant is when added. Luckily, since there are many options (including do-it-yourself poles), you should be able to find the one that suits your plant.
---
A trellis is usually made from wood, bamboo, or metal, and can be found in various shapes. Although trellises (like this one from Amazon) can be rather noticeable when you first stake up your Monstera, the plant will grow over the supports, and it will soon blend in.
It is not difficult to train your Monstera on a trellis since it has several different points to support whichever parts of the plant need to be trained upward. If your Monstera is already large, you might want to get a trellis that is sold in pieces and can be constructed around your plant. Alternately, bamboo poles can be tied together to the shape that supports your Monstera perfectly.
Trellises can provide a lot of support, especially the rectangular and triangular types. Some modular types can be expanded by adding pieces to make them taller as your Monstera grows.
---
Other Options
Finally, if you like thinking outside the box, I have seen some more creative options. You could try supporting heavy Monstera branches by suspending them from the ceiling or letting the plant grow up the back of an old chair. Even an old branch that's the right shape could be used. Once you start thinking this way, you'll see a lot of options!
---
Where to Find Moss Poles
Moss poles are readily available from garden centers and houseplant specialty stores, as well as big-box stores with garden departments. They are generally not expensive, though some of the larger options can get a bit pricier.
If you want to have one shipped directly to your house, there are options available online from both Amazon and Etsy. I have tried a few myself and personally like this style the best, as it will allow you to continue to extend your moss pole as the plant grows taller and taller. I was concerned that the stacking design would make the pole flimsy, but I've been very impressed with mine.
---
DIY Moss Poles
You can save a little money and customize your moss pole precisely to your needs by making one instead of buying it. This section will give you some general information about how to do it and ways to make the process easier. This should help you decide whether you want to try a DIY project, or save the hassle and buy one.
You can find plenty of tutorials online about how to make your own moss pole, so I just want to provide you a few tips based on my own experience trying to make one. I must admit that my first attempt did not go well, but I believe I've got it figured out now.
The main issue with making a pole using the commonly available sphagnum moss is that it is made up of a lot of small chunks of moss. The first step is soaking the moss in water to help it expand, but working with wet moss is messy business.
Then you have to attach the moss to the pole. Most tutorials recommend tying it to the pole with fishing line, thread, or something similar. The small pieces of moss don't get caught in the line easily, meaning you have to wrap it many times, and it's hard to cover all the gaps on the pole.
Preserved sheet moss is an option since it comes in larger pieces, but it is also brittle and tends to fall apart when you start trying to manipulate it. Try spritzing it with water to make it more pliable before wrapping it around your base.
Making a DIY coco coir pole is an easier option. Coco coir is sold in thin mats that are easy to cut to size and wrap around poles. Coco coir poles are also widely available for purchase.
If you are set on using moss for your pole, be aware that dry sphagnum moss and floral mosses are generally not going to come back "alive." Some of the decorative moss types are dyed, so be sure you are purchasing a moss that is safe for use with houseplants.
Finally, some people seem to have good luck sandwiching sphagnum between the pole and some kind of open mesh, instead of tying the moss to the pole. This tutorial uses wire mesh, but a plastic mesh netting should also work well with this method.
---
Final Thoughts
Many people like to have a moss pole because that's what "looks right" in a Monstera, but the truth is you have a lot of options for providing your plant with support to grow upright. There's also the option to go with an alternative like a coco coir pole or a non-traditional stake.
On the other hand, some people really prefer the appearance and function of a moss pole. Luckily, they can be found easily at traditional retailers or made in an afternoon with just a few components. Regardless of what kind of support you decide to provide, your Monstera will soon be climbing happily.