Like many other plants, the Monstera deliciosa can easily be rooted in water. Besides making for a beautiful display piece, water propagation is a relatively easy way to produce multiple new Monsteras with very little work. All you need is a few tools, lots of sunlight, and plenty of time.
To root a Monstera deliciosa in water, you'll need to identify a part of the plant that includes a node. After cutting the plant beneath the node with sharp shears, place the cutting in water in an area with bright, indirect light. After several weeks, roots should develop from the end of the cutting.
There's a lot more to this process than what's listed above, but this brief overview is a good indication of how easy propagating a Monstera in water is. The rest of the article will talk about how exactly to root a Monstera in water, what you can expect from a cutting that's propagated this way, and some of the benefits and drawbacks of water propagation.
---
Can You Propagate a Monstera Deliciosa in Water?
Monsteras can absolutely be propagated in water! While there are conflicting opinions online about the effectiveness of this approach, it works just as well as soil propagation. Plus, the roots are visible as they grow in, so it is much easier to track each cutting's progress as it develops.
Monsteras can also be rooted in soil, which is the alternative to water propagation. Plant keepers tend to be pretty divided on which method is better, but there's no definitive agreement. Both ways produce rooted cuttings, so keep that in mind when deciding which method will work best for you.
---
Propagating Monstera Cuttings In Water
Propagating a Monstera cutting in water is similar to propagating a cutting from any other plant. It requires having the right tools and choosing the right part of the plant to cut. The process is similar to propagating a Monstera in soil, but there are a couple of differences that I'll talk about later.
To take a cutting from a Monstera, you'll need sharp shears and some kind of sanitizing solution, like rubbing alcohol or a diluted bleach mixture. Sanitize the shears before cutting any part of the plant; not doing this can lead to cross-contamination that can potentially infect your plant with any diseases the shears might be carrying. While Monsteras are hardy plants, it's never wise to introduce diseases and pests to vulnerable parts of the plant.
You'll also need to find a good part of the plant to take as a cutting. While you can take any part of the Monstera to display in water, only cuttings that include a node can grow roots and eventually develop into a larger plant. Nodes are the parts of a Monstera that can produce new growth, including roots and leaves. They're usually thicker than the rest of the stem and will sometimes have multiple leaves growing out of them.
To take a cutting that can develop into a new plant, be sure to pick out a Monstera section filled with healthy growth. Avoid any discolored leaves or ones that look unhealthy—these aren't strong contenders for good plant development. While a Monstera can propagate from a cutting with just a leaf and a node, two leaves is a good number to aim for when picking out a section of the plant.
After that, it's as easy as cutting the plant directly beneath the node and putting it in water! Don't cut too close, though. About ¼ to ½ of an inch beneath the node is an excellent point to cut. Place your cuttings in a clear container in a bright area. While nearly any container will do, it must be clean and sanitized. Cuttings are delicate and are far more susceptible to diseases than a full-grown Monstera.
If you're still a bit unsure of what a node is and how to locate one, we've got an entire article dedicated to this subject. For more information on Monstera nodes, click here.
While the preference online is clear glass, the container's color and composition don't matter much. Just make sure that you can see what's going on inside so you can track your Monstera's progress. It's also a good idea to have a reasonably wide mouth on whatever container you choose: this increases airflow so that the water the cutting is in doesn't become stagnant and will keep from damaging the roots when you're ready to remove it from its glass and plant it in soil.
When propagating in water, it's best to avoid tap water. Filtered waters are an excellent choice for this process because the contaminants that can hurt the roots have been removed. Rainwater is also a good option and often has nutrients, like nitrogen, to give the cuttings a little extra nourishment. We have an entire article devoted to watering, so hop on over if you aren't familiar with the different water types and how they can affect your plant.
---
The Steps of Water Propagation:
Prepare a clean workspace and collect your tools: shears, a sanitizing agent, and a container are all you need.
Sanitize all of the equipment to prevent the risk of disease.
Choose the part of the Monstera that will be the cutting. It should have a node and at least one leaf.
Using the clean shears, cut beneath the node about ¼ to ½ of an inch.
Place the cutting into the container and fill it with fresh water.
---
The Pros of Rooting Monsteras in Water
One of the most significant benefits of rooting a Monstera in water is seeing how the cuttings are doing as they develop. This makes it much easier to catch potential problems early. While there's little that can be done about a cutting that has begun to rot or isn't taking, being able to observe the development of each cutting won't leave you guessing what's going on.
The process of a Monstera growing roots is also remarkable to watch. When done in a beautiful vessel, water propagation is an entirely different way to enjoy these tropical vines. Because of this propagation method, the cuttings will develop what's called "water roots," which are white and opaque. The overall appearance is striking and well worth the effort.
Additionally, rooting in water removes the guessing game of trying to care for delicate cuttings. Besides periodically rinsing the roots and refreshing their water, you don't need to be concerned about nutrients, soil, or watering.
Keeping fresh, high-quality water in its container and giving it plenty of sunlight is enough to keep the cuttings alive. This is part of what makes water propagation an excellent choice for beginners that aren't sure about caring for cuttings.
---
The Cons of Rooting Monsteras in Water
I mentioned water roots before, but didn't go into detail. This is one of the cons to propagating a Monstera in water: the roots that water cuttings grow are different from those they would grow in soil.
Water roots, regardless of the plant being propagated, tend to be white and fragile. Fortunately, Monsteras develop very thick roots quickly, so fragility is subjective. Still, water roots don't absorb nutrients and oxygen the same way that soil roots do. This makes the transition from their water habitat to a pot a little bit tedious.
There's also the possibility of the cuttings being shocked when they are eventually transplanted. It's a significant change for practically new plants, so water propagation can increase the likelihood that you'll lose cuttings during the process. There are many differing opinions on how a transplant should be conducted, ranging from using moist moss to keeping the soil soaking wet for the first few weeks. None of these are good choices, though.
Anecdotally, I have never had an issue with water propagation. It has always been my preferred method for Monsteras and other plants, and I have grown many happy, healthy cuttings this way. Plenty of other plant owners have similar stories online.
---
Rooting Monstera Deliciosa in Soil
The alternative approach to rooting a Monstera deliciosa is to put the new cuttings into soil. This is a tried-and-true method used worldwide and with nearly every variety of plant that can be propagated.
Soil propagation is as effective as water propagation, with the added bonus that you won't have to transplant your new plant down the road. While there's plenty of agreement that the roots the cuttings will develop are different, the Monstera's hardiness makes this less of a concern than it would be with other varieties of plants.
Soil propagation also doesn't allow you to observe the cuttings' development, so it's challenging to know when the plants are ready to be moved to their full-time pots. It can also be difficult for the novice propagator to tell the signs of under- and over-watering from something more nefarious, like root or stem rot.
---
How Long Does It Take Monsteras to Root?
How long a Monstera takes to root depends on a couple of different factors. As always, the amount of sunlight the cuttings have can make a big difference in how quickly they develop roots. But be careful to avoid too much light: direct sunlight can burn both leaves and roots, quickly killing delicate cuttings.
Temperature is another factor to consider. Because these are tropical plants, they like to hover around room temperature. Temperatures colder than that can slow their willingness to grow, though it shouldn't play a big part in how long it takes for a Monstera cutting to develop roots.
The season and dormancy also help decide how long a Monstera cutting takes to root. Ideally, a Monstera should only be propagated in the spring and early summer, when the plant is entering the growing season. Taking cuttings too early can slow down the rooting process and lead you to believe that the cutting won't root.
Considering all these factors, the average length of time a Monstera cutting takes to grow roots is about two weeks. You'll probably see small sprouts at first that look almost like fuzz on the cut end. Within a few weeks, this will grow into distinguishable roots.
As with everything related to plants, this isn't a rule. Propagation can take longer, sometimes up to a month, so don't give up on your cuttings if they're slow to grow roots. As long as the leaves aren't showing any indications of stress and the end of the stem is not turning brown or black and mushy, there's a possibility that roots will develop.
---
When Should You Move Your Monstera From Water to Soil?
A Monstera cutting should show well-established roots before being transferred from water to soil. However, the length of time it takes for it to reach this point is difficult to say. For many Monsteras, two or three months after the roots have begun to grow in fully is usually a good time for replanting.
Ideally, the cutting should have a lot of thick, white roots. Try to keep the proportions of the rest of the cutting in mind: a tall cutting with several leaves should have more roots to support it than a smaller cutting with only a single leaf.
The good thing about all of this is that Monstera cuttings can live in water for a long while. It isn't ideal, and the plant probably won't develop much new growth besides its roots, but Monstera cuttings can survive for years in just water. This gives you plenty of time to decide when it's best to transplant the cutting into its final home. We have another article that talks about Monsteras living in water over here, so take a look if you're interested in a long-term water arrangement for your Monstera deliciosa.
When it does come time to replant your Monstera cuttings, do so the same way you would if you were repotting an established plant. High-quality soil and a correctly sized pot will make all the difference when it comes to the plant's likelihood of survival, so don't skimp!
---
Will a Monstera Leaf Root?
While you can cut just about any part of a Monstera and put it in water, only certain parts of the plant can develop roots. Emily's written a great article about this here, but I'll provide a quick summary.
A leaf taken without a node attached can't produce roots and won't ever grow into a new plant. Nodes are the part of the Monstera that can grow both roots and leaves, so they're vital to the process of propagation. They can be identified by how they look: nodes tend to be slightly thicker parts of the stem and often have several leaves and aerial roots growing from them.
If you've taken leaves without nodes from your Monstera, they don't need to be tossed out. These single leaves are fantastic for decorating the inside of your home. Placed in pretty jars or vases, they work well with flowers or on their own to brighten up spaces. You can also use them in all kinds of projects, ranging from prints to pressings.
---
Final Thoughts
Water propagation is my preferred method of propagation. I've talked about it in the past, but my first Monstera deliciosa was incredibly diseased when I brought it home. While I know better now, that plant should not have been allowed to leave the store! It almost immediately developed stem and root rot. Water propagation allowed me to save large portions of the plant when I realized there was no saving it as a whole.
I also prefer water propagation because it doesn't require any extra care. Beyond putting the cuttings in water and periodically checking on them, you don't need to be concerned about making sure they have what they need. Water cuttings are significantly less fussy than their soil counterparts. The ease of care makes water propagation a perfect choice for beginners. The fact that you can leave cuttings in water indefinitely is another bonus: no worrying about when they need to be transplanted.
If you've never tried to water propagate before, don't let that deter you. As you can see, the process is straightforward and simple. Grab your pruning shears, find a good spot to cut your Monstera, and get to it! You'll be glad that you did.
---
Need More Help With Your Plant?
Have more questions about your Monstera Deliciosa? Want to know what you can do to keep it happy and healthy? Grab our latest book, How to Care for Monstera Deliciosa, and get all that and more.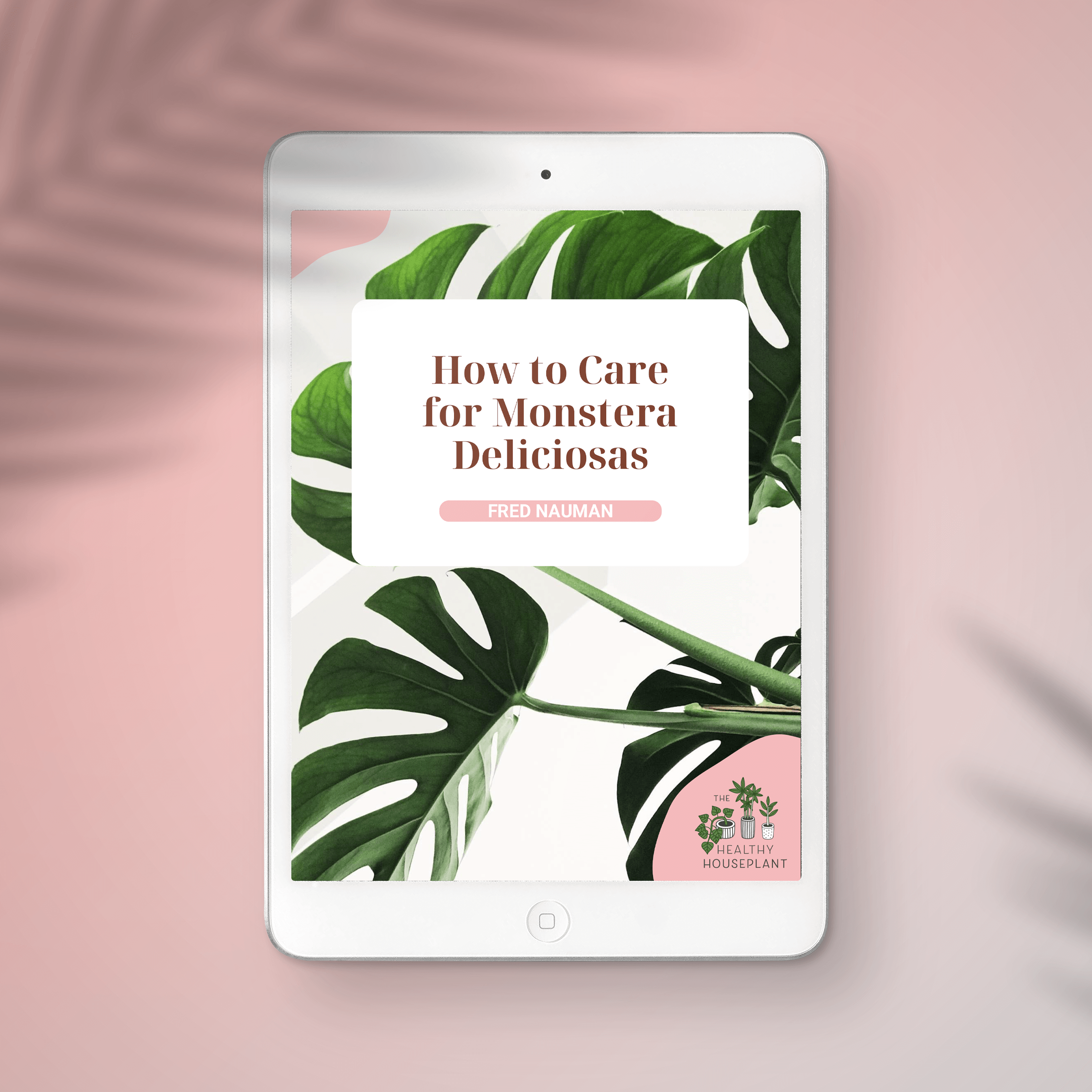 Our eBook covers:
Signs Your Monstera Isn't Getting Enough Light or Water
How to Grow Your Monstera to Epic Sizes
What are Fenestrations and How Can You Encourage Them
Tips for Fertilizing Monsteras
The Best Way to Prune this Plant
Propagation Tips and Tricks
The Best Type of Soil for Monsteras
Help Diagnosing Unhealthy Plants and How to Treat Them
And More!!
If you've got more to learn, grab a copy of our book today and get your Monstera Deliciosa back on track. Get your copy now!