So, you're interested in naming your houseplant? Any amount of internet searching will tell you that you aren't alone. Turns out that naming your plants is a pretty common practice among houseplant enthusiasts, and the good news is that inspiration can come from just about anywhere.
So, what should you name your Monstera deliciosa? Anything you want! Names can be inspired by anything from physical attributes of the plant to totally obscure references from one of your favorite 80's movies. There are no rules!
However, if you are looking for a little inspiration, I've created some lists below that you can use as a jumping-off point. I, myself, am not one to regularly name my plants (perhaps because of the sheer number of names I'd have to remember), but I've watched my grandmother name and talk to all of the plants in her garden for years, and she always had the best-looking yard on the block. Coincidence? I think not.
The most important thing is to have fun with this! Get creative! Get your friends involved! Just know that if you put it to a public vote, you might have a Monstera named "Planty McPlantface".
---
What to Name Your Monstera Deliciosa?
Remember, there are no rules. Inspiration can come from just about anywhere. Are you a sucker for cute names (Sunny, Cutie, Sweetie, Dumplin')? Are celebrity puns what tickle your fancy (Jennifer "Grow"pez, Dua "Leaf"a, Ed "Shear"en)? Do you still watch reruns of Scooby-Doo (Scooby, Shaggy, Fred, Daphne, Velma)?
Pick a name that reflects your interests and sounds right for your Monstera. You'll want to be able to say, "Hello, [insert name here]!" without cringing every time you check your plant's soil or play it Mozart Beyoncé to encourage growth.
Here are a few lists that I've generated to use as a starting point.
---
Green Names
Most likely, your Monstera is predominately (hopefully) green in color. If you like the idea of naming your plant after its most obvious defining characteristic, browse the internet for literally thousands of different shades of green. There are so many! Here's just a few.
Emerald – When your Monstera has an air of sophistication and class, you must choose a name that suits your princess of a plant.
Harlequin – A cool name for a shade of green, plus it can refer to anything multicolored or prismatic…in case you're lucky enough to have a variegated Monstera. If you're into DC comics or Margot Robbie, call your plant "Harley Quinn".
Artichoke – Plants named after other plants? Now we're getting crazy…
Honeydew – Although this shade of green on your plant may indicate the need to fertilize, it's a cute pet name for any plant.
Kelly – A classic hue, plus a solid 90's name, so when you talk to your Monstera (you do that, right?) about when you used to memorize all your friends' landline phone numbers and record songs from the radio onto cassette tapes, there'll be no judgment.
Hunter – Another classic shade of green, but also giving us "got into an Ivy League on a rowing scholarship and spending the summer interning at my dad's investment firm" vibes. For when you already have plants named Scooter and Topher.
---
Monster Names
Maybe a bit too on the nose for most, but since we are talking about Monstera, I feel like there's room to consider naming your plant after one of the hundreds of famous monsters from tales, folklore, and pop culture.
Sasquatch/Big Foot – If you squint, Monstera leaves kind of look like big footprints, which tend to be the only "evidence" of existence anyone can ever find on those Big Foot hunter shows.
Nessie – The Loch Ness Monster…such a classic. A big, swimming dinosaur that lives in a lake. For some reason, I assume she's green, but maybe I'm making that up.
Moby Dick – Ok, ok. Moby Dick was a big, white whale that became the focus of Captain Ahab's reckless obsession and hatred, which ultimately sealed the fate of the captain and crew. But he sure was big…like, Monstera big.
Jaws/Meg – I swear not all my monster names are sea creatures. However, if your Monsteras leaves are heavily serrated like, say, shark's teeth, perhaps this isn't such a stretch. Jaws is, of course, the most famous killer shark, but if you wanted to alliterate the name, Meg (short for Megalodon) the Monstera sounds nice.
Audrey II – We mustn't forget about the most musical plant monster in history. If you find your Monstera is growing out of control and begins sassily demanding to be fed, take a page from Little Shop of Horrors and name it appropriately.
---
Notable Giant Names
Ok, so naming your Monstera after a monster was too on the nose for you. What about a name that references your plant's size? Monsteras do get huge, after all.
Hulk – He's big. He's green. And, you don't want to see him when he gets angry. You can always go with Bruce Banner to be less obvious.
The BFG – The Big Friendly Giant! Everyone loves the BFG! A classic story from Roald Dahl that's full of good lessons and a great name for a giant green plant.
Green Giant – Ho, ho, ho! The king of canned veggies also just happens to be an appropriate name for a plant.
Hagrid – For all you Harry Potter fans out there, create your own magic at home and name your Monstera after the half giant Rubeus Hagrid. Actually, almost any name from the series would make a great plant name: Hermione, Nypmhadora, Gilderoy, Fluer, and Professor Sprout. The list goes on and on…
Paul Bunyan – If your Monstera is putting off a more rugged vibe, name it after the biggest lumberjack there ever was. If you've got a second Monstera, it can be called "Babe the Blue Ox", after PB's trusty sidekick.
---
Alliterative Names
When it comes to naming conventions for plants, you can't really go wrong with alliteration. Pick any "M" name: Matthew, Mary, Moe, Molly, Maggie, and on and on forever. However, in my case, I get the feeling my Monstera has the spirit of a wise, old matriarch so this list only includes old-fashioned lady names.
Maude
Mae
Marlowe
Marjorie
Maeve
Millie
Margot
Mable
Maisie
Madge
As you can see, picking a name from your Monstera has no bounds. The above lists were just a few I came up with based on general physical attributes and my own Nana-like Monstera in my living room.
Here are some more genres to explore to find the perfect name for your Monstera:
---
90s TV Characters
Steve Urkel
Kimmy Gibbler
Topanga Lawrence
Buffy Summers
Theo Huxtable
Zach Morris
Uncle Jesse
Peggy Bundy
Dana Scully
Kevin Arnold
---
Archetypal Names
Plain Jane
Simple Simon
Joe Cool
Nervous Nellie
Good Time Charlie
Doubting Thomas
Chatty Cathy
Big Bertha
Lazy Susan
Johnny on the Spot
---
Classic Book Characters
Atticus Finch
Fitzwilliam Darcy
Miss Havisham
Jane Eyre
Holden Caulfield
Nancy Drew
Matilda
Jay Gatsby
Jo March
Sherlock Holmes
---
Have Fun!
Naming your Monstera is easy! Get creative and draw inspiration from books, movies, music, current events, notable history, or anywhere else your interests take you. It's all in good fun, and, as long as it puts a smile on your face, you can't go wrong. Happy naming!
---
How to Help Your Monstera Thrive
Now that you've picked the perfect name, want to know what you can do to keep your Monstera happy and healthy? Grab our latest book, Caring for Monstera Deliciosa, and learn just how to keep your Monstera thriving.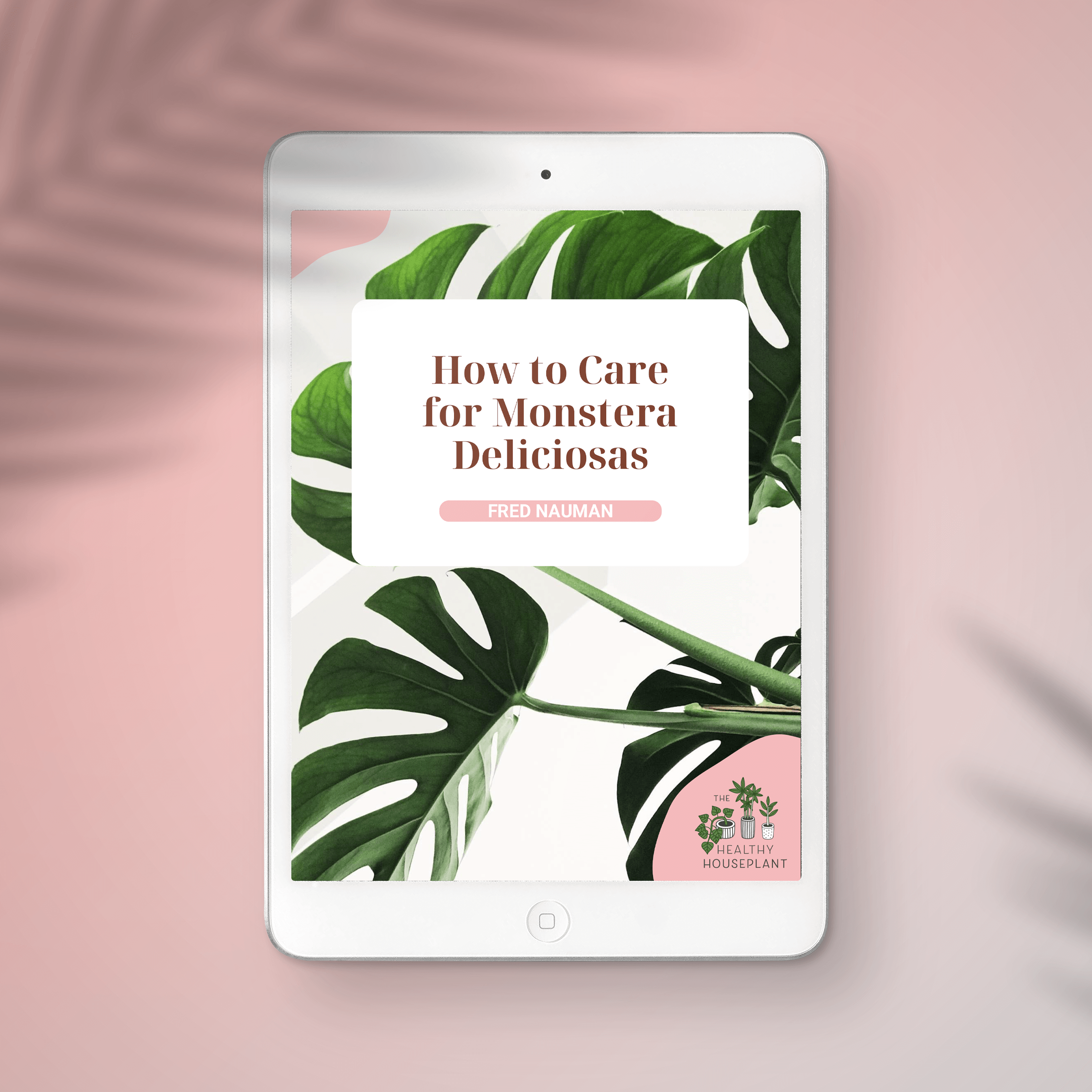 Our eBook covers:
Signs Your Monstera Isn't Getting Enough Light or Water
How to Grow Your Monstera to Epic Sizes
What are Fenestrations and How Can You Encourage Them
Tips for Fertilizing Monsteras
The Best Way to Prune this Plant
Propagation Tips and Tricks
The Best Type of Soil for Monsteras
Help Diagnosing Unhealthy Plants and How to Treat Them
And More!!
If you want to keep your Monstera growing at monster rates, this book will be your go-to guide for all things Monstera Deliciosa. Interested? Get your copy now!