One of my most prized possessions is a Money Tree (Pachira Aquatica) that my grandmother gave to me years ago. It started small but has grown to be nearly five feet tall with huge, beautiful leaves. I attribute at least a portion of that success to the high humidity levels in the area I live.
Do Money Trees like humidity? Absolutely! These plants are from the tropics of Central and South America and thrive in environments with temperatures between 65-80° F and humidity levels of at least 50%. If you live in an arid location, consider adding a humidifier to your home for best results.
Like the type of light your Money Tree is exposed to, and how much water you give it, humidity levels are extremely important. Money Trees can survive with lower levels of humidity, but for the healthiest plants, the humidity surrounding it must be high.
---
Do Money Trees Like Humidity
Money Trees are native to South and Central America where they are found growing along the swamps and riverbanks. It's no wonder that these plants absolutely adore hot and humid environments. In those ideal, natural conditions, these trees can reach heights of 60 feet.
Indoors, Money Trees grow to a maximum height of about 8 feet, but only when exposed to the right type of environment, and humidity is key.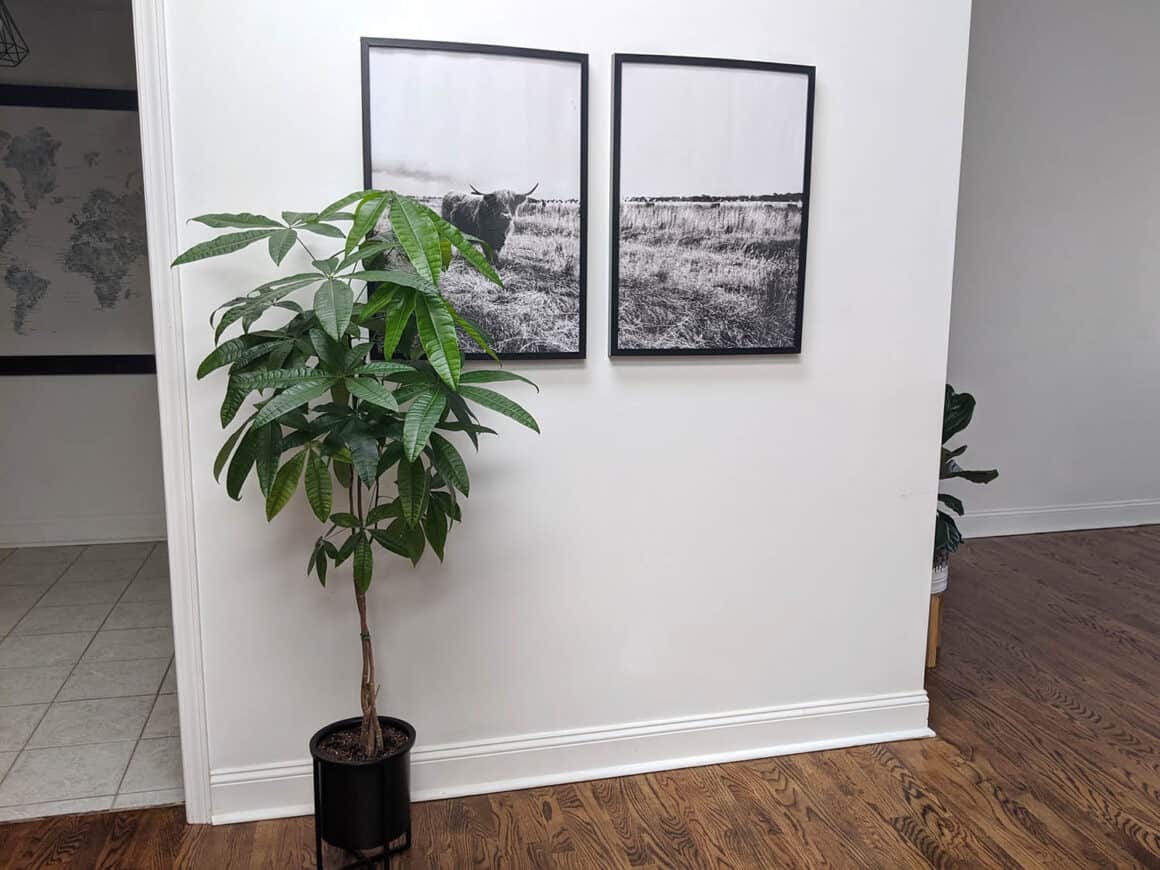 Humidity is important for plants because it helps to determine when they open up their stomata to transpire (or breathe). These stomata are located on the underside of the leaves and regular opening and shutting is what allows for them to absorb CO2 and release oxygen into the air.
When humidity levels are too low, plants will keep their stomata shut for extended periods of time to try and conserve their water. When Money Trees aren't able to regulate transpiration, the whole plant suffers and the leaves are unable to photosynthesize efficiently.
---
How to Check the Humidity Levels in Your Home
The simplest way to check the humidity levels in your home is with a small device called a hygrometer. I have this one and use it to move from room to room to see which areas of my home have the best humidity levels for different houseplants.
Hygrometers measure relative humidity, which is the amount of humidity in the air compared to the maximum amount the air can hold at a specific temperature. That means if your home is 70° and 50% relative humidity, the air is holding half of what is possible for it at 70°.
Money Trees prefer relative humidity levels of at least 50%. For that reason, they are often best suited for bathrooms, kitchens, or basements which are commonly the most humid areas of a home. Consider placing your Money Tree in one of these locations with higher humidity levels, but go easy. Money Trees don't react well to constant changes in the environment. Once you relocate your Money Tree, leave it there for a few weeks to let it adapt before considering another move.
---
Signs Your Money Tree Needs More Humidity
Look to the leaves of your Money Tree to see if the plant needs increased humidity levels in the area surrounding it. Leaves that do not have enough humidity tend to dry up and turn brown, starting at the tips and extending throughout the rest of the leaf, before falling to the ground.
Wrinkled, curled or wavy leaves are also a sign that your Money Tree has not had enough water. This could also be, in part, due to low humidity levels. For healthy, thick, green leaves, you'll need to increase the humidity levels surrounding your Money Tree.
---
Consider Adding a Humidifier for Your Plants
By far, the most effective solution for increasing the relative humidity in your home is adding a humidifier. Humidifiers are small machines that release water vapor into the air (either through evaporation or vibration) and increase humidity levels in the surrounding area.
There are many options available when it comes to humidifiers but my personal favorite is the 6L Warm & Cool Mist Humidifier. This machine is simple to operate, aesthetically pleasing, and easy to clean, not to mention it has done wonders for my own houseplants.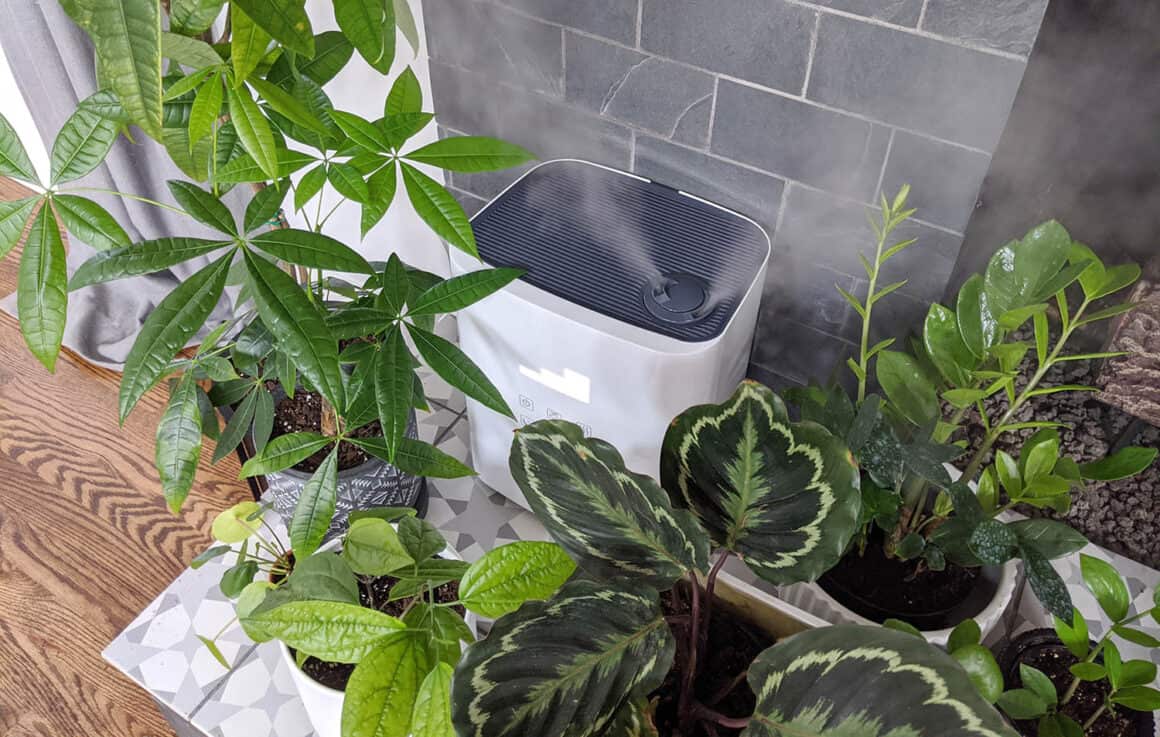 When I first set up my humidifier near my Money Tree, I'm not sure what I was expecting. I live in the south of the United States and have humidity levels in my home between 40-50% in most rooms. I bought the humidifier on a recommendation from a friend and truly didn't know if it would make any visible difference in my house plants.
But after a few days of running the humidifier, the plant that seemed to be most affected by the new water vapor in the air was my Money Tree. The leaves of the plant became so much thicker and healthier in a matter of a few days. I was sold on humidifiers!
If you live in a dry environment where humidity levels are well below 50%, you will most likely have a difficult time keeping a Money Tree happy and healthy, unless you do something to dramatically increase the humidity levels around your Money Tree. A humidifier is the simplest and most effective method for doing so.
For more information on humidifiers and other models that I love and recommend, read this article.
---
Other Simple Methods For Adding Humidity
If a humidifier is not within your budget, there are other methods for adding humidity to the air around your Money Tree. These methods are not as measurably effective at raising humidity levels, but will help to keep your tree healthier.
The first method is placing your Money Tree on top of a pebble tray. A pebble tray is exactly what it sounds like – a shallow dish filled with small rocks. The tray is then filled with water and set beneath your houseplant. As water naturally evaporates from the rocks below, vapor will rise up to your Money Tree and increase the humidity available to it.
The next option is to set a vessel of water near a heat source (like a ceramic pot near a radiator). As the water heats up in the bowl or vase, it will evaporate into the room, sending water vapor into the nearby areas. But please be careful what type of vessel you use. You'll want to make sure that the container won't melt or release any toxins into the air as it heats up.
The last method for raising humidity in a given area is to group your plants together. As plants transpire, they release water vapor into the air around them. A large grouping of plants will actually increase the humidity levels in that area and can be a good spot for your Money Tree.
---
Misting: Does It Work?
Search any forum for houseplant misting and you'll find people feel very extreme about doing the subject. In one camp, people swear by misting and mist each of their house plants carefully every day. In the other, arguments are made that misting does not effectively raise the humidity levels near a plant because the water dissipates as soon as it is released.
Personally, I'm pro misting. I do not mist all of my houseplants, but my Money Trees, Fiddle Leaf Figs and a few others get a quick spray down about twice per week between waterings. I've never seen any adverse effects from this, and my plants seem to be happy.
If you do want to mist your Money Trees, I recommend doing so in the morning. This will allow them the time to absorb the water and dry out before nightfall, when they close up their pores and power down for the night.
Whether you decide to mist or not is up to you. If you haven't done so before, and you have low humidity levels in your home, try it and see what results you get. You may find your Money Tree has never been healthier than when it gets a little extra moisture each week.
---
Humidity In Your Home
Money Trees love high humidity levels, but don't let that convince you to crank the volume to eleven. Extremely high humidity levels across a home can cause issues like condensation on the windows and even mold or mildew on the walls.
Be sure to regulate the humidity levels in your home and keep an eye out for signs that it is getting too high. A simple hygrometer can help you to monitor the humidity throughout your home and know if you're getting levels are acceptable.
On the opposite end of the spectrum, raising the levels from very low to moderate will have beneficial effects not just to your houseplants, but to your health as well. Medium levels of humidity have been known to reduce nasal and throat dryness and even cause you to have healthier skin.
If you have houseplants, like Money Trees, that enjoy higher humidity levels, consider all the benefits to raising the humidity levels in your home. A small investment into a quality humidifier will keep both you and your Money Trees happy and healthy at home. To read further on the subject, click here.