It's no secret that Money Tree lovers get deeply attached to their plants – and it can be heartbreaking to see those plants get sick. But even the most experienced green thumb can make a mistake that results in yellowing, dehydration, or root rot. If you see your Money Tree starting to suffer, you can take steps to help bring it back to health.
Wondering why your Money Tree is sick? The most common cause of an unhealthy Money Tree is overwatering or underwatering, but lighting and fertilization issues can also result in a sickly plant. With the right information and quick action, you can help your Money Tree make a full recovery!
This detailed guide will help you diagnose and rescue your Money Tree from some of the most common health issues. If it could talk, your Money Tree would thank you!
---
Why is My Money Tree Dying?
At first, you might notice a yellow leaf or a few brown spots. But as the issue spreads, you begin to panic. Should I add more water or less? What about fertilizer?
While plants can't literally explain what they need, there are some signs they use to ask for help. Check out the chart below for some common symptoms of a sickly plant and the most likely cause for that illness.
Below the chart, you will find a detailed overview of Money Tree health and some helpful hints for keeping your plant thriving.
| | |
| --- | --- |
| Symptom | Potential Causes |
| Lack of Growth | Dormancy |
| Legginess | Not Enough Light |
| Leaves Drooping | Overwatering / Underwatering |
| Leaves Curling / Wrinkling | Underwatering |
| Yellow Foliage | Overwatering / Underwatering / Shock / Too Much Light / Nutrient Deficiency |
| Brown Foliage | Overwatering / Underwatering / Too Much Light / Too Much Fertilizer |
| Black Spots | Bacterial or Fungal Issue |
| White Spots | Mineral Deposits from Tap Water / Mildew |
| Soft Trunk | Overwatering |
| Dead Trunk | Unaddressed Health Issues |
---
A Quick Note on Money Trees in Dormancy
Hibernation isn't just for bears! Plants often use the winter months as an opportunity to rest and channel energy to the development of new roots. This is especially true for Money Trees, which are native to Central and South America, and grow best in warm, humid environments.
Even if your Money Tree is an indoor plant, it can detect changes in light and temperature that come with the cooler months of the year. Since the fall and winter months aren't ideal for the growth of tropical plants, your Money Tree will stop growing.
As your plant's growth slows down, so should your watering. Provide less water during your watering sessions and check the first two inches of soil for dryness before adding any liquid. If the plant still feels damp, wait until the first 1-2″ feel dry before adding water.
It's also possible that a bit of dieback will occur during dormancy. This means that a few leaves may yellow and drop. But unlike some outdoor trees that turn colors and drop leaves in the fall, your Money Tree should not begin to turn yellow, brown, or dry in the colder months.
While it's important to make sure that you provide your plant with the best conditions for its health (such as avoiding cold, drafty windows), a couple of dropped leaves in a dormant plant are not cause for alarm.
Keep a close eye on your Money Tree and, at the first sign of sickness, take immediate action using our tips below. For more information on Money Tree leaf loss, read this article.
---
A Quick Note on New Plants
Money Trees don't appreciate frequent changes, and they can be shocked by new environments. What does that mean? If you recently bought your Money Tree or had it given as a gift, the experience of being carried and transported probably put your plant into survival mode.
Shock, which can happen when the plant is transplanted, moved, or introduced to a change (such as a cold draft), is a bit like going dormant. Since the plant doesn't know what's happening, or if the change is a threat, it will scale back growth, drop some leaves, and focus on its roots.
So, what should you do? Stay calm and don't make any changes for a couple of weeks. Sometimes, when plant owners see the signs of shock, they begin to diagnose too soon – overwatering, using fertilizer, or making it worse.
Look around the environment for anything that might be upsetting to the plant, like a space heater, air conditioning vent, drafty doorway, etc. If you don't see environmental issues, your plant should start to recover from the shock in a couple of weeks. If not, you can begin using the steps below to diagnose and heal your plant.
---
A Quick Note on Proper Watering Habits for Money Trees
Money Trees can be a little picky about their water intake. Also, as confusing as this may sound, overwatering and underwatering can cause many of the same symptoms, such as yellowing leaves and leaves that appear dry and brittle.
Even if you haven't started to see these issues with your Money Tree, it's smart to establish a good watering routine for your plant. Since issues related to watering are one of the top reasons Money Trees struggle, getting your water intake right could help you prevent future issues with your plant.
Overwatering Money Trees
Plants are not people. That might sound obvious, but it's an important reminder. Since people and animals have ways to remove water from their systems, it's difficult to consume too much water. So, while you might associate drinking lots of water with health, that is not the case for most plants.
When a plant is overwatered, it can't process the water fast enough and is forced to sit in the damp soil. Over time, this exposure can cause root rot. Since the roots absorb water, nutrients, and oxygen, root rot will suffocate and starve the plant. And it can be easier to overwater your plant than you think.
Pouring too much water into the pot, accidentally watering more than once a week, or trying to "double-up" on water after a missed watering, are common ways to overwater your plant. However, there are some less obvious ways to overwater a Money Tree.
Planting your Money Tree in a container that is too large can be a cause of overwatering. It may seem like a large container gives the water more places to go, but since the plant's roots aren't long enough to drink it all, this can result in water building up in the bottom of the pot. Using an appropriately sized pot will help take some of the guesswork out of what's going on below the surface.
Also, the type of soil can make a big difference to the moisture in the planter. Some potting mixes, like succulent blends and soil with perlite, allow the water to drain through the pot more quickly. Using a blend that is designed to retain water can contribute to Money Tree root rot.
Planters without adequate drainage holes can also be an issue. Be careful placing a pot with drainage holes in a decorative planter that does not. That can result in water sitting in the bottom of the larger planter, which will sicken your plant.
Lastly, don't forget that dormant Money Trees need less frequent watering. Instead of simply watering on a set schedule, make sure to check the pot's moisture with your finger to see if it's needed. If not, check again in a day or two.
Keeping these tips in mind should help you make sure you don't overwater your plant, keeping your Money Tree healthy and well.
Underwatering Money Trees
Although overwatering is a bit worse for your plant than underwatering, both take a toll on the health and beautiful foliage of your Money Tree. Since Money Trees are tropical plants, they require water and humidity to thrive.
While it is smart to wait until the top 1-2″ of your plant's soil are dry before watering, you should not allow the pot to entirely dry out. Money Tree's roots still need some moisture to stay healthy. If you notice that your plant's leaves are starting to wrinkle or curl, or if the dirt in your planter appears to be pulling back from the sides of the pot, your plant is probably thirsty.
And don't be too timid. Since overwatering can kill a Money Tree, it's easy to overreact and provide too little water. Instead, water your Money Tree until about 20% of the water you put in escapes from the drainage hole in the bottom of the pot. Ensure that no water is standing beneath the plant, and wait until the top 1-2″ of the soil is dry before watering again. This is the safest strategy for the health of your plant.
---
Why Is My Money Tree Displaying These Symptoms?
With a little practice, plant lovers can come to identify the signs that their plant needs attention. Doing so will help you catch issues before they become debilitating for your Money Tree.
Below we will look at some of the main symptoms of an unhealthy Money Tree, and what you can do to get your plant's health back on track.
---
Why Is My Money Tree Leggy?
The Problem:
You may have seen the term "leggy" used to describe plants online, but it isn't always defined. A plant is usually considered leggy when the trunk, or the small stems that connect the leaves to the trunk, become unusually long. This may look like a plant that is taller and skinnier than it should be.
Sometimes this can make the plant look unattractive, but it's also a health issue. If the plant is growing taller than it should, it may struggle to support its height. This can cause the plant to droop, break, or wither away.
Why Is It Happening?:
NOT ENOUGH LIGHT: Plants naturally grow toward the sun and can change the direction of their growth to get more light. The tall, skinny appearance of a leggy plant is caused by insufficient light. The plant is growing up, and not out, because it is looking for the sun.
Unfortunately, as the plant puts more energy into growing taller, it doesn't put as much energy into developing healthy leaves. Since leaves help with photosynthesis, taking in carbon dioxide and moisture regulation, a leggy plant is an unhealthy plant.
The Solution:
NOT ENOUGH LIGHT: Move your leggy Money Tree to a brighter location as soon as possible. Look for a location that has plenty of artificial light or filtered sunlight. But remember that direct sunlight can scorch the leaves of your Money Tree. If you can't find a good spot in your home with bright, indirect light, consider adding a grow light.
Keep in mind that when you move a Money Tree, it can experience shock. This may result in delayed growth or even the loss of a couple of leaves. Since a leggy Money Tree needs more light to restore its health, the shock is a risk worth taking. Just don't let the shock scare you into an extreme action, like overwatering, which will only make things worse.
Once a plant has been stretched out, it will never return to its bushier, more compact size. For that reason, you may want to prune your Money Tree to help the plant's overall look. For more information on pruning Money Trees, read this article.
---
Why Is My Money Tree Drooping?
The Problem:
One of the many reasons Money Trees are so popular is their beautiful, glossy leaves, which are usually long and dark green, with a smooth texture. Seeing these lovely leaves start to droop is undoubtedly worrying. But what would cause the foliage to look limp?
Why Is It Happening?:
OVERWATERING: The most common reason for nearly every ailment your Money Tree is experiencing is overwatering. If you've given your plant too much water, it may have damaged the roots. When roots are damaged, they cannot send out water and nutrients to the rest of the plant, causing drooping or yellowing leaves.
UNDERWATERING: Strangely enough, droopy Money Trees can also be the result of not giving your tree enough water. The best way to tell the difference is by examining the soil. If the soil is damp or has a musty smell, overwatering is most likely the cause. If the soil is bone dry and you're also seeing curled or wrinkled leaves in addition to the drooping, your issue is underwatering.
The Solution:
OVERWATERING: If you suspect that your Money Tree has been overwatered, make sure it is planted into the proper container. Pots without drainage holes, or with small holes that have become plugged, cannot let the excess water drain from them and result in overly wet soil. You'll want to either unplug your drainage holes or replant the Money Tree into a new container. Ensuring that your plant has well-draining soil and a container that isn't too big are also important steps for your plant's health.
For a plant that is only slightly overwatered, adjust your watering schedule. Only water the plant with the first 1-2″ of soil are dry. If you see standing water in the saucer below your Money Tree, empty this immediately.
For more serious issues, you will need to remove your Money Tree from its container and take a look at the roots. Healthy roots should be white and crispy. If you find brown, grey, or mushy roots beneath the soil, these will need to be trimmed back before replanting your tree into a new pot with fresh soil. For more information on saving an overwatered Money Tree, click here.
UNDERWATERING: If underwatering is the issue, remember that Money Trees are not a plant that can be neglected. Although most Money Trees may only need water every 7-10 days, you can't forget to water your plant without it beginning to dehydrate. Never allow the soil to become dry throughout the pot.
When you do water, provide enough water that about 20% of what you put in runs out through the drainage holes in the bottom of the pot. Make sure that there is no standing water beneath the planter. If you still feel uncertain about when to water your Money Tree, or how to tell if you're watering enough, check out this article.
If you are certain that a watering issue is not the explanation, drooping can sometimes be caused by shock. However, unless you have recently moved or repotted your plant, watering is still your most likely culprit.
---
Why Are My Money Tree Leaves Wrinkled and Curling?
The Problem:
You may have noticed that your Money Tree has curled or wrinkled leaves. At first, the wrinkling might be subtle, but since Money Tree leaves are typically flat and smooth, you should be able to see it with close inspection.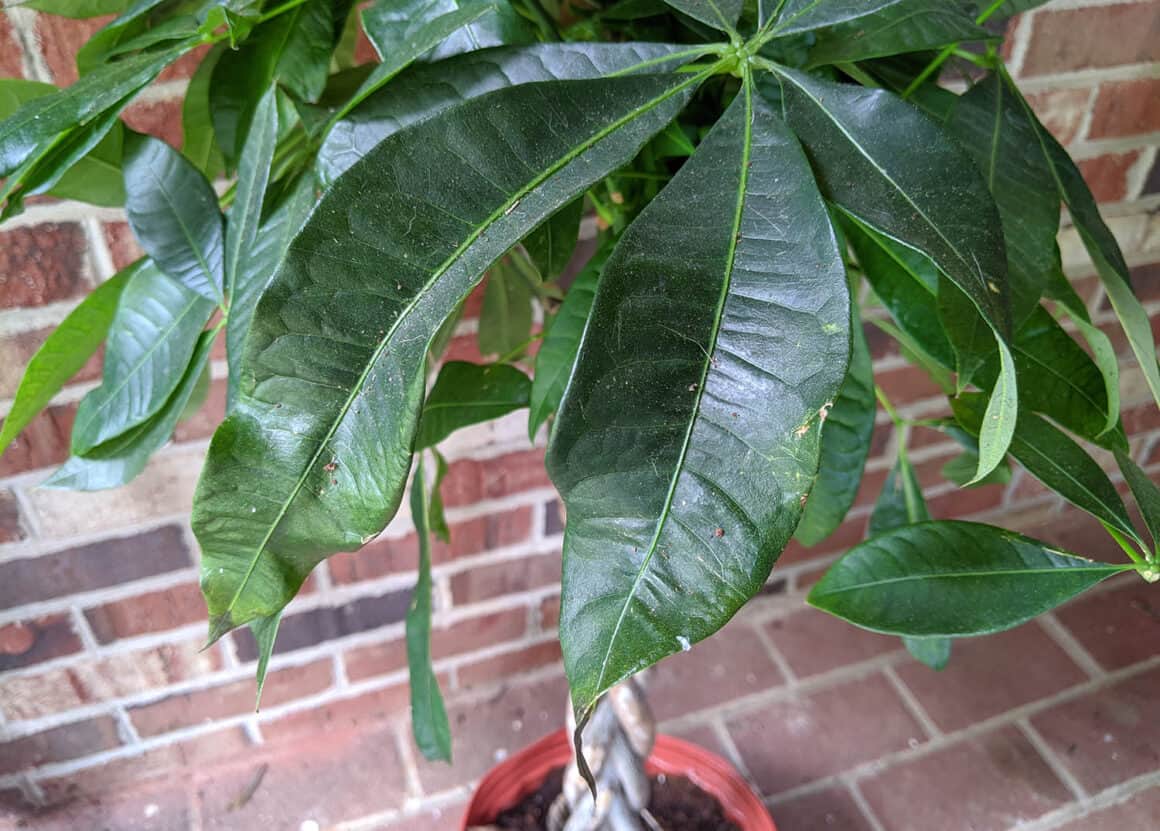 As wrinkling progresses, it will often look like a waviness along the length of the leaf. Sometimes the leaves may also begin to curl down and back in on themselves, giving them an arched shape.
Why Is It Happening?:
UNDERWATERING: Wrinkled, wavy, or curled Money Tree leaves are a sign of underwatering. Luckily, this is a relatively early sign of dehydration, and with improved watering, the leaf can still be saved before it discolors or drops.
The Solution:
UNDERWATERING: As soon as you notice that the Money Tree leaves are starting to look wrinkled or curled down, check the soil. If it feels dry, water it thoroughly. Never let the plant sit in water. Remove any water that accumulates below the planter and never let the soil become muddy.
If you live in a dry area, you may also want to consider occasional misting of the plant with clean water from a spray bottle or adding a humidifier to increase the humidity in the area surrounding the plant.
---
Why Are My Money Tree Leaves Yellow?
The Problem:
For many plants, leaves can communicate important information about their overall health. And just like yellow traffic lights or signs means "caution," so do yellow leaves on your Money Tree.
An occasional yellow leaf may not be cause for worry, but several yellow leaves at once indicate that something is wrong. There are a few factors that can cause yellowing leaves, to determine which may be the underlying issue with your plant, read on!
Why Is It Happening?
OVERWATERING: Similar to drooping plants, the leading cause is usually giving the plant too much water. When Money Trees have saturated soil, their roots suffer. Suffering roots cannot push the proper nutrients or water to the rest of the plant. Yellow leaves are often the first visible signs of an overwatered Money Tree.
UNDERWATERING: Again, the culprit of your yellow leaves could be underwatering, especially if the yellowing is starting at the tip of the leaves and working its way back toward the stem. Wrinkled or curled leaves combined with yellow leaves are a pretty sure sign of underwatering.
SHOCK: As previously discussed, if your Money Tree has been moved, repotted, or has experienced an environmental change, like the addition of a fan or heater, you can expect to see some yellow leaves.
TOO MUCH LIGHT: Another explanation is that excessive sun can result in pale or yellow leaves before the brown scorching first appears. Money Trees like bright, indirect light, but they cannot tolerate the full strength of the sun's rays on their foliage.
NUTRIENT DEFICIENCY: If you're certain the issue isn't any of the above, your plant may have a nutrient deficiency. Initially, houseplants get the nutrients they need from their potting soil, but after living in the same container for six months or longer, those nutrients become depleted. More nutrients need to be added to keep your plant healthy.
The Solution:
OVERWATERING: Consult the best watering practices section above and adjust your watering. If the overwatering has been going on for a long time, there may be rot present under the soil. To check, remove the plant from its container and take a look at the roots. If they are brown and mushy instead of white and crispy, prune back the roots and replant in a clean pot with new soil. For information on saving an overwatered Money Tree, check out this article.
Unfortunately, once a leaf has turned yellow, that leaf will not recover, and eventually, that leaf will drop from the plant entirely. Consider pinching off yellow leaves to free up energy for your plant to send back into new growth.
UNDERWATERING: If your plant's soil does not feel damp and you see no signs that point to overwatering, then underwatering may be your culprit. If you see issues such as soil pulling back from the pot's sides or dry dirt farther than two inches into the pot, your plant probably needs a drink.
Be sure to check your Money Tree's soil more frequently in the future to avoid this problem. You can check the moisture level by inserting your finger into the soil or using a moisture meter. Water your plant once the top two inches of soil and dry and do so thoroughly. Ideally, houseplants should be watered until about 20% of the water you put in runs out through the drainage hole in the bottom of the pot. 
SHOCK: While shock will often resolve itself in a couple of weeks, environmental issues, like drafts, and fans, should be addressed as soon as possible.
TOO MUCH LIGHT: Move your plant to a new location where it won't receive direct sunlight on its leaves. Pull the plant further into the room and away from the window or consider moving it to another room. But remember, any change in the environment can stress a plant, so move your Money Tree slowly and ease it into the transition.
NUTRIENT DEFICIENCY: Money Trees can be fertilized during their growing season with a balanced fertilizer. I personally use a 20-20-20 fertilizer, diluted to half strength about once per month from spring to early fall. For more information on fertilizing Money Trees, read this article.
---
Why Are My Money Tree Leaves Brown?
The Problem:
Like leaf yellowing, seeing your Money Tree leaves turn brown can be a sign of a few different issues. First, keep in mind that a leaf that has already turned yellow will likely begin to turn brown before it drops. This is because a yellow leaf is starting to die – though the plant itself can probably still be saved.
This is important because, if you have already diagnosed the issue that is causing the yellowing and are taking proper action, seeing those same leaves turn brown doesn't mean the issue is getting "worse." It just means those leaves are going to fall off soon.
However, if the browning appears to be a separate issue, then you may need to act fast to save your plant. Leaves that are turning brown often start discoloring at the tips, though sometimes spots may appear. However, even a little brown on your plant is cause for concern.
Why Is It Happening?:
OVERWATERING: Are you catching on yet? Most problems with Money Trees are a result of overwatering. Brown leaves are no exception.
When the root system of your Money Tree is damaged by too much water, it can't send nutrients or water to the rest of the plant. Leaves that turn yellow then turn brown and fall off. Unfortunately, if you are seeing lots of brown leaves on your plant due to overwatering, you most likely have a root rot issue. Root rot is harder to correct than simple overwatering.
UNDERWATERING: On the other end of the watering spectrum, when Money Tree leaves wrinkle, curl up, turn brown, and fall off, that usually means your plant isn't receiving enough water.
TOO MUCH LIGHT: One environmental concern that can cause browning is direct sunlight. Money Trees love bright light, but not intense, unfiltered light. If your Money Tree is next to an uncurtained, sunny window, or on an unshaded patio, you may be seeing "leaf scorch." If not, look for heat sources, like radiators, that could be causing the issue.
TOO MUCH FERTILIZER: Sometimes we think we are helping our plant by piling on the Miracle Gro, but we're wrong. Too much fertilizer can overwhelm the plant or upset the pH balance of the soil. If you're fertilizing often, you might be overdoing it.
The Solution:
OVERWATERING: If you've caught the problem early enough, adjust your watering schedule, and reread through our watering tips above. Allow the top two inches of soil to dry out before watering your plant again.
If there is root rot under the soil, you have a more severe problem. Remove the Money Tree from its container and take a good look at the roots. If you notice any brown, black, gray, or mushy roots, these are casualties of root rot and should be pruned back.
Once you've removed all rotted roots from your Money Tree, you'll need to repot it in brand new soil. Also, if you plan to reuse the same pot, clean it thoroughly before replanting. You do not want any fungus left on the pot to be reintroduced to your plant. For step by step instructions on saving your Money Tree from root rot, take a look at this article.
UNDERWATERING: Water your plant thoroughly until the water flows from the drainage hole in the bottom of its pot. If you notice the water runs out of the pot immediately, wait thirty minutes and water it again. Your tree will be able to retain more of the moisture the second time you water it.
If you live in a dry area, consider adding a humidifier nearby to increase the humidity levels surrounding your plant. This will add water into the air surrounding your plant, which can then be absorbed by the leaves. Very low humidity levels can also create brown, crunchy leaves.
TOO MUCH LIGHT: Move your Money Tree to a new location, further from the window. Though Money Trees don't like to be moved, it would be better to immediately move your plant from a location with direct heat or sun right away, rather than risk further damage.
TOO MUCH FERTILIZER: If you think your plant has been burned by too much fertilizer, run it under the sink or shower and let the water flow through the soil and out the drainage hole. This will flush out the fertilizer left in the soil. Wait several months before fertilizing again and be certain to dilute your fertilizer to half or quarter strength. Remember, you can always add more fertilizer but you cannot undo the damage from too much.
---
Why Does My Money Tree Have Black Spots?
The Problem:
Unfortunately, though they are relatively hardy, Money Trees are susceptible to many different pests and infections. Black spots on the leaves of your plant may point to one of those two issues.
Why Is It Happening?:
PESTS: Mites, whiteflies, mealybugs, scale, and aphids are all common insects that have been known to feast on Money Trees. These pests can munch on your Money Tree and leave behind black spots resulting from rot, mold, or excrement.
DISEASE: Black spots may point to a fungus or bacteria that is harmful to your Money Tree, infiltrating its leaves. Unfortunately, disease can spread from one plant to the next. This is one of the many reasons pruning scissors should be disinfected before use between plants.
Disease can be a significant issue for plants like Money Trees because bacteria like damp environments, such as the humid spaces in which Money Trees thrive.
The Solution:
PESTS: The solution for your pest problem will depend on the type of pest that is infecting your Money Tree. I've written in detail about dealing with bugs on Money Trees. Read this article for help with identifying and treating your pest problems.
DISEASE: When you see leaves with black spots, remove them from the plant with sterilized scissors. Since disease can spread between leaves, this illness will eventually rob your plant of its healthy foliage.
Consider using a natural fungicide like Neem Oil to treat your plant. Neem is pressed oil from evergreen trees and has shown excellent results when treating fungal and bacterial issues.
---
Why Does My Money Tree Have White Spots?
The Problem:
Perhaps instead of black spots, you've noticed white spots on your Money Tree leaves. If it's just a couple of spots that never increase in size or frequency, it may be water spots from hard water. If so, they should appear after misting and should be easily wiped away.
But if they seem to be increasing in number and have a powdery texture, it may be something worse. Brace yourself – what you are seeing is probably a plant illness called powdery mildew.
Why Is It Happening?:
POWDERY MILDEW: Yes, you read that right. The same yucky white build-up that can appear in your shower can also appear on your plant. Powdery mildew is a common issue with Money Trees and, since it may not look like a dangerous illness at first, it's sometimes overlooked until it's too late.
Plants that thrive in humid spaces are prone to this type of illness. However, if you have your plant in the bathroom, it didn't necessarily "catch" the illness from that space. The combination of damp air and defoliated debris (fallen leaves that have not been removed from the planter) can cause this issue. The result is an environment in which fungus can grow, taking over the leaves of your plant.
The Solution:
POWDERY MILDEW: Since you can't break out the Soft Scrub to fix this issue, what can you do? First, keep your planter free from any dead leaves or stems, and prune away any dying leaves (yellow or brown) from your plant.
Next, there are a variety of antifungal soaps and products on the market specifically designed for houseplants. Many of these are multipurpose, and can help eliminate mites and other forms of disease, should there be a different variety of mold or blight on the leaf.
Many of these products, like Ortho Max Garden Disease Control are affordable and available online. Additionally, a popular household solution of simple baking soda (not baking powder!) can help. Just add one tablespoon of baking soda to one gallon of water, plus 1/3 teaspoon of dish-washing liquid, and spray on any affected (or potentially affected) plants.
Again, neem oil is a great natural option for eliminating these fungal issues. Neem oil can be purchased online or in most garden stores or nurseries. 
---
Why Is My Money Tree Trunk Soft?
The Problem:
You notice that the trunk of your money tree has grown mushy and soft. This may be affecting multiple trunks on a braided money tree or just one of them, but in either case, you need to take immediate action to save your Money Tree before it's too late.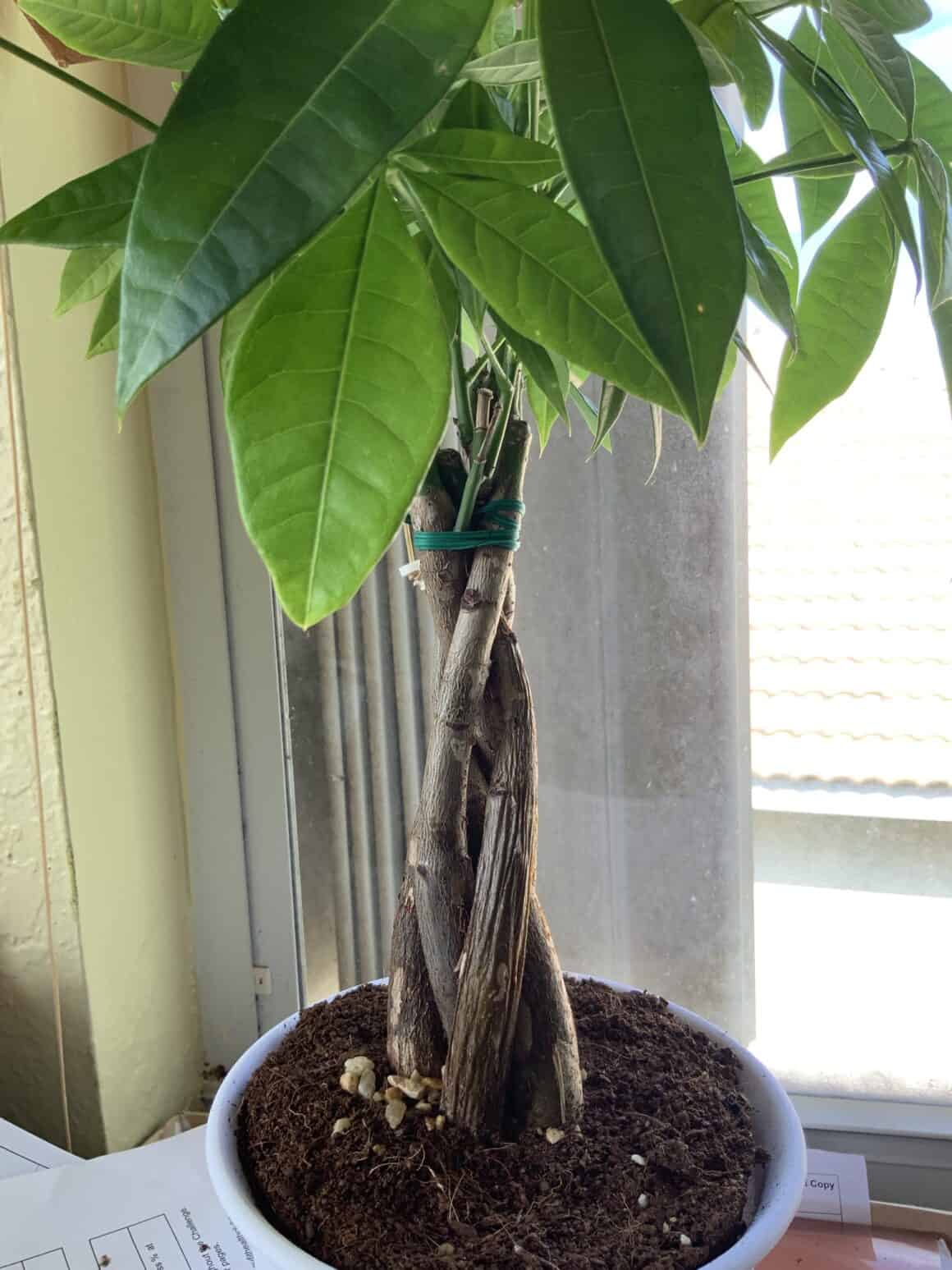 Why Is It Happening?:
OVERWATERING: Mushy trunks are almost universally caused by overwatering. Too much water in the pot causes the roots and stem to absorb more moisture than they can handle, becoming waterlogged and mushy.
You might be thinking, "But I don't think I overwatered my Money Tree."Remember, you can overwater without knowingly adding too much water. The size and drainage of the planter, as well as the drainage of the soil, can contribute to overwatering by trapping water in the planter. With each watering, more moisture builds up below the surface, rotting the roots, even if the top of the soil looks dry.
The Solution:
OVERWATERING: Unfortunately, a mushy trunk is probably beyond saving. However, it may still be possible to save parts of the plant. Money Trees can be propagated by stem and leaf cuttings. This means that, if there are sections of the plant above the mushy trunk, that are still firm and healthy, they can be used to create new plants. For more information about propagating your Money Tree from cuttings, read this article.
Keep in mind that braided Money Trees are multiple plants with trunks that have been wound together. This means that one of the plants in the pot may be overwatered more seriously than the others, and the others may still be at an earlier stage of root rot. That would allow you to propagate the plant that is dying, while hopefully saving the other trunks through careful repotting and proper watering habits.
---
Why Is My Money Tree Trunk Dead?
The Problem:
Sometimes, despite your best efforts, a Money Tree trunk will die. No new growth is evident, and the trunk will appear dry and lifeless. This may be the case for one of the trunks in your braised Money Tree, or all of them.
Why Is It Happening?:
Once a trunk is dead, the reason it died is less important, as it is too late to remedy the problem. Your Money Tree Trunk may have died from reasons related to watering, pests, or lighting. However, believe it or not, there might still be a chance for your Money Tree.
The Solution:
First, don't forget that a braided Money Tree is actually multiple plants, so don't take any extreme action that could harm the other Money Trees, such as dousing the plant with water or Miracle Gro in a last-ditch effort to save it. Remember that, while there isn't really a solution for a dead trunk, Money Trees can regrow from a leaf or a stem. So, if any portion of the plant is alive, it may still start to grow.
Rescuing any green leaves and branches, and following the propagation instruction here will give you the best chance at starting over. However, some Money Tree owners have reported that placing a plant that seems dead outside in a bright, but covered location, has resulted in small healthy shoots growing from an otherwise dead trunk.
Keep in mind that the brown, dead trunk will not become a healthy trunk again. But if small shoots do emerge, they can be used to propagate new, healthy versions of your beloved Money Tree. For other information on Money Tree trunks, we have this article which covers everything you could need to know.
---
Putting it All Together – Tips for a Healthy Money Tree
The best way to keep a Money Tree healthy and happy is to avoid problems before they start. Issues like overwatering and underwatering can be avoided entirely with proper watering habits. For watering help, read the section at the top of this article. For other tips to keep your plant healthy from the start, read on!
Temperature
Money Trees are tropical plants, so they like to be kept warm. Typically, temperatures between 65 and 80-degrees Fahrenheit are best. Avoid drafty locations, as well as fans and heaters, to provide the most consistent environment for your plant.
Water and Humidity
Money Trees prefer humid environments, and misting your Money Tree can help keep your plant's leaves healthy and supple. But for the best results, place your plant in a room with a humidifier.
Water your plant once the top 1-2" of the soil feels dry and consider a moisture meter to help make sure you do not overwater, or underwater, your plant. 
Light
Money Trees grow best in bright light, but direct sunlight can cause Money Tree leaves to dehydrate and burn. Consider placing your Money Tree three to four feet away from a sunny window. This will reduce the likeliness of direct light hitting your tree. For more info on the ideal light setup for Money Trees, consult this article.
Containers
It's very important that your Money Tree planter has at least one drainage hole on the bottom, since muddy soil or standing water can be very harmful to your plant.
Also, do not use a planter that is larger than required. While it may seem that the plant will "grow into" the pot, the container may actually collect more water than the plant can handle, contributing to root rot.
Location
Money Trees do not like to be moved and may shed leaves if they are frequently relocated or exposed to wind or drafts. Place your Money Tree away from high-traffic doorways or breezy corridors. If you must move your Money Tree, do so slowly and ease the plant into the transition.
---
Final Thoughts
While Money Trees do require a bit of attention and care, they are resilient plants that can bring a lot of joy – and, according to legend, prosperity! If your plant shows signs that lead you to believe it is not healthy, follow the steps above for the best chance to save your plant from an untimely death.