Money Trees, natives of South and Central American swamps, are perfect additions to any plant enthusiast's collection and can be grown in many different styles. These ornamental trees can be kept small, making them ideal candidates for training and shaping. Or they can grow tall and bushy, filling up the whole corner of your living room.
Shaping a Money Tree to grow taller, bushier, or straighter all require pruning. Pruning involves strategically trimming back the stems, branches, and leaves to encourage growth or to prevent growth, depending on what the longterm goal is.
No matter what your end goal is, you're going to need a bit of knowledge on the basics of pruning and shaping Money Trees. Keep reading to learn about the different styles of pruning and how you can implement them into your Money Tree maintenance.
---
Basic Money Tree Pruning
Pruning should be a part of almost all houseplant care. It can encourage growth and, in some cases, can be used for propagation. Money Trees can especially benefit from pruning because it helps them to grow newer branches and leaves. Pruning is also an excellent way for owners to achieve some of the sought after shapes aesthetics that Money Trees are known for.
Two different types of pruning can be used to shape your Money Tree. The first, called maintenance pruning, can and should be done regularly. Maintenance pruning is low-intensity, so it won't harm your Money Tree during the growing season.
Maintenance pruning involves trimming off dead or dying branches or leaves so that they don't deplete resources from the rest of the Money Tree. It also includes pinching off new growth, which will help keep your tree looking the way you prefer.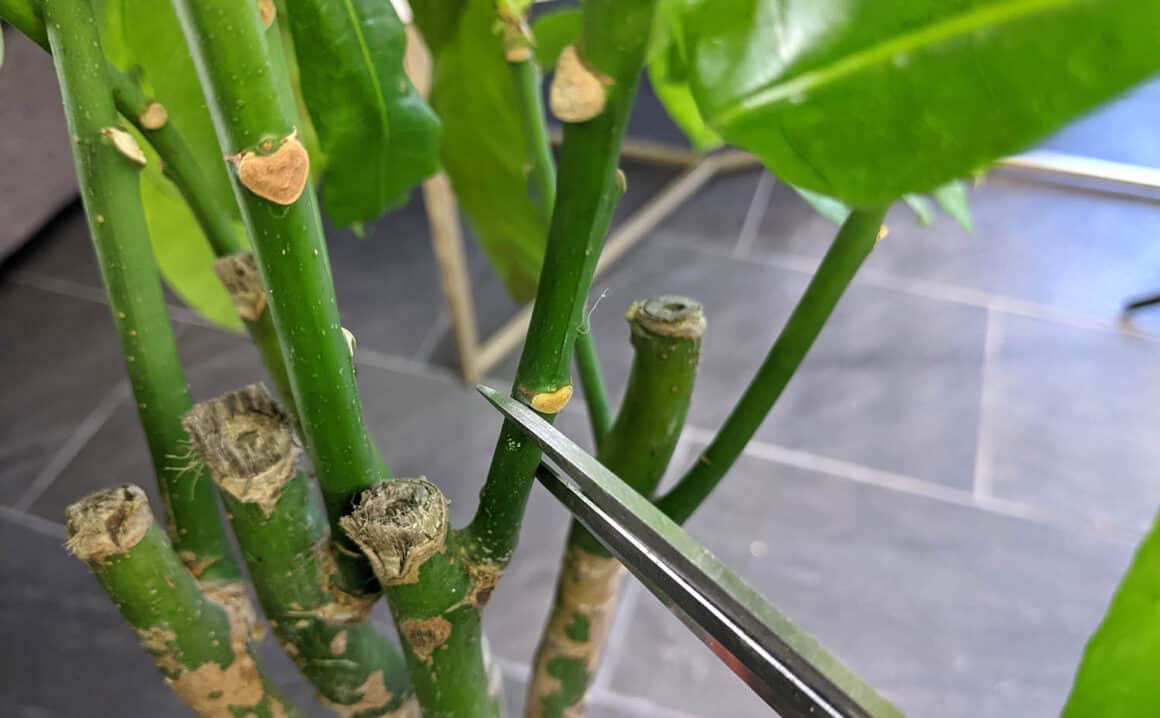 The second type of pruning is called structural pruning. This type of pruning can be taxing on your Money Tree, so it should be done primarily in the winter months or in early spring, well before the Money Tree is set to begin its growing period in the summer.
Structural pruning involves removing large portions of the Money Tree, including branches and parts of the stem. When done correctly, structural pruning can help you create the ideal shape for your Money Tree and encourage growth closer to the trunk, creating a bushier and fuller tree.
To properly prune your Money Tree, you'll need sterile and sharp pruning shears. These can be purchased online or at your local nursery. Before each cut, you should apply a sanitizing agent, like diluted rubbing alcohol, to your shears and allow them to dry. This will prevent any infections or diseases from harming your Money Tree. 
Once you've sterilized the shears, you can start pruning! Be sure to have a plan before you begin so that you don't prune too much off of the tree.
Maintenance pruning is as simple as cutting off any undesirable or dying growth. Structural pruning requires a little more planning and a clear idea of what you would like your Money Tree to do.
---
Remember: Time of Year is Important
With any kind of pruning, you should be conscious of the time of year. All plants have different needs, but the general rule of thumb is to do any serious plant maintenance in the winter months.
Plants enter a period of dormancy during colder weather, where they move the nutrients and energy stored in their leaves down to the roots to nourish the plant until the next spring.
In these periods of dormancy, your Money Tree won't put out any new growth. This makes winter an ideal time for any heavy-lifting pruning, such as structural pruning.
Maintenance pruning can be done all year round and is especially important in the summer when your Money Tree is most actively putting out new growth. Staying on top of pinching and pruning fresh growth can make the work in the winter much easier.
---
How To Make a Money Tree Bigger
In their natural habitats, Money Trees can exceed 60 feet in height. While they definitely won't reach that size in your home, they can still grow to be large houseplants. If your aim is to get a big Money Tree, you can take a few simple steps to encourage growth and help your tree flourish.
One of the main ways to encourage a Money Tree to grow bigger is by giving it ample space to do so. Replanting your Money Tree into a larger pot, preferably one size up from its current pot, will give your Money Tree plenty of room to stretch out its roots. Be sure to do this in early spring, just before the growing season. Fresh soil is also a must! Changing out the soil will give your Money Tree plenty of fresh nutrients to help it grow more.
You can also encourage your Money Tree to branch out by pruning back stems that are leggy and long. You should cut these stems about 1/4 to 1/2 of an inch above the node, which is where it meets the trunk of the tree. Make the cut at a 45-degree angle in the direction that you want the growth to occur. For example, if you'd like it to grow up, angle your cut so that it faces upwards.
Regularly fertilizing your Money Tree will also help it grow bigger (more on that here!). Money Trees should be fertilized two to three times a year at most. This should be done with a liquid plant food that is diluted to half strength. Be very careful when measuring this out! Too much fertilizer can seriously harm any plant.
---
How To Make a Money Tree Bushier & Fuller
If your Money Tree is beginning to look spindly and you want a full, bushier plant, you'll need to do some strategic pruning to encourage growth. This is pretty much the only way to get a fuller-looking plant.
If you've noticed that your Money Tree's newest growth is long and far from the trunk, you should plan to prune any undesirable growth. Picking spots where your Money Tree looks a little empty is important: cutting back its stems in these areas will encourage growth that is much fuller and closer to the trunk, creating a bushier plant.
You can encourage the new growth to grow in the direction you prefer by properly cutting the stem. It should be pruned about 1/4 to 1/2 of an inch above the node. The cut should be made at a 45-degree angle with the freshly cut end of the node facing in the direction you'd like the new growth to face.
This type of pruning can be hard on your tree, so be sure to plan for this kind of maintenance in the winter months, when the Money Tree is dormant.
---
How To Make a Money Tree Taller & Straighter
If you've grown a bushy and wild Money Tree, you may be interested in shaping it to be taller and straighter. With pruning and careful care, this is no problem.
To start, you should trim off any dead leaves and stems. This will help you get a clearer picture of how your tree needs to be trimmed. If possible, trim these parts close to the trunk so that the tree will look straighter.
After that, you'll need to identify any points where the Money Tree has offshoots that create a "V" with the trunk. These are one of the main reasons that Money Trees wind up looking crooked or oddly shaped.
Simply trim the offshoot about 1/2 of an inch above where the "V" is. You can also look for any stems that create a similar "V" shape and prune them off. Done correctly, you'll be able to achieve a much straighter tree.
To continue encouraging it to grow straighter, pinch back any growth that develops where you had previously pruned. Use your forefinger and thumbnails to pinch off the new growth. It is recommended that you wear gloves, as the sap may be irritating, but isn't necessarily required. Just be sure that your hands have recently been washed.
A taller tree also requires plenty of space. Make sure that you have repotted your Money Tree into a slightly larger pot with fresh soil. A root-bound Money Tree likely won't grow very much because of the lack of room for its roots to grow. Giving it the room that it needs will help it continue to grow.
In some cases, you may need to stake your Money Tree to help it grow tall. Young trees take time to bulk up their trunks and often need some initial assistance in staying upright. My tallest Money Tree was staked for about a year before it was strong enough to stand on its own.
---
How To Make a Money Tree Smaller
If you prefer the look of a desktop Money Tree, regular maintenance can keep your plant at a reasonable and adorable size.
One of the easiest ways to keep your Money Tree from growing too much is to keep it in a smaller pot. Providing less growing space will hinder any growth that the plant tries to develop. You'll need to be careful, though, because being root-bound can actually hurt your tree.
To avoid this, plan to prune your Money Tree and trim its roots before the growing season starts. This will allow you to keep it in its current pot without preventing it from taking up nutrients and water.
To trim the roots of a Money Tree, use your sharp and sterile pruning shears to cut back around 1/3 of its roots every year. After you've finished, return it to its current container with fresh soil. 
If your Money Tree is already taller than you would like, you can trim back the upper growth by pruning it back to within 1/4 to 1/2 of an inch of its node. You'll need to be diligent about pinching back any new growth. Otherwise, you'll end up with an even larger Money Tree.
---
How To Make a Money Tree Grow Faster
While there's no magical supplement that will make your Money Tree grow overnight, there are some easy steps you can take to encourage your plant to grow faster.
Providing it the perfect conditions is one of the best ways to encourage growth. If your Money Tree isn't stressed about a lack of light or too much water, it can focus its energy on growing new leaves and stems!
Make sure that your Money Tree has access to the right kind of light: bright but indirect. Direct light can burn your Money Tree, which will ultimately stress it and possibly even kill it. Too little light can cause its leaves to yellow and fall off. Ideally, a room with a window that gets a lot of light is a good choice for a Money Tree.
Watering is also essential when it comes to encouraging your Money Tree to grow quicker. Be sure to water your Money Tree once a week or when the top inch or so of soil is dry. When watering, do it thoroughly but never let your Money Tree sit in standing water. This can cause root rot, which may send your tree to an early grave.
Humidity plays a big role in Money Tree growth. If you've noticed that your Money Tree is not growing as much as it could be and getting the right amounts of light and water, it may need some humidity.
This can be remedied by purchasing a humidifier. Especially beneficial in the drier winter months, I was in awe of the difference my humidifier made to my Money Tree. In only one week with my humidifier, my Money Tree leaves looked so much healthier and fuller. For more information on the humidifier I use and why I chose it, read this article.
Money Trees should be fertilized several times a year to encourage new growth. A lack of nutrients, which can be caused by the tree depleting the soil in its pot, will prevent your Money Tree from growing faster. This can be fixed by providing it the nutrients that it is missing.
To fertilize your Money Tree, simply use a liquid plant food that has been diluted to half strength. Be careful not to use too much fertilizer as this can potentially damage the roots of your Money Tree.
---
Trimming Oddly Shaped Money Trees
If your Money Tree is a little odd-looking, you can still prune and maintain it in the same ways that you would your other houseplants. How you do so depends on what your goals are: what style of Money Tree are you hoping to achieve?
If your tree has a unique shape, it might be worth it to not change it! Unique plants are great additions to any home and serve as awesome conversation starters. To maintain an oddly shaped Money Tree, simply follow its natural shape during maintenance pruning. Prune any growth that doesn't match the direction it has grown or that negatively changes the look of the plant.
If you'd prefer to try for a more normal looking Money Tree, you'll first need to identify the problem with the shape of the tree. If it has grown crooked or developed a "V" at some point, you'll need to decide if the problem can be fixed. Pruning too much of a Money Tree can hurt it.
If you feel that it can be fixed, follow the steps outlined above to help your tree develop its ideal shape. It'll require a variety of pinching, pruning, and trimming, but it can be done.
---
Final Thoughts
Pruning can seem really scary to beginners, but it's a necessary part of Money Tree maintenance. All you really need to successfully trim your Money Tree is a good understanding of what you need to trim, when you should trim it, and a good set of shears.
Maintenance pruning can be done all year. Structural trimming should only be done before the growing season, either in the winter or early spring. And remember, you should never skip on properly sanitizing your pruning shears! Not cleaning them can potentially harm your Money Tree.
Take time to plan through what you need to do before you get started. That will save you plenty of time and possibly prevent you from irreparably damaging your Money Tree!