If you're reading this article to help your distressed Money Tree, I'm sorry. It is no fun to have sick houseplants. Money Trees (Pachira Aquatica) are extremely susceptible to root rot, and plants that have been overwatered for too long can develop a nasty case, which is often very difficult to reverse. But there is hope. Money Trees can sometimes be saved from root rot when a specific series of steps are followed.
How can you save a Money Tree from root rot? Your best bet is to remove the Money Tree from its container, prune back all affected roots and then replant it in fresh soil in a new pot. If you've caught the rot early enough, and if you alter your watering habits, it is possible to save your Money Tree.
Root rot is serious business for houseplants. And unfortunately, because the problem starts under the surface, sometimes we don't even start our treatment until it is too late. Not all Money Trees will be able to be saved from root rot. But by following the steps below, and with a little luck, your favorite houseplant may still make it out of this alive. Get ready, your favorite houseplant is about to need a lot of tender love and care.
---
The Problem With Overwatering
Most new houseplant owners are concerned that they will neglect their plants and accidentally kill them. Unfortunately, they overcompensate by giving the plant more water than it needs. In turn, they do the one thing they so desperately tried to avoid: send their plants to an early grave.
Money Trees are tropical plants, native to the swamps of Central and South America, so you might be led to believe that these trees need tons and tons of water. That is not the case. Even though the Pachira Aquatica loves humidity and heat, too much water will result in a nasty predicament: root rot.
You may be thinking, "But I only water my plant every other week? How could I possibly have overwatered it?" Even though we generally just think of overwatering as adding too much water too frequently, overwatering comes in many forms.
Sometimes overwatering has little to do with how much water we put into the plant and much more with how quickly the plant can dry out after the water has been added. Excess water retention keeps the roots wet for too long, which causes them to rot.
The two things that contribute to water retention are pot size and the plant's ability to drain. Pots that are too large are filled with too much soil for your Money Tree. When a plant has too much soil, it takes longer to dry out after watering. Soil that is too dense or pots that don't have drainage holes in the bottom, cause the same problem.
So even if you have not been giving your Money Tree too much water, if the plant can't drain or dry out quickly between waterings, it may still be overwatered. And overwatered Money Trees almost always end up with rotten roots, trunks, and stems.
---
What Is Root Rot
Root rot is exactly what it sounds like. It is when fungus or bacteria take hold of the plant's root system and cause the roots to rot and die. When the roots of a Money Tree can no longer function correctly, they don't absorb nutrients or water for the plant, and they don't send it out to the trunks, stems, and leaves.
Root rot is caused by one of two things: constant overwatering or fungi in your houseplant's soil. Fungi can lie dormant in your soil for a long time. Once the plant has been overwatered once or twice, the fungi come to life, taking over the root system of your Money Tree. Both lead to the rotting of your tree's roots, and both will kill your plant if not addressed.
---
How Much Water Should I Give My Money Tree?
If the result of overwatering is root rot, and we all want to avoid root rot, how much water should we give our Money Trees to mitigate the risk? Healthy Money Trees are only watered when the top two inches of soil are dry.
That means that rather than water your plant on a schedule, you should be checking the soil to see if it is dry each time before adding more water. I usually do this by sticking my finger down into the first two inches of soil and feeling for moisture. If the plant is dry, I add more water. If not, I wait a few more days and check again.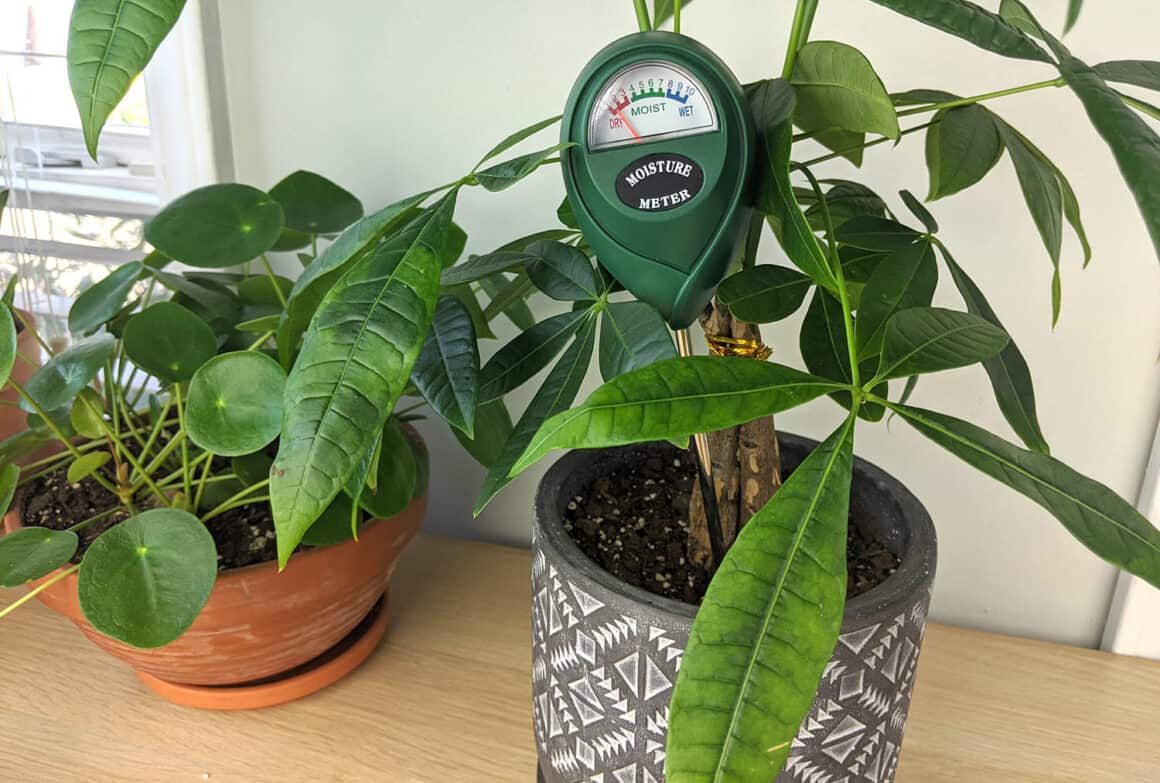 If you want a more accurate way to monitor this, consider purchasing a moisture meter (like this one from Amazon). A moisture meter can be inserted into the soil around your Money Tree and display whether your soil is dry or wet. Only water your Money Tree when the meter starts to read on the dry side. For more information on watering Money Trees, read this article.
---
Above Ground Signs Of Root Rot
The reason that root rot often goes unnoticed for so long is that the initial symptoms are all underground. It is not until the roots have been damaged enough that they cannot provide the proper moisture or nutrients to the top of the plant that we start to take notice. And sometimes, by that point, it is already too late to save the plant.
There are, however, a few things you should be on the lookout for at all times. These things will give you a sign that something is going on under the surface of your Money Tree. The most common above-ground symptoms of root rot in Money Trees are discoloration and mushy or soft trunks.
Yellow or brown leaves are often the first, noticeable indicator of a problem under the soil. Some discoloration is normal as older leaves fade from green to yellow before falling off, but if you see lots of leaves going through this pattern, this is often a sign of overwatering.
Oddly enough, brown, wrinkled leaves, usually a symptom of not giving the plant enough water, can also be signs of overwatering and root rot. This is because when the roots have become significantly damaged, they can no longer absorb water and send it out to the stems and leaves. The result is brown leaves that are wrinkled and curling in on themselves. If you know that your plant has not been dry for too long and you see symptoms of underwatering, you'll need to check out the roots to look for root rot.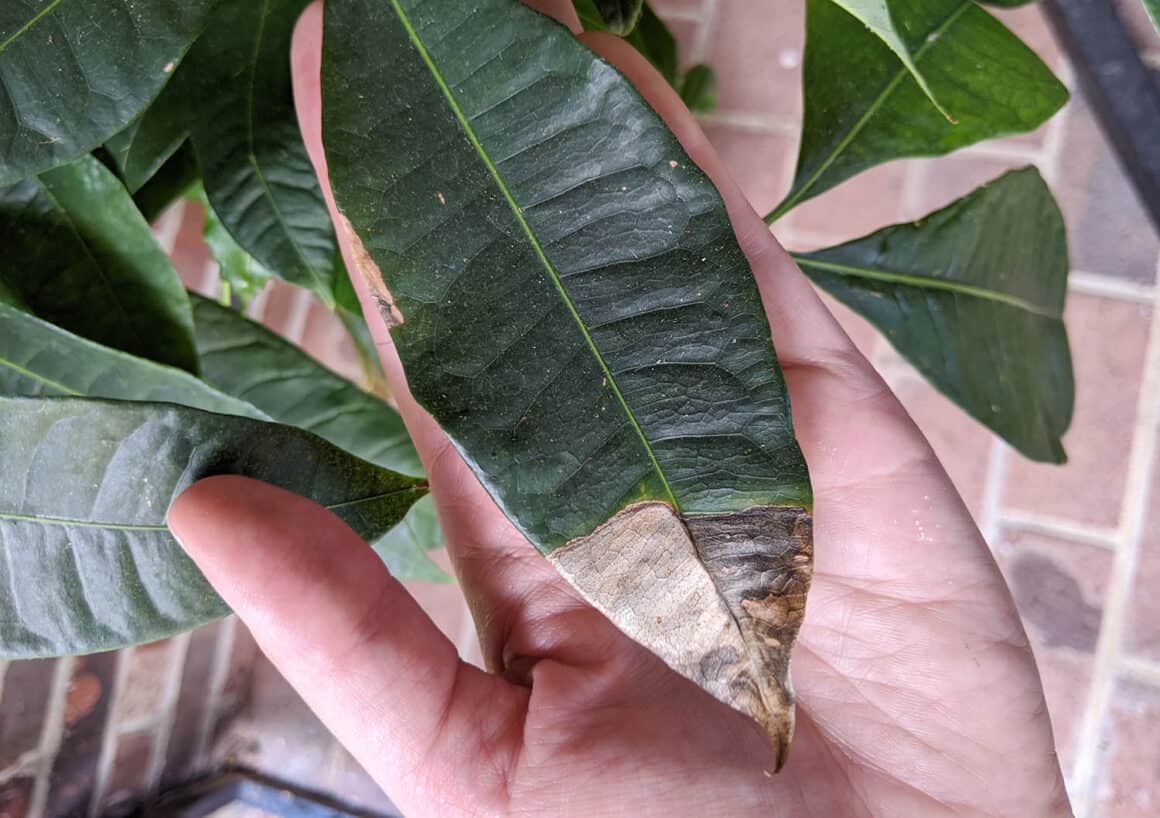 If you notice one of the trunks on your braided Money Tree becoming soft and mushy, the plant has most likely been overwatered and is now be suffering from root rot. In this case, the soft trunk will need to be removed along with the affected roots (more on that later).
Lastly, if you see algae or mold on the surface of the plant, or notice a musty smell, there is probably some rot under the surface. Any of these symptoms should point you to look further underground for confirmation of your plant's issue.
---
Underground Signs of Root Rot
If you suspect there may be a potential root rot issue, remove the plant from its container and examine the roots to confirm or deny this. Once you take a good look at the roots, you'll know for sure what you are dealing with.
Healthy roots are white and crisp. They should be firm and not produce any foul smell. Conversely, rotten roots can be brown, black, or grey, and will be mushy, musty, and stinky. If you find any roots in the latter condition, unfortunately, you have root rot. You'll need to immediately work to remedy this situation before it gets out of control.
---
Assessing the Damage
The only way to determine the severity of the overwatering occurring under the soil is to examine your Money Tree's roots. If your leaves have started to turn pale green or yellow and your tree is not growing at all, it is time to slide the plant out of the container and look for the signs of root rot listed above.
To see the roots more clearly, gently run the root system under warm water in your sink and remove as much soil from the roots as possible. Be very careful not to damage the roots. If the roots are brown, gray, mushy, or slimy instead of white and crisp, your Money Tree has root rot.
---
Which Steps to Take
If you suspect that your plant is only slightly overwatered and your leaves are just barely starting to discolor, you should read and follow steps; 1, 2, 7 & 8.
If you believe that your overwatering is more severe, your leaves are pale green or yellow, but you do not see any root rot, you should read and follow steps: 1, 2, 3, 4, 5, 7 & 8.
If your plant is a victim of root rot, you should read and follow all steps from 1 through 8.
---
Step 1: Stop Watering Your Plant (Briefly)
Before you can even begin to solve your root rot issue, you'll need to stop contributing to the problem. Even if you don't have time today to follow all the steps listed below, do not add any more water to the plant until it is dry.
The amount of time it takes a Money Tree to dry out will depend on several factors, including where you live, the time of year, and how large your Money Tree is. Do not add any more water to the plant until the top one to two inches of soil is dry. This seems like a no-brainer, but I wanted to make sure to mention it first.
---
Step 2: Remove Any Dead or Dying Leaves
Plants push out energy to their stems and leaves all the time. When one of those leaves is turning yellow and dying off, the plant is still attempting to push energy into that area and receiving nothing in return. Removing those dead or dying leaves frees up the plant's energy to focus on recovery. If you have a severe root rot issue, your plant will need all of the energy it can spare to regrow healthy roots.
In most cases, Money Tree leaves can be removed by merely pinching them off. If I find an unhealthy leaf on my tree, I will remove the entire leaf back to the stem. These leaves usually come off relatively easily, but if you find that you need to use scissors or a knife to remove them, be sure to sterilize your utensil first.
---
Step 3: Speed Up the Drying Out Process
Whether your goal is to assist your Money Tree with drying out more quickly or you want to take a closer look at the root system, you will want to remove your tree from its container.
Because overwatered Money Trees may already have damaged trunks and stems, it is incredibly important that you don't tug or yank the tree from its planter. Instead, turn the container on its side and try to gently slide the Money Tree out. If it doesn't come out easily, run a butter knife along the planter's inside rim to help release its grip on the sides, and try again. In the case of an extremely tall Money Tree, you may need to enlist the help of a friend to keep from damaging your tree.
If your goal is to simply dry the plant out more quickly, consider setting the entire plant with its soil on a baking rack for a day or so. This will allow the soil to breathe on all sides and help dry out the entire plant much faster.
---
Step 4: Prune Back Any Rotten Roots
Now we're getting to the fun (terrifying) part. If your Money Tree's root system has been damaged by root rot, the affected roots must be pruned away. Leaving any rotted roots will risk the fungus spreading again in the future once the tree has been repotted.
Ideally, you would not need to trim back any more than one-third of the root system. Removing more than this can be extremely stressful for your plant, and this is where you may find that your plant is beyond repair. If more than one-third of the roots are affected, you'll need to prune them back anyway, risking your plant's health to try to save it.
Look for roots that are brown, black, or gray and mushy in texture. Again, healthy roots and white and crisp so you'll be able to tell the difference between the two. If you haven't already, rinse your Money Tree's roots under some water and try to gently remove as much soil from them as possible. You'll want to make sure you have a good view of the roots so you can tell the healthy ones from the rotten ones.
With any type of pruning, your tools must be both sharp and clean. Before starting this process, sterilize your scissors with either 70% isopropyl alcohol or a diluted bleach mixture (I use one part bleach to nine parts water). Make quick and clean cuts to your Money Tree roots and avoid any sawing motions that might result in jagged edges.
---
Step 5: Remove Soft Stems
Most of the Money Trees available in stores are braided, and braided Money Trees are actually multiple Money Trees twisted together. That means that if one of your tree's trunks are soft and mushy, you can remove it from the braid and leave the other trees unharmed.
You may be wondering why only one of the trunks would be affected when they've all been living in the exact same conditions. To be honest, I am not sure. Plants in the same greenhouse have different tolerances to disease and bacteria and can react differently to the same environment. The same is true with multiple Money Trees living together in the same pot.
If your Money Tree is only made up of one trunk that has gone soft, or some healthy growth is still coming from the affected trunk, your only option may be to propagate what you can from the healthy portions. Once a trunk has turned mushy and soft, there is no going back. If all trunks are mushy, you can skip these next three steps and go directly to the section on propagating.
If the softness is only affecting one of your multiple trunks, you can remove the dying trunk by gently weaving it from the others. Be careful to untangle the roots as well as possible and cut only when you need to in order to keep the other healthier trunks in the best shape.
---
Step 6: In Extreme Cases, Prune Back Most Leaves
If what you found under the surface was much worse than you imagined, you may need to take extreme measures. If more than one-third of the roots are suffering from root rot, trim back all the affected roots and cut back about two-thirds of the leaves and stems.
Cutting back a large portion of the root system will stress your plant to the max. It will need every bit of available energy that it has left to recover. Cutting back most of the leaves will free up as much energy as possible for the plant to refocus on root growth.
Unfortunately, Money Trees cannot always be saved from root rot. Even if you follow every single step on the list to the letter, your plant may still not recover. When the case is extremely severe, freeing up as much energy for your plant is your best bet.
---
Step 7: Find a New Pot (Or Wash Your Old One)
Now that you've finished pruning, or if your Money Tree is finally dried out, it is time to repot your plant. Find a new planter you love or reuse your old one, but either way, you'll need to know a few things first.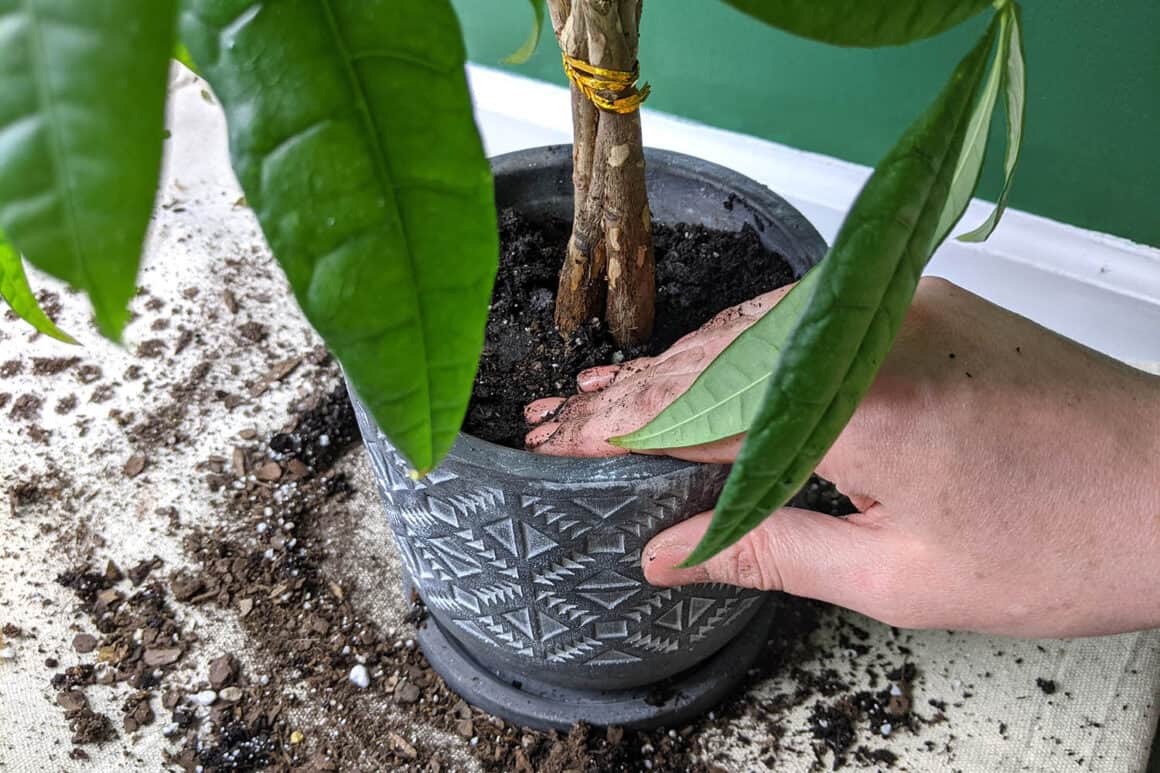 If you want to use this as an opportunity to replant your Money Tree into a new container, make sure you choose one that will drain well and won't worsen any overwatering issues in the future. The planter should have at least one drainage hole in the bottom and be the proper size for your Money Tree. Choose a pot that is one size larger (or the same size, if you've pruned back a lot of roots) as the pot it was living in previously.
Love your old pot and don't want to get rid of it? No problem. You can reuse the same container, but you'll need to clean it thoroughly first. Because root rot is often caused by a fungus, it is essential to sterilize the container before repotting your Money Tree back into it. Use a mild bleach solution to clean all around the interior and exterior of the pot. I use a mixture of one part bleach to nine parts water.
---
Step 8: Replant In New Potting Soil
Now that you've made it all the way through the steps above, you're ready to repot your Money Tree. You'll want to throw out all of the old soil (as well as remove as much from the roots as possible) and replant it in new, fresh soil.
The old soil your Money Tree was living in may be infected with the fungus that caused your roots to rot, so it needs to go into the trash. Don't try to save it for something else.
Fill your new or clean container with fresh potting soil (click here for information on the best soil for Money Trees) and place your tree in, gently patting it down as you cover it with new soil. Water your tree and allow all excess water to run out through the bottom of the container.
Place your Money Tree in an area that will get lots of bright, indirect light and be extra careful to protect it from drafts or changes in temperature. Your Money Tree is in a precarious state now, and it will need all of its available energy to focus on growing new roots.
Don't expect to see any new growth above the surface for several months. As long as you don't see continued signs of root rot on the top of the plant (like mushy trunks or yellow leaves), you are probably in the clear. But again, remember that even the best efforts don't always pan out. Sometimes root rot claims even the most beloved of our houseplants.
---
Moving Forward: Forego Fertilizer for a Few Months
As your plant is trying to recover, do not add any fertilizer. Your plant's root system will be working hard to rebuild, and fertilizer may harm these new and tender roots. I would wait at least three or four months before potentially fertilizing, and even then, I would play it by ear. Wait until you start to see new healthy growth above the surface before adding anything that could harm the roots, such as fertilizer.
---
Moving Forward: Adjust Your Watering Habits
If your Money Tree makes it out of all of this alive, you'll need to adjust your watering habits in the future to ensure you don't wind up down this road again. Overwatering always leads to problems. Mastering watering your Money Tree will be the best possible thing you can do for your plant.
Only water your Money Tree when the top two inches of soil are dry. Do not water the plant on a schedule as the time it takes a plant to absorb water and dry out will vary depending on the time of year and many other factors. Make a habit of regularly sticking your finger into the soil of your Money Tree and checking for moisture. If the soil is still damp, hold off. Wait until the top to inches is dry before adding any more water.
After you water your plant, be sure to empty any standing water from the saucer or dish beneath your planter. Standing water is no friend to a Money Tree and will keep the soil wet much longer than it should be. Any time you notice water beneath your Money Tree, do it a favor and empty it out.
---
When All Else Fails, Propagate
Sometimes even the most expert-level houseplant owners cannot save a dying plant from root rot. Because the first signs all occur under the soil, we often don't even notice what is happening until it is too late. If you've followed the steps above and it is still not looking good, you've got one last-ditch option: propagation.
Money Trees can be propagated from cuttings. If there are still healthy portions of your Money Tree, your best bet may be to salvage those bits and turn them into new and separate plants. We have a great article about propagating Money Trees, so click here to find everything you need to know about that process.
---
Best of Luck!
Now you have everything you need to try to save your Money Tree. I hope that your efforts are successful, and your plant returns to its former glory! Follow the steps above and if all else fails, propagate the healthy portions that remain. Go ahead and take action now! The longer you wait, the worse your odds become.