The Monstera deliciosa, a tropical rain forest vine native to Central and South America, can be difficult to water. While it may seem like Monsteras don't need a ton of water because they are so hardy, it's easy to underwater them. Thankfully, there are plenty of signs to help a struggling plant keeper figure out when it's time.
Signs a Monstera needs water include dry soil, drooping or sagging stems, curling or discolored leaves, and a lack of new leaves with fenestrations. Any of these can indicate that it's time to water a Monstera. Test the soil before watering to confirm if now is the right time to water the plant.
The number one mistake people make with all types of houseplants is in their watering habits. How much water does the plant need? When is it time to add more? What about humidity? All these questions and more are answered below for your Monstera deliciosa.
---
How Much Water Do Monsteras Need?
If you're new to the houseplant world, finding the right balance of water can be tricky. Monsteras do not need as much water as you might think and can often take a little bit of underwatering, but too little water, and you'll have an entirely different set of problems on your hands.
While there's no set volume of water that a Monstera needs, there are a few rules of thumb to make it easier to gauge. Monsteras should always be watered thoroughly, so that the excess water flows out of the drain in the bottom of the pot. Watering this way is one of the easiest methods to ensure that the plant has received enough water. But beware! Monsteras don't want to sit in any water that has drained out. You should always empty the excess from the saucer below.
Besides that, the actual amount of water a Monstera needs is dependent on many different factors: how much sunlight is available, the humidity in the area, and the size of the plant are the main three. The composition of the pot can also factor in but generally shouldn't make much of a difference.
---
Always Check Before Watering Your Monstera
With absolutely all plants, checking the soil before watering can make a huge difference in a plant keeper's overall success. As you get more comfortable with the Monstera, you may not need to at all. But when starting out, doing a soil check can make a big difference.
There are a few different ways to check the soil. The easiest way is to feel it with a finger by testing the top inch of soil for moisture. If it's still moist, wait a few more days (or until it's dry to the touch) before watering; if it's bone dry, water thoroughly right away!
Many people are uncomfortable with this technique because it is subjective, so a moisture meter is a perfect alternative. These are small devices with prongs that are stuck into the soil. They'll measure the overall moisture content and have an easy-to-read scale that can tell you when the plant is dry enough to warrant being watered.
Regardless of the route you choose, checking if it is time to water your Monstera can save you a lot of trial and error and potentially prevent a serious mishap like stem or root rot.
---
Make Sure Your Plant Is Draining Properly First
Drainage is one of the most essential parts of keeping a healthy plant. A plant that can't drain excess water from its soil is prone to developing all kinds of ailments (like fungal issues or root rot) that can kill it rapidly.
For a plant to properly drain, it must have a hole or series of holes in the bottom of its pot. Almost all containers will have these, though some decorative ones do not. Remedy this by adding a hole yourself or by using a nursery pot (the black plastic pots most plants initially come in). A slightly smaller nursery pot will slide inside a more decorative pot and help with drainage but will not fully fix the situation because water will still get trapped in the container. Dumping excess water is extremely important.
Checking to make sure your Monstera properly drains is pretty straightforward. If you've noticed that, when watering the Monstera, the water sits on the top and doesn't seem to soak into the soil at all, it may not have adequate drainage, and the soil may already be waterlogged. Another indication of improper drainage is a plant that stays very moist for an extended period of time.
Either of these can mean that the plant isn't draining. To check what's going on, carefully pop the plant out of its container and see if the hole is clogged or obscured in any way. This occasionally happens and can prevent water from leaving the pot. Cleaning it out and replacing the plant with fresh soil should fix the problem.
---
A Quick Note on Dormancy
Monsteras, like most houseplants, have a period of dormancy. The dormancy period is marked by a significant decrease in the amount of growth that a plant puts out and generally happens in the winter months. Dormancy helps the plant prepare for the decrease in available sunlight during that part of the year.
A Monstera does not need as much water during a dormant period as they do during the growing season-from spring to early fall. Keep this in mind when watering! It can be easy to overwater by following the routine set during the warmer parts of the year.
If you're not sure how much to reduce the waterings, remember that you can always check your Monstera before watering. Testing the soil, either with your finger or with a moisture meter, will keep you from overwatering and damaging the plant.
---
Five Signs Your Monstera Deliciosa Needs More Water
We've talked a bit about avoiding overwatering your Monstera, but how can you keep from underwatering? There are plenty of signs your Monstera needs water, especially once you've become familiar with your plant and know all of its behavior. The signs that a Monstera needs watering are also pretty similar to the signs other plants have, so some of these may not be a surprise!
---
1. Your Monstera's Soil Is Dry
Dry soil is the main sign that a Monstera needs watering. While it's important to let the soil dry out a little bit between waterings, a Monstera deliciosa should not be living in arid conditions. Soil that is too dry won't kill the plant right away but will harm its ability to grow efficiently.
Testing the soil regularly will help you understand when your Monstera needs to be watered, as all plants and house conditions are different and can require different lengths of time between waterings. The easiest way to do this is with your finger!
Test the soil by putting your finger about an inch or so in—if it's dry, you should water the plant. If it's still wet or moist, don't water your Monstera yet.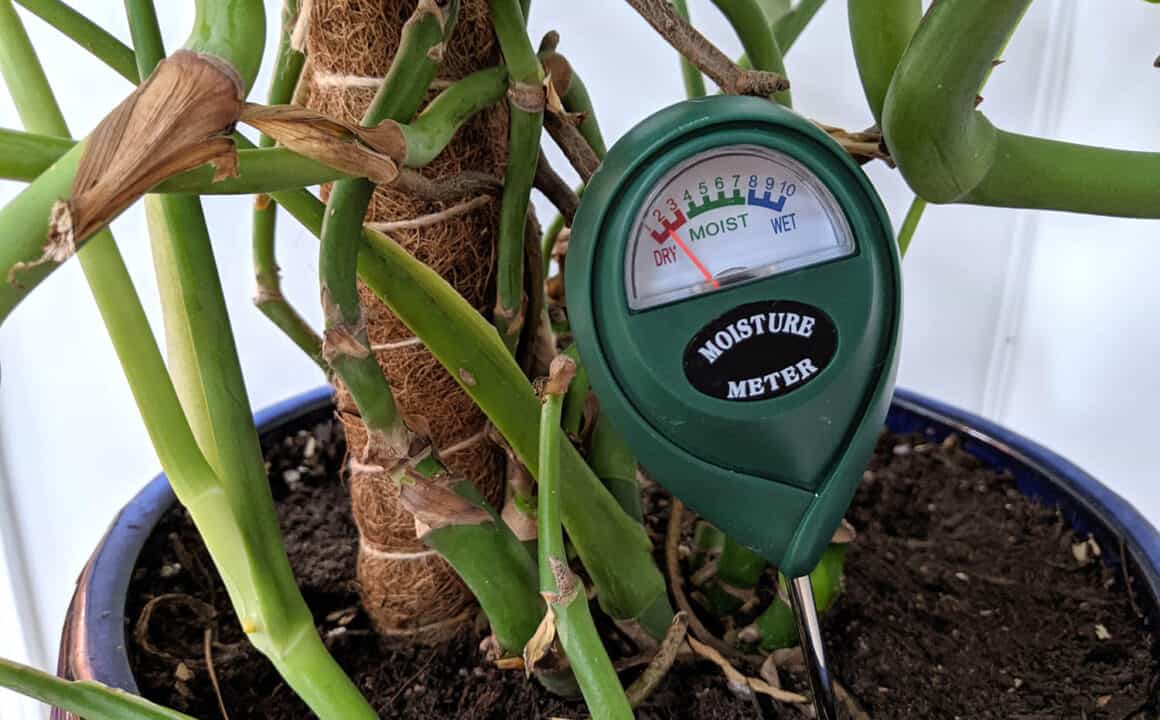 ---
2. Your Monstera is Leaning Over
A leaning Monstera is a bit of a strange sign but is one I've noticed in my Monsteras. Similar to wilting, an underwatered Monstera will start to sag in such a way that makes the leaves droop. This is much easier to observe on a small Monstera but can be obvious on larger plants.
Leaning plants can sometimes indicate a different issue, such as overwatering, so always check the soil before watering. Dry soil means that it's time to water; never add more water when the soil is damp.
If the cause of drooping is too little water, your Monstera should perk back up within a few days of getting a thorough watering. Try to avoid letting the Monstera get this dry as it is a significant stress for the plant and can harm its growth.
---
3. Your Monstera's Leaves are Curling
Another indication that a Monstera needs watering is leaf curling. A Monstera that needs a drink will have leaves that start to curl inward, so that they begin to look smaller and not as wide.
This is not a permanent issue and is almost always fixed with a thorough watering and some time! Check the soil and give it a good, thorough watering if dry. The leaves should return to normal within a few days.
If they don't, this may be an issue that something else is going on. Take time to do a diagnostic before watering again.
---
4. Your Monstera's Leaves are Brown, Yellow, or Dead
Leaf discoloration on your Monstera can be cause for alarm. A healthy, happy Monstera has deep green, waxy leaves (though younger plants or new leaves may be lighter green).
As Monsteras age, their older leaves eventually turn yellow and die off, so some discoloration is normal. But if you see yellow, brown, or dead leaves in multiple areas of the plant or with new leaves, you've got a problem.
Leaf discoloration can indicate several problems other than underwatering, including overwatering, too little or too much sunlight, or pests. Taking the time to check the plant for any indications of these problems is essential, so don't immediately jump to watering!
While it's normal for older growth to periodically die-off, any leaf loss accompanied by other signs, like drooping or discoloration, is a problem you need to address right away. The first step should always be to check the soil for moisture level. If the soil is dry, water it thoroughly. If the soil is damp, look for reasons that your plant may be overwatered.
---
5. Your Monstera Isn't Putting Out Fenestrated Leaves
Lack of fenestration can become an issue with mature Monsteras that haven't begun to start fenestrating, or putting out leaves with holes in them. A lack of fenestrations is almost always an indicator that the plant is not getting enough of something.
In some cases, this is caused by too little sunlight. To rule that out, evaluate the area that the plant resides in. Monsteras need bright indirect sunlight for six to twelve hours a day. If the plant in question isn't getting this much light, try moving it to somewhere brighter.
If lighting isn't the problem and you suspect it is that your Monstera needs more water, set a digital reminder to check the soil. This will help you build the habit of regular plant maintenance. Checking several times a week that the soil is moist enough can help you find the right balance with watering. Just be careful not to overwater!
---
A Note on Humidity and Monsteras
Because they are tropical plants and are indigenous to rain forests, Monsteras need a lot of humidity. That is why they make great bathroom plants: a well-lit bathroom provides ample humidity to keep the plant comfortable and happy.
Humidity is not the same as just watering your Monstera, so try not to assume that a Monstera has enough humidity because it is regularly watered. Indications of a lack of humidity vary but are easy to fix.
A common indication of low humidity is leaves with brown tips. While this can look like an overwatering or underwatering issue, brown parts isolated to the edges of the leaves are almost always because of low humidity.
There are a few different approaches to fixing this problem. The easiest would be to move the Monstera to a well-lit, moist environment like a bathroom or kitchen. Keeping it in an area like this will ensure it has enough humidity without requiring special equipment or extra maintenance.
If that isn't an option, misting the plant can make a difference. This involves lightly spraying the Monstera with a misting bottle once a day. While this works in the short term, some plant enthusiasts believe that it can encourage pests and infections, so it isn't always recommended.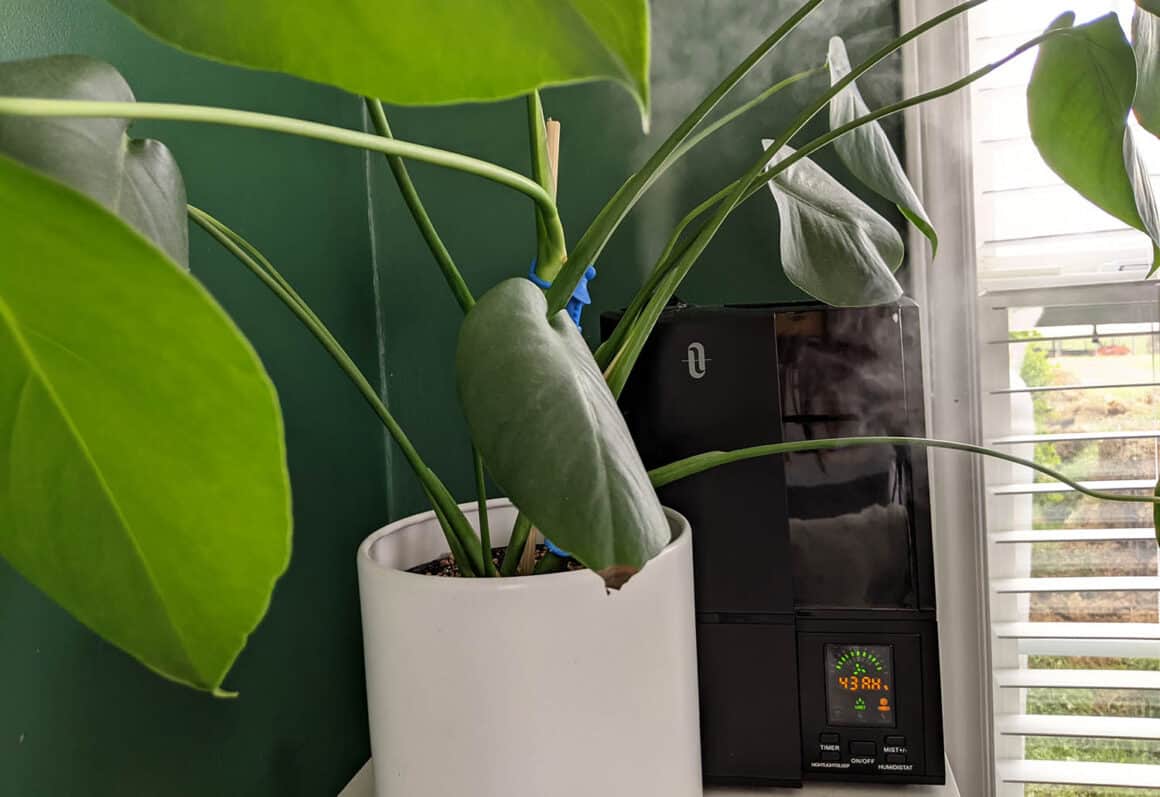 The best option is to invest in a humidifier. Humidifiers are especially helpful in the winter months and can improve the health of all your houseplants. These machines come in all shapes and sizes and produce a steady stream of steam that puts extra humidity into the air. For more information on my favorite humidifiers, click here.
---
Beware: Overwatering Will Kill Your Monstera Too
Monsteras are incredibly hardy plants, so they are pretty resistant to most pests and infections. Still, too much or too little of anything will harm the plant. While we've mostly addressed underwatering, overwatering can cause many different problems that will harm your Monstera.
Stem rot and root rot are two of the main issues that overwatering can cause, and both can be deadly if not caught quickly enough. Stem rot is the result of a fungus that affects that stem of the Monstera, usually where it meets the soil. It will turn the stem a mushy brown or black and sometimes includes a white-ish, web-looking material in the affected area. It can be extremely difficult to treat.
Root rot can be just as aggressive and involves a fungus that attaches to the Monstera's roots, not allowing it to take up water and nutrients. Affected roots will be brown and mushy instead of white and firm. Some may even fall off of the plant when touched.
Taking care not to overwater your Monstera is the easiest way to prevent these things from happening. It is usually best to err on the side of caution and let the plant dry out well before watering again rather than risking overwatering.
---
Final Thoughts
Keeping a Monstera watered right is difficult when first starting. It is important to remember that watering your plants on a set schedule isn't always ideal. A Monstera deliciosa may not always need water once a week, especially depending on the season, so try to tailor the plant's care by being attentive to its needs.
Fortunately, most plants are surprisingly vocal about how they're feeling and what they need. A Monstera showing any of the signs above needs to have its soiled tested right away! Catching an issue can be as simple as checking if the soil is too wet or too dry. Being diligent can save a Monstera from disease or death, so it's good to pay attention to your plants. They may seem happy but have an underlying issue that won't result in dead leaves until it's too late.
The longer that you care for a Monstera, the more you can trust your gut on its care. Learning how to do this comes with time, but it is a great skill to have and will take almost all of the guesswork out of watering a Monstera deliciosa.
---
Read More in Our eBook!
Have more questions about your Monstera Deliciosa? Want to know what you can do to keep it happy and healthy? Grab our latest book, How to Care for Monstera Deliciosa, and get all that and more.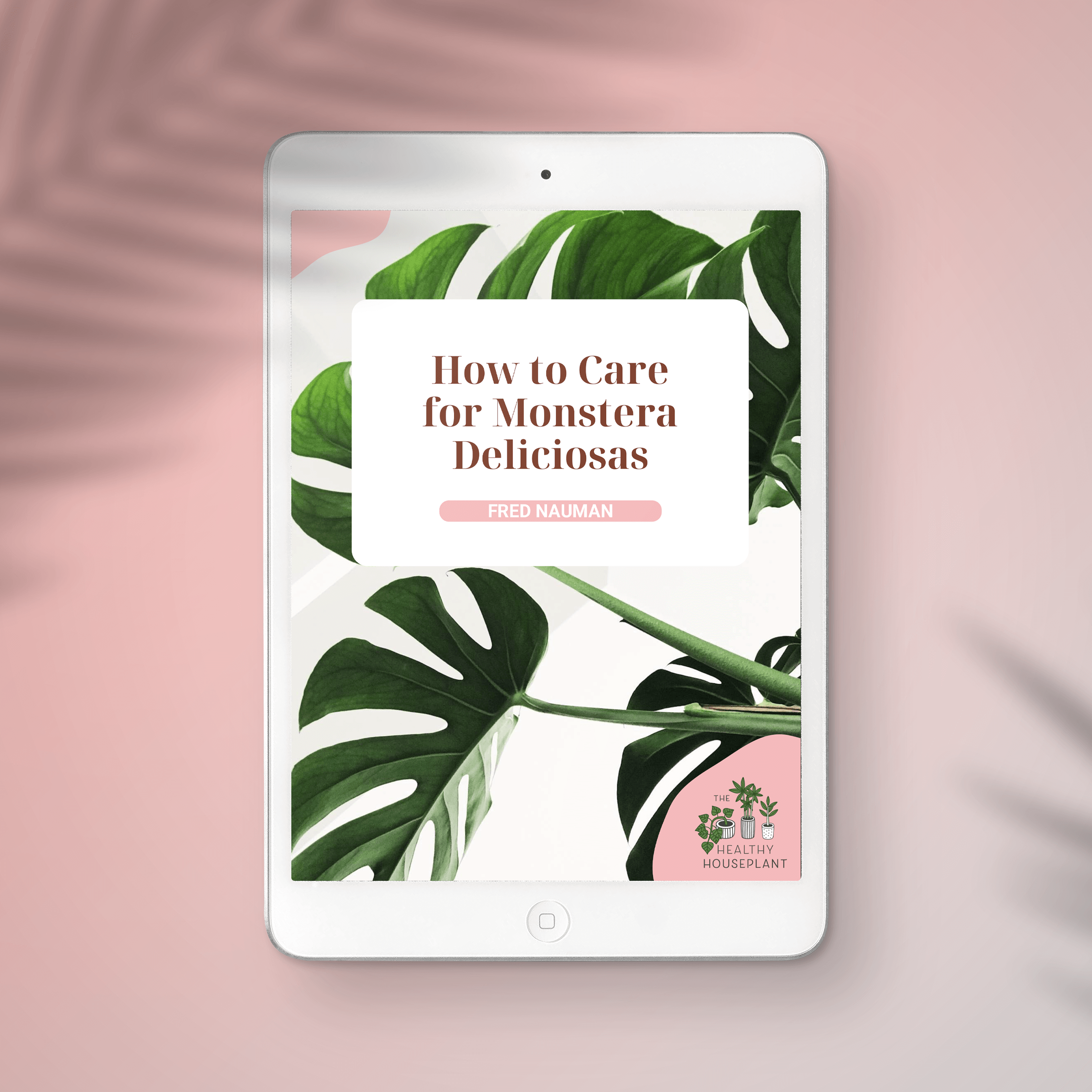 Our eBook covers:
Signs Your Monstera Isn't Getting Enough Light or Water
How to Grow Your Monstera to Epic Sizes
What are Fenestrations and How Can You Encourage Them
Tips for Fertilizing Monsteras
The Best Way to Prune this Plant
Propagation Tips and Tricks
The Best Type of Soil for Monsteras
Help Diagnosing Unhealthy Plants and How to Treat Them
And More!!
If you've got more to learn, grab a copy of our book today and get your Monstera Deliciosa back on track. Get your copy now!