Do you need to prune your African Violet? While it may not be necessary for the plant's health, regular trimming keeps your plant looking attractive and encourages vigorous blooming. You could miss out on lots of lovely flowers if you let the leaves get too unruly. This post will tell you how to prune African Violets to maintain their grace and style.
It's best to trim your African Violet once a month. You can usually pinch Saintpaulia leaves off at the base of the petioles. If not, some small pruning scissors or a paring knife should work. Disinfect your blades first! Prune African Violets from the bottom up, starting with the oldest, lowest leaves.
Knowing what to prune from your African Violet is almost as important as knowing how. This guide will help you recognize excess growth that's only draining your plant's resources. By the time you finish, you'll be well-prepared to trim your African Violet to a manageable size and shape.
---
Should You Trim the Leaves on Your African Violet?
With many houseplants, a wealth of foliage is something to celebrate. So why should you prune African Violets?
The most important reason is that it helps the plant flower more. Though their fuzzy leaves have a certain charm, most of us grow African Violets for their blooms. And a Saintpaulia with too many leaves will produce very few blossoms.
That's because your plant only has access to a finite amount of water, sunlight, and nutrients at any given time. It has to choose whether to spend those on leaves and flowers. Under most circumstances, leaves are a better investment. They can take in sunlight to fuel your African Violet's growth. Flowers don't produce any resources – they only consume.
It is true that flowers give your plant a chance to pass on its genes, but foliage growth does too. African Violets can reproduce by sending out separate clusters of leaves that grow into new plants. Your plant is constantly choosing between reproducing sexually (through flowers) and asexually (through leaves). Trimming away extra foliage helps tip those scales toward blooming. 
As a bonus, it helps your Saintpaulia maintain a neat, symmetrical appearance. Even if you're not planning to display your African Violet at flower shows, you'll probably prefer the clean look of a plant with even rows of foliage.
---
Does Your African Violet Have Too Many Leaves?
All right, you're convinced that there are good reasons to prune African Violets. But how do you know when your plant is big enough to need a cleanup?
Here's a very simple way to tell: does your African Violet have 5 or more rows of leaves? If yes, you can give it a trim. Only the first 3-5 rows of an African Violet's leaves produce flower buds. Outside those core rings, further leaves are simply pulling energy away from potential blooms. If you're looking to maximize flowering, you should prune African Violet leaves beyond the first four rows.
Count the rows from the central cluster (also known as the crown) where new foliage emerges. Each row contains 3 leaves, so 15 is the maximum number if you want your African Violet to flower at peak efficiency. 9-12 leaves are often better.
Don't count the crown itself. It's not a row until it forms a roughly symmetrical triangle of three leaves at the same height. By that point, there should be a new set of tiny leaves unfurling in the center.
You should also be on the lookout for suckers. These are spots where your plant is trying to pop out a new foliage crown to reproduce asexually. Suckers drain even more nutrients and energy from the main crown than ordinary leaves do. Take them off as soon as you find them.
To recognize a sucker, look for clumps of leaves emerging at the edges of the plant instead of the center. They tend to spring up below older, larger leaves, so you may not spot them until they get big. Take an occasional peek underneath the foliage to see if your African Violet is growing suckers. You'll see them sprouting from the joints between older leaves.
---
Other Reasons to Prune African Violets
Promoting even growth and healthy blooms are the main reasons to give your African Violet a haircut. However, there are a few other situations in which it's good to remove some leaves.
One is when your plant is infested with something that could spread. Pests like mites or mealybugs can quickly take over an African Violet if you don't get them under control quickly. Removing leaves with large colonies of bugs can slow them down, though you'll also need to treat the plant with a natural or synthetic pesticide.
You can often recognize a pest infestation because your plant's new leaves will be stunted and discolored. With mealybugs, you might also see the insects themselves – they look like blobs of white fuzz. Pests often hide at the spots where the leaves join the stem.
Fungal or bacterial infections known as leaf blights also call for pruning. If you can remove an infected leaf before the contagion spreads, you might save your plant's life. Look for odd yellow or brown spots that seem to be growing in size.
It's also good to prune African Violet leaves that have aged out. When a leaf is completely brown and crispy, there's no benefit to leaving it on the plant. It's not photosynthesizing, but it still may be drawing a trickle of resources. The same goes for a leaf that has died of thirst, sun damage, or temperature shock.
---
How to Prune African Violets
Pruning African Violets is easier if you follow a few key guidelines. Here are our main tips for success:
---
Use Your Fingers or a Small Knife
It may come as a surprise how easy it is to remove leaves from an African Violet. You can usually just pinch them at the base and tug or snap them off. If they're stubborn or hard to reach, use a sharp blade like a crafting knife to slice them at the base. A fingernail may also work for those without a cutting tool.
Get as close to the base of the petiole – the stem connecting the leaf to the main stalk – as possible. This will avoid unsightly tag ends and make it easier to propagate the leaves you remove (more on that later).
---
Clean Your Tools
Always disinfect your blade before slicing into your African Violet. Otherwise, any bacteria lingering on it could infect the cut. Good options for disinfectants include rubbing alcohol, hydrogen peroxide, or 1 part bleach with 9 parts water. If you're using your fingers, it may be a good idea to clean them with hand sanitizer first.
---
Take Off the Lower Leaves First
Start from the bottom and the outside of your plant, working your way up and in. Pick up the pot and inspect your Saintpaulia from below to spot the leaves you want to remove. Then start plucking them off. Move in a circle, removing one row at a time (along with any suckers).
If you've gone a long time without pruning your African Violet, the plant may look very tangled. Saintpaulias can grow pretty fast, and within a year or so, multiple untended suckers can sprout into large offshoots. When in doubt, you can usually assume the leaves that are highest up belong to the plant's original crown. Find the spot where each sucker branches off from the upper leaves and slice it off there. 
---
Don't Damage the Crown
When the suckers are tangled up with the other leaves, you may need a little patience as you gently tug them apart. You might still pop some of the main plant's leaves off in the process. Try to avoid this if you can, but if you lose a few more leaves than you intended, it's not the end of the world.
However, make sure you don't break the small leaves at the very center of the crown. If you damage the growth point, your African Violet might not be able to produce new foliage. You'll have to wait for it to send out a sucker and grow from there.
---
Regular Maintenance is Your Friend
How can you prevent the kind of tangled mess we described above? Simple: prune African Violets on a regular basis. Try to make a point of taking off the lowest 3-5 leaves each month. That should keep your Saintpaulia in good shape for blooming.
Of course, you have to use some common sense. If the plant is growing slowly and only has 3 or 4 leaf rows, you can wait until next month to prune. And if you're not using grow lights (more on that here) to keep your African Violet flowering year-round, you can probably hold off on pruning during the winter.
---
Tending Your African Violet After Pruning
Pruning African Violets doesn't usually hurt them. In fact, you may find that your plant bursts into flower not long after you trim it back. However, removing enough foliage will leave your Saintpaulia with a long, bare central stem.
This is a normal part of growing and tending for African Violets. Most growers call this exposed stem a "neck", and it's not a sign of poor health for your plant. It does tend to look a little awkward, though. And over time, it may cause your African Violet to tilt, wobble, and droop.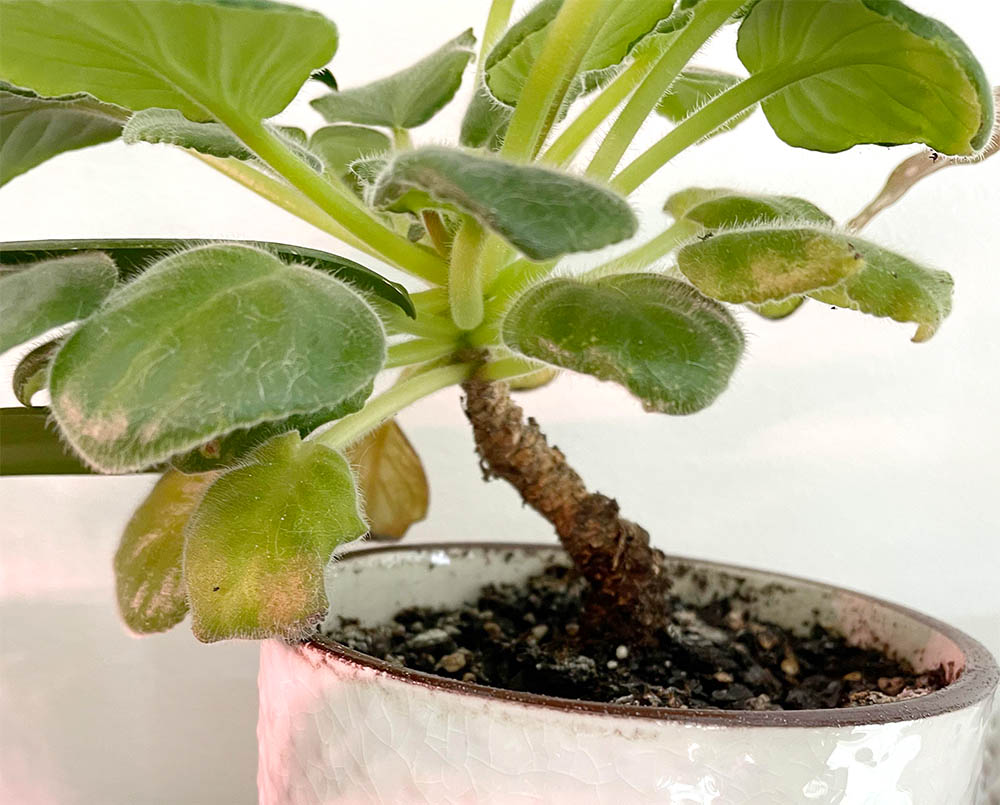 There are two basic ways of dealing with a bare neck on an African Violet. The first is to move your plant into a deeper pot so that the exposed stem is buried. The second is to slice off enough of the root ball that you can fit it back into the same pot with the neck underground.
Either way, you should scrape off the bark-like outer layer of the stem first. The green tissue beneath can sprout new roots. Yes, that means your African Violet's neck can take hold and grow even if you cut off all the roots.
If you're transplanting or re-burying your African Violet, you'll want to keep the humidity high for a few weeks afterward. This will help the roots recover from the stress. Placing a plastic bag over the leaves is a common trick, but a humidifier also works well. Click here for more in-depth instructions on cleaning up an African Violet's neck.
---
What To Do With The Leaves You Remove
Saintpaulias have a cool trick that you usually only see in succulents: they can regrow from just a leaf. That means every piece you take off when you prune your African Violet could become a brand-new plant. Suckers that already have a few leaves work even better.
If you decide you have enough African Violets, you can throw away the leaves you've pruned. If they're hosting leaf blight or bugs, you may want to burn them. Otherwise, use this opportunity to propagate your African Violet.
For each leaf, fill a small pot or seedling tray with a moist but fast-draining soil blend. You can find some suggestions for putting a good soil blend together in this article. Moisten the mix lightly before you plant the leaves and suckers.
Slice the end of each petiole at a 45-degree angle to encourage rooting. It may also help to cut off the leaf tips. Then bury the petiole of each leaf below the soil. You'll have better odds of getting growth if you plant a few leaves in each pot.
When planting suckers, scrape and bury the central stems as we described in the previous section.
Give your baby plants a humid, warm environment while they grow. Plastic baggies are a common method. Or, if you have a lot of leaves, you could close them all inside a large plastic bin. Let them get lots of indirect light but no direct sun. And keep the soil moist without overwatering.
After around 3 months, you should see fresh foliage popping up next to the leaves. Once the new growth is big enough, you can uproot your plantlets and peel them away from the original leaves. Then transfer them to permanent pots. Before long, they'll grow into big, healthy African Violets.
---
Final Thoughts
It's important to prune African Violets every so often to keep them growing and blooming at full strength. Remember that your plant's first 3-5 rows of leaves are the most important for healthy flowering. Your African Violet will respond to regular trimming with lots of lovely blooms!